There's some vitriol being spilled in Leafs Nation on Wednesday, much of it having to do with the fact that referee Wes McCauley was one of the officials assigned to Game 1 of the Toronto Maple Leafs and Tampa Bay Lightning game. The argument goes that McCauley has a history with Leafs' head coach Sheldon Keefe, dating all the way back to an issue that preceded Keefe's time in Toronto.
As was well laid out in an article by K.T. Edwards and fellow THW contributor Shane Seney, McCauley is David Frost's brother-in-law. Who is David Frost? Well, in 2004, Keefe, who was then a player in the Ontario Hockey League (OHL), was caught up in the bizarre cult of Frost's that included Keefe's good friend and then-line-mate Mike Danton. Frost was accused of sexually abusing a number of players, and Danton became well known for the failed murder-for-hire attempt on Frost years later.
As one could imagine, the relationship between McCauley and Frost, and by association, McCauley and Keefe could pose a conflict of interest.
McCauley Probably Shouldn't Be Officiating Maple Leafs Games
Let's first say, arguing against McCauley being allowed to officiate a game where Sheldon Keefe is involved seems on point. In fact, I won't play Devil's Advocate and suggest that any criticism he's officiating a playoff game where the Maple Leafs are involved is unwarranted — even if one could make the case that there are so many odd storylines in hockey that conflicts of interest are everywhere. Yes, the Leafs are 0-8 in playoff games where he's the official. On paper, that appears to be alarming.
But if you're to make the argument that the NHL should know better than to have McCauley officiate Maple Leafs' playoff games, then you should probably also argue that he shouldn't be officiating any Leafs' games at all, which by the way, when he's done so during the 2022/23 regular season, the Maple Leafs are 5-0-1.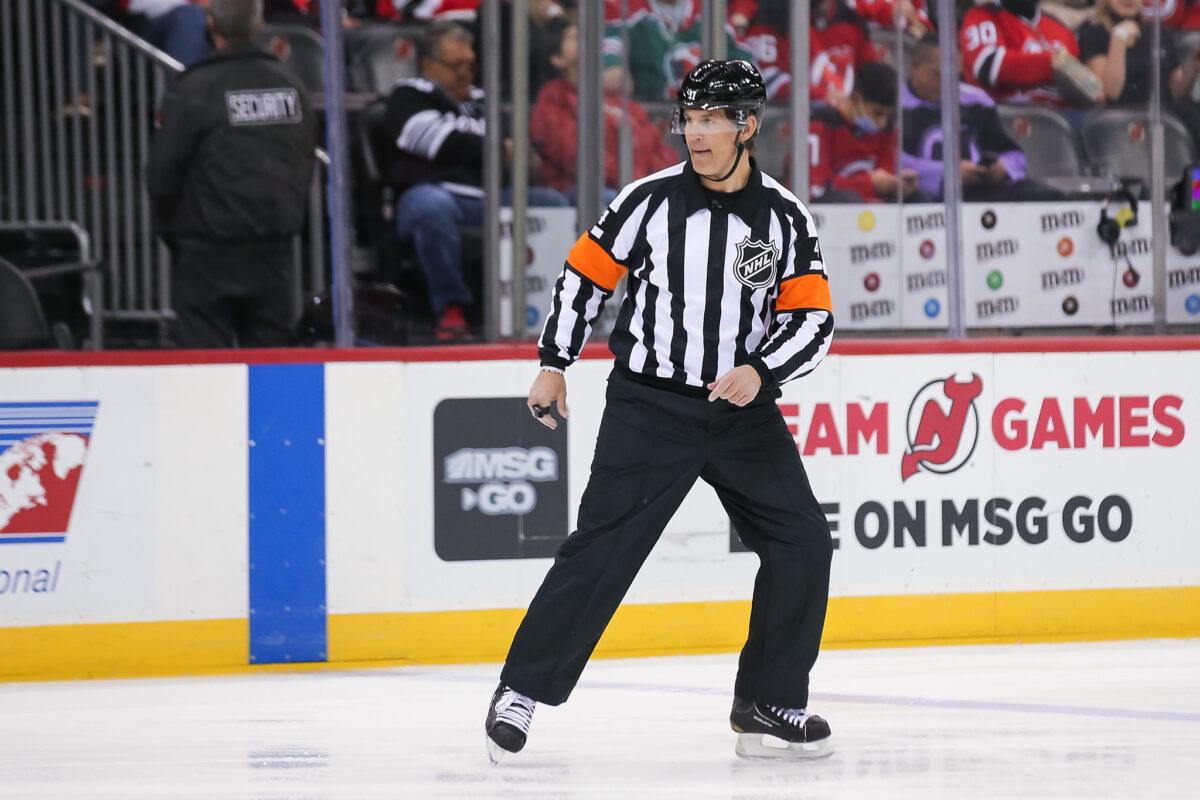 Seney's post got mixed reactions from fans, some agreeing it's a huge conflict of interest, while others are suggesting it's a convenient cop-out. I can see both sides, but I would also suggest the loss on Tuesday and McCauley officiating it are two different issues.
This Loss Is On the Maple Leafs
Frankly, a 7-3 loss cannot be blamed on Wes McCauley. The Lightning were better than the Maple Leafs in Game 1 and Tampa made them pay for it. The Leafs let Tampa have and finish chances around the net, Keefe felt the team was tentative early on, and they just weren't cautious enough in their approach to the game, giving the Lightning too little respect and too many chances to score. There is every reason in the world for Toronto to come out like gangbusters in this series — so many jobs are relying on a series win — and they simply didn't do it.
Related: Maple Leafs News & Rumors: Matthews, Marner, Bunting & Woll
The Michael Bunting penalty was clearly a five-minute major and many of the other penalties were legitimate infractions. As for those "phantom calls" that Leafs' fans are complaining about today, Toronto is no different than any team; many Leafs' fans just choose to think they are. Calls get missed, make-up calls take place, and it happens on both sides, especially in the post-season. The puck that may or may not have crossed the line was reviewed and it was determined there was no clear evidence to overrule the call on the ice. There is still debate about whether it was in or not.
Furthermore, goaltender Ilya Samsonov was shaky, at best. He's getting the call for Game 2, but one had to wonder if there was any consideration to change things up after his performance.
But, all of the above (the officiating or the play in Game 1) is not really the point…
Leafs Need to Make This About Them
The Leafs deserved to lose Game 1. They'll need a more focused effort to take out Tampa Bay in Game 2 and should they not do so, this team is in trouble. Everyone needs to be better and if they're focused on the officiating, their attention needs to go elsewhere and their motivation is misguided.
---
Latest News & Highlight
---
The Lightning have the pedigree of multi-time Stanley Cup Champions and the Leafs have a history of losing in the first round. One official isn't going to change that. Toronto needs to find a way to shift the narrative and not make it about being screwed over. If that's the strategy, they're already toast. If they don't play their way out of a bad loss and then up their level of energy and intensity in Game 2, (and beyond) this could be a short series.
If the Maple Leafs are going to win a playoff round and then go on to win others, their success has to come via the results they put forth on the ice. They need to win as a team and shut down the Lightning as a team. They need to take fewer penalties and limit the chances when down a man. Their goaltending needs to be better. Michael Bunting needs to keep his cool and the stars need to show up when it matters most.
Wes McCauley doesn't control that. Only the Maple Leafs do.