The Chicago Blackhawks didn't have much stability in net in 2022-23. While Petr Mrázek started nearly half the team's games (38), better-than-expected numbers from veteran Alex Stalock pushed the two into a platoon-type situation toward season's end. Injuries to both also gave way to playing time for prospects Arvid Söderblom and Jaxson Stauber, the former of which could be the team's backup in 2023-24. Here's an assessment of all four goaltenders, each receiving an individual grade.
Jaxson Stauber
Stauber's Final Stats: 5-1-0 record, .911 save percentage (SV%), 2.81 goals-against average (GAA)
Stauber was thrown into the fire and made the most of a tough situation. After a brief stint with the Blackhawks in December, the team recalled the 23-year-old from the American Hockey League's (AHL) Rockford IceHogs again on Jan. 17 when Stalock entered concussion protocol. He made his NHL debut on Jan. 21, a 5-3 win against the St. Louis Blues, stopping 29 of 32 shots. He then stopped 34 of 35 shots in a 5-1 win against the Calgary Flames on Jan. 26 before getting wins against contenders such as the Toronto Maple Leafs and Dallas Stars.
Related: Blackhawks' Top 5 Moments of 2022-23
Though he played just six games, Stauber was a major positive this season. While his numbers weren't as great with the IceHogs, where he went 6-8-0 through 17 games with a .894 SV% and a 3.32 GAA, and as confident as he looked with the Blackhawks, more AHL seasoning may not be a bad thing before he transitions into a full-time NHL role.
Stauber will have to exceed expectations to become the Blackhawks' future No. 1, a role Drew Commesso or perhaps Söderblom seem primed for among their in-house options. Nonetheless, he did exceed expectations during his first taste of NHL action. He and Commesso could form a solid tandem in Rockford next season, with the latter now signed to his entry-level deal.
Stauber's Final Grade: B+
Arvid Söderblom
Söderblom's Final Stats: 2-10-2 record, .894 SV%, 3.45 GAA
Like Stauber, the 23-year-old Söderblom got more NHL time this season than expected. The Blackhawks recalled him in October, and he spent nearly two months in Chicago, filling in for Mrázek and Stalock amid injuries, before heading back down to Rockford. He had a promising start, recording a .935 SV% in his first three games, but then slowly started to regress.
---
---
Söderblom was returned to the IceHogs on Dec. 19 after his worst game of the season the night before, allowing seven goals on 26 shots in a 7-1 loss to the New York Rangers. Things didn't get much better for him, as he was placed on injured reserve less than two weeks later due to a groin injury.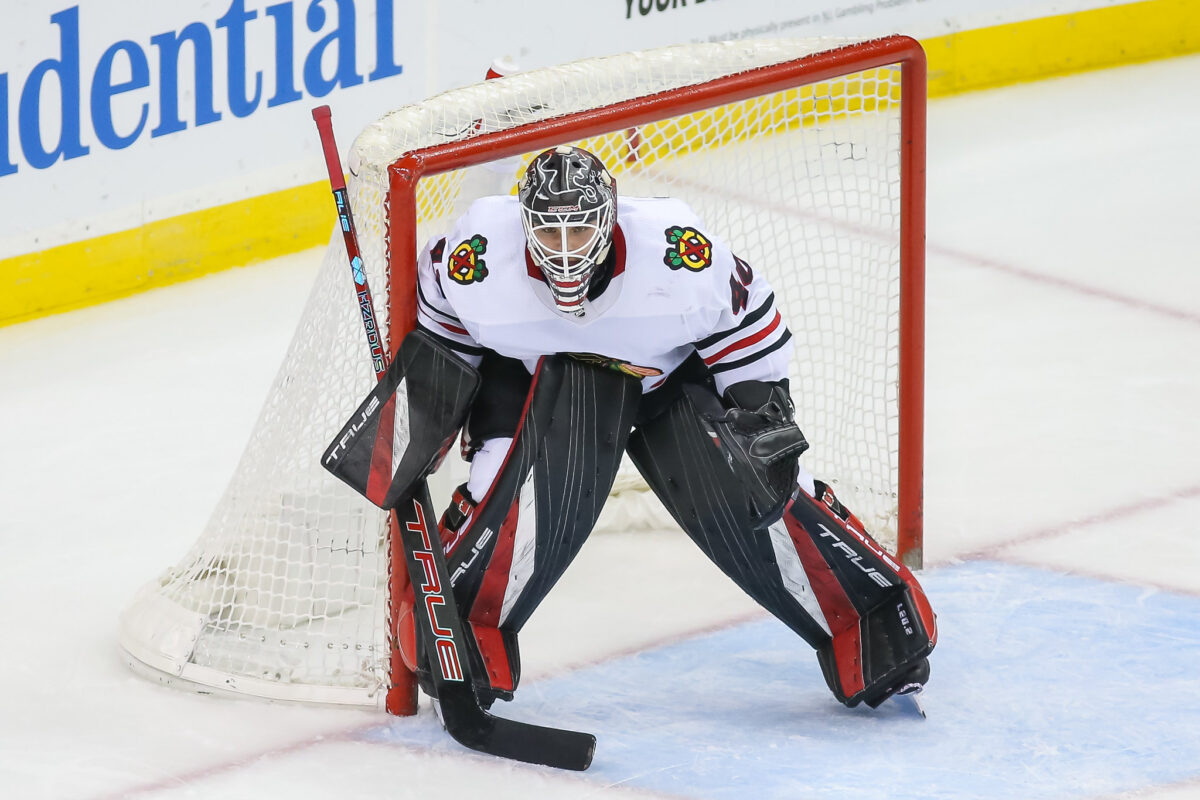 Söderblom posted a .887 SV% in his first 12 games back with Rockford, beginning with a 7-2 loss to the Springfield Thunderbirds on Jan. 20. But he improved during the season's final stretch, finishing with a 15-12-2 record, a 2.92 GAA and a .905 SV% through 33 games. IceHogs head coach Anders Sorensen credited his work ethic and attitude amid the adversity he faced; similarly, Söderblom said he felt more comfortable in his second North American season (from "Blackhawks goalie prospect Arvid Soderblom surging for Rockford after adversity-laden winter," Chicago Sun-Times, 04/05/23).
It was an up-and-down campaign for Söderblom, given that he was thrust into the NHL so early on. He had just three games of NHL experience entering the season, but the more minutes he gets, the more his confidence should grow. It'll be interesting to see what type of contract he gets this summer when he becomes a restricted free agent (RFA).
Söderblom's Final Grade: B-
Alex Stalock
Stalock's Final Stats: 9-15-2 record, .908 SV%, 3.01 GAA
Stalock was easily the Blackhawks' feel-good story of the season. The 35-year-old missed all of 2020-21 due to myocarditis and played in just one NHL game in 2021-22, so expectations weren't high when the team signed him. However, he exceeded them in just about every way and posted his best numbers since 2013-14. He also brought an infectious personality to the locker room and eventually became Chicago's nominee for the Masterton Trophy.
Other Blackhawks Player Grade Articles:
Stalock's biggest issue wasn't his performance but his health, suffering two concussions while dealing with oculomotor dysfunction. However, that should not take away from what he achieved in his first regular NHL season since 2019-20.
Per Hockey Reference, Stalock had an above-average quality start percentage (QS%) of .542. He also had just two really bad starts (RBS), starts with an SV% below .850. That's rather impressive playing on a bad-by-design Blackhawks team. Stalock also posted shutouts against the Arizona Coyotes (2-0, Jan. 6) and Ottawa Senators (5-0, March 6), the latter of which he stopped 35 shots.
---
Latest News & Highlights
---
I'd like to see the Blackhawks re-sign Stalock. They'll need to hit the cap floor, and he'd serve as a great mentor as the group gets younger. That doesn't seem likely with Söderblom's rise, but he will nonetheless be due for a raise after making just $750,000, should he keep playing. If that's the case, this season should serve as a great confidence booster, especially if he lands with a contender.
Stalock's Final Grade: A
Petr Mrázek
Mrázek's Final Stats: 10-22-3 record, .894 SV%, 3.66 GAA
The Blackhawks' de facto starter entering 2022-23, Mrázek's season went about as expected. The team acquired the 31-year-old from the Maple Leafs last offseason in what was essentially a cap dump, as he's owed $3.8 million before becoming an unrestricted free agent (UFA) in 2024. After posting a .888 SV% and a 3.34 GAA in 20 games for Toronto last season, it would've been tough for Mrázek to have much of a bounce-back playing for Chicago. He also suffered three groin injuries.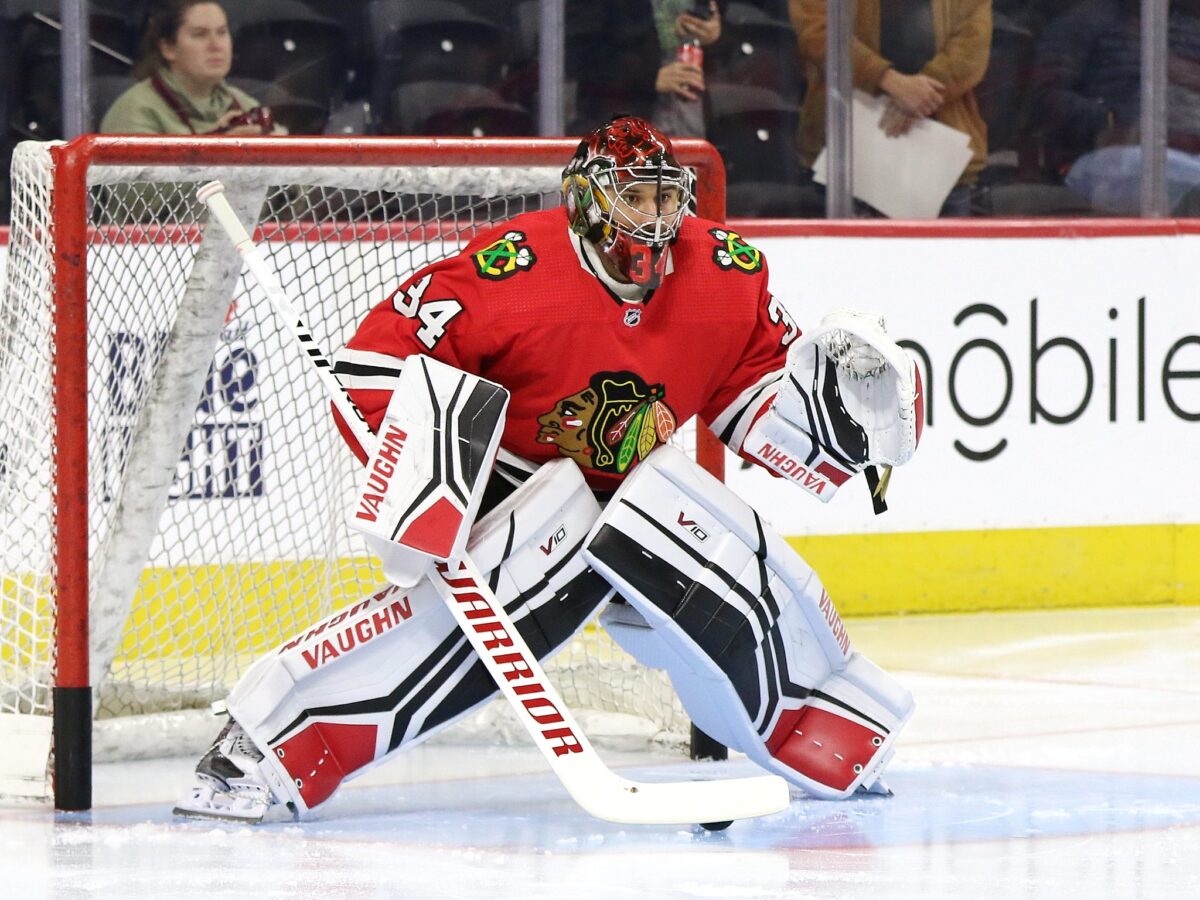 Mrázek ended his first Blackhawks campaign with a goals saved above average (GSAA) of minus-12.50. He had seven RBS compared to Stalock's two. His 3.66 GAA was also fourth worst among the league's 42 goaltenders with 30 or more games played, only better than Kaapo Kähkönen (San Jose Sharks), John Gibson (Anaheim Ducks), and Elvis Merzlikins (Columbus Blue Jackets).
Mrázek's career has been on a downward trajectory these last few years. After posting a respectable 6-2-3 record with a .923 SV% through 12 games with the Carolina Hurricanes in 2020-21, he just couldn't find his groove in Toronto. That said, while he didn't exceed expectations like Stalock, he was put in a tough situation from the get-go. Though not the greatest contract, he offers the Blackhawks a respectable short-term solution.
Mrázek's Final Grade: C
Despite the injuries, the Blackhawks' goaltending was mostly better than expected, primarily thanks to Stalock. Mrázek was also a fine placeholder, while both Söderblom and Stauber showed flashes of confidence. With two prospects and Commesso, the team's future in net is in a good spot overall. The Blackhawks have just $37 million committed to next year's team, so re-signing Stalock or adding another veteran shouldn't be out of the question yet. However, Mrázek and Söderblom seem like the logical tandem for next season.