This wasn't how it was supposed to end for the Windsor Spitfires. Less than a year after going to the 2021-22 Ontario Hockey League (OHL) Championship, the club fell in the first round of this season's playoffs in a historic upset. However, while the disappointment will last much of the summer, it doesn't fully take away from their overall season performance.
Coming into this season, expectations were high. After getting to Game 7 of the OHL Championship last season, they were determined to not only get back to the dance but win it all. They fought their way back to the top, earning the first seed in the Western Conference. Unfortunately, they soon stumbled, becoming the first number-one seed in league history to get swept by an eighth seed (Kitchener Rangers) in Round 1. It created serious disappointment and a long summer. Now, the big question is – does the playoff performance take away from the overall body of work? We're about to answer it with our annual grades.
Historic Offence Not Quite Perfect
Entering 2022-23, the Spitfires had no idea where their offence would come from. After scoring 305 goals in 68 games last season, the highest since their 2009-10 Memorial Cup Championship, they saw heavy graduation (NHL prospects Wyatt Johnston and captain Will Cuylle, to start) and that calmed expectations a bit. However, it all changed very quickly.
From nearly the start of the season, head coach Marc Savard continued to get the most out of his offence. They were near, or at the top of the league in goals scored and, more often than not, were able to outscore teams on a regular basis. As the season went on, multiple players had career campaigns including captain Matthew Maggio (111 points), forwards Alex Christopoulos (49 goals) and Jacob Maillet (76 points), plus defenceman Michael Renwick (35 points).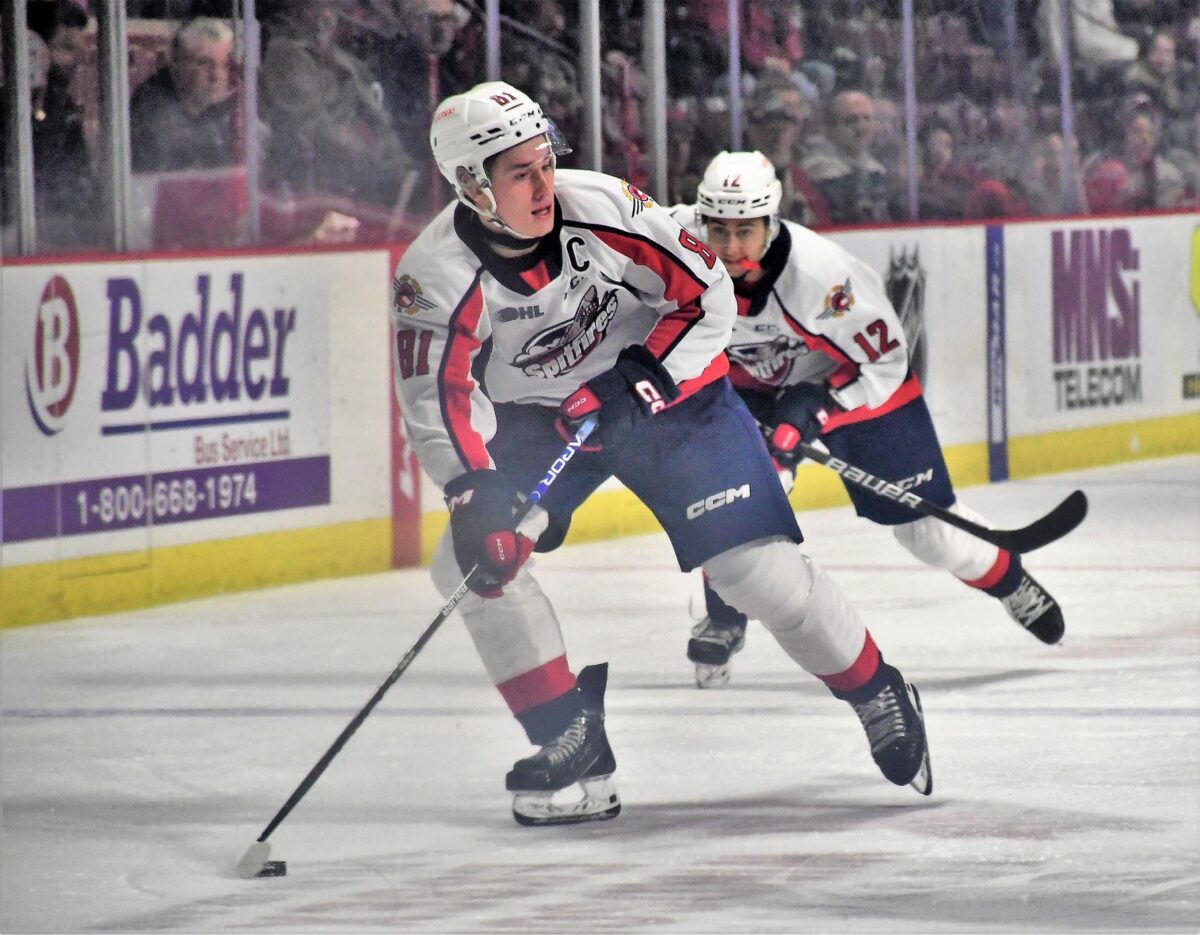 At the January trade deadline, general manager Bill Bowler went out and got even more offence in NHL prospects Shane Wright (Seattle Kraken) and Brett Harrison (Boston Bruins). It generally worked well but injuries started to hamper the team and getting consistent high-scoring games was difficult.
There was hope that the offence would take over once the playoffs started. Instead, the club was held to just seven goals in four games by the Rangers. They were out of sync, couldn't find a way past a well-oiled defence, and fell flat when it counted the most.
Related: Windsor Spitfires' Weekly: 5 Takes from the 2022-23 OHL Trade Deadline
---
Latest News & Highlights
---
If the Spitfires were still playing, you could argue that the offence was an A+. After all, they scored 320 goals, which surpassed even last season. However, while credit is given to the Rangers for a stellar defence, expectations still fell short overall. Therefore, it's into the A's but not perfection. Grade: A-
Jekyll-and-Hyde Defence Lacks Consistency
While the offence was golden for much of the season, the same can't be said about the defence. After finishing 12th last season with 248 goals against in 68 games, the club saw more defensive graduation and was hoping for the best. What they got was a roll of the dice every night.
Led by Renwick, veteran Nicholas DeAngelis, and rookie Anthony Cristoforo, the defence had some outstanding nights. They could shut down the best and protect the goaltenders without issue. However, there were other nights where their lack of coverage, physical play, and overall hustle created head-scratching.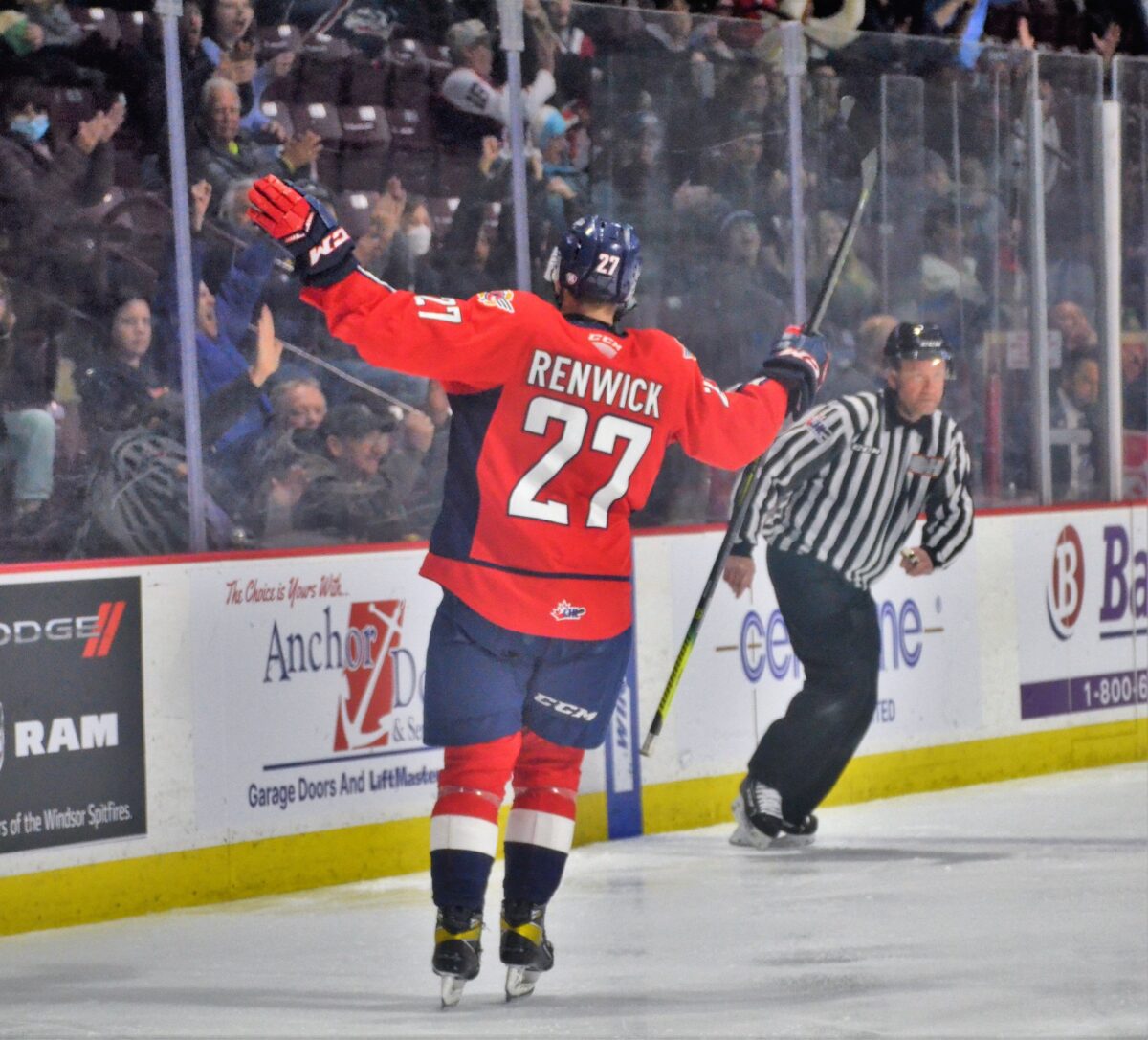 At the deadline, Bowler acquired veterans Rodwin Dionicio and Jacob Holmes (Dallas Stars). While they brought a combination of stellar offence, reliable defence, and toughness, the group as a whole continued to lack something.
From team-wide offensive zone turnovers to misplaced coverage around the goal, the club routinely had mental and defensive miscues at both ends of the ice. They finished 14th in the league with 265 goals against and fans were more likely to see a high-scoring contest as the team played a little looser than Savard wanted. The playoffs didn't improve at all. The Rangers put home 20 goals in four games and the Spitfires just couldn't find an answer.
This was an incredibly hot-and-cold defence. You simply didn't know what you would get on any given night. From inconsistencies to the final struggle, anything above average simply can't happen. Grade: C–
Rocky Goaltending Sees Bright Future
This was a big story all season – the battle in the Spitfires' crease. Veteran Mathias Onuska was supposed to be the unquestioned starter after a solid playoff run in 2021-22 while 17-year-old Joey Costanzo backed him up. That didn't happen, though.
The veteran dealt with early injuries and inconsistency while the youngster was brought along slowly for proper development. By Christmas, Costanzo had played well enough to earn more of a tandem than your typical starter/protege roles. There was talk about upgrading from Onuska at the deadline, which would have been justified, but the club passed. Instead, they gave Costanzo more ice in the second half, including Games 1 and 2 against the Rangers.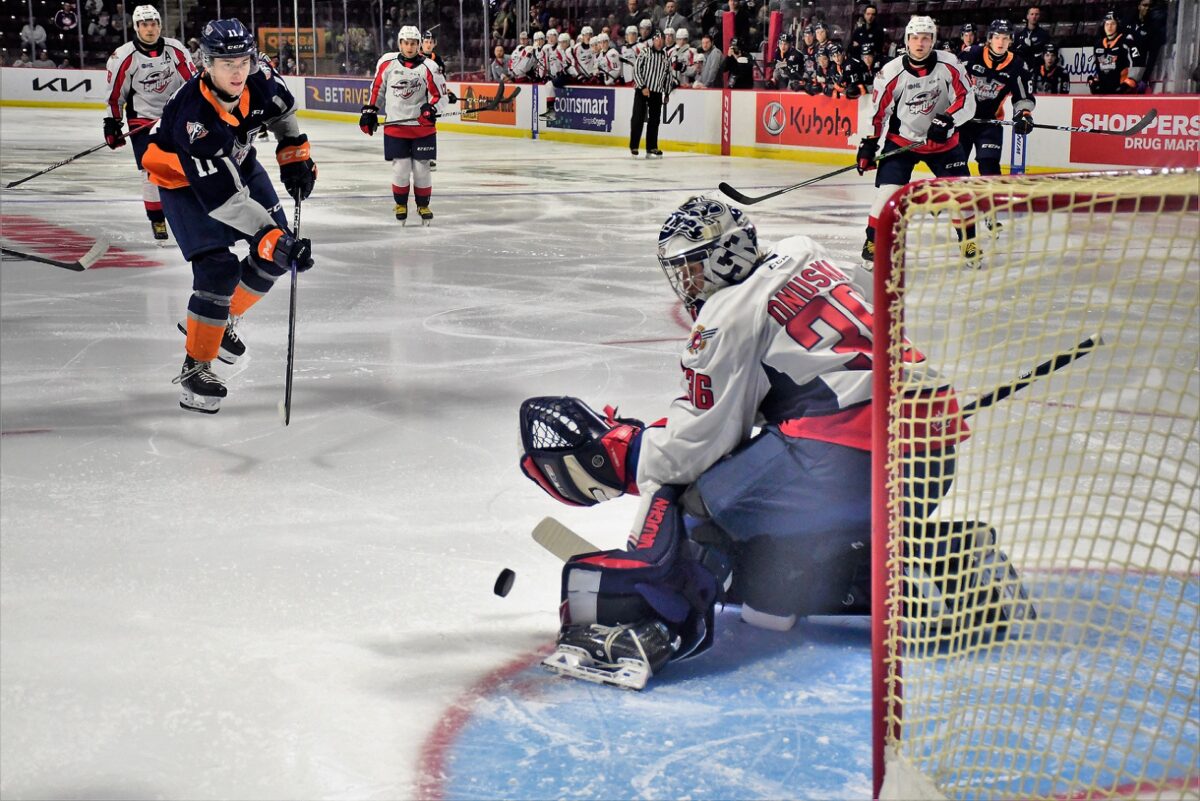 Onuska and Costanzo split the four games in the series and, despite allowing 20 goals, the blame wasn't fully on them. When the team needed a big save, they stepped up and gave the club a chance. Neither had the stats they would like but you could see the flashes of excellence every night.
Both goaltenders proved all season that they were quality humans with a team-first mentality. They each had curveballs thrown at them; Onuska was injured in large spurts and, as a result, Costanzo got more starts than he imagined. While the veteran's stats were inconsistent – 17-11-4-0, a 4.44 goals-against average (GAA), and a .868 save percentage (SV%) – he showed perseverance all season. The youngster's regular season body of work – 26-6-0-2, a 3.03 GAA, and a .901 SV% – showed that he's their future in the crease.
While their defence didn't help the case, the overall question marks and inconsistent play from start to finish left a lot to be desired. At least they have a bright future with Costanzo. Grade: C+
Savard Builds Proper Culture
Following his hiring in August 2021, Savard brought the club from middle-of-the-pack to a conference contender very quickly. His offence-forward systems are designed to allow creativity and he's been a major part of helping develop a family-like culture off of the ice.
After bringing the Spitfires to last season's OHL Championship, Savard saw several high-offensive talents graduate coming into 2022-23. However, he stuck to his systems and continued to build. On the ice, he let the players flourish offensively while still trying to play the right way at both ends. There were games where he admitted they played too cute but this club knew how to win on a nightly basis.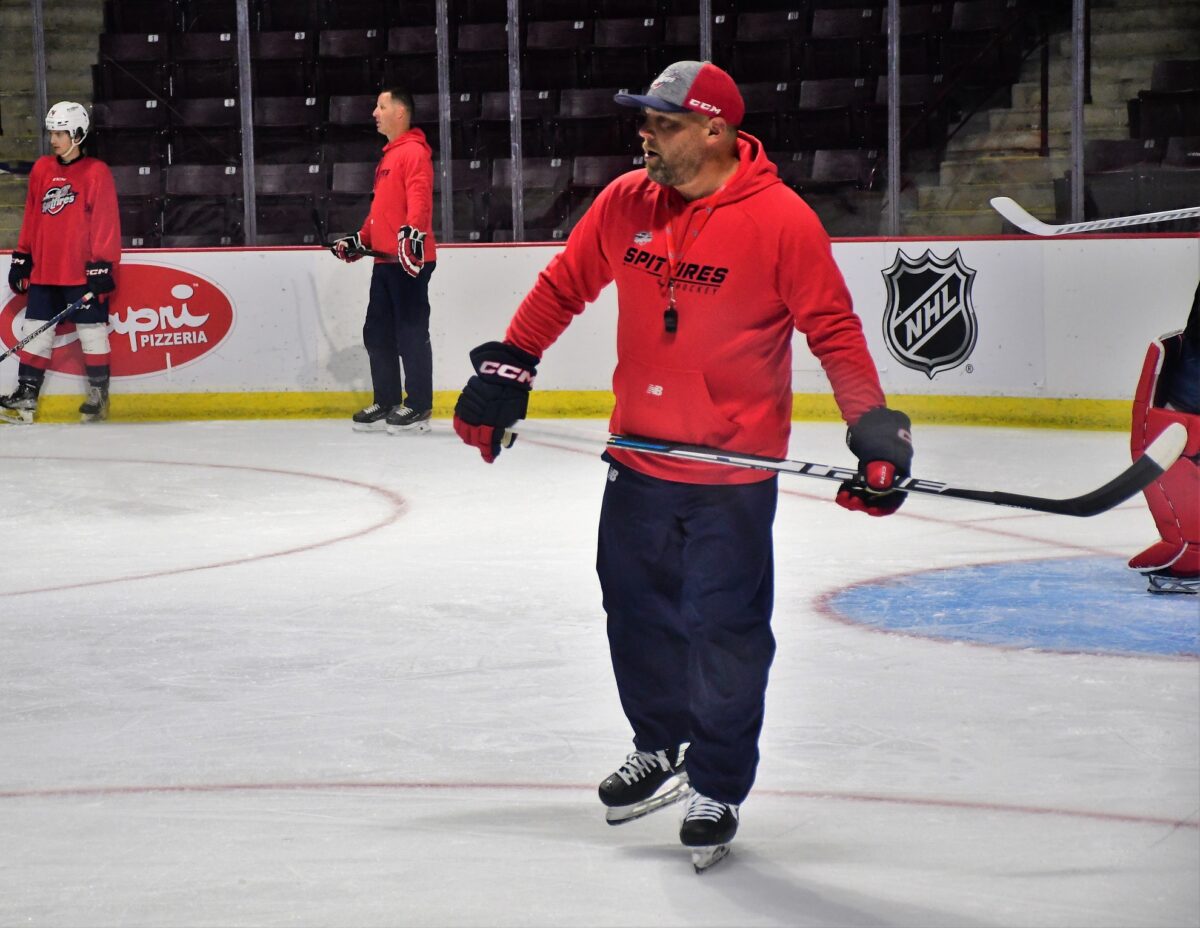 This season wasn't without issues. They were consistently injured which forced Savard to dress as few as 10 forwards on some nights, mix up the lines almost every game, and even play defencemen up front. It wasn't easy and he showed some frustration. He never stopped believing, though.
The playoffs proved to be an ugly beast. Despite maintaining confidence in his players and systems, Savard couldn't solve the Rangers' game plan. He tried everything from line changes to a different goaltender to different styles on special teams. However, nothing worked and sometimes you have to simply tip the cap to your opponent.
Yes, the loss stings and, yes, it would be easy to point the finger at Savard for the season's frustration. However, the club continued its offensive power all season, battled hard through adversity, and became a family in the room. As Savard said at end of the regular season – "I love them like they're my kids." There were issues but if anyone deserves a high grade, it's him. Grade: A-
Bowler Shows Strengths and Flaws
After taking over as Spitfires' GM from Warren Rychel in 2019, Bowler developed a reputation for being almost too quiet. However, a very active 2022 Trade Deadline shocked the league and showed he was simply calculated. Coming into this season, many wondered whether that was his style or a one-off.
This season started slowly – he acquired Costanzo from the Niagara IceDogs in September, shipped goaltender Kyle Downey to the Erie Otters shortly after, and then went into quiet mode again. Questions started regarding whether he would buy, sell, or stand pat. Then, we got the answer.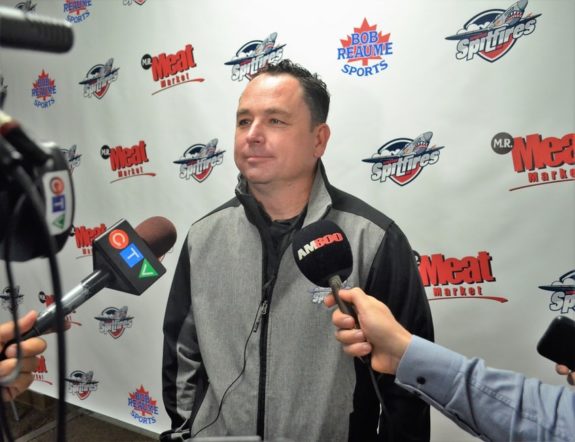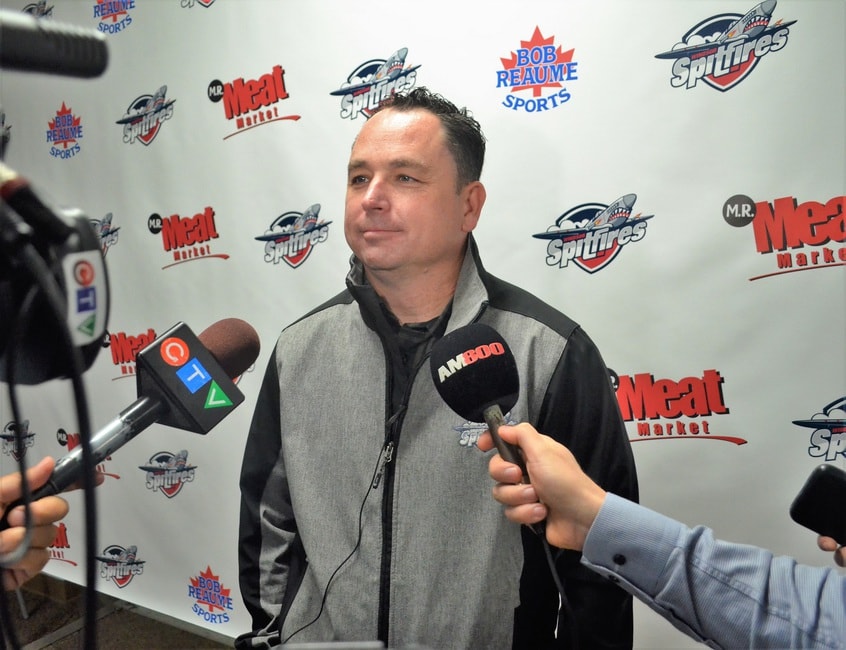 In January, he went all-out again, bringing in Wright, Harrison, Dionicio, Holmes, and forward Aidan Castle, sending out multiple youngsters (including forward Ethan Miedema) and nearly two dozen draft picks through 2026. Unfortunately, while they had significant talent, as of Thursday, April 20, the team had no picks in the second, third, and fourth rounds this season. It was a high-risk, high-reward gamble that didn't pay off.
Bowler has proven he's a sneaky but active GM. He will make the calculated, professional moves that the team needs, big or small. After the last two deadlines, nobody can question his willingness. However, despite all the moves this season, the defensive side of the puck didn't improve at all and the goaltending was still an issue until the season finished. While it wasn't likely from a lack of effort, it's hard to justify anything higher than a Grade: B.
Overall: Disappointing End Doesn't Tarnish Season
Let's be clear – being the first top-seeded team in OHL history to lose to an eight-seed in the first round is disappointing. From the players to the coaches, management to the fans, nobody is happy. They should still be playing hockey well into May. However, an early summer is their reality. That doesn't mean the season was bad or everyone deserves an "F", though.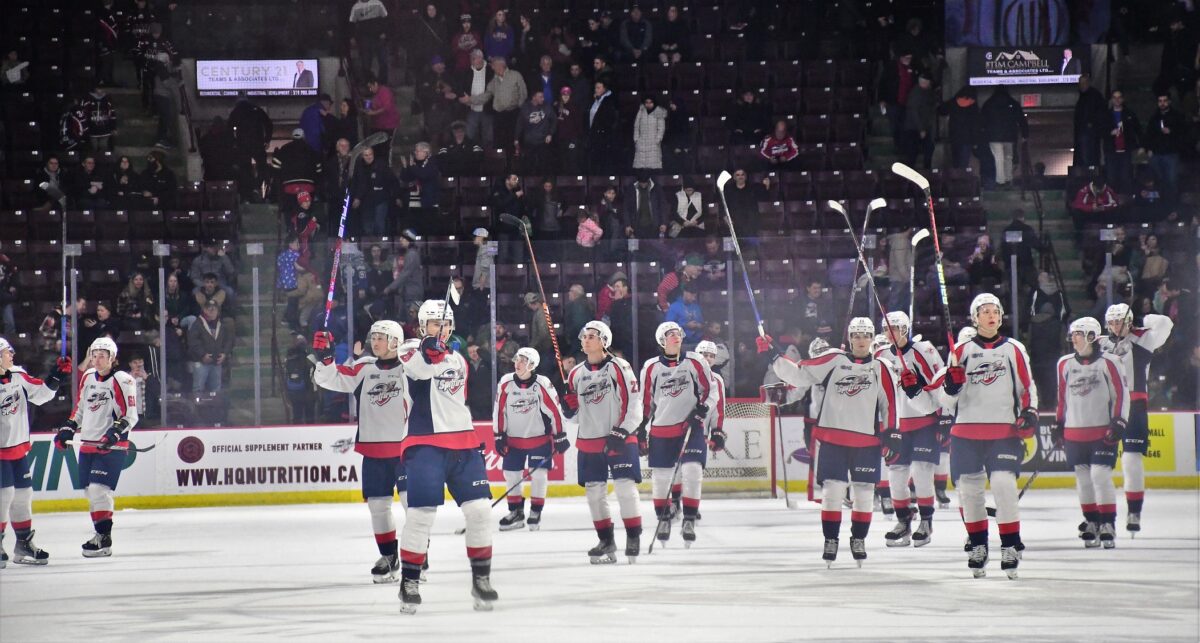 The club came into the season with high hopes. Their goal was to not only defend their Western Conference crown but to win the OHL Championship. At first, things looked really good as they led the league in goals, saw several players enjoy career seasons, and went for broke at the deadline. It just all fell apart at the worst time.
Being swept hurts and that feeling will last into the start of 2023-24. You don't just shrug off their accomplishments, though. Those all meant something and will continue to do so. Instead, you take a step back, breathe, and look at what's happened over the last nine months. This is a proud club that, despite losing over 140-man games for various reasons, still found a way to get the first seed. They worked hard, fed off the fans' energy, and were proud to put on that sweater every night. There's plenty to look back on and appreciate.
Accepting the loss doesn't mean the entire body of work is diminished. Instead, call it a very tough lesson learned on an otherwise entertaining season of hockey. Grade: B