If the holidays are the "most wonderful time of the year," then the Ontario Hockey League (OHL) Trade Deadline might be the craziest. As the Windsor Spitfires were busy on the ice, general manager Bill Bowler was chaotic off of it, not only making his mark, but adding an exclamation point too.
Coming out of the Christmas break, the club was battling the Saginaw Spirit and London Knights for the top spot in the OHL's Western Conference. It's familiar territory for Bowler, but with several trades already made in the conference, he had to make sure his club could stay with the pack. With three games on the schedule and plenty of hype around the noon Tuesday deadline, this was a week to remember. Here are five takeaways from the Spitfires' 2022-23 OHL trade deadline week.
5 Takeaways from Trade Deadline Week
Week Results:
Wed., Jan. 4 – 5-2 win over Saginaw Spirit (home)
Fri., Jan. 6 – 7-1 loss to Sarnia Sting (road)
Sun., Jan. 8 – 6-3 win over Flint Firebirds (home)
5. Bowler has Wright Stuff
Last week, Bowler was busy bringing in four valuable pieces – forwards Aidan Castle and Brett Harrison, plus defencemen Jacob Holmes and Rodwin Dionicio – for the club's championship run. However, a new character entered the story on Monday night.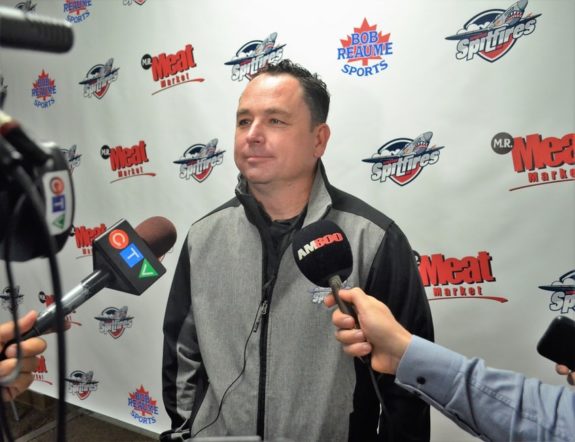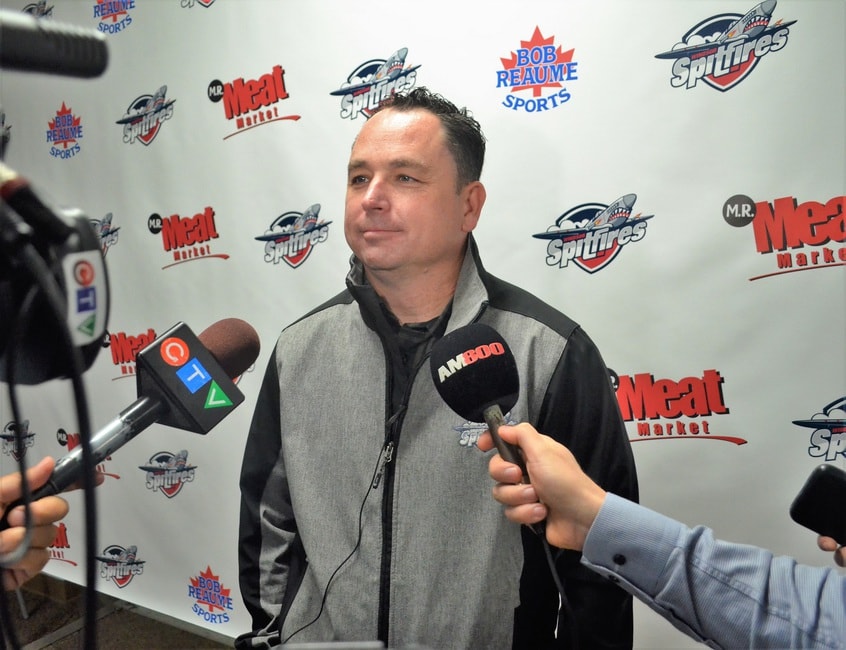 The Spitfires had been interested in Seattle Kraken prospect Shane Wright for a long time. When the Kraken sent him back to the Kingston Frontenacs in early January, though, Bowler took the chance.
"When (the Kraken) decided to put Shane back into the OHL, that's when conversations really heated up," Bowler said on Tuesday at Wright's introduction. "It was a process and I give credit to the Frontenacs and their GM Kory Cooper, plus Shane and his advisor, Cam Stewart. Great guys to work with."
Granted Exceptional Status to enter the OHL Draft a year early in 2019, Wright is a magician with the puck. From 160 points in 121 games for the Frontenacs (2019-22) to captain of Team Canada's 2023 World Juniors team, he's done it all. However, where does he fit on this tight-knit club?
Wright, 19, said he met with Bowler and head coach Marc Savard to discuss the culture of the team, where he fits in, and how they can develop his game even more. It all just clicked. Now, he has one more group to meet – a passionate Spitfires' fan base who's eager to see him. Wright said that fan interaction is something he appreciates.
"I want the fans to know that I'm really excited to be here," he said. "I'm excited to be in this situation and be a Spitfire … I love fan interaction. That's one of the best parts about being a pro player."
Wright will wear number 51 during his Spitfires debut against the Spirit on Thursday night.
4. Future Requires Patience
While the five new players get settled, you can't help but notice the Spitfires' draft cupboard for the next several seasons. Coming into this deadline, Bowler had plenty of picks to work with, including multiple second-and-third-rounders in more than one draft. However, when you bring in five talents, you're going to have to give up something significant.
For the Harrison and Holmes deals, Bowler sent out 11 picks in total. That started to deplete the cupboards, though, and the club was forced to send 17-year-olds Bronson Ride and Christopher O'Flaherty to the Niagara IceDogs in the Dionicio and Castle deal.
Then, the Wright deal nearly emptied the cupboards. Not only did Bowler send 17-year-old forward Ethan Miedema, but a collection of picks between 2023 and 2026. Now the Spitfires have no picks in rounds two through five in 2023 and no second-or-third-round picks until 2027.
Don't get worried, though. In 2023-24, Bowler will likely start to build around his current crop of 16-and-17-year-olds, which means older guys will be shipped off to contenders. That's when he restocks the cupboards, and the process starts over again.
While this season is going to be a fun ride, the future will take time to shape out. Nothing will come easy, but Bowler has proven he can handle the duties.
3. Rookies Stepping Up
While restocking the cupboards takes time, part of their future is already here. At the 2022 OHL Draft, the Spitfires spent their first three picks on players who could have an immediate impact – first-round defenceman Anthony Cristoforo, second-round forward Liam Greentree, and third-round forward AJ Spellacy. All three have acted like veterans from the start – professional, eager to learn, and have strong work ethics – and Savard said their early success takes some pressure off of management.
"That's the luxury we have with (Bowler) being able to make the moves with (head scout) Frank (Viola)," he said Sunday. "I say it again, they're the best 1, 2, and 3 in the draft … It doesn't put as much pressure on you next season to have a huge draft so Billy's able to move picks around and we're comfortable with what we have … I love it because I don't look at their age when I see them play. If they play well, they're going to play."
Related: Windsor Spitfires Look to Reload at 2022 OHL Draft
Greentree agreed with Savard. He said that while you have to prove yourself, the staff has allowed the rookies to earn more ice. That can only benefit them in the long run.
"The coaching staff have treated me really well," Greentree said on Sunday. "…The young guys, myself included, have proven themselves and I don't think that your age matters. Every time you go out there, just work your hardest and you'll get the ice time that you want."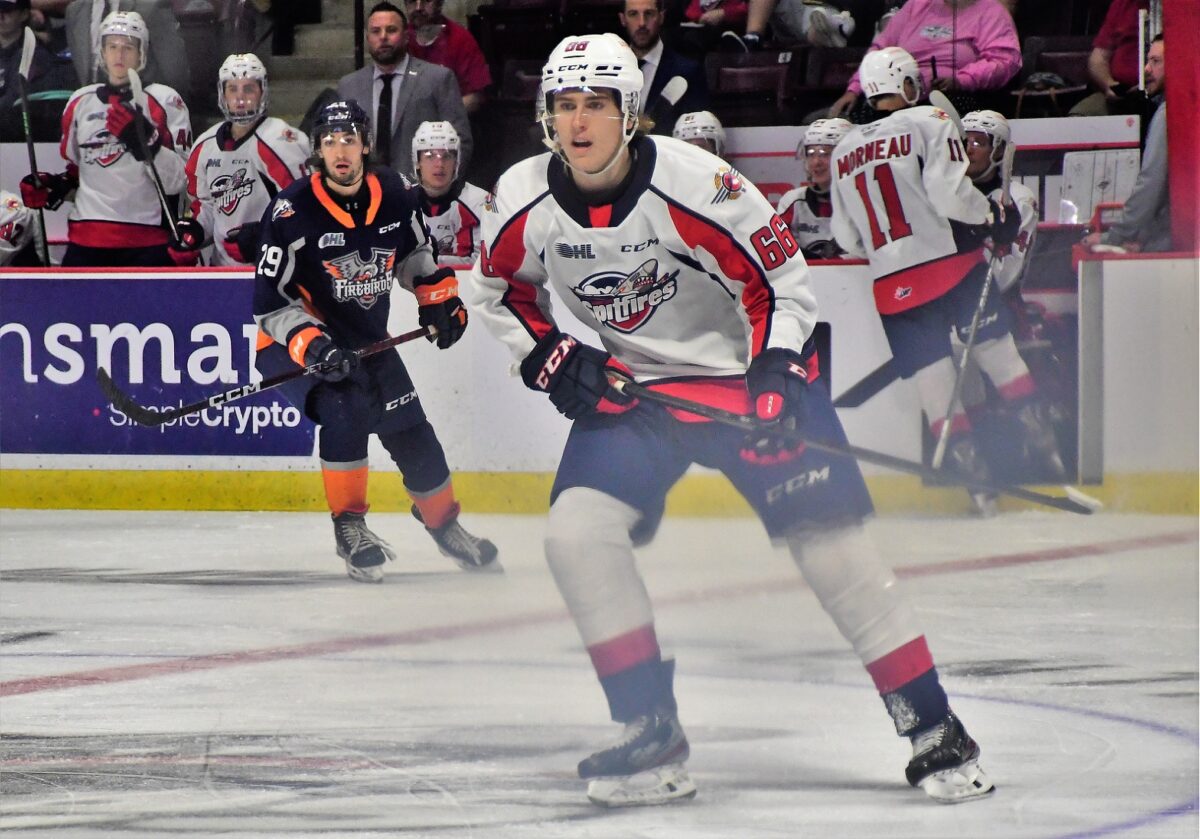 Being a youngster in the OHL isn't easy. However, when you're producing and earning the coach's trust, that goes a long way to a bright future.
2. Spitfires' Depth Could be X-Factor
With five new players, and rookies exceeding expectations, it gives Savard and his staff plenty of options regardless of the lines. Harrison and Wright are prime producers and can play anywhere in the top six, while Castle gives them an outstanding bottom-six checker. On defence, Dionicio and Holmes provide perfect depth to a deep group. While these moves didn't get the fanfare that Wright's did, they're going to be invaluable to the roster in the second half.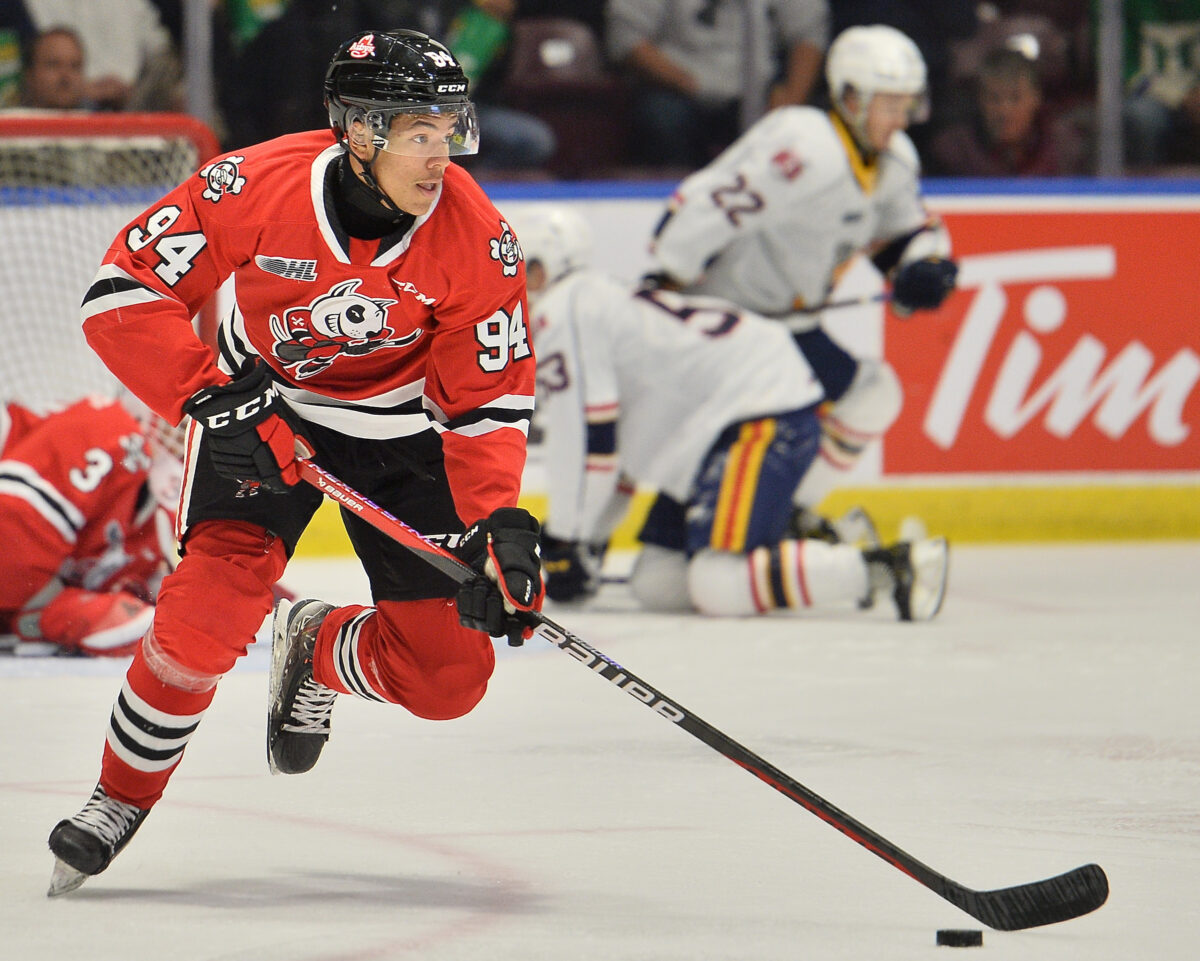 Savard has always liked using duos up front with a third player rotating in and out of spots. If they can find permanent line combos that work, that's fantastic. However, if an injury or off-night happens, these moves allow for talent to be spread around with ease. Savard said when you have depth, it's a benefit to everyone.
"That's the luxury we have now," he said on Sunday. "We have depth and can get goals from anywhere … Each guy is pushing each guy and that's a luxury as a coach to have…"
With six players on pace for at least 60 points, plus the addition of Wright, Savard can throw out four lines and three defensive pairs without worry. As long as everyone gets on board, the "WE > ME" attitude they used in last season's playoffs (team ahead of the individual) will become important this season, too.
1. Practice Does a Team Good
When you have several new players in your lineup and multiple games in a short time frame, things can get out of sync. Savard tried to run a practice last Saturday, which helped, but he said this week was their chance to rest, settle in, and finally practice as a complete group.
"We tried to shove in some stuff in (Saturday)," Savard said on Sunday. "They haven't had much so it was just some system work … We'll have (Tuesday and Wednesday to) practice here to work on some more things. With back-to-back against (Spirit on Thursday and Friday), it'll be a great couple of games and we'll be focused. Again, we need some work and those guys will see more of what we're doing…"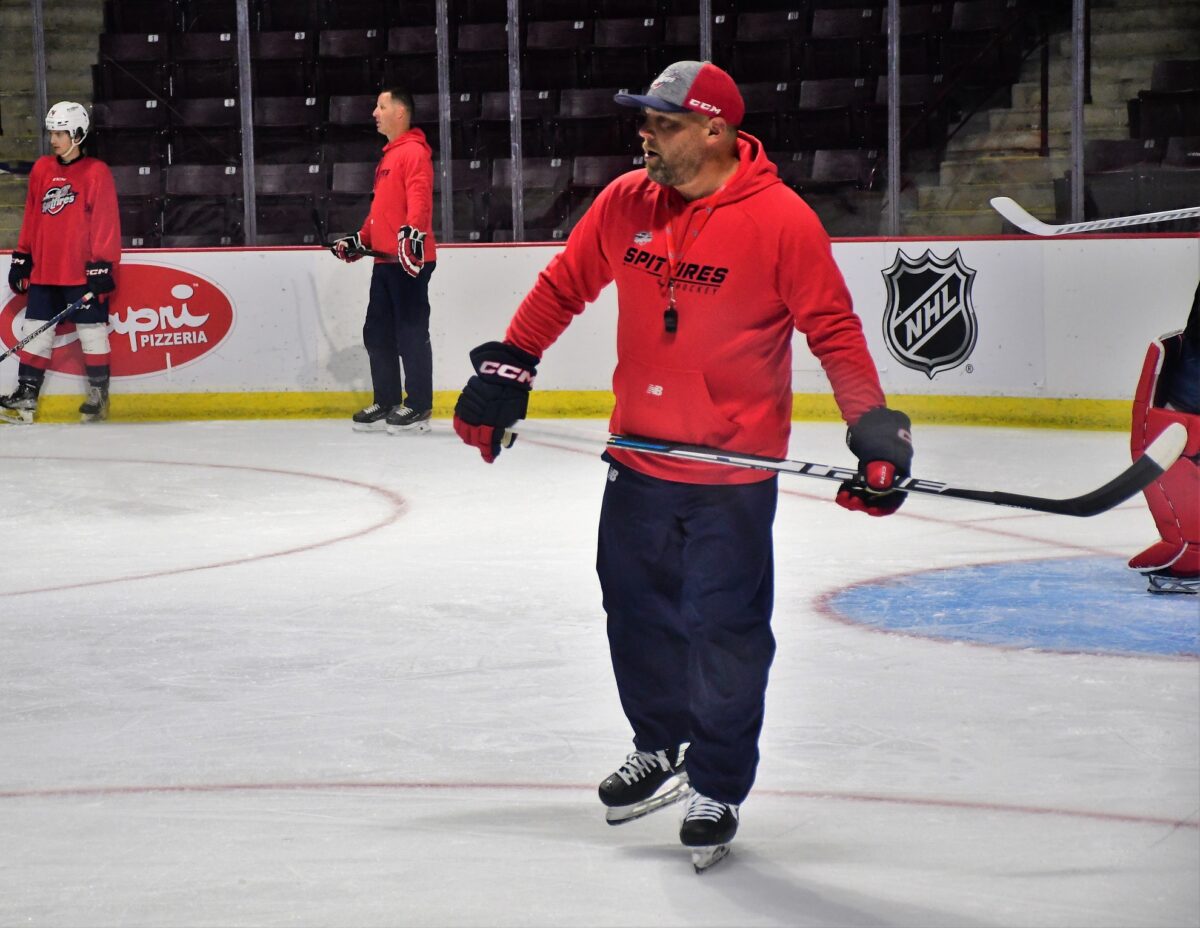 For Dionicio, Saturday's practice hit the spot. In just a few days, he went from Team Switzerland at the 2023 World Juniors to getting traded to playing in his first game with the Spitfires. It was tough, but the club did their best to help him.
"At first, coming… from Niagara to Windsor and playing right away on the road in Sarnia was a tough day and tiring," Dionicio said on Sunday. "The next day (Saturday), we had a team practice and it helped me so much. Castle, too, we were together there so it helped me get into it a lot. Today, I felt way more comfortable, even in front of the home crowd. It's unbelievable. They made it easy for me and I'm just trying to keep playing my game."
This week's practices will be important for the organization as a whole. They have the talent and the drive to make this work, but now is the time to learn, prepare, and become a cohesive unit for a marathon second half.
---
---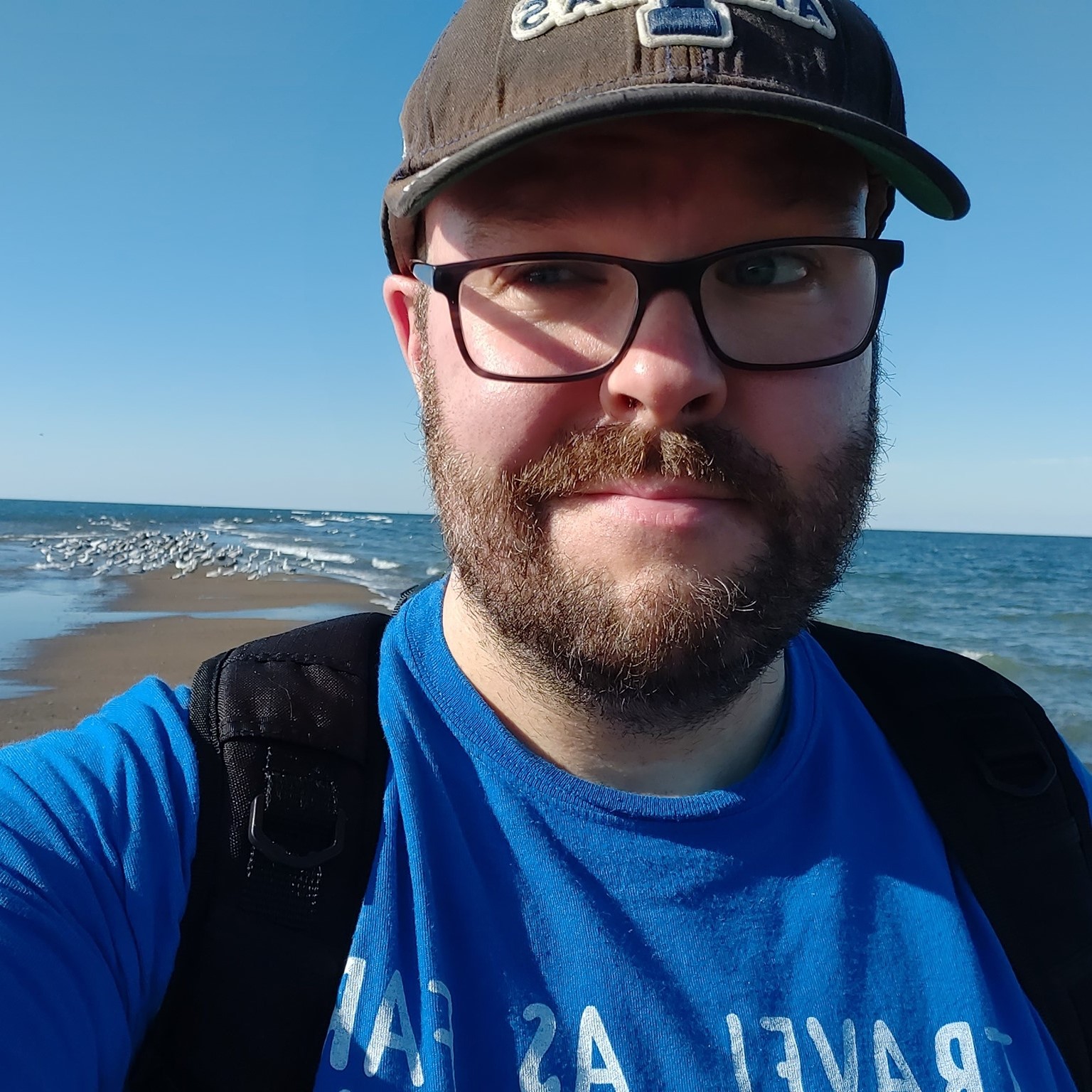 A nearly life-long resident of Windsor, ON, I graduated from St. Clair College (Journalism) and University of Windsor (Communications) and have attended Windsor Spitfires' (and OHL) games for 30-years. My areas include multimedia journalism and photography.