Before I delve into my experience at Game 5, I must provide a little background on how I ended up there.  On February 23rd, two events occurred that started a series of occurrences which led to me attending Game 5 of the Stanley Cup Final between the New Jersey Devils and Los Angeles Kings.  First, Jeff Carter was traded from the Columbus Blue Jackets to Los Angeles for Jack Johnson and a conditional first round pick.  Second, I accepted a position as a Kings correspondent for The Hockey Writers.
Prior to that day, I was not a Kings "fan", though I did enjoy watching them even if they could not score goals at the time.  I grew up and live in Pittsburgh, and thus have always been a diehard Pittsburgh Penguins fan.  As the regular season progressed into the playoffs, I researched and learned as much about the Kings as possible so that I could properly write about them and their history.  At the same time, Carter and the Kings learned to score.  I found myself falling for the Kings as my "girlfriend team" as the hosts of the Puck Podcast would say – I will always be married to the Penguins as my "wife team", but I could have the Kings as my girlfriend team on the side, in the Western Conference, and across the country away from the Penguins (shhh, don't tell them).
@pensfanmeesh7 Can we have you back in a week or so?

— Pittsburgh Penguins (@pghpenguins) June 7, 2012
Ah, they found out.
As the playoffs began, my heavily favored Penguins flopped horribly to the Philadelphia Flyers while the Kings came up with a dominant upset over the top seeded Vancouver Canucks.  My irreplaceable wife team was out, but my girlfriend team was turning heads and at least kept hockey season alive for me.  In the second round, as the Kings were sweeping the St. Louis Blues, I realized that they would be playing on the East Coast if they made it to the Stanley Cup Finals because the remaining East teams were Philadelphia, New York, New Jersey, and Washington.
As soon as the Cup Final schedule was announced, I started planning out when I could finally see these Kings that I wrote about, in person and as a fan.  Game 5 in New Jersey was the best fit as I was already supposed to go to Philadelphia to see friends that weekend, but I was unable to initially get tickets.  As the Kings cruised to a 3-0 series lead, I wondered if I would even get the chance to go or if they would sweep the Devils on home ice.  But alas, the Kings lost, and Game 5 was a necessity.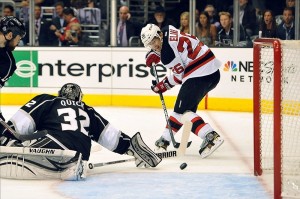 My next obstacle was finding someone to go to the game with.  Odd as it may seem, there are not many people in Pittsburgh that want to drop a couple hundred dollars on a game between New Jersey and Los Angeles.  The power of social media demonstrated itself within an hour of the Kings Game 4 loss however, as I tweeted that I was considering getting Game 5 tickets and so did one of my followers near Philadelphia who had no one to go with.  Despite never having met each other before, we connected via twitter and decided to purchase tickets and meet up at the Prudential Center in New Jersey.  While this may not have been the safest move on paper, it worked out.  I found tickets on TicketExchange as hundreds of Devils fans were looking to sell their tickets with a 3-1 series deficit.
I drove to Newark on Saturday afternoon for the first time since going to Sidney Crosby's first regular season NHL game back in 2005.  My first impression was that it was an easy drive, quickly followed by Newark does not look safe, which was then quickly followed by how beautiful the Prudential Center looks from the outside.  There are a few things I do not like about the state of New Jersey: the Devils, the inability to pump my own gas, and that they charge me $5 every time I leave the state.  However, the Prudential Center is certainly a state of the art arena that looks fantastic and created a party type atmosphere outside of the walls; it is worth liking.
I walked to the arena from the closest parking lot wearing my home Jonathan Quick jersey, which I had purchased in the playoffs after raving about him as a Vezina and Hart candidate late in the year.  Though I received many odd looks, only a couple Devils fans said anything about it outside of the arena.  The interaction was simply, "The Kings are going down", "Yeah, we'll see", and then it broke into a discussion of how great Brodeur and Quick were playing.
I have one major rule about rooting for the away team at an arena – be very courteous and respectful to the home fans and try not to stir anything up.  I try to act like a proper guest and often it fully diffuses fans from hostility.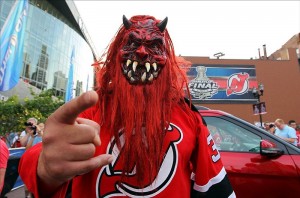 I met up with my new Twitter friend, who luckily was not a serial killer, and we proceeded into the arena where we saw quite a few Kings jerseys right away.  We made it down to the glass for warmups, despite a Devils usher trying to point us in the wrong direction, and quickly realized many people had likely come to this game with the Kings as their "girlfriend" team as well.  Fans had Penguins, Flyers, and even Predators apparel on aside from Kings gear.  Even with Kings fans lined up against the glass and chanting "Go Kings Go," Devils fans in the lower level were very nice and let the visiting fans have their time during warmups.
As we made our way to the upper level after warmups, a short stop at the bathroom turned out to be the first time I dealt with a rude fan.  As I was next in line for the urinals, a man in his 40's decided to cut me off and shove me back a little so that he could go in front of me.  Following my one rule, I opted to make a joke about it, "I guess Quick can't stop everything," which apparently irritated him as he replied, "You're wearing the wrong jersey."  The Devils fans around him clearly thought he was being a jerk as a couple of them offered me their spots for his rudeness.  He proceeded to give me a nice long staredown as he walked out and that was that.  Meanwhile, the girl I was at the game with had a Devils fan scream directly into her ear on his way in and out of the bathroom as she waited for me outside.  Gee, I wonder if it was the same guy.
After that, we made it to our seats without any incidents.  Sitting in the upper level, in the corner behind Quick and across from the Kings bench, we found ourselves next to two Flyers fans who were rooting for the Kings because of Richards and Gagne.  Through some kind of rare magic, two Pens fans and two Flyers fans got along for a few hours as they cheered on the Kings at a Devils game.
The introduction to the game and the atmosphere in the arena were electric.  As a Penguins season ticket holder, I feel confident in saying that Consol Energy Center has never been as loud as the Prudential Center was, except for possibly Crosby's comeback game from his concussion in November.  I was incredibly impressed with the pregame video, how the fans chanted, and how knowledgeable the crowd as a whole seemed.  The production value throughout the game, especially with videos of former Devils players, was perfect.
It took less than half a period for us to see our first Kings-Devils fan incident in the stands, but luckily it did not involve us.  Two sections over, a Kings fan started arguing with a whole row of Devils fans as security went up to get him.  In what must have been a purely logical move, he proceeded to rip off his shirt, displaying a very dark tan and muscles likely earned through steroids, and called out the entire section.  Four security guards restrained him and took him out before the 10 minute mark of the first period.  I'm guessing it was not worth the price of admission for him.
The game was close and enjoyable to watch.  Devils fans were amazingly intimidating in unison even when not directing it at Kings fans necessarily.  After Parise scored the first goal, fans broke out into the usual, "Hey, you suck" chants.  While these chants normally amuse me on tv, it felt much different to hear 18,000 people screaming it in person at your team.  Additionally, every time the Kings went on the powerplay, fans would chant "Kill…Kill…Kill" as if it was the end of a gladiator match.  While not necessarily threatening, it makes you wonder about who you are sitting around after two full minutes of it.
As the game ended with the Devils winning 2-1 and the Stanley Cup staying in its case yet again, we made our way out in a huge mass of excited Devils fans.  Many were nice, and there were quite a few "Good luck," "We'll see you in Game 7," and "It was a great game," comments.  They were of course joined by a plethora of profanities, bandwagon accusations, and "Go back to LA" comments (we're not from LA!).  The only other incident was a member of the Devils "Hardhats" section attempting to snag my souvenir cup and toss it on me as we went down the escalator, but luckily I was ready for it and he couldn't shower me in Pepsi.
All in all, it was a great game in a great arena and with (mostly) great fans.  Here are your takeaways for travelling to an away game:
1) Be respectful to the home fans – most are very nice and will gladly help you out or talk to you.
2) When dealing with rude fans, do not get hostile.  If you act reasonably, chances are that the home fans around you will hate their own fan being a jerk more than you for being a visiting fan.
3) Befriend the fans around you.  If they are visiting fans – you have power in numbers, if they are home fans – other home fans will usually respect that connection.
4) Don't call attention to yourself unnecessarily – say, by calling out a whole section and ripping your shirt off for example.  You're there to watch a hockey game, don't forget that.
5) Enjoy it and take in the whole experience.  Every arena and fan base has their own unique qualities, take the time to appreciate them in comparison to your own.  Everyone should attend a road game for the experience.