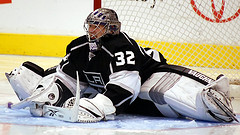 In the 3 days that span the gap between the NHL regular season and the playoffs, writers will inundate the internet with playoff matchups and analysis.  They will also submit their ballots for many NHL awards, as will coaches, general managers, and players to determine who will head to Las Vegas in June for the NHL's awards ceremony.  About a month ago, I assessed the Vezina race and it came down to 3 guys: Jimmy Howard, Jonathan Quick, and Henrik Lundqvist.  Lundqvist appeared to be the heavy favorite, and had been all season.  Now that all of the final statistics are in, let's revisit that race, which is voted on by the league's GMs.
According to ESPN's stats for goalies who have qualified for awards based on appearances, there are only 6 goalies that have a save percentage (Save %) higher than .925: Brian Elliott (StL), Cory Schneider (Van), Mike Smith (Phx), Henrik Lundqvist (NYR), Jonathan Quick (LA), and Jaroslav Halak (StL).
Five of those goalies have a goals against average (GAA) that is below 2.00, all of them except for Mike Smith.  While Smith had quite an impressive shutout streak going as the season came to an end, he shall be eliminated from this discussion based on a GAA (2.21) that is just too high in comparison to the others.  Additionally, Cory Schneider shall be eliminated from the conversation because he is a clear #2 goalie for Vancouver and only played in 33 games behind starter Roberto Luongo.  Schneider had a great season with a 1.96 GAA and .937 Save %, but his workload does not warrant Vezina consideration.
Here are the final stats (NHL rank in parentheses) for the final four contenders:
Brian Elliott –   38 games (T-33rd),   23 wins (T-23rd),   1.56 GAA (1st),   .940 Save % (1st),
9 shutouts (2nd)
Jaroslav Halak –  46 games (T-26th),  26 wins (T-20th),  1.97 GAA (T-4th),  .926 Save % (6th),
6 shutouts (T-6th)
Henrik Lundqvist –   62 games (12th),   39 wins (3rd),   1.97 GAA (T-4th),   .930 Save % (T-3rd),
8 shutouts (3rd)
Jonathan Quick –   69 games (4th),   35 wins (5th),    1.95 GAA (2nd),   .929 Save % (5th),
10 shutouts (1st)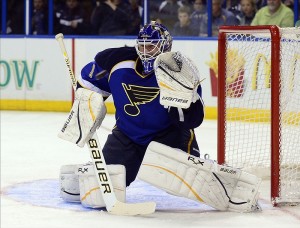 Elliott and Halak have had truly fantastic seasons for the Blues, and they have earned the William M. Jennings trophy for
the lowest GAA for their team, but their split time makes it very difficult to consider them at the top of the list for Vezina.  Elliott may get enough votes to make a trip to Las Vegas as the 3rd best goaltender just on his amazing numbers, but his body of work is simply not large enough to win the Vezina.
So the race is down to two yet again, Henrik Lundqvist and Jonathan Quick.  Roughly a month ago, Lundqvist had Quick beat in every category except for games played.  The final statistics for the season tell a much different story as Lundqvist cooled off down the stretch and Quick elevated his play even further.  The Kings' netminder has passed Lundvqist in GAA, where he finished the season 2nd to Elliott, and shutouts, where he finished 1st in the league.  He also trimmed the difference in Save % to a measly .001.  Quick does have more games played and fewer wins, but much of that can be attributed to his team's lack of offense (29th in the league) compared to Lundqvist's (11th).
Based on the final numbers, the race for Vezina is truly a toss-up between Quick and Lundqvist.  They finished neck and neck in the race to determine who is the best goalie in the league.  Personally, I would give the nod to Quick for being better by just a hair, since he had a lower GAA and more shutouts (not to mention a lot more pressure to let up 0 goals).  The biggest potential factor going against him though may actually be the amount of general managers who made their decision a month or more ago when Lundqvist could have been the clear winner.  I hope the GMs did their research, because this race should truly be unpredictable.
While NHL GMs get their say on the Vezina; Jonathan Quick may find himself in another trophy race that will be up to the NHL's writers.   The Hart Memorial Trophy is "given to the player judged to be the most valuable to his team."  In all likelihood, the Pittsburgh Penguins' Evgeni Malkin will run away with this trophy in a landslide as he led the league with 109 points to earn the Art Ross Trophy and led the frequent Crosby-less Penguins to the 4th best record in the NHL.  The competition after him is a mixed bag though.
Steven Stamkos has made waves with his 60 goal season, finishing second to Malkin in points with 97.  Claude Giroux put together an impressive season in Philadelphia, scoring 93 points despite missing some games with a mild concussion.  Jason Spezza of the Senators had a revival season as he led the Senators back to the playoffs unexpectedly this year.  Ilya Kovalchuk  returned to form as one of the best in the NHL with an 83 point season as New Jersey came back to make the playoffs after a horrendous year last season.  I could go on and on about how different players deserve consideration.  Then there's Jonathan Quick.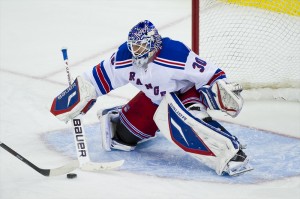 As the stats have demonstrated, Quick has had a phenomenal season, one worthy of Vezina consideration.  But regardless of whether he wins the Vezina or not, how can he not be in the buzz for a Hart Trophy?  The Kings offense has been dismal bordering on non-existent all season, ranking 29th in the league and almost costing the team any chance at the playoffs.  As is, with an all-star goalie, the Kings only managed to slide into the 8th seed in the West.  So where would this team be without Quick?  My guess is they would have been eliminated weeks ago.  Quick is the sole reason that Los Angeles made the playoffs and he deserves recognition for that feat.
Many writers view the Hart as a skater's trophy since goalies receive their own trophy, but I hope they at least considered placing Quick on their ballots like Dejan Kovacevic of the Pittsburgh Tribune-Review did.  There are many factors working against Quick, including the rumored East Coast bias, lack of West Coast coverage, Quick's Vezina candidacy, and Lundqvist's supposed domination, but it would be very reasonable if Jonathan Quick finished at least 3rd in the Hart Memorial Trophy voting.  Quick has earned a nomination for the Hart through his play, but the question will be who actually noticed.
Meesh is an attorney and one of the Pittsburgh Penguins Contributing Writers for The Hockey Writers. He also writes for ThePensNation.com. You can contact him on twitter @HockeyMeesh or e-mail HockeyMeesh@gmail.com