Belleville Senators head coach Troy Mann had been fired after a 5-3 victory over the Rochester Americans on Feb. 2, and the news came as a shock to many. He had been head coach of the Ottawa Senators' American Hockey League (AHL) team since the 2018-19 season, earning a coaching record of 150-117-15-7 with Belleville. Since the firing, there has been quite a bit of controversy to come out into the media.
Mann has been praised for his ability to develop prospects, as star players Josh Norris and Drake Batherson spent time with Mann in the AHL, but some depth pieces like Nick Paul and Mark Kastelic also flourished under the wing of the head coach. Being an AHL coach isn't just about development, though. Belleville has had a disappointing season, and while many will point to the numerous injuries and call-ups as reasons for it, a coach's duty is to win hockey games with whatever you have available. At the time of the firing, the Senators sat second last in the AHL's Eastern Conference with a record of 17-22-3.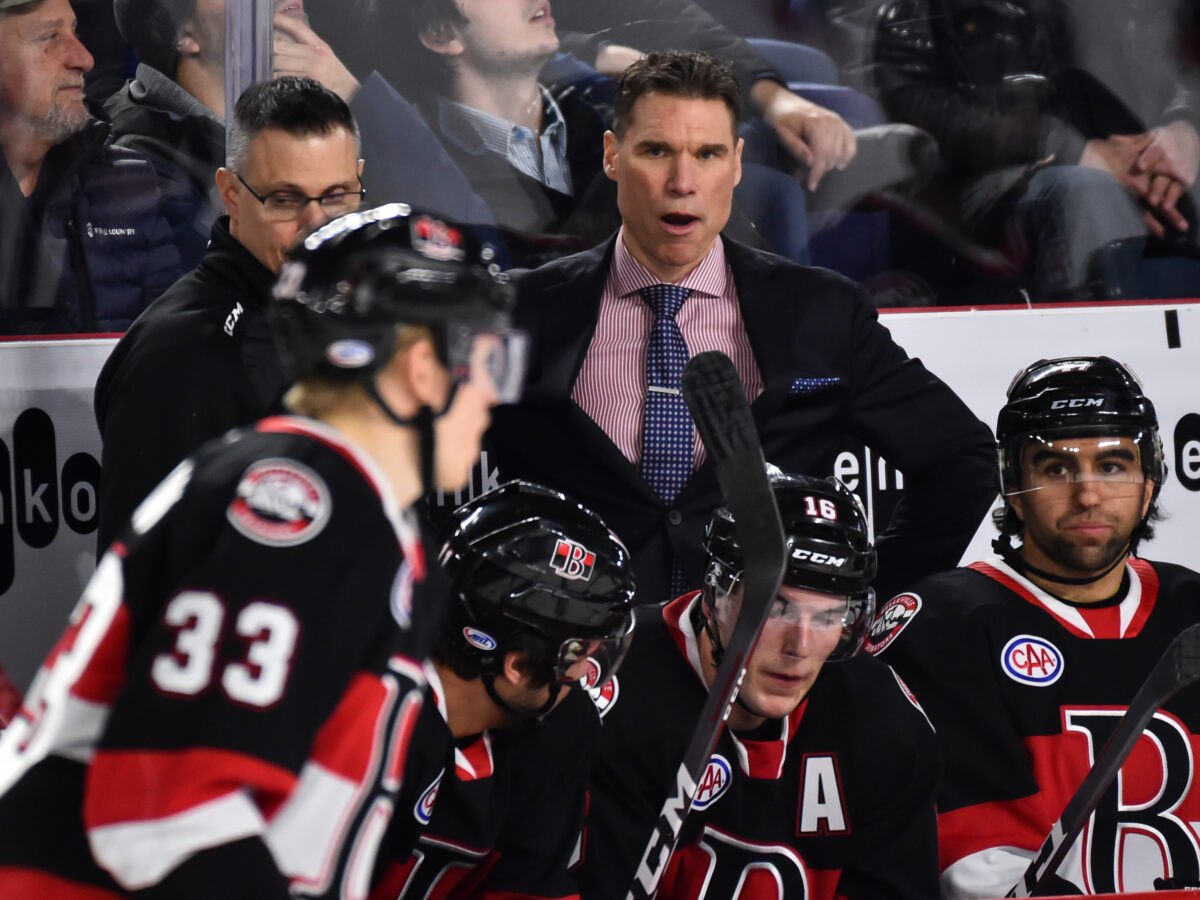 It is not often that an AHL coach getting fired on a struggling team generates any amount of noise, but this time was different. It seems anything that happens with the Senators tends to make its way into the media and usually ends up giving some people a bad reputation.
Senators' Press Conferences
On the night of the firing, general manager (GM) Pierre Dorion and Belleville Senators GM Ryan Bowness came out with statements.
"A change like this is a difficult decision, but we are aligned internally and feel this is necessary for the short and long-term growth of the players in our organization as well as the cohesion in systematic play between Ottawa and Belleville."

Ryan Bowness, Senators Press Release
This kind of quote indicates that it was strictly about the play of the Belleville group. It is no secret that they are underperforming, and with the roster they had, despite injuries and call-ups throughout the year, they should have been better.
---
Latest News & Highlights
---
Dorion backed up the reasoning by stating, "While a change at the head coach position during the season is not an ideal scenario, we felt it was necessary to deliver improved team performance."
The following day, Bowness did another press conference and said that "…anytime a decision like this is made, there is a multitude of factors at play here.". He followed this up by saying that if there was one specific reason to point to, it would be the cohesion between Ottawa and Belleville and their communication line needs to be better.
That is now two different reasons given by the organization within 24 hours of each other. Things got even more interesting as the day after the firing, there was a tweet sent out by TSN's Claire Hanna.
Mann Accused of Giving Pre-Scouting Information
Hanna reported that sources told her that trust issues were emerging between the organization and the head coach, and Mann was accused of giving another NHL team some of the Ottawa Senators' pre-scouting material.
Pre-scouting material was not specifically defined in the reports that came out, and it is important to get Mann's side of the story in this situation. Many are asking questions about how he may have received this kind of information in the first place, and while there are no answers to that yet, his brother, Trent Mann, is the assistant GM of the Ottawa Senators and spent many years as the head scout for the team.
The gravity of the alleged information-sharing is unknown. There can be lots of speculation on what kind of information was given, as well as why it may have been shared, and freelance reporter Brent Wallace, formerly of TSN and current host of the podcast Coming In Hot, chose to give his thoughts.
Brent Wallace Chimes In
On one of the most recent episodes of Coming In Hot, Wallace broke down all of the information that has been released, as well as some of the things he has heard. There is no doubt that he has his connections in the media, as he spent plenty of time covering the Senators, but some of the things he shared added even more gas to the fire when it comes to looking at why Mann was fired.
Related: Senators Need to Build Momentum in 2nd Half & Not Be Big Sellers
---
Latest News & Highlights
---
Mann was a frequent guest on TSN 1200, and Wallace reported that Mann was asked to stay off the radio by the organization around the beginning of 2023. The reason for this boils down to a few things. Ottawa's performance wasn't great at the time, and the organization didn't feel that hearing from the AHL coach would do them any favors.
On Jan. 31, the Senators sent Mark Kastelic and Ridly Greig to the AHL as the team was headed into the All-Star Break. In the media, Mann said that Kastelic was nursing a minor upper-body injury and would join the team in Cleveland on Feb. 10. An NHL team is not allowed to send a player to the minors while they are injured, which could have gotten the team in trouble. While Kastelic had missed four games before the break, the reason he wouldn't be playing was not due to injury, but because he was taking a vacation. Kastelic had been a full-time NHL player over the course of the season, so he booked a trip to Florida with many of the other Senators, which he went on. He did join the AHL team in Cleveland, but the reason for it was a lie by Mann.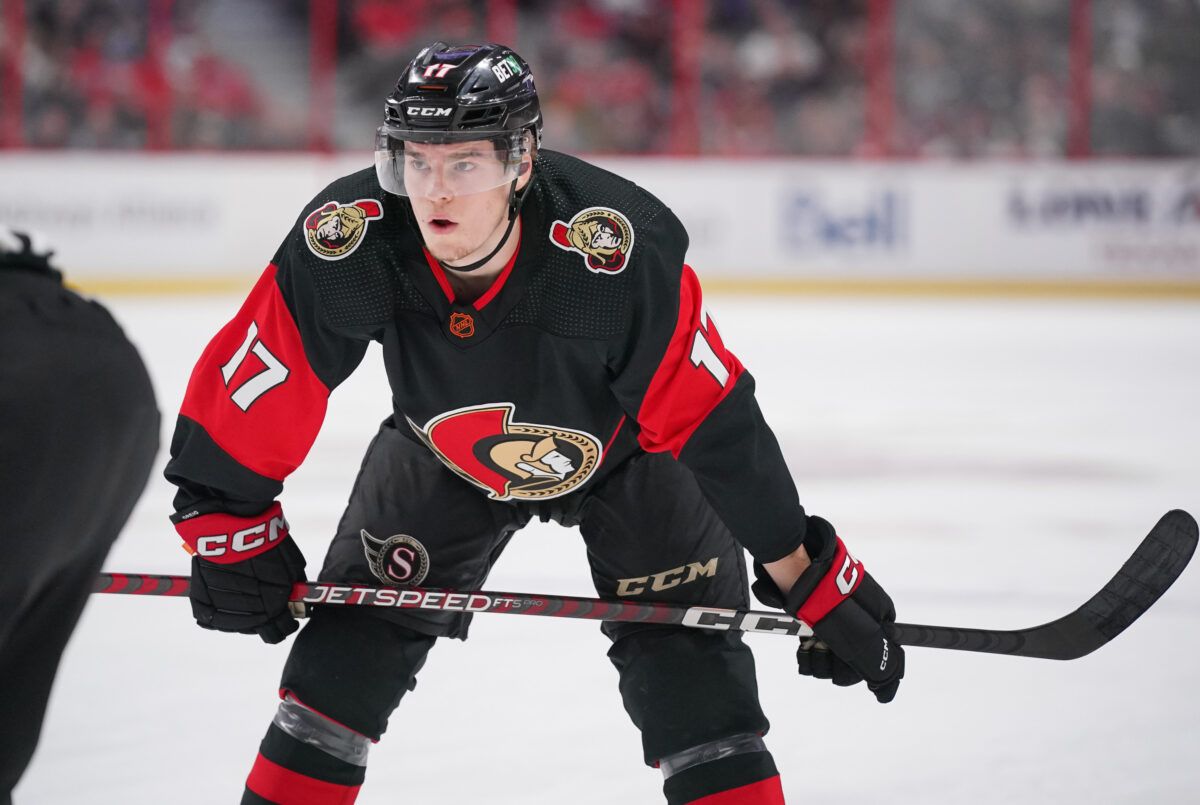 Mann also stated Greig would play Thursday (Feb. 2), but that was also not true. The Senators only sent Greig down so he could get practices in while the NHL team was on break. He was not expected to play at all, as he is currently playing great in the second-line center spot in the NHL and the team would not risk an injury playing for Belleville.
Again, all of this was broken down by Wallace on Coming In Hot.
This seemed to be the final straw, and Mann was relieved of his duties and replaced with David Bell following Thursday's game. Wallace reported that Trent Mann was told about the firing as he, Dorion, Bowness, and chief European scout Mikko Ruutu were walking in the parking lot to take a scouting trip to Ann-Arbor.
Backing up to the tweet sent out by Claire, Wallace also mentioned that while he wasn't trying to discredit her tweet, he hasn't heard or seen anybody else back up the story. He then added that if he was fired for leaking information, the Senators would have issued a very short press release saying he was fired, and Belleville's Twitter account wouldn't have thanked him.
To wrap everything up, Wallace, along with some input from Bobby Ryan and Jason York, broke it down into five theories.
The first was simply that Troy did leak information, and Wallace heard that it might have happened earlier on in the year when the Senators were struggling and DJ Smith may have been on the hot seat and Troy likely wanted the job. This is without a doubt a fireable offense.
The second was that the reasons outlined in the initial media release were the main issue. Team performance and lack of development as of late. This is a pretty straightforward, understandable, and justified reason to fire Mann.
The third theory ties into what Wallace mentioned about Smith being on the hot seat, and that the organization had more loyalty to him than they did Mann, and with Smith feeling threatened, they fired Mann.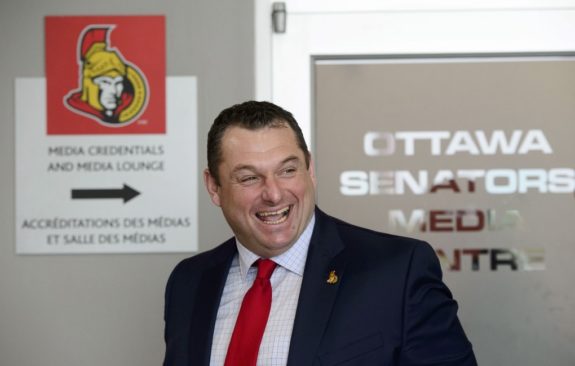 The final theory was more of a group effort. The organization could have been looking to get rid of both Manns, as they know new ownership is coming in, and as Bobby said, if new ownership shows up and starts asking questions about other management pieces, you want to make sure everybody is on the same page. If you aren't and your job feels threatened, you will try and get rid of those who may be candidates to take over. Firing Troy in hopes of Trent resigning is a bold theory, but never say never.
On paper, Mann was fired without cause, meaning that the team is still paying him for the year and a half he still had under contract. The Senators don't like paying people if they don't have to, especially with a new ownership group coming in. If he had given information, that would provide cause. Wallace added that he wouldn't be shocked to see Mann get a lawyer and figure out more information about the tweet Hanna released.
Likely More to Come From Mann
I don't imagine this will be the end of this conversation. I waited a bit longer to release this as I was hoping for some more concrete answers, but for now, this is what we have.
Mann likely has a non-disclosure agreement about what happened, and therefore can't come out and give his side of the story, but he and his brother are well-respected in the organization and around the league. Eventually, the full story is bound to come out.
---
---