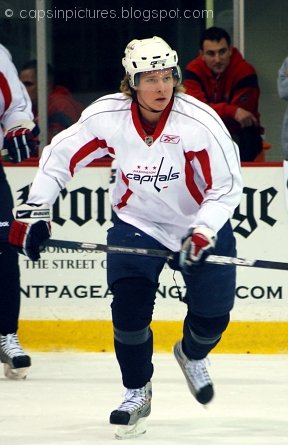 By picking up an assist in the Capitals' loss against Florida, Nicklas Backstrom now has points in 10 straight. Backstrom is now one point shy of tying last season's point total of 69 with 18 games remaining. Yet it seems as though the cream of the crop at center is still Crosby, Datsyuk, Malkin, and Thornton. While Nick might not even be one of the two (or three) best players on his team, he's definitely a top center in the NHL and should start getting recognized for it.
In the 2006 NHL Entry Draft, the Caps held 10 picks, the earliest being the fourth overall. Washington almost passed up the opportunity to draft Backstrom and trade the pick to Boston (Boston offered the 5th and 37th picks for the 4th overall pick), but General Manager George McPhee kept the selection and it has worked out so far.
"Yeah we liked him [Backstrom] all along and we kept hoping that he'd be there when we were going to pick," McPhee said. "And we were pretty confident that he would be. We think he's an elite play-making center, and they're hard to come by in this league. He's got great poise, good hockey strength, and we think he's ready to play now."
Now in his sophomore season, Backstrom made a late run at the Calder trophy last year, eventually being named runner-up to Jonathan Toews. But with Alex Ovechkin contending for the Hart Trophy and Mike Green contending for the Norris Trophy, could Nick get the 'hat trick' of trophies for Washington and contend for the Selke Trophy for best defensive forward? One NHL.com writer thinks so.
Coming up fast, however, is sophomore center Nicklas Backstrom, who might be in line for the Selke Trophy as the NHL's top defensive forward. Entering the weekend, not only was he tied for ninth in the League with 66 points, but he ranked third with 62 takeaways.
Selke Trophy talk might be a little premature for the 21-year old Backstrom. With the exception of John Madden, the past eight Selke winners have played at least six seasons and are an average of 32.6 years old at the time of receiving the award. But winning awards is the last thing on the young Swede's mind who insists that not much has changed about his game.

"I don't know," he said. "When I have an opportunity to shoot, I shoot it. Some games I have more opportunities to shoot than other games, but I can't tell you what's changed lately. I have to shoot more though. That's something I've been working on."
You won't hear Don Cherry mentioning Nicky B and 'celebrations' in the same sentence; Backstrom is calm, cool, and collected at all times on the ice. While Ovi is jumping around after every goal (and I say that in the best possible way), Backstrom's post-goal celebration usually consists of pointing to the player who picked up the primary assist and skating together for the group hug. While teams will continue to focus on stopping threats like Alex Semin, Green, and Ovechkin, Backstrom will continue to fly under the radar and be the catalyst for the Caps offense.