Who are the top three goalies in Anaheim Ducks history? Most of us will agree on the top two, but there is quite a log-jam for the number three spot. After crunching the numbers, these three masked men stood a cut above all others.
Jean-Sebastian Giguere
"Jiggy" as he's affectionately known in Anaheim, takes top honors among Ducks goaltenders. Giguere led the Ducks all of the ways to game seven of the 2003 Stanley Cup Finals, where they lost to the New Jersey Devils. However, his excellent play throughout the playoffs earned him the Conn Smyth Award for most valuable player of the playoffs. He is one of the few players from a losing team to win the award. He brought the Ducks back to the finals just four years later in 2006-07, where they would defeat the Ottawa Senators in five games for the Ducks (and California's) first Stanley Cup.
Giguere played in 447 games during his eight and a half year stint in Anaheim, posting a 206-163-59 record with 32 shutouts. He holds numerous franchise records, including most career games played, wins, ties plus overtime and shootout losses, shutouts, and minutes. Longest shutout streak is perhaps the most impressive record he can lay claim to. His shutout streak spanned 237 minutes and seven seconds over five games from December 6th through December 18th, 2002 and included three shutouts.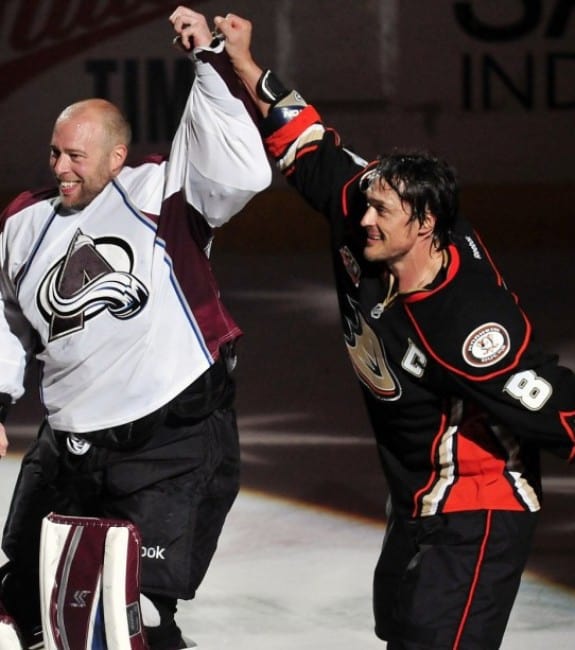 He also co-starred in one of the most memorable moments in Anaheim Ducks history, taking a lap with Teemu Selanne after their final regular season game.
| | | | | | | | |
| --- | --- | --- | --- | --- | --- | --- | --- |
| J.S. Giguere | GP | W | L | OT | SO | GAA | SV % |
| Regular Season | 447 | 206 | 163 | 59 | 32 | 2.47 | .914 |
| Playoffs | 52 | 33 | 17 | | 6 | 2.08 | .925 |
Guy Hebert
The Anaheim Ducks made Guy Hebert the very first Duck when they selected him with their first pick in the 1993 expansion draft. He started the franchise's first game, won their first road game, recorded their first shutout, and is the goalie of record for the Ducks first playoff victory and won all four games in their first playoff series win. He was an integral part of the early Ducks teams, tending goal in at least half of their regular season games each of the franchise's first eight years in the National Hockey League.
Hebert's career statistics don't do him justice, as the team in front of him was pretty bad in the early years. A prime example of this is the Ducks inaugural season. There were 23 players who scored 40 or more goals and nine who scored 50 or more goals during 1993-94 NHL season, while the Ducks had only two 20 goal scorers. He finished 11th in save percentage and 12th in goals against average in 1993-94, playing for a team whose best defenseman was Bobby Dollas. As the team improved, so did Hebert's stats. He finished fourth in Vezina voting and was an all-star in the 1996-97 season.
In my opinion, he is one of the most underrated goalies from the 1990's, at least outside of the Anaheim faithful. He holds the 42nd best save percentage (career) in NHL history. Among the players from his era who you will find below him on that list are Jose Theodore, Nikolai Khabibulin, Ed Belfour, Curtis Joseph, and Felix Potvin to name a few.
Unfortunately, Guy Hebert's best playing days would run out before the Ducks ever became a serious contender, otherwise, he might very well be number one on this list.
| | | | | | | | |
| --- | --- | --- | --- | --- | --- | --- | --- |
| Guy Hebert | GP | W | L | OT | SO | GAA | SV % |
| Regular Season | 441 | 173 | 202 | 52 | 27 | 2.75 | .911 |
| Playoffs | 13 | 4 | 7 | | 1 | 2.67 | .913 |
Frederik Andersen
Claiming the number three spot is "The Great Dane." This guy has ice-water running through his veins. I cannot think of a single instance where he appeared rattled in the three years he played for the Ducks. He was as calm when loose pucks had him "swimming" as he was when facing a wrist shot from the blue line with a clear line of sight. His solid play and rock steady on-ice demeanor had a tremendous calming effect on the entire team, an intangible benefit that secured his place on this list.
Andersen started his NHL career with six straight wins and posted a 9-1-0 record over his first ten games. He became only the second goaltender in NHL history to win 25 of his first 30 games. In 125 games with the Ducks, Andersen posted a 77-26-12 record. In terms of winning percentage, his record is the best on this list.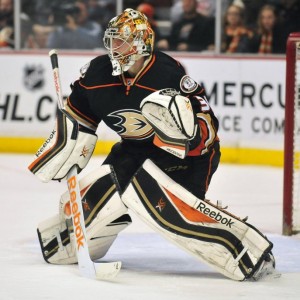 He was instrumental in the Ducks long postseason run in 2014-15, coming just one win shy of earning a trip to the Stanley Cup Finals after losing in game seven of the Western Conference Finals to the eventual Stanley Cup Champion Chicago Blackhawks. In my opinion, Andersen would have accomplished a lot more in the postseason if not for Bruce Boudreau's recurring mismanagement of the Ducks goaltending in the playoffs. I'm still bummed about him being traded to the Toronto Maple Leafs prior to this season, but these things happen in a salary cap league. John Gibson is a great young goaltender who will get better, but he will never replicate the calming effect that Freddy had on the entire team.
| | | | | | | | |
| --- | --- | --- | --- | --- | --- | --- | --- |
| Frederik Andersen | GP | W | L | OT | SO | GAA | SV % |
| Regular Season | 125 | 77 | 26 | 12 | 6 | 2.44 | .918 |
| Playoffs | 28 | 17 | 9 | | 2 | 2.34 | .916 |
Honorable Mention
Jonas Hiller won a lot of games for the Ducks and if not for the intangible benefits that Frederik Andersen brought to the team, he would have been number three. He definitely deserves a mention, as he provided quite a few highly entertaining moments of right-hand robbery. Wild Wing also earns an honorable mention after his clutch goaltending performance helped the Western Conference mascots defend their title at the 2017 NHL Mascot Showdown.
Mr. Congeniality
I'm sure that many of the Ducks players who have been fortunate enough to play with Ilya Bryzgalov would agree that he is hands down the most entertaining and friendly human to tend goal in the history of the Anaheim Ducks. And don't forget, he did secure three of the 16 playoffs wins which earned the Anaheim Ducks their first Stanley Cup. His friendly personality thrived while he played for the Ducks, which should come as no surprise as the average low temperature in Anaheim is a fairly comfortable 55.7 degrees.
John lives on California's central coast and covers the Anaheim Ducks.