When the Edmonton Oilers traded Taylor Hall, Peter Chiarelli publicly called it 'the price you pay to get a No. 1 defenseman." On the surface, that is and was likely true. Underneath, however, there were rumblings that part of what made Hall dispensible was the rumored locker room issues that existed between he, other players and coaches.
While being a poor teammate could be viewed as justification for moving out a player of Hall's skill and ability, there was never really documented proof of such issues. The closest evidence would be an on-the-bench riff between Hall and then coach Dallas Eakins.
It was a bad look for the Oilers. But, as one soon-to-be former Oiler has now described it, this kind of incident was merely scratching the surface of what was really going on at that time with the entire team.
Problems in the Room
Perhaps this Eakins and Hall issue was an isolated incident. Perhaps not. In an interview with Bob Stauffer on Oilers Now, current, but soon to be retired Edmonton Oiler, Andrew Ference left little to the imagination about how bad things actually were.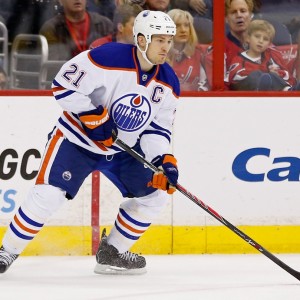 Ference discussed a lack of effort, a willingness by players to rest on their "supposed" skill level and an overall poor desire to compete in the NHL. It was described as a sense of entitlement, not a lack of strong coaching or messaging, and it was something Ference believed was a real killer to any potential success that Oilers team could have had.
It was clear that Ference saw the Oilers of that time as the wrong mix of players, the wrong attitude and wrong mental state to do anything but lose as often as they did.
The Idea of Ference Blowing the Whistle
Some will argue that in his time with the Oilers, Ference didn't offer a whole lot. He was often injured, clearly, his play was declining and his talent level never was, nor would have been at or on the level with a player like Hall. Who is he to have an opinion? After all, the team was at its absolute worst under his leadership as captain.
Further to that, while Ference didn't name names, some people won't want to get behind the idea that Ference should do anything but hold himself somewhat responsible for the Oilers lack of success. He was an overpaid, unmovable asset who didn't provide a lot of value. It's easy to be hard on a team who didn't have the luxury of putting Connor McDavid out on the ice every night.
On the other hand, Ference was a lot of things that don't count on the stats sheet. He was one of the few Oilers during that time willing to step up when things got heated. He was never the most skilled player, nor the biggest, but he played hard. He was a captain, who at the time, had to answer a lot of questions about poor play. Finally, he was a battle-tested veteran who knew what it took to win. He'd done so in Boston, seen what a cohesive locker room and team looked like and he offers an outsider's perspective on the workings of a guy like Peter Chiarelli.
The reality is, if Ference says there were issues, there is no reason not to believe him.
Today's State of the Oilers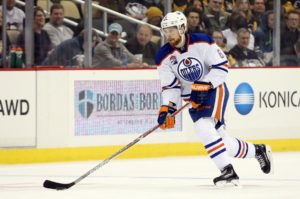 Ference discussed visiting the current dressing room under now coach Todd McClellan and he can see a big difference. He sees a group of guys willing to not just battle, but to go to war for each other. He believes they can look down the dressing room with confidence that each player in that room will have the other's back.
A combination of size and skill can go a long way. But Ference suggests that the only way to take the next real step is to mix that size and skill with a mental capacity to work harder, try more and compete every shift and every game. In that respect, it makes the Adam Larsson trade a bit easier to swallow.
Will Larsson ever be as skilled and talented as Taylor Hall? Probably not. But, one of the more pleasant surprises Larsson has brought to the table as an Oiler is his grit, sandpaper type play and compete-level. He seems to bring it every night. He's not the only one.
Zack Kassian, Milan Lucic, Anton Slepyshev, Connor McDavid, Tyler Pitlick, Mark Letestu, Patrick Maroon and others are just a few of the names who personify this new Oilers compete-level. It's the type of play that wasn't often seen back when Ference was an active part of the roster. He views it as a welcome change.
Was it only Taylor Hall? No. Does Ference have a point? Probably.
Jim Parsons is a senior THW freelance writer, part-time journalist and audio/video host who lives, eats, sleeps and breathes NHL news and rumors, while also writing features on the Edmonton Oilers. He's been a trusted source for five-plus years at The Hockey Writers, but more than that, he's on a mission to keep readers up to date with the latest NHL rumors and trade talk. Jim is a daily must for readers who want to be "in the know."
Other content contributions include: NHLtradetalk.com, The Sportster and hosting weekly video casts, THW News and Rumors Rundown, plus Oilers Overtime.
For interview requests or to provide content info, follow Jim on Twitter or his social media accounts. They appear under his photo on articles like this one.