Timing is everything when it comes to winning Stanley Cups, even if that team is the Los Angeles Kings. Having a sure thing for a system doesn't matter when its players are riddled with injuries. The structural integrity of the Kings' system is taking a serious beating this year and it's quickly knocking core pieces off of the game sheet, one by one. Who would have known Marián Gáborík's broken foot from the World Cup of Hockey would be the first of 10 Kings to get injured this season?
With 55 games played, 60 points and 27 games left to go, the L.A. Kings still have a shot at making the playoffs this year but they need to improve their system's structural integrity if they have any chance at making it.
L.A. Kings Struggle With Unforeseen Circumstances
In the past, the Kings' success was built on team effort. That's not to say the effort is lacking, but rather the team members are simply not there. After Gáborík, nine more got injured. Some incurred minor injuries and only missed a couple games, while others had surgeries with lengthy recovery times. The result has been an accumulative 151 total missed games. Jonathan Quick was the next to get injured (Oct. 12) and he's still recovering. Then it was Jeff Zatkoff, the backup goalie (Oct. 22). Then it was Brayden McNabb (Oct. 29), who missed 27 games. The very next day, Andy Andreoff got injured and missed 17 games. On Remembrance Day, Anze Kopitar was hit with an upper-body injury but only missed five games. A month later, Dustin Brown got a shoulder injury and missed two. Four days later, Tyler Toffoli got a lower-body injury and missed 17. Matt Greene endured a series of injuries until he finally stopped playing altogether. He was put on the injured reserve list (Jan. 30) with an undisclosed injury and hasn't played since. Finally, Jordan Nolan got a lower-body injury (Feb. 1) and hasn't played since either.
Some people might look at this list and think the team could probably survive without a few of them. But when a team relies so heavily on a structure to win Stanley Cups and has a proven track record of winning them in that way, sometimes the smallest pieces are the ones that make the biggest difference.
System Weaknesses Unmasked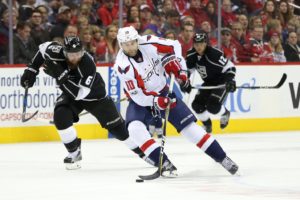 For those of you who've been keeping up with the Kings for the last few years, you'll likely know they didn't make the playoffs the season following their second Stanley Cup win. At the time, there were a lot of raised eyebrows. Then last season, they got eliminated in the first round. After taking a deeper look at the reasons behind this elimination, their greatest weakness seemed to be on the penalty kill.
Of course, it makes sense that goals scored against happen more frequently during 4-on-5 situations. The issue was the number of 4-on-5 situations. Interestingly, there were no players with an abnormal amount of penalties. Even when you look at the footage, there were only a few penalties that could have been avoided by exercising self-control. That's it. A few, two-minute penalties did not eliminate the Kings from the playoffs last year.
Instead, reasons explaining their penalties may have been found in patterns among players whose linemates incurred penalties. Regardless of position, the Kings were more likely to incur penalties when individual players were switched between lineups. Dwight King, for example, was the worst for this. He skated between 12 and 19 minutes in each of the five playoff games and only received one penalty. However, a teammate on the ice with him received a penalty every 10-and-a-half minutes.
The Kings aren't experiencing chronic power play goals scored against them anymore and there has been a decrease in total penalty minutes over the season. However, mistakes are still being made as reflected by their points in the standings and one theory is they're happening because of the changing lineups.
Filling Gaps & Fixing Weak Spots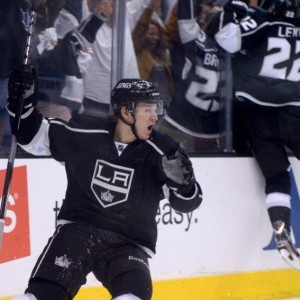 Players brought up from the AHL just to fill a hole, rather than when they're ready can actually disrupt their trajectory. If you look at Dean Lombardi's track record of advancing prospects to the NHL though, you'll see players being brought up halfway through the season is definitely part of his annual routine. Look at Tyler Toffoli for instance. His first NHL game was played on Mar. 16, 2013 against the San Jose Sharks. He played in 10 games for the remainder of the 2012-13 season and contributed a total of five points. Obviously, he was ready.
Nic Dowd played his first NHL game on Mar. 22, 2016 and Nick Shore played his first on Jan. 17, 2015. Trevor Lewis played his first NHL game on Dec. 20, 2008, and scored his first NHL goal in his second game the next day. Tanner Pearson and Brayden McNabb both started playing in November (different seasons obviously) and Pearson actually scored a goal in his first game.
It's now mid-February and the Kings are fighting for playoff contention and, as usual, we're seeing a lot of changes occur in the roster. Devin Setoguchi played his last game for the Kings on Feb. 5, 2017, and a week later he was put on waivers. Defenseman Paul LaDue was recalled from the AHL's Ontario Reign and played his first game for the Kings on Feb. 7, 2017.
He's now played in two games and got an assist during the Kings game against the Florida Panthers. Then on Valentine's Day, the Kings recalled Swedish winger Adrian Kempe.
There's no reason to think that by advancing these two prospects into the NHL at this point during the season is some sort of last-minute, desperate attempt to chance a wildcard spot. It likely has more to do with catching opponents off guard with a guy who "came out of nowhere", or who "no one saw coming".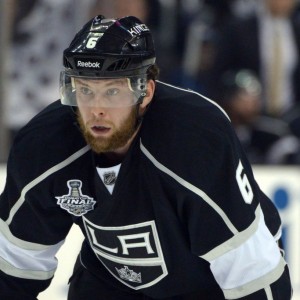 The downside of having a reputation versus not having one can cause the element of surprise to become predictable. However, if Kempe turns into the next Pearson playoff weapon of mass destruction, it'll still be a surprise nonetheless. If this did happen, the difference would be that no one can say they didn't see it coming. If LaDue turns into the next Jake Muzzin, it won't be all that surprising either. Last year when Alex Martinez got injured, Muzzin really stepped up his game because they needed him to.
The Kings still have a good system in place and there's reason to believe it's evolving at the same pace as the league. They are getting fewer penalties and fewer power play goals scored against them. That's a good change. Although injuries can increase as the team ages, there are obvious benefits of having a team with an average age of 26.8. The first being the average count for regular season NHL games played per player is 364 and their average playoff games played is 40 (these averages don't include Greene but do include LaDue and Kempe). Furthermore, a total of 22 Stanley Cups were won with this roster. Teams with this kind of experience under their belts are few and far between and that's because it doesn't happen by chance.