The San Jose Sharks and Florida Panthers completed the season series tonight in San Jose. There were a few milestones celebrated ahead of the game. The Sharks honored Patrick Marleau for his 500th goal scored on Feb. 2.
Franchise leader in games played, goals, points, power play goals, and game winning goals. 👏#Marleau500 pic.twitter.com/3rj398zTGs

— San Jose Sharks (@SanJoseSharks) February 16, 2017
The Panthers had their own player to honor as well. The great Jaromir Jagr celebrated his 45th birthday with none other than SJ Sharkie, who has attended a birthday or two in his day as the Sharks mascot.
Happy birthday Jags! #TalentRespectsTalent@SanJoseSharks @nhl @FlaPanthers #sjsharks #sjsharkie pic.twitter.com/jSArTujq5J

— 𝗦.𝗝. 𝗦𝗛𝗔𝗥𝗞𝗜𝗘 (@sjsharkie) February 16, 2017
And then the madness started. It was a strange game of bad bounces, weird deflections and had a little bit of everything for everyone.
First Period
The Panthers pounced in the first eight minutes of the game as the Sharks came out completely flat. Florida opened the scoring on a two-on-one as Reilly Smith and Jussi Jokinen caught Brent Burns out of position. Smith was able to get the pass over to Jokinen despite Paul Martin.
Just 31 seconds later, Brent Burns atoned for his literal misstep and blasted home his 25th goal of the season on a pass back to the point. Bjugstad scored on a breakaway 44 seconds later on a stellar stretch pass from Aaron Ekblad to spring the speedy winger, who cleanly beat Martin Jones on his glove side.
Whoa Nellie… #FlaPanthers 3-1 over Sharks…Jokinen, Bjugstad and now Barkov…this game may end 22-19 at this point

— George Richards (@GeorgeRichards) February 16, 2017
The Panthers were not done there. After a rare turnover by Marc-Edouard Vlasic, Aleksander Barkov's slapshot beat Jones and put Florida out to a 3-1 lead. Of the first ten shots on goal, four of them resulted in goals, including three straight for the Panthers.
The Sharks would pull within a goal as Joel Ward tipped Joe Thornton's redirection of a Burns shot from the right point. It was a perfect goal to cap off a crazy first period of defensive lapses and odd plays.
Second Period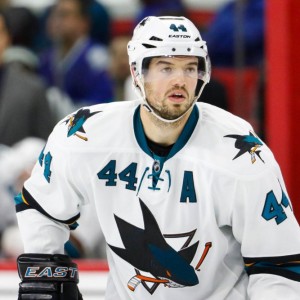 The game settled down in the first third of the second period. But when the goals returned, it was Vlasic's point shot that bounced off Barkov and through Luongo to tie the game at 3-3 with 13:33 left in the middle frame.
Joe Pavelski nearly had a breakaway but was mugged by former Shark Jason Demers and awarded a penalty shot. On the ensuing penalty shot, Pavelski lost the handle on the puck, and it trickled to the right of the net with the game still tied at three goals for each side.
The Sharks first power play of the game saw Pavelski ring a shot off the right post, keeping the game tied.
The Sharks pressed the issue in the last five minutes of the period as Thornton, Vlasic and Pavelski all had chances, including a power play chance with Jonathan Marchessault in the box for delay of game. But still, the period would close deadlocked at 3-3.
Third Period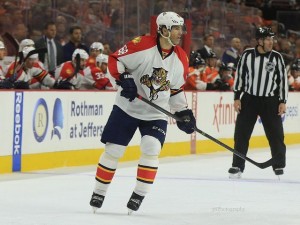 The Panthers retook the lead on their 13th shot of the night with Bjugstad's seeing eye shot just 2:15 into the final period of action. The Sharks got a key power play as Jagr tripped Chris Tierney, who went down very easy to draw the penalty.
On the power play, Logan Couture's shot found the leather of Luongo for the Sharks best chance to tie the game again. Kevin Labanc would nearly feed Pavelski for a goal, but the Sharks' captain had his stick lifted at the last second.
At 12:41 of the third period, Jagr recorded his 1,900 NHL point on his 45th birthday with a one-touch pass to Barkov for a 5-3 lead for the Panthers. Barkov's second of the night gave the Panthers a 5-3 lead.
The Sharks showed life late as Pavelski's centering pass would deflect off a Panthers defender. Pavelski was not done there. With just 38 seconds left, Pavelski scored his second of the period.
Luongo looked to injure his right knee on the play, and former Shark netminder James Reimer entered the game cold with it knotted at 5-5 after a wild final three minutes.
Second Pavelski goal. #SJSharks pic.twitter.com/wq68TmfhnP

— San Jose Sharks (@SanJoseSharks) February 16, 2017
Overtime
Reimer stopped Thornton in the opening moments of the overtime period. Finally, Barkov's backhand pass to Huberdeau led to the game-winning goal after a rough shift by David Schlemko with a giveaway in the right corner, giving the win to the Panthers.
---
Scoring Summary
First Period
FLA – Jussi Jokinen (8) Assisted Reilly Smith and Vincent Trocheck
SJS – Brent Burns (25) Assisted by Joe Pavelski
FLA – Nick Bjugstad (3) Assisted by Aaron Ekblad and Mark Pysyk
FLA – Aleksander Barkov (12) Assisted by Keith Yandle and Jonathan Huberdeau
SJS – Joel Ward (7) Assisted by Joe Thornton and Brent Burns
Second Period
SJS – Marc-Edouard Vlasic (4) Assisted by Kevin Labanc and Joe Pavelski
Third Period
FLA – Nick Bjugstad (4) Assisted by Alex Petrovic
FLA – Aleksander Barkov (13) Assisted by Jaromir Jagr
SJS – Joe Pavelski (19) Assisted by David Schlemko and Brenden Dillon
SJS – Joe Pavelski (20) Assisted by Tomas Hertl and David Schlemko
Overtime
Jonathan Huberdeau (3) Assisted by Aleksander Barkov
Thornton, Marleau, Jagr and Yandle combined have played in over 4,500 career games. Incredible! #SJSharks

— Joshua Neditch (@ChesterCheevo) February 16, 2017
THW Three Stars
First Star: Jaromir Jagr (1,900th Point)
Second Star: Aleksander Barkov (Two goals, assist)
Third Star: Joe Pavelski  (Two goals, two assists)
---
NEXT UP
San Jose Sharks at Arizona Coyotes
Gila River Arena – 5:00 PM PST on Feb. 18, 2017
Broadcast Channels: FS-A, CSN-CA
Season Series:
Nov. 1: Coyotes 3 – Sharks 2
Nov. 19: Coyotes 3 – Sharks 2 (OT)
Nov. 29: Sharks 2 – Coyotes 1 (OT)
Feb. 4: Coyotes 3 – Sharks 2 (SO)
NEXT UP
Florida Panthers vs. Anaheim Ducks
Honda Center – 7:00 PM PST on Feb. 17, 2017
Broadcast Channels: SN1, PRIME, FS-F
Season Series:
Feb. 3: Panthers 2 – Ducks 1
Covering all manner of hockey on the West Coast, including the San Jose Sharks, San Jose Barracuda, Stockton Heat, WHL, and random prospect news and notes with random SM-Liiga coverage tossed in as well.