Youth is probably the only thing keeping most Vancouver Canucks fans hopeful these days. With just two wins in their last nine games, things are starting to look bleak in the Western Conference wild card race. The impending dread of another year without a post-season appearance is casting a long shadow on the team. However, the prospect pool remains promising, which could have long-term benefits for the team. Adam Gaudette, Brock Boeser and Will Lockwood are having great campaigns in the NCAA, and it's only a matter of time before they'll have their time to shine in the NHL.
Adam Gaudette
Adam Gaudette https://t.co/JvbyRu2vet pic.twitter.com/dfGVZDtgWu

— Peter Harling? (@pharling) January 5, 2017
Adam Gaudette continues to impress for the Northeastern Huskies. Gaudette has scored 45 points in just 29 games, including 21 goals. He leads all sophomore skaters in scoring and sits sixth in the league overall. Also impressive is his 13 power play points, which is better than any other player. He hasn't gone more than a single game without a point this year. He's a forceful two-way forward who goes hard to the net, rarely makes mistakes, and is a whiz with the puck, especially under pressure. The Braintree, Mass. native is turning into a fifth round steal, and a player the Canucks will be eager to get into the lineup moving forward.
Brock Boeser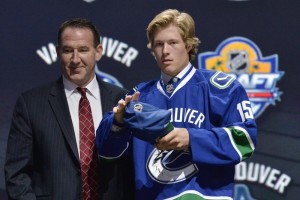 Brock Boeser is probably the most well-known Canucks prospect right now, and for good reason. After leading North Dakota to a National Collegiate Hockey Conference Championship in 2015-16, wrist surgery kept him out of the lineup for the first part of the season. It also rendered him unable to play in the 2017 World Juniors. If healthy, he would have made an already excellent American team even better. He returned to action on Jan. 6, and amassed six points in his first three games back. Today, he's scored 23 points in 23 games, good enough for third place on his team. After finishing top three in Division I scoring last year with 60 points in 42 contests, he's continuing to improve in the green and white. A first round pick in the 2015 draft, he plays a lot like Patrick Sharp, and if the last two seasons are any indication, he'll be ready for the NHL very soon.
William Lockwood
Will Lockwood has all the makings of a solid two-way winger. He's fast, makes smart plays in the defensive zone, and isn't afraid to go to the dirty areas. He's in his freshman year at the University of Michigan, and has looked steady thus far. He's tallied 15 points in the first 24 games of his college hockey career, and the 18-year-old is just getting started. He probably has a few more years until he cracks an NHL roster, but the 2016 third round selection is making a good case for why he should fight for a spot in the next few years. He has more development to go through in the NCAA, but will almost definitely be an impact player for an NHL team down the line.
Great Prospect Pool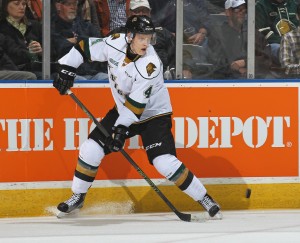 Besides the NCAA, there are a host of great Canucks prospects making a splash in junior hockey. Olli Juolevi has been solid for the London Knights, Brett McKenzie is on a point per game pace in North Bay, and Carl Neill and Guillaume Brisebois have the Charlottetown Islanders in fourth place in the QMJHL. Meanwhile, Alex Grenier and Jordan Subban have been solid for the Utica Comets in the AHL, a team that is themselves fighting for a playoff spot.
Whether or not the Canucks will make a push for the playoffs this season is still up in the air. They're hovering just a few points out of the final wild card spot, and all it takes is a streak either way to put them back in, or seal their fate. But regardless of where the Canucks finish, fans can remain hopeful for a great young group of prospects, in the NCAA and beyond.