The 2016-17 OHL season is rapidly approaching, and it will surely be one of the greatest in franchise history for the Mississauga Steelheads, who appear poised for tremendous success.
In 2015-16, the Steelheads recorded their first winning season, posting a 33-30-5 record which was good for seventh place in the Eastern Conference and set a first round Playoff matchup with the power-house Barrie Colts.
Although Mississauga eventually dropped the first round series to the Colts in seven games, it was one in which the Steelheads were highly impressive, turning many heads and shattering the expectations placed upon a young, up and coming team.
With that being said, the Steelheads hold a wealth of momentum heading into 2016-17, where a number of newly drafted and top NHL prospects will be provided with the opportunity to produce the most successful season in team history.
Nylander, McLeod, NHL Draft Picks Set to Lead the Way
When the 2016 NHL Entry Draft took place on June 24-25th in Buffalo, a number of elite Steelheads draft eligible prospects heard their names called by NHL franchises.
Alex Nylander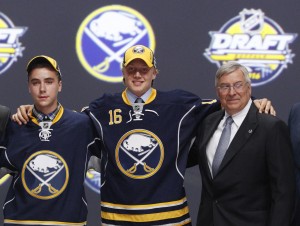 The first to head to the stage was Alex Nylander, the brother of Toronto Maple Leafs forward William who excelled in his first OHL season with the Steelheads.
In all, Nylander netted 28 goals and 75 points as a rookie, offensive totals which led not only his team but also all OHL rookies. His excellent play led to him being presented the Emms Family Award as the League's Rookie of the Year, joining the likes of Connor McDavid, Aaron Ekblad and Taylor Hall in recent years.
As a highly skilled and capable forward, Nylander was selected 8th overall by the Buffalo Sabres. What makes his future with the Steelheads interesting is the fact that, if he does not play with the Sabres next season, he remains eligible to play in the AHL due to the fact that he is a CHL import on loan from Sweden, unlike traditional CHL players who must wait until age 20.
If Nylander does return to the Steelheads, he will be a premier talent and a leader in Mississauga.
Michael McLeod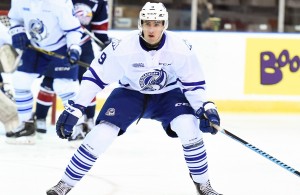 The second Steelhead to be drafted in 2016 was Michael McLeod, whose incredibly fast tempo of play caught the eye of the New Jersey Devils, who selected the speedster at 12th overall.
In his second season with the Steelheads in 2015-16, McLeod scored a career-high 21 goals and 61 points, totals which both ranked second best on the team, respectively. His point total jumped 32 points in his sophomore season, where he and Nylander enjoyed tremendous chemistry.
While McLeod is certainly an elite NHL prospect, odds are he will remain with the Steelheads for an additional season. McLeod emerged as a team leader last season, and led by example both on and off of the ice. His presence will be essential to Mississauga's success in 2016-17.
Nathan Bastian
The New Jersey Devils, fresh off of selecting McLeod with their first round pick, used their second round pick to nab fellow Steelheads star Nathan Bastian 41st overall.
The big-bodied native of Kitchener, Ontario, increased his offensive totals by a massive 30 points in 2015-16, finishing the campaign with career highs in goals with 19 and points with 59.
Devils pick Nathan Bastian 41st overall #Devils https://t.co/im3UaMplu0 pic.twitter.com/G5ktsxSvZW

— Devils Report (@devils_fanly) June 25, 2016
A massive force in the offensive zone with a 6'4″ frame, Bastian is a physical force on the ice whose game features a unique combination of both size and skill. Likely headed back to the Steelheads for the 2016-17 season, Bastian too will play a major role in ensuring Mississauga enjoys continued on-ice success.
Sean Day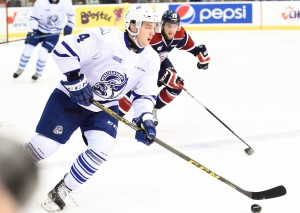 One of the Steelheads' most promising and physically dominant defenders is Sean Day, and he too was drafted in Buffalo. The New York Rangers came calling Day's name, who used their first pick of the Draft, 81st overall, to claim to budding blue-liner.
The 2015-16 season marked one of change for Day, who despite recording slightly lesser offensive totals with six goals and 22 points, played a much more sound and responsible defensive game. His PIM also dropped noticeably from 62 in 2014-15 to just 27 in 2015-16.
On any given night with the Steelheads last season, Day was a force in his own end, yet perhaps on a more quiet basis than scouts would have liked. Regardless, he consistently displayed the ability to not only dominate in his own zone with his body and a quick stick, but also to move the puck crisply to his teammates in order to generate offense.
[Related: Don't Sleep on Sean Day]
Day will surely be back with the Steelheads in 2016-17, and will look to continue to quiet his critics. A major component of Mississauga's blue-line, Day's calming presence will be essential to the Steelheads' defensive game.
Austin Osmanski
A first year defender in the OHL in 2015-16, Austin Osmanski checks in at 6'3″, 200 pounds and is a staunch defensive defenseman.
In his rookie season, Osmanski played in 65 games with the Steelheads, recording two goals and 10 points alongside a +19 rating. As such, the Buffalo Sabres became the second team of the Draft to select two Steelheads players, drafting Osmanski in the seventh round, 189th overall.
Osmanski, like Day, will play an equally important role on Mississauga's blue-line in 2016-17. With high-end offensive skill up-front, the two towers in Day and Osmanski will be tasked with playing a sound defensive game in order to effectively move the puck to their forwards.
NHL Prospects Ready to Contribute
In addition to the numerous NHL drafted players set to make massive contributions to the Steelheads' roster, there are also a number of yet-to-be draft prospects who will be ready to contribute on a greater basis come the 2016-17 season.
Ryan McLeod
The brother of Michael, Ryan was drafted third overall in the 2015 Priority Selection by the Flint Firebirds, but was eventually dealt to the Steelheads in order to play alongside his older brother.
In his rookie season, McLeod netted seven goals and 20 points over 62 games played. Because he is a late 1999 birth, McLeod will not be eligible until the 2018 NHL Draft, meaning that he will play a minimum of two additional seasons in Mississauga.
At 6'1″, 185, McLeod plays a game fairly similar to his older brother, in that it is based on the rare combination of speed and skill. As a centre-man, McLeod played largely third and fourth line minutes in 2015-16, but will most certainly be in line for increased ice time under new Head Coach James Richmond.
Owen Tippett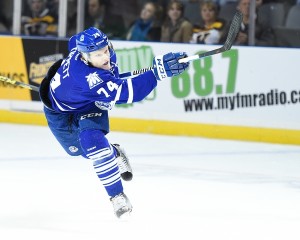 The fourth overall selection in the 2015 Priority Selection right behind McLeod, Owen Tippett is already one of the most highly ranked players ahead of the 2017 NHL Entry Draft.
A pure shooter, Tippett found the twine 15 times last season in just 48 games played, while recording 20 points in total. Projected to be a top-20 selection at the coming Draft, Tippett has drawn early comparisons to Pittsburgh Penguins star Phil Kessel for his elite skating and shot release.
Come 2016-17, Tippett will have a massive role to play in the Steelheads' success. Like Ryan McLeod, Tippett was played largely in a bottom-six role in 2015-16, but will surely see greater ice-time this coming season alongside McLeod.
Nicolas Hague
A 6'5″, 210 pound behemoth hailing from Kitchener, Ontario, Nicolas Hague stepped into the Steelheads' lineup in 2015-16 and immediately became an impact player. In his rookie season, Hague scored 14 goals and 24 points in 66 regular season games, while also adding a couple of assists in seven playoff games.
His size is quite obviously a positive, but it is what Hague does within his massive frame in particular which has scouts drooling. While the perception exists that bigger players tend to be poor skaters, Hague defies this line of thought, as he is a tremendous skater with solid mobility and good foot speed.
It is his mobility which allows him to defend with ease. His large frame provides him with a long reach, while his skating allows him to stick with opposing forwards in the defending zone and force them off of the puck. As a result, his resulting first outlet pass to his teammates is consistently crisp and accurate, helping to generate offense.
[Related: Four Steelheads Invited to Hockey Canada National Showcase]
A Winning Combination
To say the Steelheads hold a highly skilled roster would be an understatement to say the very least.
The 2016-17 OHL season will be one of terrific opportunity for the 'Trout'. Nylander, Michael McLeod, Bastian, Day and Osmanski will looked upon to lead the way for Mississauga on the ice, and have proven their ability to do so in seasons passed. Each player to hear their name called at the 2016 Draft was selected for a reason, and will certainly have no shortage of motivation entering the coming season.
A recent trade with the Flint Firebirds will only further strengthen the Steelheads' roster, who acquired Vili Saarijarvi, a third round pick of the Detroit Red Wings in 2015, in exchange for forward Everett Clark and three draft picks.
Further, the Steelheads' top NHL prospects, led by Ryan McLeod, Tippett and Hague, will have a wonderful source of motivation to feed off of in those recently drafted, and must use the success of their fellow teammates to seek their own achievements at the NHL level.
In order for the Steelheads to find a high level of consistent success, both groups, those drafted and those who remain prospects, will need to feed off of one another as the team's overall skill level continues to rise.
Sure, former Steelheads stars such as Daniel Muzito-Bagenda, Josh Burnside and Mason Marchment will be moving on to the professional or other ranks of the hockey world, but it will fall on the current crop of Mississauga players to draw upon the lessons learned from former veteran teammates in order to take the next step in both their OHL and personal hockey careers.