Introducing Beyond The Box Score
At least a couple of times a month, we are going to take a trip Beyond the Box Score.  This will be our chance to focus on key players and situations within the Columbus Blue Jackets, that the box score simply doesn't tell us.  We will among other things, take an in-depth look at the game tape.  Our main objective with this is to focus on the why and the how. With our 1st edition of Beyond the Box Score, we will now explore Jack Johnson's perceived slow start.
Jack Johnson: It's Better Than It Looks
Here we go again.  The Columbus Blue Jackets are only 5 games into this young season.  And Jack Johnson already has a +/- of -5.  At this pace, he will finish the season at a -82, since there are 82 games in the NHL season.  In fact, Jack Johnson was on the ice for every goal scored against the Blue Jackets in the 1st 3 games, a total of 7 goals.  His start to the season is why I'm not the biggest fan of the +/- stat.  It doesn't tell the whole story.  Could he play better?  Absolutely.  But, after reviewing the game tape, it actually reveals a more promising picture.  It was definitely not all his fault.  He does deserve some of the blame, but not nearly as much as he is being given.
Example 1: A Great Individual Effort
In this 1st example above , you will see the only goal scored by the Buffalo Sabres during their home opener.  The play started with a face off in the Sabres zone.  Artem Anisimov won the draw back to David Savard.  One would think that's the start of a scoring chance.  Not so fast.  Savard attempts to chip the puck up the boards.  It gets picked off and cleared to center.  Savard and Anisimov get another chance to make a play on the puck and can't do much with it.  In zooms Zegmus Girgensons, not only around both Savard and Anisimov, but makes a nice move to dance around a Scott Hartnell pinch.  Jack Johnson races back to no avail.  Goal Buffalo.  A -1 for Jack Johnson, even though 3 of his teammates could have prevented this rush.
Example 2: Bad, But Not As Bad As First Thought
In this 2nd example above, from the game against the Dallas Stars, we will see 4 goals scored by the Stars, in which Jack Johnson was on the ice for all 4 goals against.  He finished -3.  When we breakdown what happened, it's bad, but not nearly as bad as a -3 would indicate.  Starting at :57 mark of video, you'll see a play in which Jack Johnson is battling for position with Colton Sceviour of the Stars.  A shot goes wide.  The puck ends up on the other side.  Sceviour gets the puck, and Jack Johnson makes an aggressive play on him.  The problem is, that Johnson leaves the doorstep in front of Sergei Bobrovsky WIDE OPEN.  The puck ends up on the stick of Jamie Benn in a prime shooting location.  His shot gets tipped by Tyler Seguin, in position to score in the area that Jack Johnson vacated.  Goal Dallas.  You like aggressive plays, but that was not a good choice.
At 2:00 mark, Jamie Benn beats multiple Blue Jackets players, and scores a pretty goal over Bobrovsky's shoulder.  Jack Johnson was playing his man down low.  He wasn't involved with the scoring of this goal, but does get a -1 for his effort.
At 9:11 mark of video, the puck is misplayed by Bobrovsky behind the net.  It goes downhill from there.  The puck ends up at the left point on the stick of Alex Goligoski.  He makes a nice pass over to Jamie Benn.  Meanwhile, Tyler Seguin gets good inside position on Jack Johnson.  Benn lets a shot go, that once again, is tipped home by Seguin.  There were a lot of bodies in front, but Johnson allowed Seguin to get in a great position to either tip the shot, or disrupt the goaltender.  In this case, Seguin did both.  It's the little things that cause goals to be scored in this league.
The 4th goal starting at the 10:29 mark was an empty netter that he was on the ice for.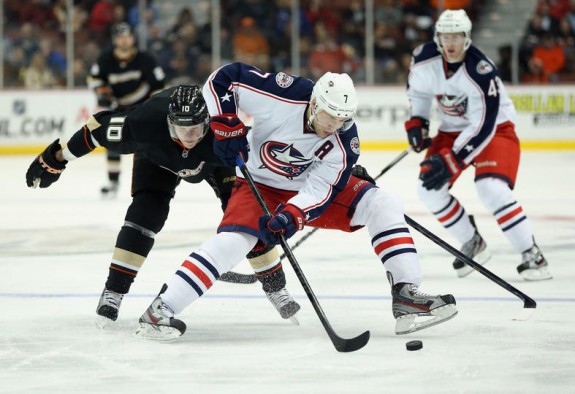 What Should We Take Away?
I think that there are 2 things we can take away from this for Jack Johnson.  First, it was not all his fault.  Yes, he made a couple of bad reads that led directly to goals.  But at the same time, his teammates didn't help him out very much.  That 2nd Dallas goal in which Jamie Benn outworked 3 Blue Jackets just cannot happen.  Second, the mistakes he did make are certainly correctable.  Getting good body position and choosing when to be aggressive can be worked on.  He will get better as the season goes on, especially when the injured Jackets return.  Jack Johnson takes a lot of heat for being on the ice as much as he is, but not producing as much as he could be.  But there is no need to panic about him overall.  He is comfortable with the system, and knows what he is expected to do.  The season is very young.  If these same mistakes happen in the spring, then maybe we review this.  But for now, let's appreciate how much of a workhorse Jack Johnson really is.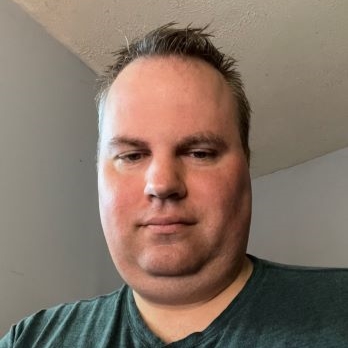 I am a fully credentialed writer who covers the Columbus Blue Jackets, Cleveland Monsters and Erie Otters as well as the Ontario Hockey League and NHL Draft. The 2022-23 season will mark nine seasons with the Hockey Writers. I am also the site's Credentials Manager. Please take note of the updated Twitter handle: @mark_scheig.