If the Calgary Flames have had a particularly glaring developmental fault over the past decade – and it would be charitable to conclude they have just one fault – it would be their inability to develop NHL stars. More recently the Flames have made more noise at the draft with high-profile picks like Sean Monahan and Sam Bennett (and even 2014 Hobey Baker winner Johnny Gaudreau), but the organization has quietly been drafting, developing and otherwise amassing depth assets. The recent long-term contract extension signed by defenseman T.J. Brodie – a depth player that blossomed into a huge piece of Calgary's rebuild – has begun to shine a spotlight on some of Calgary's quieter assets and less-shiny prospects in the same age group.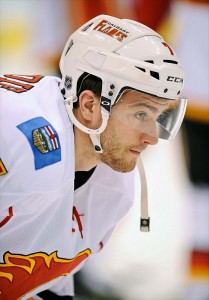 Here is a brief look at Calgary's 24 and 25-year-old players, where they came from and why they're valuable to the Calgary Flames going forward.
T.J. BRODIE
A fixture on Calgary's top defensive pairing, T.J. Brodie is a massive part of the Flames future plans and arguably their biggest drafting coup – even including their recent first round picks. Calgary's fourth round selection in 2008, he's progressed steadily through the pro ranks – raw AHLer, occasional NHL call-up, NHL bubble player, NHL regular, and now, NHL star. He's been one of Calgary's best possession players despite consistently facing the other team's best players, and his pairing with captain Mark Giordano has emerged as one of the NHL's absolute best. The duo can eat up the tough minutes as the team brings along their younger defenders, such as Tyler Wotherspoon.
The 24-year-old just inked a five-year contract extension that'll keep him in Calgary through the end of the 2019-2020 campaign. If that's not a statement that he's a cornerstone of the team's path out of its rebuilding years, I don't know what is.
MIKAEL BACKLUND
Long a darling of the advanced stats community, Calgary's 2007 first round pick Mikael Backlund may represent the team's best first-round success story since, well, ever. He was drafted late in the first round. He struggled to gain a foothold in the NHL in both ends of the ice and bounced between Calgary and their myriad AHL affiliates. Finally, he successfully became a strong defensive player under the tutelage of then-coach Brent Sutter, and post-lockout has become one of Calgary's better offensive threats.
Backlund is currently in the final year of his contract and will become a restricted free agent on July 1. As arguably Calgary's best two-way forward he's constantly relied upon to shut down the other team's best and brightest, as well as generate scoring chances. Along with Brodie and Giordano, he's part of a triad of Flames who constantly move the puck in the right direction, and allow the coaching staff to give their younger players (or those with less defensive prowess) easier minutes.
PAUL BYRON
Originally acquired in the deal that sent Robyn Regehr to the Buffalo Sabres, way way back at the 2011 NHL Draft, Byron's the only component of that trade currently with the team that acquired them. (Jake McCabe was chosen with the draft pick Buffalo acquired and is with their farm team in Rochester.) After bouncing between Calgary and the AHL since being acquired, Byron made the leap last season and not only spent the majority of the year in the NHL, but also developed a reputation as one of the team's most physical, dependable, explosive players.
All that at 5'9″ and maybe 170 pounds. (Coach Bob Hartley refers to what Byron does as "playing big," which is likely preferable to big players "playing small.")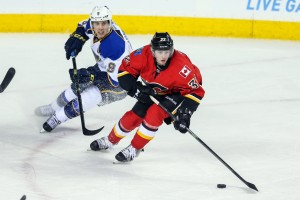 Something just "clicked" for Byron in 2013-14, and he began the 2014-15 campaign by scoring Calgary's first goal of the season and has been a constant target for defensemen looking to spring somebody on a breakaway. Byron may be the textbook definition of a late bloomer – figuring out his game at the age of 24 – but he's also a huge steal financially for the Flames this season, earning a scant $600,000 this season.
I have a hunch that he'll get a sizable raise from Flames GM Brad Treliving this summer.
JOE COLBORNE
A Calgary native, Colborne was acquired from Toronto for a conditional draft pick when he wasn't going to make the Maple Leafs' opening roster last season and GM Dave Nonis didn't want to risk losing him on the waiver wire for nothing. Calgary wanted size at center, and a year later it's hard to disagree with the move.
Now about 10 pounds heavier, Colborne has moved between center and the wing – depending on his linemates – and has much more confidence in his play in the corners than he did last year. The size definitely factors into that, but likely so does his offensive success last year. His long reach has made him a great asset as a shootout specialist, and will likely be enough to earn him a new deal following next season.
LANCE BOUMA
Last but not least is the third everyday NHLer drafted and developed by the Flames out of the 12 players they drafted in 2007 and 2008, Lance Bouma bounced back from missing basically an entire season due to a huge knee injury – he blew out two different ligaments. Not only did Bouma fully recover, but he also developed a reputation as the team's heart and soul due to his hustle, determination and willingness to throw his body in front of shots.
Bouma was second in the entire NHL among forwards in shot blocks, and is already in that conversation again this year. He was signed to a one-year deal this off-season – brand-new to the Flames, Treliving is admittedly getting familiar with the players and likely wanted time to evaluate them. Bouma may not score a lot of goals, but his shot-blocking has been a huge asset on the Flames penalty kill and likely ensures he'll be a bottom-six and special teams fixture for awhile to come.
Ryan Pike has covered the Calgary Flames and the NHL Draft extensively since 2010 as a Senior Writer for The Hockey Writers and Senior Contributing Editor of FlamesNation.ca. A member of the Professional Hockey Writers Association, he lives in Calgary.