The youth movement is on in Anaheim. Or at least, that's what head coach Randy Carlyle is trying to sell.
Tuesday's win over the Edmonton Oilers brought on a fresh wave of optimism, and a renewed (verbal) commitment to the club's young blueliners. Carlyle told the Orange County Register after the win that, "We're a team. We just think [our young defense core] can supply us yeoman minutes. And we're comfortable putting them on the ice."
A tilt against the beleaguered New Jersey Devils in the friendly confines of the Honda Center  seemed like the perfect opportunity for Carlyle to hand the keys over to his young blueliners. The quartet of Hampus Lindholm, Josh Manson, Sami Vatanen and Cam Fowler logged 21:09, 19:22, 21:25 and 21:05 respectively. There's a certain prestige to being a "20-minutes-a-night guy" in the National Hockey League and nearly all four of them accomplished that feat in one night.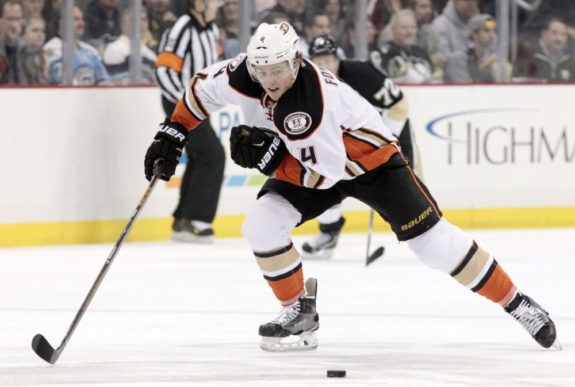 Seems like a step in the right direction, no? Not so fast. Of the four stalwarts, only Manson saw a bump in ice time, receiving 39 additional seconds from his season average. That's essentially one additional shift for him. Not exactly the "yeoman minutes" Carlyle was describing earlier in the week. Fowler saw a reduction from his average of 24 minutes a night, but that's only natural considering the return of Lindholm.
While we might have to wait for a momentous change in ice time, it's inarguable that giving each around 20 minutes a night is a sound tactic. Should Anaheim's head coach take it a step further, and give them even more responsibility? Unquestionably, yes.
Bieksa Minutes Present an Obstacle
Carlyle is saying all the right things. He wants to give the youth of his lineup a chance. Yet they already got their initial chance under Bruce Boudreau. Carlyle even admitted as much, telling the Register that nothing about his shift towards youth was any different than what his predecessor had done. Anaheim's former coach was the one who initially paired Lindholm and Manson together while giving Fowler and Vatanen heavy minutes.
So there shouldn't be this grand parade for Carlyle figuring out that he ought to give his best defensemen more ice time. The sentiment is nice, but it's clearly not all that novel, leaving one to wonder what really prompted the sudden shift in narrative. Lindholm's return certainly has something to do with it, but Carlyle has consistently hesitated in giving Manson real top-pairing time.
The true Achilles' heel, one that even plagued Boudreau himself, is the presence of Kevin Bieksa in the lineup. Maybe his blend of nastiness and physicality is too tempting to pass up for NHL coaches. Whatever the case may be, the results simply don't justify the 20:17 of ice time that Bieksa has averaged this season. Even in the first installment of Carlyle's youth movement against New Jersey, Bieksa still received a whopping 21:34, including power-play and penalty-kill minutes.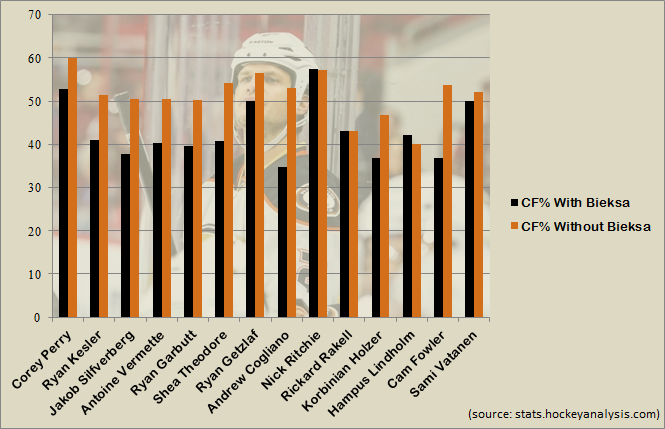 Lo and behold, Bieksa and partner Korbinian Holzer once again found themselves on the wrong end of the shot attempt battle. This isn't a new phenomenon; Bieksa has been Anaheim's worst defenseman in that regard by a mile. At even strength, opponents have amassed a hefty 285 shot attempts with Bieksa on the ice. Vatanen is second with 244 attempts against, but he makes up for it with a stellar 255 attempts in the Ducks' favor. Bieksa, on the other hand, has the fewest positive on-ice attempts of any  regular Anaheim defenseman with 203.
Closing Thoughts
Simply put, the Ducks are abysmal defensively with Bieksa on the ice, and they're just as bad offensively. His minutes come at the expense of more Lindholm, Manson, Fowler and Vatanen, who are unequivocally the present and the future of the franchise. As long as Bieksa continues to be a key component in Carlyle's game plan, the youth movement will have to wait for true takeoff.