Hockey fans across the land agree that Seattle would be an ideal landing spot for an NHL franchise. This week, one of the NFL's biggest names added star power to the cause.
The Seattle Seahawks' Russell Wilson — Super Bowl winner, top-five quarterback and local hero — has signed on to Chris Hansen's arena project, one which came within one vote last May of being granted a street vacation critical to the project. Had the Seattle City Council approved the request, the pathway would have been cleared toward issuance of a Master Use Permit. Once obtained (assuming finances were in order), construction could begin.
Money Is No Object
Although the initial financial arrangement called for public bonding authority to finance up to $200 million of the project, it spelled out conditions that despite their best efforts, Hansen's group has been unable to fulfill. That fact, along with a ticking clock with respect to the group's signed MOU with the City and County and political hand-wringing over subsidizing sports arenas, led to the stunning recent announcement that public financing would no longer be sought.
To recap: the project will now be 100 percent privately financed, is slated to be in Seattle's Stadium District adjacent to CenturyLink Field and Safeco Field, and came within one vote of being greenlighted six months ago when public bonding authority was still on the table. With the council rumored to revisit the request early next year, the elimination of public financing could sway votes toward approval. All it takes is one.
Russell Wilson Adds Much-Needed "It" Factor
Hansen has relentlessly pursued the project for more than five years, but remains a mostly behind-the-scenes figure. Billionaire Steve Ballmer was the public face early on, but dropped out when he decided to purchase the Los Angeles Clippers for $2 billion back in 2014.
There hasn't been a high-profile power broker since then — until now.
Wilson is the perfect face for the project. He's easily the area's most popular present-day athlete, having led the Seahawks to a 52-20-1 record since joining the team in 2012. He has appeared in two Super Bowls, winning one, and has his team poised for yet another run this year.
The NHL Waits in the Wings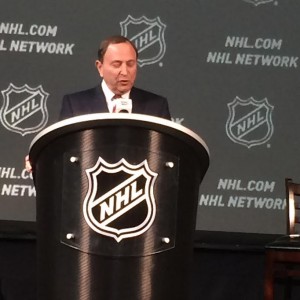 With private financing secured, land acquired and local star power in the fold, all it takes is one more vote for the arena to become a reality. Everyone knows that the NHL is keenly interested in the Emerald City, but has repeatedly stated that an arena must be built before they will consider granting an expansion franchise.
That position — which, according to various sources, echoes the sentiments of the NBA — means that resolving the impasse with the Seattle City Council as quickly as possible is imperative.
Wilson said the following about the reasons behind his involvement:
I met Chris a few years ago and we were having a great conversation, we were talking, and I've told you guys I've been really authentic about wanting to own a team one day and being a part of something really special and doing that. And even though I'm young, that I definitely have a business mindset and I want to be able to help people and give back and help change this community, continue to change this community for the better.

I've always wanted to own a team and be a part of that, but really for the past year I'd say really kind of been processing it, thinking about it, really trying to understand and get information from the people of Seattle, how much do they really, how much are they really passionate about it.

I think our focus is building a state-of-the-art facility that's nowhere else. We want to do something that is really, really cool, really really special. That process has already kind of been done, it's been a five-year process of doing that and obviously just to be able to do that will help change the game and will be really huge for the city, be really huge for the NHL, be really huge for the NBA. Like I said it doesn't start until we have the street vacation but we've got to make that happen (Seattle Times).
Stay tuned.
Walter McLaughlin is a Los Angeles Kings correspondent for The Hockey Writers. He is an avid sports fan, having followed the Kings since living in L.A. in the mid-1970's, as well as suffering through Seattle sports teams' general futility. He has a Bachelor's degree in Finance and has worked in community banking for over 25 years, specializing in SBA loans. He is married and has two daughters.