"The Great Expansion" of the NHL in 1967 served as the catalyst that enabled a number of players to jump from barely getting a sniff of an "Original Six" roster to becoming perennial All-Stars. Perhaps no player was a finer example of this concept than Minnesota North Stars' great Bill Goldsworthy. To this day, he still ranks within the top-five goal scorers in Minnesota/Dallas franchise history. To acknowledge that an NHL alum still holds that high of a ranking more than 50 years after he played his first game with the team is truly remarkable.
Goldsworthy played 771 regular season games during his career that saw stops with the Boston Bruins and New York Rangers as well. However, 670 of those games came with Minnesota. In fact, Goldsworthy was essentially "Mr. North Star" through the first decade of the franchise's existence, but more affectionately he was known just as "Goldy".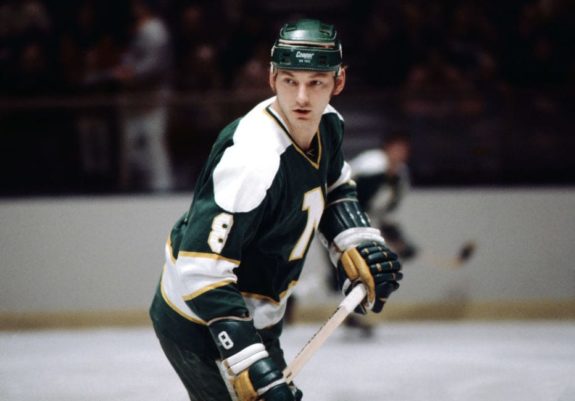 Five times in his NHL career Goldsworthy surpassed the 30-goal plateau. On a sixth occasion he tallied 27. But there was one year where seemingly each time he shot the puck it found the back of the net. During the 1973-74 NHL season Goldsworthy would find himself in another top-five category, as he would finish fifth overall in goals scored that year. The only players to finish ahead of him were Phil Esposito (68), Rick Martin (52), Mickey Redmond (51), and Ken Hodge (50). That is some darn good company to be within.
The 48 goals that Goldsworthy scored in 1973-74 are still the fifth highest total in a single season for Minnesota/Dallas history. To think that "household Stars" of recent years like Jamie Benn, Tyler Seguin, Jason Spezza, and the like have yet to reach that mark make Goldsworthy's season of 48 one for the ages. Heck, only three players in the franchise's history have ever scored higher.
Goldsworthy's Success Prior to the NHL
From the 1962-63 season up through 1964-65, Goldsworthy played his junior hockey with the Ontario Hockey Association's (OHA) old Niagara Falls Flyers. The teams that he was a part of were a grand collection of talent, some of whom would go on to win Stanley Cups and included a Hall of Fame goaltender considered one of the greatest of all-time.
In addition to Goldsworthy, the Flyers teams that he played for included the likes of Derek Sanderson, Don Marcotte, Jean Pronovost, Rosaire Paiement, Terry Crisp, Gary Dornhoefer, Ron Schock, Don Awrey, Ted Snell, John Arbour, Gilles Marotte, Jim Lorentz, Rick Ley, and two elite goaltenders in Doug Favell and the great Bernie Parent. Among those players, Sanderson, Lorentz, Crisp, Dornhoefer, Awrey, and Marcotte all won Stanley Cups during their respective careers, while Parent won Cups as well and received Hockey Hall of Fame induction.
These Niagara Falls teams were so good that they made the Memorial Cup Final in Goldsworthy's first season (1962-63) and then won it outright during his final year of junior (1964-65). During the 1963-64 season he finished second on the team in scoring behind Schock with 21 goals and 47 assists for 68 points in 56 games. The year that Goldsworthy and company won the Memorial Cup he finished tied for third on the squad with 28 goals and 27 assists for 55 points in only 54 games. During the 1965 Memorial Cup tournament the right-winger was brilliant, scoring 11 goals and seven assists for 18 points in 13 games.
Beginning His NHL Career With Boston
The same year that Goldsworthy won the Memorial Cup, he would also make his NHL debut with the Boston Bruins. The Niagara Falls Flyers were owned by the Bruins. At the time, junior teams being owned by NHL teams served as the natural means for NHL clubs to foster young prospects that would eventually join the ranks of the parent club, up until the NHL Amateur Draft eventually took shape a handful of years later. By the Bruins having signed Goldsworthy and owning his rights, as well as those of his Flyers teammates, he and the majority of these players began their NHL journey with Boston. Some of them of course – Sanderson and Marcotte namely – became "Big, Bad Bruins" for many years.
Goldsworthy would go pointless in two games with Boston during the 1964-65 season. Though he would spend the majority of three years with the club's minor league affiliates – either the Oklahoma City Blazers of the Central Hockey League or the Buffalo Bisons of the American Hockey League – he would see 13 games of action in "Beantown" during the 1965-66 NHL season. Goldsworthy would score his first NHL points that season too, with three goals and an assist during said 13 games.
His final year with the Bruins organization saw him split playing time between the parent club and Buffalo of the AHL. In 18 games with Boston during 1966-67, Goldsworthy would tally another three goals and five assists. In 33 career games as a Bruin, he recorded six goals and six assists for 12 points and 27 penalty minutes.
Becoming the Face of the North Stars
With only six NHL teams, opportunities for Goldsworthy to earn a permanent roster spot with the Bruins were very slim. Established Boston wingers such as Johnny Bucyk, Ed Westfall, John McKenzie, Tom Williams and others did not leave much space for the team to utilize youngsters like Goldsworthy, Dornhoefer, and the like. It would be this way league-wide until the NHL finally doubled its size in 1967.
June 6, 1967 saw an expansion draft be held in which the six new teams – the Minnesota North Stars, Oakland Seals, Pittsburgh Penguins, Los Angeles Kings, St. Louis Blues and Philadelphia Flyers – could select two goaltenders and 18 skaters from each of the already established six teams. One of the wisest decisions that the North Stars would ever make was when they selected Goldsworthy in the 11th round of the draft as the 62nd pick overall.
He would remain with Minnesota for the better part of 10 seasons and became an immediate impact for the team in their first year. During the 1967-68 regular season, Goldsworthy potted a modest 14 goals and 19 assists in 68 games. However, once the playoffs came around he was easily the North Stars best player in that first year. Goldsworthy led the team in playoff scoring with eight goals and seven assists for 15 points in 14 games. This production would help culminate in Minnesota coming within one game of reaching the Stanley Cup Final that season.
And this was only the beginning for Goldsworthy. Over the next nine seasons he became a perennial 30-plus goal scorer for the North Stars. Scoring goals came with such frequency for Goldsworthy turned into "The Goldy Shuffle", a celebration that he would do on the ice after scoring a goal at home.
Goldsworthy's 48-Goal Season of 1973-74
Goldsworthy would never have more cause for celebration than during the 1973-74 NHL season. Coming within two goals of having 50, this would be the only time during his career that he would surpass the 40-goal mark. Playing most often with the ever-colorful Dennis Hextall as his linemate (Hextall had 62 assists in 1973-74) Goldsworthy had numerous productive games that year. Here is a look at some of the more memorable ones:
Oct. 13, 1973: Though the North Stars would lose on home ice by a score of 4-3 to the Buffalo Sabres, Goldsworthy scored his first goal of the season. Coming in the opening period with assists to Jean-Paul Parise and future Sabre Fred Stanfield, Goldsworthy beat Sabres goaltender Dave Dryden on the power play at the 13:01 mark.
Nov. 3, 1973: It would take them 45 shots to do it, but the North Stars would defeat the Chicago Blackhawks in Minnesota by a score of 5-4. The Blackhawks jumped out to a 3-0 lead before the second period came. Goldsworthy helped mount the comeback for the North Stars by not only scoring the team's fourth goal of the game but also by assisting on their third goal of the game from Danny Grant and the game-winner courtesy of Hextall.
Nov. 14, 1973: Rolling over the Vancouver Canucks by a score of 6-3, Goldsworthy had another three-point night. Scoring the North Stars third and fifth goals of the game, he would notch his ninth and 10th goals of the season. Goldsworthy also added an assist on Grant's goal in the second period, which ended up being the game-winner.
Dec. 11, 1973: Arguably Goldsworthy's best game of the season, the North Stars defeated the visiting Los Angeles Kings 6-3. This would be a four-point game for "Goldy". More importantly though, he scored the first three goals of the hockey game to give himself a natural hat-trick and Minnesota a quick 3-0 lead. Hextall assisted on all three of the goals too. Goldsworthy would pick up another assist on a power play goal from Grant in the second, with a secondary assist going to Hextall once more.
Jan. 6, 1974: In a wild 9-6 loss to the Detroit Red Wings while on the road, Goldsworthy scored his 23rd goal of the season early in the third period. It would not be enough for the North Stars to stage a comeback, but he would assist on a pair of goals by Grant.
Feb. 13, 1974: What ended up being a 3-3 tie with the Canucks in Minnesota also saw Goldsworthy score his 30th goal of the season. It would be the fourth time in his career that he did so. Better yet, his tally was the game-tying goal which came on the power play at 16:01 of the third to permanently knot the score at three a piece. Jude Drouin and Gary Bergman were credited with the assists.
Mar. 10, 1974: The North Stars crushed the St. Louis Blues 8-1. Goldsworthy was brilliant once more, as he registered his second hat-trick of the season. Scoring a goal in each period of the game, he tallied his 37th, 38th and 39th goals of the year, with Hextall assisting on the second two.
Mar. 13, 1974: Facing the Atlanta Flames in the North Stars next scheduled game, Goldsworthy scored his magical 40th goal of the season. He would be the first player in the franchise's history to reach the mark, which would not be surpassed again until the 1979-80 season. Goldsworthy's 40th came against Flames goalie Phil Myre with the assist going to North Stars defender Tom Reid.
Mar. 23, 1974: Goldsworthy's third and final hat-trick of the season would come against the Pittsburgh Penguins and goaltender Gary Inness. Scoring Minnesota's first two goals of the game as well as their fifth, he would be credited with the game-winner. All three goals came at even-strength and his good buddy Hextall helped Goldsworthy out yet again, picking up the primary assists on all three scores. These would be Goldsworthy's 43rd, 44th and 45th tallies of the season.
Final Days With Minnesota and Goodbye
Goldsworthy would have two more productive seasons with the North Stars before he would be moved on. The 1974-75 season would be the last year to see him notch 30 or more goals in a season when he reached 37. Goldsworthy's last full season in Minnesota would be 1975-76 when he scored his lowest goal total in seven years, scoring just 24 in 68 games.
Age and alcoholism catching up with him, Goldsworthy was traded to the New York Rangers in November of the 1976-77 season. The North Stars would receive right-winger Bill Fairbairn and defenseman Nick Beverley in return, though neither stayed for very long with the team nor made much impact. Goldsworthy had just as minimal of an impact in Manhattan. After the trade, he would score just 10 goals and 12 assists in 61 games with the Rangers at the age of 32.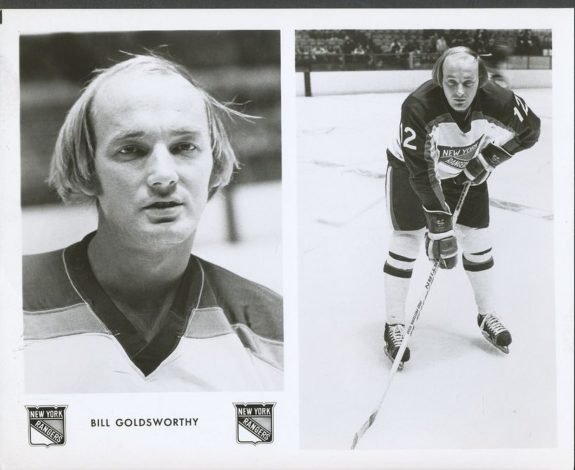 Goldsworthy would play just seven games with the Rangers during the 1977-78 season, and they would be the final games of his NHL career. No longer impactful, he became the first player to be traded outright from an NHL team to a WHA team. Goldsworthy would end up with the Indianapolis Racers to finish out that year, suiting up for 32 games while scoring eight goals and 10 assists. He would try his hand at coaching the Racers that year too, but went 8-20-1 and missed making the playoffs.
For Goldsworthy's final season of playing pro hockey, he was traded to the Edmonton Oilers for the 1978-79 WHA season. There he played briefly with Wayne Gretzky, including during the Oilers playoff run in the WHA's final year of existence. In 17 regular season games with Edmonton Goldsworthy scored four goals and two assists. In the postseason he played in four of the Oilers 13 playoff games, and contributed a goal and an assist.
Then that would be it. These were the final days of what was once a rather superb and meaningful professional hockey career.
We Said Goodbye to Goldsworthy Far Too Soon
It is terribly saddening to know that we lost Bill Goldsworthy as young as we did. Passing away at the age of 51 in Mar. 1996 due to complications from AIDS, he became the first publicly known hockey player to have the disease. Promiscuity after a divorce led to Goldsworthy contracting AIDS that also coincided with his health failing from longstanding bouts from alcoholism. For as great a player as Goldsworthy was, and how deeply he endeared himself to Minnesota fans, it can bring tears to one's eyes knowing that a tremendous hockey player could be brought down by such horrible afflictions.
But there are many enjoyable memories that can be cherished when we look back on Goldsworthy's career. At least 283 of them. And those are just the goals he scored in his NHL career. There are other important moments to acknowledge too. Goldsworthy was an NHL All-Star on four different occasions – 1970, 1972, 1974, and 1976. He was also the first player for an expansion team to score 200 and 250 goals. Perhaps best of all, Goldsworthy was a viable member of Team Canada during the legendary 1972 Summit Series when Canada defeated the Soviet Union. Goldsworthy played in three of the eight games, and scored a key goal in Game Four of the series.
Though Bill Goldsworthy left the hockey world at a young age, his contributions on the ice live on forever, especially for longtime Minnesota hockey fans. After all, it was in Minnesota where he played his best hockey and won over the hearts of many thousands. While they may not remember the exact number of goals he scored, North Stars fans know that Goldsworthy was paramount in their former franchise's history and in professional hockey for Minnesota in general. Goldsworthy mattered then and he matters now. We recognize fondly that his 1973-74 season forever shall be one for the ages.
* originally published in April 2018