In the 2013 season the Tampa Bay Lightning made a deal to acquire 6'7 goaltender Ben Bishop from the Ottawa Senators for Cory Conacher and a 4th round draft pick. General Manager Steve Yzerman capitalized on the above average rookie year that Conacher was having, and sold high at the right time. Yzerman has become on on the top GM's in the NHL during his 4.5 year tenure in Tampa Bay. The trade for Bishop in the spring of 2013 was his best move so far in Tampa Bay.Recently Bishop  went down with an injury which has Lightning fans concerned. However, reports are that it is week to week and a minor injury.
Cooper says they're being cautious with Bishop. Didn't rule out him playing Tuesday vs #Penguins as long as he's healthy

— Joe Smith (@JoeSmithTB) December 18, 2014
The road to the NHL was not as easy as one would think for a standout goaltender who was one of the top goalies in the league last year.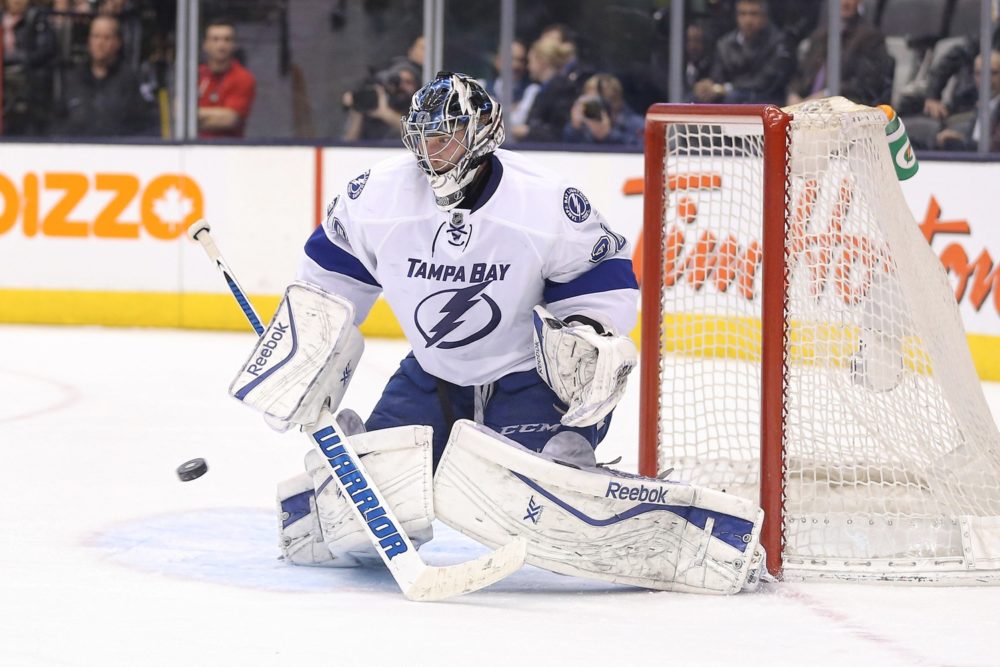 Bishop's Rise to Stardom
Bishop was originally a product of the St. Louis Blues system when he was drafted in the 3rd round of the 2005 NHL Entry Draft. Bishop played 3 stellar seasons at the University of Maine before spending 5 plus seasons in the American Hockey League honing his craft. Bishop was a very good AHL goalie and never really got an opportunity in St. Louis. He was traded to the Ottawa Senators in 2012 for a 2nd round pick in the 2012 draft. However, after being listed on the depth charts below Jaroslav Halak and Brian Elliot at the end of his St. Louis Blue tenure, the 6'7 Bishop would have to compete for his job again it Ottawa.Craig Anderson and young highly regarded goalie prospect Robin Lehner were very capable goalies. Bishop was the odd man out yet again in Ottawa, and in the shortened season of 2013 he was traded to the Tampa Bay Lightning for rookie Cory Conacher and a 4th round draft pick. Bishop did get a taste of the NHL at the end of his Ottawa tenure, and started back to back games even at one point. This was because of a Craig Anderson injury. Bishop was just starting to gain confidence at the NHL level. Tampa Bay would be Bishop's best opportunity to play a lot of minutes, get comfortable with one team and system, and he would attempt to establish himself as an NHL regular between the pipes. Bishop did not disappoint in his first full season as a starting goalie during the  the 2013-2014 campaign.Bishop posted a 37-14-7 record with a .924 save percentage and a 2.23 goals against average. The goalies value to the team was evident when a late season injury to Bishop led to a sweep of the Lightning by the Montreal Canadiens.
What Sets Bishop Apart from Other Goalies
For starters he is the biggest goalie in NHL history at 6'7. He was not rushed to the "National" and spent several seasons in the minors working on his game. Goalies usually establish themselves at a later age then skaters in the National Hockey League. Currently at age 28, Bishop is entering his goaltending prime. On the NHL Network recently, analyst and former goaltender Kevin Weekes was praising the Tampa Bay starting goalie. The main points made by Weekes about Bishop's game were his high hockey IQ, patience, and lateral movement. Weekes pointed out that Bishop moves like a smaller goalie, and shooters just have nowhere to go on him. Lightning goalie coach Franz Jean has a unique perspective on Bishop as well.
"He's a goalie that relies a lot on size and his positioning. Essentially, he let's the play come to him"
If the Lightning are going to make a deeper run in this seasons playoffs they are going to need Bishop healthy and at his best. Bishop has been injury prone in the past and nobody knows if it is just bad luck or his large stature in net. If there is one player the Lightning can't afford to lose it is Bishop. Furthermore he needs to prove he can stay healthy and endure the demands of a full NHL season and playoffs. After establishing himself in Tampa Bay and signing a 2-year $4.6 million contract extesnsion last summer, Bishop appears ready for the next step.
Quote from the Tampa Bay Times: http://www.tampabay.com/sports/hockey/lightning/after-taste-of-success-ben-bishop-wants-more/2201320
I am a 2015 graduate of Montclair State University in New Jersey. I have coached ice hockey at the high school level for two seasons here in NJ. I will be covering the Toronto Maple Leafs moving forward for The Hockey Writers.