As the Russian National Hockey Team cuts a swath through Canadian opposition like a hot knife through butter, the constant question asked by everyone is "How good are these guys and when will we see them against a real professional team?"
The answer in a perfect world seems simple:  Line 'em up against the Leafs and we'll see how good they really are.  Reality, unfortunately for hockey fans, is much more complicated.
Smythe issues challenge
Stafford Smythe, president of the Toronto Maple Leafs, has issued a challenge to the Russians to face the top Toronto farm club, the Rochester Americans.  Smythe has stated the if the Russians can beat the Amerks, then the Leafs will be ready to step up and play the Soviets themselves.  Smythe has gone so far as to send a cable to the Russian management, suggesting dates when they could play Rochester at Maple Leaf Gardens.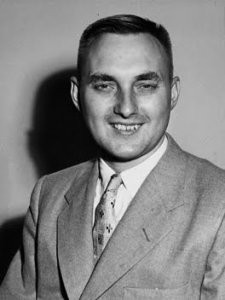 The fly in the ointment for this plan is that the Russians likely won't receive permission to play such a match from the International Ice Hockey Federation. There is also the question of how playing against professionals would affect the amateur status of the Soviets for the purposes of Olympic competition.  Many observers feel that the Russians are professionals already, fully employed in the business of playing hockey.  However, as of now they fit the Olympic definition of amateurs and it's not likely they would want to jeopardize that status unless they were to play the World Champs for something so significant as, say, the Stanley Cup.
Kuznetsov: If we could, we'd be ready tomorrow
Russian manager Viktor Kuznetsov responded to Smythe' challenge in this manner:
"They are tired of all this rumouring and guessing how good we are.  If it would be possible for amateurs to play professionals  we would be ready for such a game tomorrow."
What the pros think
Toronto Star reporter Red Burnett wondered how the Leafs felt about Kuznetsov's claim that the Russians are ready for the pros.  Here are some of the responses:
George Armstrong:  "I'd welcome the chance to play against Russia.  I have every confidence that we would beat them.  And I don't mean that we would try to rough them up under National Hockey League rules."
Johnny Bower:  "There's been so much talk about the Russians, comparing them to the NHL teams, that I'd like to play against them.  I think we'd be able to handle the situation, but it would have to be under National Hockey League rules."
"I think Canadiens would swamp them under international rules because those Habs like that wide open, light-hitting type of hockey."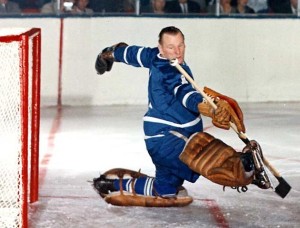 Allan Stanley:  "I haven't paid much attention to the controversy.  I wouldn't care one way or another.  I'll let management worry about it."
Bobby Baun:  "I'd play them, but only in Russia because I love to travel."
Bob then got serious and added: "There would have to be something at stake because after all we  play hockey for a living.  They are as much professionals as we are.  You don't play hockey 10 months a year on a strictly amateur basis."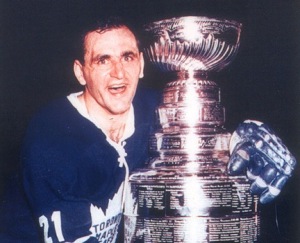 Punch Imlach:  "My most urgent problem at the moment is tonight's game against the New York Rangers.  We've only managed three ties with them in six games – three points out of a possible 12 is murder."
"As for the Russians, I say let them play Rochester first and prove they rate a shot at an NHL team.  We have 10 games in the next 17 days and I see no way in which we could squeeze in an exhibition game with Russia."
"Last spring we tried to arrange a fall trip through Europe, playing national teams.  We were told they would not be allowed to play against professionals and we had to cancel the trip."
NHL President Clarence Campbell:  Campbell says he has no objection to a game between one of the six NHL clubs and the Russians, but added it must be played under professional rules.
Gordon Juckes, secretary-manager of the Canadian Amateur Hockey Association:  "I don't think the Russians could get permission from the IIHF to play a pro club and they do not have an open date on their tight schedule for such a game.  However, they could delay their departure, scheduled for December 31, for a few days in order to play a pro team if they did receive permission."
"My understanding is that they asked for such permission before coming to Canada and were turned down.  However, the IIHF meets in Finland this March and there may be changes made to allow such matches in the future."
J.F. "Bunny" Ahearne, president of the IIHF.  He has always been against games between pros and amateurs and was unavailable for comment.
Retired police detective, involved in hockey at all levels for over 50 years. Member of Society for International Hockey Research and presently a video analyst for the leader in advanced hockey analytics (we work exclusively for 2 NHL clubs, and provide advice on an ad hoc basis to many other clients). Currently the Assistant General Manager for the Pelham Pirates of the Greater Ontario Junior Hockey League. Previously owned the Faceoff computer hockey simulation and also provided all player ratings for the EA Sports series of NHL computer games from the late 90's into the mid 2000's.