They are battered and bruised, fighting for home-ice advantage and have history working against them. These are the cards the Blackhawks have been dealt, as the playoffs approach.
Last week, the Chicago Blackhawks announced that Patrick Kane would miss a minimum of three-weeks with an injury – the hope is to have him ready for the playoffs, but will he be one-hundred percent? Also, forget home-ice advantage, when history has shown that it's hard for a reigning Stanley Cup champ to repeat.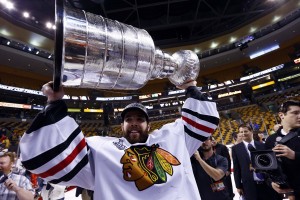 The last team to repeat as Cup champs was the Detroit Red Wings – in 1996-1997 and 1997-1998 – and that was 15 years ago. In fact, since Detroit last repeated as champs, only two Stanley Cup champion teams have reached the finals – The Dallas Stars were hoping to repeat in 2000 but were beat by New Jersey and the Detroit Red Wings failed to repeat in 2009 when they were dethroned by the Penguins.
So, why is it so hard to repeat as champions in the NHL? The number one factor is the salary cap.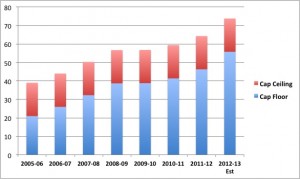 Since the league implemented the salary cap prior to the start of the 2005-06 season, there have been seven different Stanley Cup winners in eight years. The Los Angeles Kings managed to keep their team together – after winning the Cup – but they failed to repeat. With Stanley Cup victories, come pay raises and most teams are unable to re-sign key players who contributed to winning the Cup. Also, there is greater competition as more teams are capable of winning – and winning with younger players who are making an immediate impact.
Speaking of immediate impact, the Blackhawks – for the time being and possibly for the foreseeable future – will be relying on their highly touted Finnish Forward Teuvo Teravainen, who is just 19-years-old! The Blackhawks were unable to land a second-line center at the trade deadline and have been searching for one for several years.
With Kane out, Chicago has mixed up their line combinations and Teravainen will be paired with Brandon Saad and Ben Smith, on the second-line. Teravainen has played left-wing, mostly, last season in Finland and played center earlier this season in Liiga for Jokerit. His transition to center was 'smooth' and the Blackhawks are hoping that translates over to the NHL game.
Teuvo Teravainen travels today from FIN to Windy City. That's CHI, not Lethbridge, in case there was confusion. Lethbridge is windy, too.

— Bob McKenzie (@TSNBobMcKenzie) March 20, 2014
Some have  even dubbed Teravainen 'the Finnish Kane,' due to his 5-foot-11, 169-pound frame and superb playmaking skills. Blackhawks coach Joel Quenneville plans to play Teravainen at center but said he does not want to put too much pressure on the 19-year-old.
Chicago is currently trailing the St. Louis Blues by six points for top spot in the Central Division and are only three points ahead of the Colorado Avalanche for second place. With that in mind, every point is crucial with 10 games left and developing a young player this late in the season could hinder the Blackhawks – or it could work in their favor, but we're not dealing with a number-one draft pick. Teravainen was selected 18th overall in the 2012 NHL Draft and nobody should expect any sort of heroics – even with the 44 points he posted with Jokerit (nine goals and 35 assists), or the 15 points (two goals and 13 assists) he put up in the 2014 IIHF Word Junior Championship, eventually leading Finland to the gold medal as captain. 
The Blackhawks are a long way from the top of their game. With Kane sidelined with a  lower-body injury – the team is hopeful he can return for round one of the playoffs – the Blackhawks have the 'deck stacked against them' and are slipping in the so-called power rankings. They are 6-6-1 in their last 13 games, and 13-9-8 since the calender rolled over to 2014.
Teravainen and company will have to find a way to make things work, if they wish to raise Lord Stanley's Cup for a second year in a row.
Broadcast journalist, writer and radio jock.