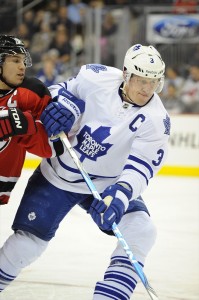 The current six-game (and counting?) losing streak has been hard to take for even the most optimistic of Leaf fans. Watching a team go from possible home-ice advantage in the first round, to border line playoff team, especially on the heels of a game seven collapse that came after nine calendar years out of the playoffs, would be something you wouldn't wish on your worst enemy. So, with that in mind, I thought I would take this opportunity to work out some of my own angst regarding the team.
While I said on Tuesday that I didn't think the recent slide was that bad, all things considered, and while I remain optimistic about the core of this team going forward, there are a few things – mostly having to do with the coach and defense – that do concern me. I don't really think a panic firing of the coach is the answer.  That being said, I think both the coach and the captain deserve some of the blame, even if a lot of the problems are circumstantial (Schedule, bad calls), luck based (goal-posts, injuries), and general-manager induced (Not a single move at the deadline).
The Coach
What can be more frustrating to a Leafs fan than to see Ron Wilson – supposedly outdated and inept at coaching – replaced with Ron Wilson? The similarities are not for the weak of stomach or heart.
First, before coming to Toronto, Ron Wilson was known as a defense first coach who would tighten up the D and make the team more competitive. The same can be said about Randy Carlyle, and the results have been eerily similar.  By which I mean they both failed to deliver. And, under both men, the team has been horrible defensively despite a near 100% roster turnover.
Second, both coaches are sarcastic, caustic and are known to just throw their players under the proverbial bus. I've never heard Mike Babcock, Claude Julien, or Ken Hitchcock do this. Is it a  coincidence that they are considered the best coaches in hockey? Just how much of this recent slide can be traced back to the post game comments of Carlyle about Reimer after the game against the Red Wings? We'll never know, but it couldn't have helped. I get he was probably frustrated, but what exactly does Carlyle have to gain by being negative about his goalie?  Shouldn't he know his player well enough to know whether this would motivate him or upset him?
Finally, both Wilson and Carlyle seem to be men out of time.  They appear to be "old-school" coaches who are hard on players and beholden to systems and ideas that are not keeping with the way the game is played today.  Just for one example, Carlyle, like Wilson before him, seems to take a perverse joy in keeping things the way he wants them in spite of evidence that those things are not working.  Things like not adapting to the possession-heavy game style favored by the best teams in the league, continuing to dress enforcers, to stick with failing line combinations etc.  Both were hired by different General Managers than the ones who's tenure they coached the longest under. Wilson was kept on by Burke after Fletcher hired him and the same with RC and Nonis. I don't know that this is a big deal, per se, but why the extreme loyalty to a guy you never hired in the first place?
In regards to his not mixing things up when they aren't working, I'd like to ask  Randy why he doesn't seem to be trying to get Clarkson going.  David Clarkson has been ineffective, so why not try him with Kessel? Why not put him on the power play, at least?  What about Gunnarson? He's awful, at least this high up in the lineup, so why not permanently make Rielly and Phaneuf partners?   I don't claim to be smarter than the coach, but how about some change when things aren't working?
Look, in most cases I don't think changing coaches makes all that big of a difference.  I tend to think that anyone capable of being hired to coach in the NHL is only marginally better than anyone else legitimately considered for the job, and I also advised as recently as Tuesday that firing the coach was a crazy idea.  I don't think Carlyle is necessarily the problem, but I do think it's fairly certain that if the Leafs miss the playoffs this year that they will have a new coach next year.  With that in mind, would it be such a crazy idea to switch coaches now and see if the psychological jolt of a change doesn't wake the team up?
I thought the idea of a coaching change was ridiculous on Tuesday at 6:59 pm. By ten after eight, I wasn't so sure.  Do I have to decide? Hopefully you don't begrudge me the option of thinking out-loud.
The Defense
The Leafs have some of the worst defense in hockey any way you look at it. Whether it's their shots allowed, their PK or their defensive zone coverage, things have been terrible. When you look at this team and consider the defense, you have two choices: think about today, or think about tomorrow.  (I guess there is a third choice, but that involves a blanket fort, some Emily Dickinson, and the Cure.)
If you go with tomorrow, things look really great. Gardiner and Rielly are both going to be fantastic players.  Phaneuf has years of elite hockey left, and Gleason has been a solid addition. Furthermore, Matt Finn and Stuart Percy represent two solid prospects that have a good chance of making it. A look at this group, and the assumption that Nonis will work to add another top pairing guy this summer, makes the future of the team's defense look much brighter than today. In fact, as hard as it might be to believe right now, it might be a team strength going forward.
The present, however, leaves a lot to be desired. Everyone but the absolute worst Leafs-Talk-Calling-Lunitic knows that Dion Phaneuf is a talented top-end defenseman.  Say what you will, there is not a scout in the NHL who would rank him any worse than the 20th best defenseman in the NHL, and most probably have him higher. The more you look into the team's stats this year, the more impressive Phaneuf's game seems. He is the Leaf's top defensive, offensive, power play and penalty killing defenseman.  He plays the most minutes and also, some of the toughest minutes in the NHL against the best players. Yes, he plays too many minutes and is overworked, but his mistakes are blown up under the microscope of Toronto hockey and he is not recognized for all the subtle great plays he makes on a daily basis.  Say what you will about him, he is a primarily offensive defenseman being asked to be a primarily defensive one. He does all this, however, while being partnered with Carl Gunnarson.  Look around the league and tell me of a top-end defenseman who has a worse partner?  You can't do it!
Dion takes  a lot of flack, some of it deserved, the vast majority of it not.  He does everything asked of him and more, and all he gets in return is crap from the vocal minority of leafs fans.   I don't think a lot can be done about this group of defenseman at this time, but I have a few ideas:
1.  Pair Dion with Reilly. At the least this can't be any worse.  At best, it allows Dion to play with someone at least in the same sphere of talent that he has and could potentially have a really positive effect on the team.
2. Bench Franson. His only good skills are duplicated by Rielly, Garniner and Phaneuf.  No one can doubt that the Leafs are top heavy in offensive defenseman. Replace him immediately with a defensive defenseman from the Marlies, perhaps Korbinian Holzer.  The Leafs would be tougher to play against immediately and Gleason and Holzer could make a good shut down pair, and at least make the back-end more physical.
3. Stop playing Rielly and Gardiner at the same time. The only reason I can think of for Carlyle ever doing this is as a shot at his boss for not getting him a better player. This is an insane coaching decision and I think putting them out together is perhaps a fireable offense. Why would you ever put these two guys on the ice at the same time, unless you were down 3-0 and trying to spark a comeback……..What's that? That's every game? Oh….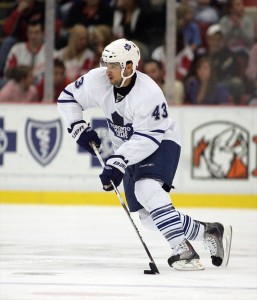 Conclusion
I don't want to give the impression that I think the Leafs should fire their coach. I just think it's worth talking about that maybe he isn't the right guy for the job going forward. Like I said, I keep going back and forth on the idea. I don't even care who they hire next, as long as it's someone who doesn't smirk so much (the smirk seems to be a Leaf Coach trademark dating back to Paul Maurice). Keep in mind, this team was in third place in the Eastern Conference as late as two weeks ago.   They are not even close to as bad as they have seemed recently and I think whether they make the playoffs or not, they are a team on the rise.  A team with tons of talent and a young core who isn't even close to it's peak. It's easy to get caught up in the present, but the team is still a work in progress. I don't think they are as far away from contention as they seem today, but maybe not as close as they seemed last month.  One more top line defender, a rebound season from Clarkson, the continued development of their trio of future stars (Rielly, Kadri and Gardiner) and continued great play from Phaneuf, Kessel, JVR and Bernier, and this team is going to compete for the Cup, maybe not this spring, but in one not too far away.
Don't forget, their losing streak coincided with an injury to their starting goalie and involved an inordinate amount of bad luck, so there is really no reason to bail know.