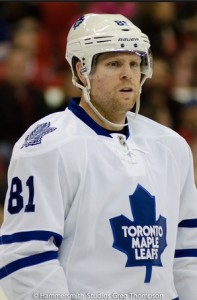 So the Leafs lost five games in a row. Let's not get crazy here. This isn't last year's game seven collapse and it's not nearly as bad as you think. All this is is a minor blip in the road caused by a confluence of bad luck, an injury to a key player  and a small amount of ill-timed bad play.   Last week I tried to tell you that they were a young team on the upswing and nothing in the last week has forced me to alter that position. No matter how you break it down, the Leafs and their fans have a lot to be excited about and shouldn't lose their minds about  a little losing streak. They happen. If anything, losing makes you better. Either that or I wasted a ton of money on self help books.
Also, the five game losing streak really is really only that bad when you say "five game losing streak." If you consider each game individually, no one game is really all that concerning. Certainly not enough to reevaluate how you see this team. They were always a young team learning how to win that was maddening in its ability to look, at times, like they could be a contender, and then at others like they were a lottery team, sometimes in the same game.
[Keep Vivid Seats in mind for your Maple Leafs tickets]
It might seem like that means they aren't a very good team, but I think people forget, in their panic, that this is one of the youngest teams in the NHL. This isn't a team that needs to fire their coach or make drastic changes. This is a team that is gaining experience that can be gained no other way.
Injuries Happen to Everyone, but they Still Hurt
The team lost it's starting goaltender.  I don't want to blame James Reimer too much, although I don't think he has played well at all.  The point is that Bernier won the starting job from Reimer and has been one of the best goalies in hockey this year.  Acquired for a song, he has been flat out amazing in his performance in his first chance to be a starter in the NHL.  I know, "injuries happen to everyone,"  but nevertheless, they are often a legitimate excuse.
The Leafs – like most teams in hockey – rely on a strong goalie to elevate their play. And while a five game losing streak is no picnic, it's almost bound to happen when you swap out a player who has been nearly elite with one who has been below replacement level.
No one ever says "If the Penguins didn't have Crosby they wouldn't be as good as they are."  And no one should say that about the Leafs and Bernier, because it is a ridiculously illogical line of thinking.  You can subtract the best player from any team and that team will get worse. It's obvious, so I don't understand why that seems to be a legitimate shot against the Toronto management and players. The fact that Bernier is so integral to the success of this team does not detract from what the Leafs have accomplished this season just because a high percentage of it comes from the fact their goalie has been amazing.  He is, after all, just as much a part of the team as any other player.
My point here, is that you shouldn't be panicking or asking unfair (read:illogical) questions about leadership because of a poorly timed losing streak that coincidences with the loss of a star player. Also, if panic isn't your thing, don't start saying "I told you so," when it comes to talk of statistical regression. Please recognize the irony in someone trumpeting a small sample size of five games (with the back up goalie no less) as proof that statistics are always right.
Like I said, the play during the losing streak hasn't been that bad, except for that pesky tendency to fall behind early in the game on a bad goal/ total break down of defensive coverage.  Two things, I might add, that are the trademarks of young teams and teams playing their backup goalies.
Anatomy of a Losing Streak
The losing steak began with a loss to the Capitals. This was a game that the Leafs started poorly and which they did a nice job to catch up in and make a game of it. They almost  pulled out the come from behind victory despite being down 3-0 early in the game. They eventually lost 4-2, but one of the goals was into an empty net and you could say they were the better team for 50 of 60 minutes. Sure, you didn't like how flat they came out in this game, but it was impressive that they almost came back.  It showed character and determination.  This is a game that could have gone either way.  Halek was amazing and Reimer was not. At worst, it was a moral victory and the team wasn't too upset about it, especially since it was game four of an excruciating five game, for the most part Western, road trip.
The game against Detroit, in which they lost 3-2, was another example of a game they probably shouldn't have lost.  They played well, even out-shooting their opponent for a rarity.  Only a weak late goal by Detroit prevented a comeback, and overall, it was really only an amazing performance by Jimmy Howard that cost them the loss.  Two games, two loses, both to hot goalies.   Again, like the Capitals game, this game could have easily went to the Leafs with no change in how the teams played.
In the Tampa game, the Leafs again started  horribly, with Reimer letting in a horrendous goal on the game's first shot and never really recovered, probably playing their worst game of the streak, even though it's one of the only times they didn't fall behind two or three-nothing. Though they definitely deserved to lose this game, The Leafs (who you have to admit have shown a ton of resiliency during this losing streak) were down 4-2 after the second and only some top notch saves from Ben Bishop and a bad goal late by the Bolts kept them from trying. This is game three of the losing streak and it's the third game they almost won.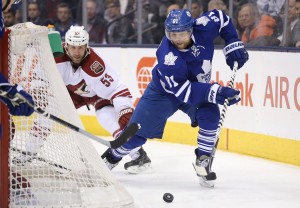 In the Weekend games, against Montreal and New Jersey, the same thing repeated it self yet again: The Leafs let the other team get an early lead and then were unable to come back.  In the Montreal game, they hit two, maybe three, goalposts and were the best team most of the night.  Against New Jersey – probably frustrated from a four game losing streak that they didn't deserve – they came out really flat. But, and this is why the people questioning the teams leadership are ridiculous, they turned it up and almost came back yet again.
Finding Some Positives
So yeah, it's a five game losing streak. The only thing is, it's a five game losing streak in which they could have won all five of the games.  They should have at worst been 3-2, and that is including the fact that they had their backup goalie in net and that he played terribly. This is not the losing streak of years past when the Ron Wilson lead time was lifeless and bored. This is simply a young team in the throws of a stretch of bad luck, which when coupled with a team over-burdened with offensive defenseman, and who has had some unaffordable injuries, which, in the future when the teams young players are better and the roster is deeper, won't matter so much but are crippling at this time in the team's development.
I am not saying that it's OK to lose or making excuses.  Or maybe I am, after all.  Not all excuses are invalid. Sometimes things are perfectly justified. Luck, after all, is a significant factor in all sports, made more so at the professional level when the parity between teams cancels out a large portion of the skill factor. Unless teams start playing 1000 game seasons, the variance just due to luck and injuries are going to be extreme.  There is no need to panic, fire the coach,  question the core, quit on the team, fire the gm, jump off the band wagon or to phone up Leafs talk and let loose.  Just be patient. Realize that a week ago the Leafs were a fast, young, high scoring team with a goaltender threatening to move into elite company and all kinds of potential.  Despite losing some rough games, they remain exactly that.
Yes, the losing streak comes at a bad time, but all I am trying to point out is that there is an element of back luck here and coupled with playing their back up goalie, and being an already unreliable defensive team, it's more than understandable.   Everything will be fine.
If there is a plus side here, Toronto is probably the last team Boston wants to play in the first round.