With the fantasy hockey playoffs already in gear in most fantasy formats, there are undoubtedly a slew of managers that are scrambling to add any helpful element to their team over the next several days. While the rigors of the regular season probably tried the patience of many a fantasy manager, the playoffs bring about a different type of micromanagement to any fantasy roster.
Seeing as how good players are at a premium in most leagues, there is absolutely no shame in scouring the depths of one's waiver wire or free agent pool in order to snag a lesser-owned option. Despite the fact that nobody can tell how these sparsely owned options will pan out, managers that need some help on defense might want to consider some of the options mentioned below.
Defensive Doldrums?
Roman Josi (Nashville Predators – D)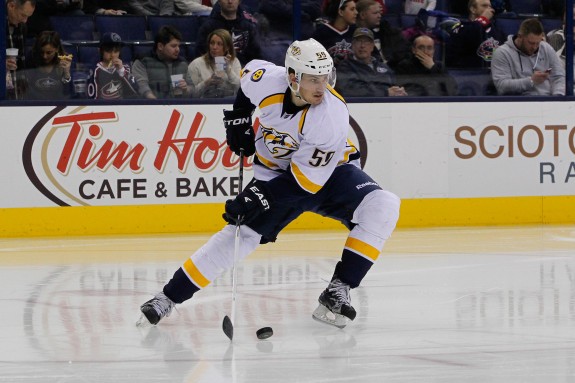 At 21% owned, Roman Josi might just be the option that some fantasy managers are looking for in order to bolster their defense for the remainder of the playoffs. Seeing as how Josi has been paired with Shea Weber on Nashville's first defensive pairing, managers might want to take note of the Swiss d-man that is slightly over one-fifth owned in Yahoo! leagues.
Over his last ten games, Josi has recorded seven points (2G, 5A) and has managed to keep his +/- rating to a +3. Not only has Josi been contributing offensively during even-strength play, the defenseman has also chipped in on the man-advantage as he is seeing time on the Predators' first power-play unit. Even though Josi might not be the most physical defenseman, he can usually contribute a couple of blocked shots per night as well as some shots on goal – something that most fantasy managers could use out of a defender at this point in time of the season.
Jake Gardiner (Toronto Maple Leafs – D)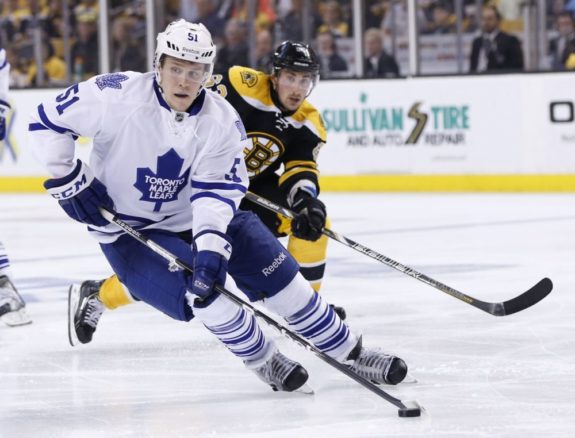 For a defenseman that is only 11% owned, Jake Gardiner sure has been putting on a goal-scoring clinic over the last ten games. Since March 8th, Gardiner has managed to record eight points (5G, 3A), 13 blocks, three power-play points (1G, 2A), and a shorthanded goal.
While Carl Gunnarsson is playing alongside Dion Phaneuf on the Maple Leafs' top defensive pairing, Gardiner isn't faring any worse while playing with Cody Franson on Toronto's second unit. Having scored almost a third of his overall points over the last ten games, Gardiner's stock has likely gone up (2% increase in ownership over the last day), and will continue to go up as long as he keeps putting forth complete efforts. Fantasy managers, especially those in deeper leagues, should absolutely consider adding Gardiner to their lineups while those in shallower formats might want to keep a very close eye on the former first-round pick.
Alec Martinez (Los Angeles Kings – D)
If the Los Angeles Kings have an abundance of anything, then it would most likely be their plethora of defensive and offensive defensemen. While the Kings' defensive front is stacked, that hasn't prevented Alec Martinez (7% owned) from piling on the points as of late.
Although Martinez is currently playing on the Kings' third, and final, defensive pairing alongside Willie Mitchell, that hasn't prevented him from registering eight points (4G, 4A) over his last ten games. With only 17 points (9G, 8A) scored so far this season, it is absolutely impressive that Martinez has managed to amass almost half of his overall point totals over the last three weeks. Even though his minutes might be a bit more limited than other defensive option, fantasy managers should definitely consider adding Martinez as he could very well play his way into added responsibility if he keeps up his current scoring pace.
T.J. Brodie (Calgary Flames – D)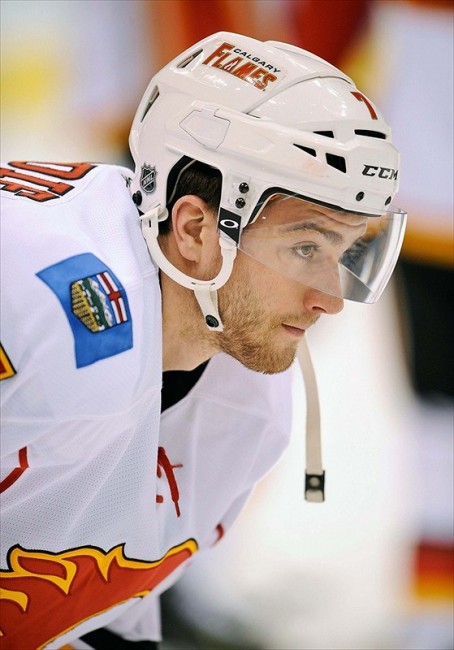 It is amazing that T.J. Brodie has managed to score 27 points (4G, 23A) this season and still remains only 2% owned in Yahoo! leagues. Brodie has compiled six assists in his last ten games and is playing alongside Mark Giordano on the Flames' first defensive pairing.
Of course, Brodie will probably be owned by more fantasy managers next season, but there is no reason to ignore the trending defenseman – especially this late in the season when any boost in a specific category can help. Brodie consistently sees over 20 minutes of ice-time per night and would be an extremely beneficial addition to any fantasy hockey lineup at this point of the season, be it in a shallow or deep format. Fantasy managers looking for help on the defensive side of the puck should definitely add Brodie to their lineup as he has the second most points scored out of defensemen on this list, and at 2% owned there is really not much risk involved in picking up the sparsely-owned d-man.
Sami Vatanen (Anaheim Ducks – D)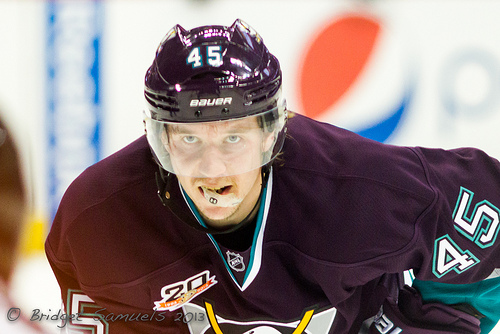 Sami Vatanen had an extremely productive Olympic stint in Sochi and has been playing quite well since rejoining the Anaheim Ducks. An injury to Cam Fowler might have opened the door for Vatanen's return to the Ducks, but there is no doubting the fact that the Finnish defender could contribute on offense.
Despite the fact that Vatanen has only played in 43 games this year, he has managed to record 17 points (6G, 11A) – with seven of those points (2G, 5A) coming on the man-advantage. Vatanen is currently being paired with Bryan Allen on the Ducks' third defensive pairing, but that doesn't mean that fantasy managers should eliminate the young defender from their prospective additions as he is seeing time with Anaheim's second power-play unit. Much like Brodie, Vatanen is a very low-risk option (1% owned) that could yield some good results and provide some steady contributions in multiple categories such as points scored, hits, blocks, and power-play points.