It's been a common theme for the Dallas Stars over the past two seasons, and it continues to haunt them in the final stretch of this season. The Stars simply struggle in back-to-backs games.
For whatever reason, different coaches, different skaters and different seasons can't break the Stars' trend in back-to-back games. Over the past two seasons, the Stars are 16-25-5. As Stars fans know all too well, they also have a history of falling apart in the final stretch of the season. They have had three sets of back-to-backs in the final 10 games of the past two seasons and ended up 3-3 in those six games, in line with what they are doing this season.
Back-to-Back Struggles by the Numbers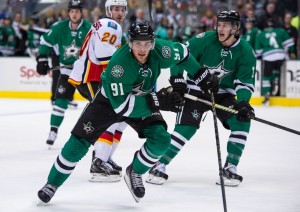 This season, the Stars have been better, but still struggle to remain around .500. In 18 back-to-back games this season, they are 8-9-1. Even their goal differential reveals struggles as they have been outscored by their opponents 43-50 in those 18 games. They are perfect at home with a 3-0-0 record, but their dismal 5-9-1 road record is disappointing. There is not an overwhelming difference between their home and road games in back-to-backs, but there is a difference nonetheless. They are 5-4-0 in the first game and 3-5-1 in the second. They are 6-1-0 against teams with losing records, but 3-7-1 against teams with above .500.
The Stars need to find a way break the trend because in their final 10 games of the season, they face three sets of back-to-backs. The six games will be split evenly between being at home and on the road, and the games will be split evenly between teams with winning and losing records. At one point, they will play four games in six nights, but the last team they will playing against, the Columbus Blue Jackets, will be in the middle of their own set of four games in six nights.
A Need for Change
The biggest tests of Dallas' remaining back-to-backs are two games against the NHL-leading St. Louis Blues. Both games against the Blues will come on the second day, and they will be split between Dallas and St. Louis. The game Tuesday night against the Chicago Blackhawks demonstrated how the Stars tend to play in the second game of back-to-backs. They started with a burst of energy and determination, but it all faded quickly, especially after falling behind.
If the Stars want to keep their playoff hopes alive this season, they will have to solve this problem. They need to find a way to bring the same energy, drive and success to the second games of back-to-backs as they do in the first. They need to find a way to bring their home-game mentality on the road. They have the luxury of a reliable, experienced back-up goalie to lean on this season as well a good mix of experienced veteran leaders and energetic young players.
Despite their recent improvements, if the Stars have any hope of breaking their five year playoff drought, they will simply have to find a way to break the trend.