The idea of the Chicago Blackhawks signing a veteran defenseman or two this summer shouldn't be ruled out. They have approximately just $45.9 million committed to next year's group, so they'll need to hit the cap floor.
The Blackhawks could use help on their left side. Aside from Jarred Tinordi, they could be relying on prospects such as Kevin Korchinski, Alex Vlasic, Wyatt Kaiser, and Isaak Phillips. Though all four players have great potential and could be part of their next competitive roster, signing a veteran short-term would remove some pressure, and the Blackhawks have the cap space to overpay if need be. Here are three defensemen who are logical targets for Chicago this free agency.
Brian Dumoulin
Brian Dumoulin has been a staple of the Pittsburgh Penguins' blue line since the team won back-to-back Stanley Cups in 2016 and 2017. However, the 31-year-old could be moving on from Pittsburgh for the first time in his NHL career. Dumoulin skated in all 82 games this past season while serving as an alternate captain and recorded a career-high 25 points (one goal, 24 assists). He also finished third on the team in average time on ice with 20:38, only behind Kris Letang (24:51) and Jeff Petry (22:21).
Related: Blackhawks News & Rumors: Athanasiou, Pang, Reichel & More
---
Latest News & Highlights
---
Much like Seth Jones and Connor Murphy, Dumoulin would bring great leadership to the Blackhawks. Given his championship experience, he'd likely be in the mix for an alternate captain role. Dumoulin has never been much of an offensive threat as he has hit the 20-point mark just twice in his NHL career, but he has good shutdown abilities. Not including their prospects, he'd become the Blackhawks' top left-handed defenseman.
Knowing the Penguins missed the playoffs this season for the first time in Dumoulin's career, it'd be understandable if he wanted to join a contending club and take more of a reduced role. He is also turning 32 in September, and the Blackhawks would need to be careful about his term, knowing Korchinski, Vlasic, and others could become full-time NHLers as early as next season. His experience makes him an intriguing target nonetheless.
Dmitry Kulikov
A veteran of nearly 900 NHL games, Dmitry Kulikov could be another realistic target for the Blackhawks as a left-handed shot. The 32-year-old is coming off his 14th season, skating in 67 combined regular-season games with the Anaheim Ducks and Penguins while recording 16 points (three goals, 13 assists). Before heading to Pittsburgh, Kulikov ended his Ducks' tenure with a minus-11 and 44 giveaways; however, those numbers were mostly a byproduct of playing on an awful Anaheim team. Just two seasons ago (2021-22), Kulikov was a constant for the Minnesota Wild, skating in 80 games while posting an impressive plus-23.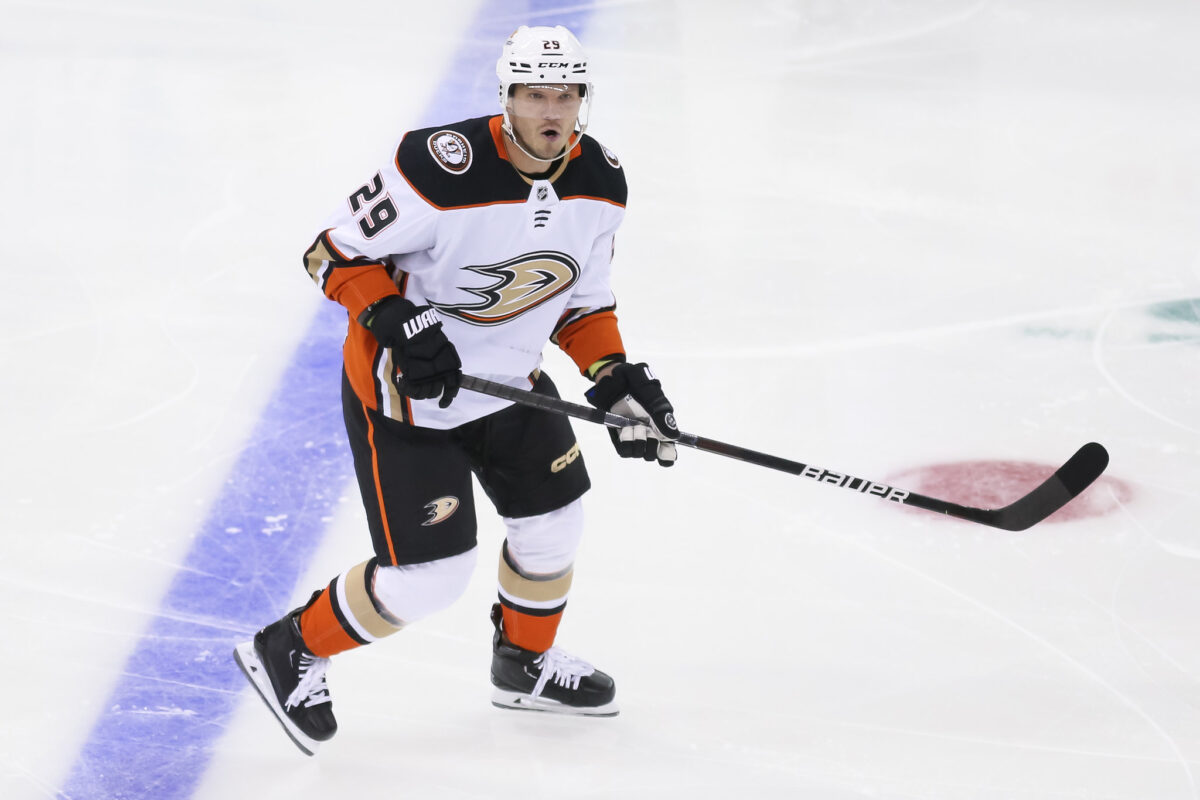 Kulikov is no more than a journeyman at this point in his career, having played for eight organizations since making his NHL debut in 2009. That said, he remains a serviceable depth defenseman and would be a low-risk addition. At 6-foot-1 and 201 pounds, he also brings good size along with a physical presence as he had 96 hits last season between the Ducks and Penguins. Similar to Max Domi, the Blackhawks could sign him for one year and hope he has enough of a bounce back to move him at the deadline for draft and/or prospect capital.
Like Dumoulin, though, it'd be understandable if Kulikov wanted to sign with a contender. He has made the playoffs in just seven of his 14 seasons and given his staying power in the league, it'd make total sense if he wanted to chase his first Cup. His experience, however, would complement the Blackhawks' young left side.
Erik Johnson
With Jones, Murphy, and Nikita Zaitsev, the Blackhawks' right side could be set, but Erik Johnson is at least worth exploring. After 13 years with the Colorado Avalanche, the 2006 first-overall pick is hitting the open market, and he could be a great addition to Chicago's leadership group. Like Dumoulin, he brings championship pedigree and could be another trade candidate if the Blackhawks sign him to a one-year contract.

Despite never quite living up to his first-overall potential, Johnson has remained an effective stay-at-home defenseman, especially since joining the Avalanche in 2011. Injuries have been an issue over his career such as missing more than a month this past season with a broken ankle. Yet this would be a low-risk move, given the Blackhawks aren't close to contention. Also, aside from Alec Regula, they don't have many prospects who may take the full-time leap next season on their right side.
Related: Blackhawks Should Pursue Alex Killorn in Free Agency
The issue that could prevent someone like Johnson from joining Chicago is similar to Dumoulin and Kulikov. At 35, would he want to spend potentially the last few years or so of his career on a not-so-great Blackhawks' team, even with (most likely) a generational talent in Connor Bedard? After winning last year's Cup, Johnson admitted he contemplated retiring after the 2020-21 pandemic-shortened season, when he skated in just four regular-season games (from "Erik Johnson reflects on Stanley Cup win after 12 years with Avalanche: 'I want to get this done in Colorado,'" The Gazette, 06/28/22).
That doesn't mean the Blackhawks shouldn't consider the idea. Going from a contending Colorado club to a rebuilding Chicago team may not sound appealing, but he'd be a great locker-room presence if he was interested, much like Jack Johnson this past season. Knowing he'd sign a one- or perhaps two-year deal at best, the Blackhawks could always overpay if necessary.
The Blackhawks don't necessarily need to upgrade their defense; in fact, general manager (GM) Kyle Davidson recently said much of their cap space will likely go toward forwards. But they should at least do their due diligence and if they wanted to sign another veteran to join Murphy and Jones, these three players are reasonable targets. While neither of them may be the flashiest, they'd all bring depth and would bridge the gap with the team's prospects.
---
---