The Philadelphia Flyers started their offseason reasonably quickly by making a three-way trade with the Los Angeles Kings and Columbus Blue Jackets, involving defenceman Ivan Provorov and goaltender Cal Petersen. They have also let it be known that they are willing to move goaltender Carter Hart, who is 24 and was once believed to be the franchise's next star in net. Trade rumours connecting Hart to the Montreal Canadiens have been around since last year's trade deadline, but they have gathered steam since the Flyers' announcement. The Canadiens, however, should be cautious and ensure they get him for the right price if they are interested.
Hart Still Has Great Potential
The Flyers drafted Hart 48th overall in 2016. He was the best goaltender in that draft and helped lead Canada to a gold medal at the World Junior Championship. He was also a standout with the Everett Silvertips in the Western Hockey League (WHL), winning 116 of 190 games with a 2.01 goals-against average (GAA) and .927 save percentage (SV%). He joined the Flyers as a 20-year-old and excelled in his first two seasons, winning 40 of 74 games with a SV% of .917 and .914, respectively.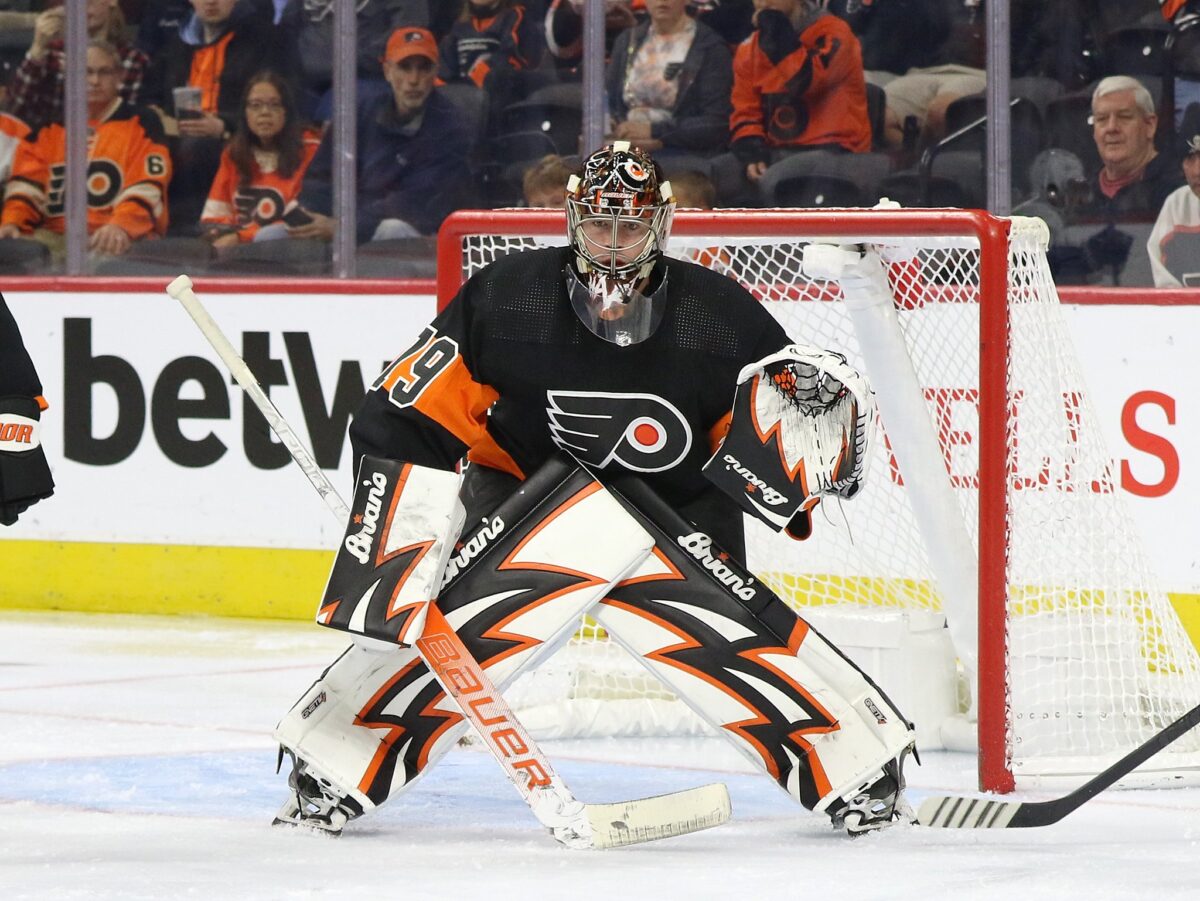 However, over the past three seasons, Hart has struggled, which surprised many, considering he was consistent in his first two seasons and was solid in the 2020 NHL Playoffs when he won nine of 14 games with a .926 SV%. But he has not had a winning season since 2019-20, and his GAA has only once been below 3.00, with a 2.94 this season; his SV% has suffered as well, below .907 once again this past season.
There could be a few reasons for his drop in production, including that Philadelphia has not been a good team in the past three seasons. However, another reason could be that Hart was overhyped. More likely, it has to do with the team's struggles, and maybe he hadn't completely recovered from his abdominal strain suffered in 2019-20 when he returned. A change of scenery could be just what he needs to reinvent his career.
Canadiens' Montembeault Stepped Up This Season
The Canadiens have a long history of icing superstar goaltenders like Jacques Plante, Ken Dryden, Patrick Roy and most recently, Carey Price. Hart had star potential when he was drafted, and although that star has faded, he still has decent potential. The Habs also have found success with another goaltender, Samuel Montembeault, who turned his game around this season. Although the Canadiens struggled and suffered many injuries in 2022-23, he consistently helped the team win — or at least gave them a chance.
Related: Canadiens Goalie Montembeault May Just Be Late-Bloomer
---
Latest News & Highlights
---
The Florida Panthers drafted Montembeault in the third round in 2015, and Montreal picked him up off waivers in the 2021-22 season to add goaltending depth. He struggled in his first season with the Canadiens, which was also one of the worst seasons in franchise history. In 38 games, he had an SV% of .891 and won only eight games. With Price's severe injuries, it looks like his career is over, and goaltending for the Canadiens would be a weak spot for the next few years. Jake Allen was acquired as a stopgap until they figured out the situation in net, but Montembeault stepped up this past season and proved he could be the future goalie.
In 40 games this season, he had an SV% of .901 and won 16 games behind a very young and inexperienced defence. Montreal still finished in the bottom five, but his efforts didn't go unnoticed; he was selected to play for Team Canada at the World Championship and helped lead Canada to a gold medal, going 6-1 with a .936 SV%.
Canadiens Should Only Acquire Hart for Right Price
The Canadiens must address their goaltending for the future; Allen has two more seasons left under contract, and Montembeault has one. If they decide to acquire Hart, one of the two must be moved; if it's Allen, they must sign Montembeault or risk losing him in free agency. Montembeault is two years older than Hart and has more potential, and as the former continues to improve while the latter has regressed, this could be a tough decision for Canadiens' general manager (GM) Kent Hughes.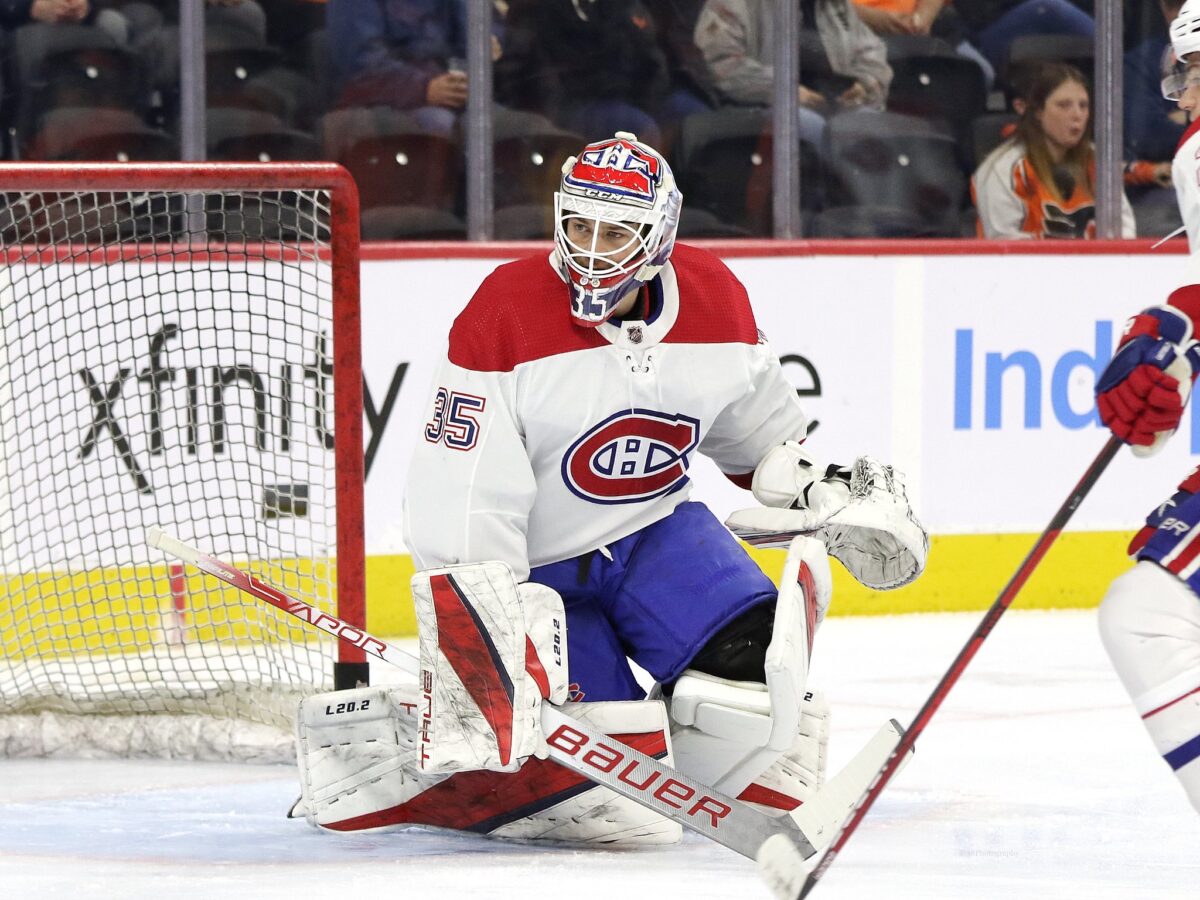 Many on social media think the Canadiens' late-first-round Panthers pick and a prospect would be enough to acquire Hart. But his recent struggles and the Flyers' willingness to move him when they should be rebuilding begs the question of whether he is worth so much. With Montembeault playing just as well as Hart on a team just as bad, do the Canadiens need Hart? The upcoming draft also has top-level goaltending prospects, and the Canadiens have three picks in the first 38. They could pick a goaltender with one of those first three picks or select an overage goaltender later in the draft in hopes they could strengthen the team's goaltending depth.

If they don't trade for Hart, the team should sign Montembeault on a long-term deal to cover the team until they develop a goaltender in the system or acquire another young one. Hart has one year left at $3.97 million and will be a restricted free agent (RFA) after next season, giving Montreal some control over his future. In contrast, Monty is an unrestricted free agent (UFA) and can sign anywhere, which could put the Canadiens in another goaltending hole.
Adding Hart could give the team a solid young one-two punch in net and help jumpstart their rebuild. It could also be a disaster if Hart keeps regressing. We know Hughes will do what's best for the team. This is a pivotal offseason for Montreal, and every move needs to be well-calculated for future success.
---
---