Rebuilding through the draft. Fans of the Montreal Canadiens see that phrase and think, get as many high picks as possible. And they aren't wrong, the odds of drafting high-end talent, and more than one player, increase with that approach. But what about in the later rounds? Some of these players can have an impact on a roster, especially one trying to rebuild and become a contender.   
Related: Canadiens' High-Risk, High-Reward Decision to Make with 5th Pick
---
Latest News & Highlights
---
The Canadiens own 11 draft picks in the 2023 NHL Entry Draft, which includes three in the fourth round. With that many picks, general manager (GM) Kent Hughes can afford to take some risks and instead of going with the "safe pick", a player with the highest floor, he can swing for the fences and try for a late-round home run selecting a high risk/ high reward type of prospect.  
What better way to mitigate the risk than to select an overager. Scouts have seen a larger sample from them, and can better project their paths in the professional ranks. For Montreal, this draft is the best time to add one or two goaltenders as well, and they are in luck as three goaltenders could be available to them this summer at the NHL Entry Draft being held in Nashville. 
Goaltenders are Best Value to Target in Later Rounds  
The biggest impact to shorten a rebuild will be a focus on goaltenders as that is the most glaring need in the Canadiens' prospect system. Rebuild without a goaltender, and you can end up derailing your plan or making it take far longer than it needs. Teams such as the New York Rangers have shortened their rebuild timeline thanks in part to the emergence of a former fourth-round pick, Igor Shesterkin taking Henrik Lundqvist's role as a franchise goaltender. It does take time for goalies to develop, but if you select an overager, that timeline shrinks. 
Adam Gajan, Chippewa Steel (NAHL) 
The 6-foot-3, 176-pound goaltender is ranked to be a third or fourth-round selection in 2023, which is where the Canadiens hold most of their draft picks, making him a good goaltender to target. Gajan came into the spotlight for his play at the 2023 World Junior Championship (WJC) in Halifax.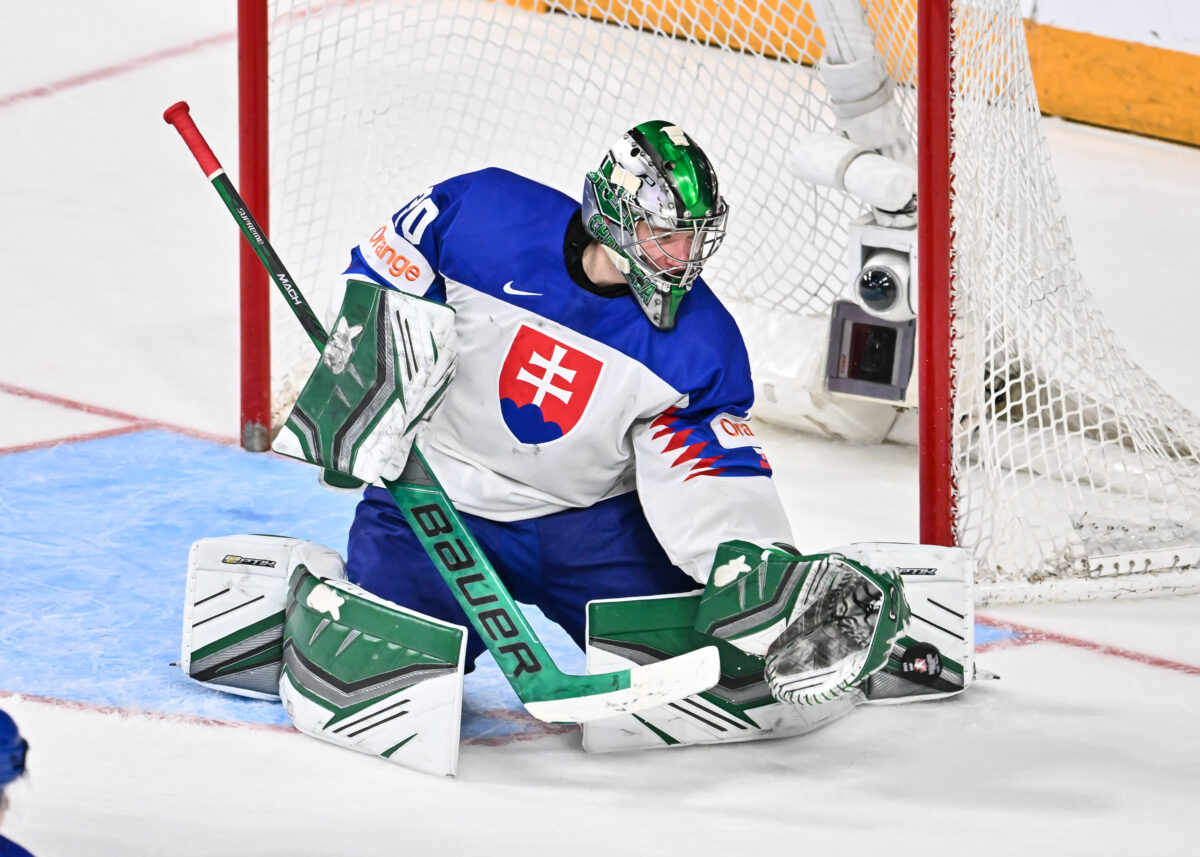 There, he began as a third-string goaltender for Slovakia, and in no time, he took over as the starter, then became a brick wall, back-stopping the Slovaks to a quarter-finals berth with his .936 save percentage (SV%). His incredible play nearly made him a giant killer as Team Canada and all of their firepower took 57 shots on Gajan and only beat him thanks to an incredible individual play in overtime by Connor Bedard to take a 3-2 victory. 
Yet it is the 19-year-old's play in the NAHL and his .917 SV% that makes him impossible to overlook in this draft. The University of Minnesota-Duluth commit has the frame scouts like, but it is competitive nature where he lifts his play when facing tough competition. There are still some areas of his game to develop, such as adding some strength and polishing his technical approach. With four years of NCAA eligibility, it would give any NHL club time to allow him to develop. 
Thomas Milic, Seattle Thunderbirds (WHL) 
The 6-foot-0 and 174 pounds Thomas Milic is small by scouting standards but he hasn't allowed that to slow him down. He has had an amazing season. After starting the tournament as the backup, he quickly took over the starter's role and backstopped Canada to a gold medal at the WJC with impressive numbers. A 5-0-0 record, and a .932 SV%, which included some performances against the Americans and Slovaks in the elimination rounds in which his play, and key saves, made the difference. 

His performance with his club team, the Seattle Thunderbirds of the WHL only adds to his pedigree. He finished the regular season with the WHL's top save percentage and a 27-3-1 record, then in the playoffs, went 16-3 with a .938 SV% leading Seattle to the WHL championship, earning him playoff MVP honors. Milic uses his impressive athleticism to make up for his lack of size in the net. He has incredible speed and footwork that allows him to move laterally in his crease quickly, closing off any openings. He is also calm and calculated in his crease, playing a highly efficient technical game allowing him to track pucks well and be in a position to make the save. 
A strong, dependable gatekeeper between the pipes that usually play with confidence. Plays a tidy, technical game. Is self-aware and conscious when it comes to the position. Compensates for his size with quickness and aggressive positioning. Rarely locks onto an angle as he's shifty and efficient on his feet. Shows strong lower body agility and able to move his feet to adapt and give lower percentage looks at the net. Dynamic speed moving laterally and remains poised.

FC Hockey's 2021 Draft Guide 
More than just his positioning and crease movement make him a good draft target for the Canadiens, it is his mental game. Not only does his hockey IQ allow him to predict and react to developing plays, but his mental strength and competitive nature also make him capable of raising his game in big moments. 
Tomas Suchanek, Tri-City Americans (WHL) 
Tomas Suchanek put on one of the best goaltending performances at the 2023 World Juniors on his way to a silver medal. He was the source of Czechia's top WJC moments. He stunned the Canadians in the opening game, allowing just two goals on 38 shots, then squashed the Swedes' gold medal hopes, stopping 21 of 22 shots in the semifinals. In the final, he faced Canada once again, and although the Czechs lost, he turned away 35 attempts from the Canadians, keeping them in the game for as long as possible. To put a cherry on top of his incredible tournament, he was chosen to the Media All-Star Team after posting the lowest goals-against average and also setting the record for most assists from a goaltender ever at the World Juniors.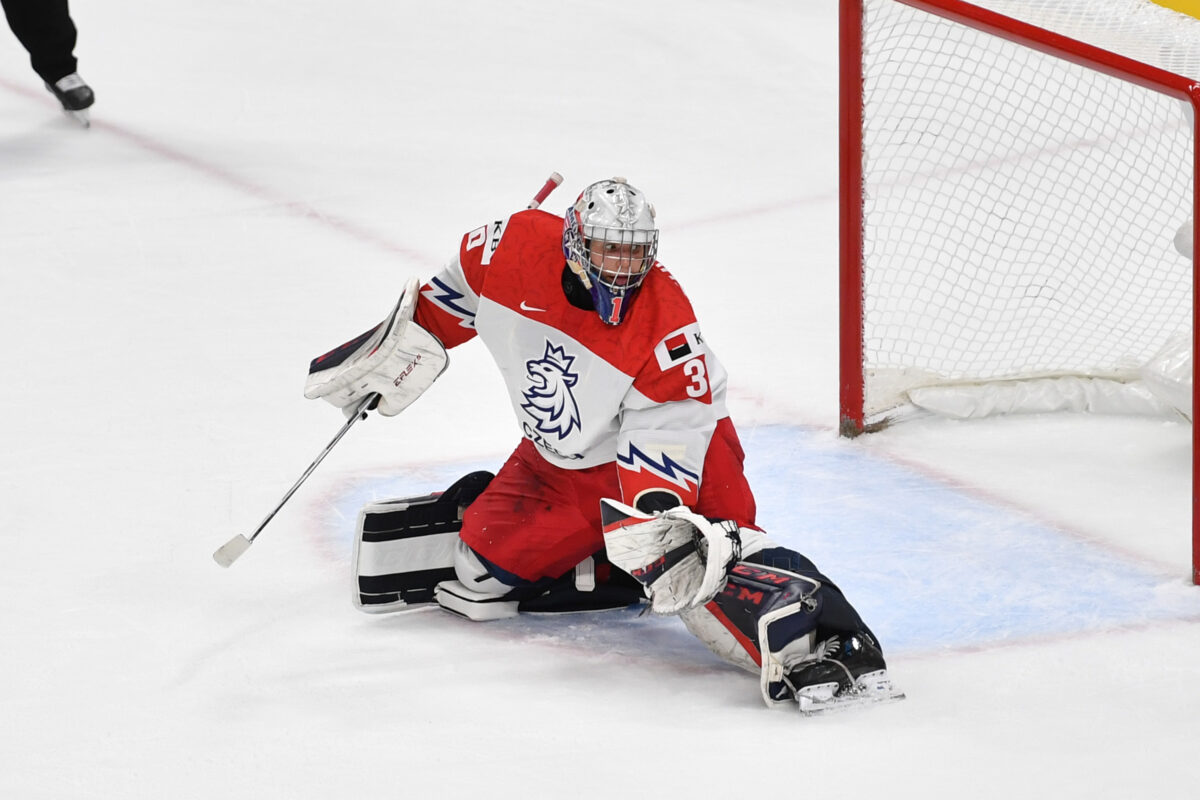 At the beginning of 2022-23, the 6-foot-2 181-pound 20-year-old joined the Buffalo Sabres for development camp and turned some heads. His international play has been impressive, but his play with his club team, the Tri-City Americans of the WHL, warrants some attention as well. It was normal for him to face 40 or more shots in a game. Yet despite the defensive lapses in front of him, he went 27-14-1 in 48 starts, ending the season with a .912 SV%, willing his club into the playoffs before bowing out in six games against the Prince George Cougars in the first round.
A common theme among the three goaltenders mentioned has been their mental strength and overall conditioning. Their "big game" abilities as well. For Suchanek, the bigger the challenge, the better he performs. His style is technical and calm, he moves with great control and uses his angles to help take away openings for shooters. He has proven that he can be a dominant goaltender when called upon so far in his career. 
Given that goaltenders develop more slowly than skaters, it is reasonable to believe a team drafts an overage goaltender. They've had more time and a larger sample size of games played to provide scouts with a better handle on their progression and potential. All three goaltenders in this piece have the raw skill and most of all, mental strength, to warrant a mid to late-round selection by the Canadiens.
---
---