If there is one trait the Chicago Blackhawks and the fans themselves love, it's energy. It's the passion and the hard work that draws fans to the Blackhawks. It's why names like Andrew Shaw, Dave Bolland, and Jeremy Roenick will always be fan favorites for how they played on the ice. So, it would make sense for the Blackhawks to continue looking for players that play the blue-collar way. When looking at the 2023 NHL Draft prospects, the one player that fits that mold is Gracyn Sawchyn. He is a favorite among draft prospects, and it's not just based on talent alone.
Sawchyn Would Bring Drive to Blackhawks
It has been said in hockey that you can't teach skill, but you also can't teach drive, which fits Sawchyn to a tee. If you look at any scouting report of his, the first words that usually pop up are "energy" and "high motor." By looking at his highlights, his game reminds me of three players: Brandon Hagel, Brayden Point, and Taylor Raddysh. He has similar qualities that make those three players dangerous.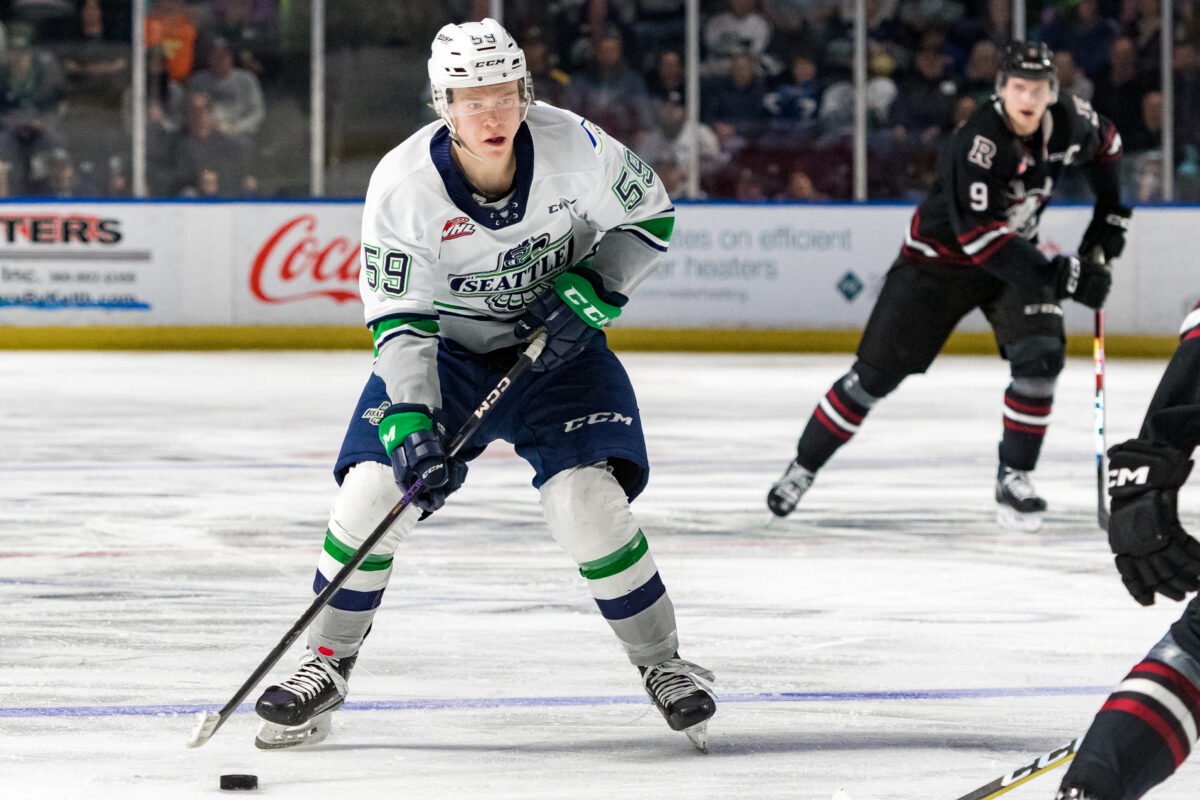 Let's start with the obvious, energy. An extra effort to his game is evident the second you watch him. If he almost gets tripped or has three players on him trying to make a play? No problem. He still manages to make a play or score a goal under duress, which is very Hagel-like. He is great at following his shots through, which reminds me a lot of Raddysh. If he takes an initial shot and a rebound comes back, he will try again, and it usually pays off. Raddysh is the same way; he usually whacks at pucks until it gets into the net.
Related: Gracyn Sawchyn – 2023 NHL Draft Prospect Profile
---
Latest News & Highlights
---

Another thing that stands out is he is a good perimeter passer and finds teammates quickly that way. One goal he had this season with the Seattle Thunderbirds of the Western Hockey League (WHL) found Blackhawks' prospect Kevin Korchinski on the outside for a goal. He reminds me of Point in the sense that Point is a master at scoring goals in the center slot, which is where Sawchyn thrives, too. From a statistics standpoint, he was a consistent player with the Thunderbirds, with 58 points in 58 games (18 goals, 40 assists). He also netted 11 points in 17 games in the playoffs. Overall, he looks to be a gritty, highly driven forward a lot of upside.
While speaking with Logan Horn, our Director of Prospect Coverage, his analysis on Sawchyn was that of excitement, stating, "Sawchyn is very quick, has super fast hands, and never gives up. He didn't get tons of attention this year because he was a second center for Seattle until they added Brad Lambert (Winnipeg Jets) and Dylan Guenther (Arizona Coyotes). Then, he spent most of the later half of the year as a third center but still put up roughly a point per game. I think he's a first-rounder, but there seems to be a good chance he falls to the second round. I like him as a fan-favourite, middle-six player."
Sawchyn has versatility in his game as a center and can be used up and down in the lineup, and he thinks and plays the game at a fast and high level. Still, he's a prospect that isn't highly talked about, which could be great news for the Blackhawks because he could just fall to them in the draft, whether they stay at 19th overall or if he falls to the second round with their four second-round picks.
Blackhawks Already Established Ties With Sawchyn
The Blackhawks already have strong ties to Seattle as they already have three prospects in Korchinski, Nolan Allan, and Colton Dach. So, it would be plausible to think that the organization has looked at Sawchyn. Adding another talented forward from the team that made it to Memorial Cup Final this year is a good strategy for them. It also adds already established chemistry in the pipeline with other prospects.
Besides the chemistry and familiarity with other prospects, his game-style is contagious and would help the Blackhawks. He is the type of player the team could put anywhere in hopes of finding a spark, but he could also be a valuable depth player. He has the potential to grow into a top-six player in the NHL, but if not, that would still be fine. The organization can work with him in making him bigger to help his 5-foot-11 and 165-pound frame and complement his already zesty play, but he already has a desirable skillset for the NHL. He looks like the type of player where you will always know what to expect of him. He may not always have the strongest game every night, but he will give 100 percent every shift, which every team can benefit from. His talents of speed, playmaking, offense, and effort can only improve as the 18-year-old grows. He could be a steal in the draft.

If Chicago picked Sawchyn, I agree with Horn; he would be an instant fan favorite. Players like him — being highly motivated and skilled to boot — help win games, especially in a rebuild setting. Surely, Chicago will be looking at those aspects when looking at someone like him. The team has always succeeded when acquiring high-motor players like him, resulting in many success stories, most recently as Sam Lafferty or Cole Guttman last season. They're hoping prospects like Paul Ludwinski and Samuel Savoie follow suit, and who better to add to that group than Sawchyn? Keep an eye on him; he seems like a prime Chicago target.
---
---