When the Buffalo Sabres selected Dylan Cozens seventh overall in the 2019 Draft, they knew that they had a hard working forward with a love for the game. Since his arrival in the NHL, he has done nothing but grow and get significantly better as a player, and this season was a resounding success for him personally. He not only established himself as a top-six forward in the NHL, but he proved time and time again that he is arguably one of the best players the Sabres have at their disposal.

Cozens was right on the cusp of breaking out at the NHL level in 2021-22, and it looked like he was doing everything right. He played the game hard and fast, but he just was not getting the puck luck he needed. Despite those struggles, all the signs pointed to him having a huge 2022-23 season, and he did. The Sabres were a better team because of his success, and he was one of the most fun players to watch all year long.
Cozens Earned His Payday
Midway through the season on Feb. 7, Cozens signed a huge seven-year extension worth a total of $49.7 million ($7.1 million average annual value [AAV]) and it was an absolute steal. Cozens proved himself to be one of the most versatile forwards in Don Granato's forward arsenal, seeing time in every situation, and being a primary faceoff man for important draws. Cozens was the forward not named Alex Tuch that Granato could turn to when he needed something done.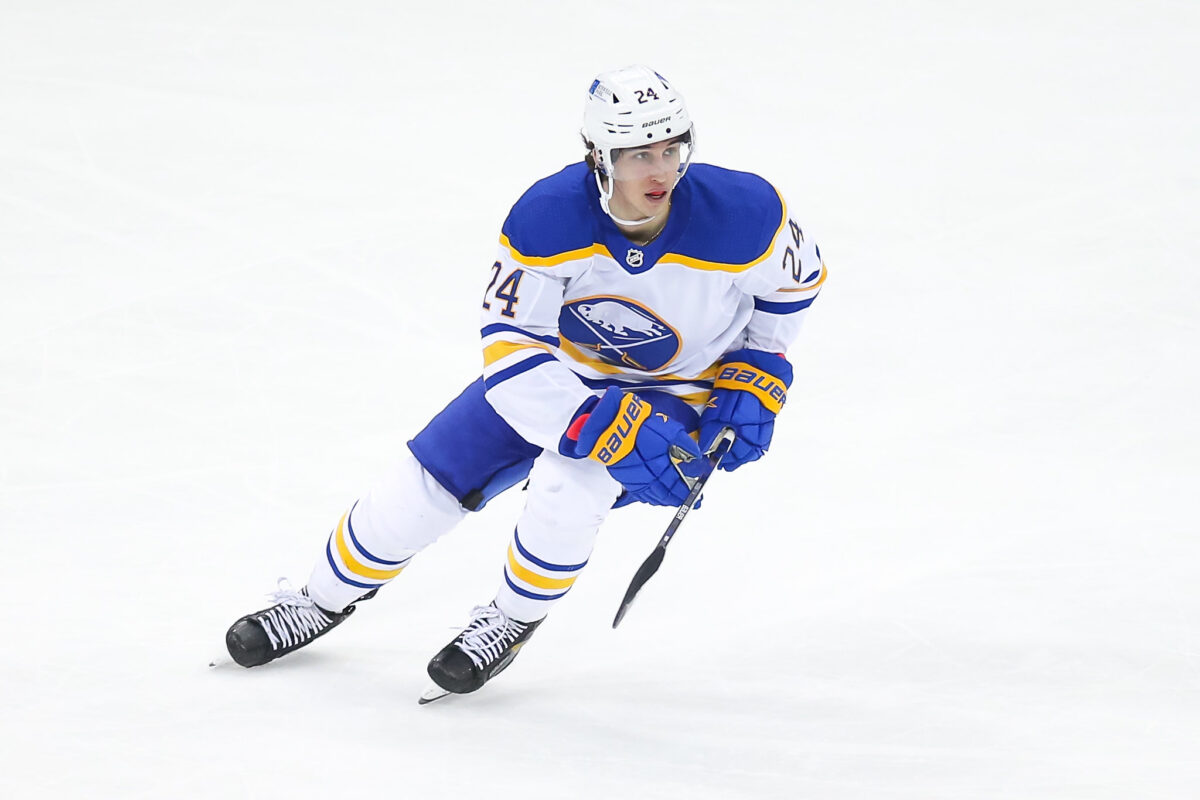 His performance stat-wise not only justifies his contract, but it leaves room for even more improvement. Cozens finished the season with 31 goals and 68 points, both of which shattered his previous career highs of 13 goals and 38 points in 2021-22. At the ripe young age of 22, he has contributed offensively, defensively, and in a leadership aspect. He is visible at all times when he is on the ice, and he never takes a shift off. Even when he is having a poor game, or when the team is not performing as they should, he can still be seen on the bench smiling and having the time of his life playing in the NHL. That kind of dedication cannot be overlooked when it comes to how much of a role he has played in changing the culture in Buffalo.
Cozens' Fantasy Value
No matter what type of fantasy league someone plays in, Cozens was a "must have" for any lineup. Due to his average numbers in 2021-22 he was not rostered at a high percentage early on, so those who picked him up saw some fantastic results. Getting 30-plus goals out of any player is worth having, and being a center who won a good number of draws, he had some very good peripheral coverage. He is the kind of player that will not be overlooked as much in the coming year, so if he can be acquired for a lower price, he is worth the investment. He will not be losing any ice time in Buffalo due to how important he is, and he has both power-play and shorthanded point potentials to increase his value on top of it all.
Cozens' Final Grades
He did it all this year. From scoring big goals to mentoring the other young players on the roster, there was not a single part of the game that Cozens didn't excel in this season. He stepped up any time there was a need. Whether that was Tage Thompson being out with an injury, or being the spark plug that the other top players needed when they slumped, he was always one of the major catalysts for any situation. His presence on the ice is impactful and he is now established as one of their best all-around performers. With that, here are what his final grades would look like:
Scoring – A
Defense – A
Playmaking – A
Leadership – A
Teamwork – A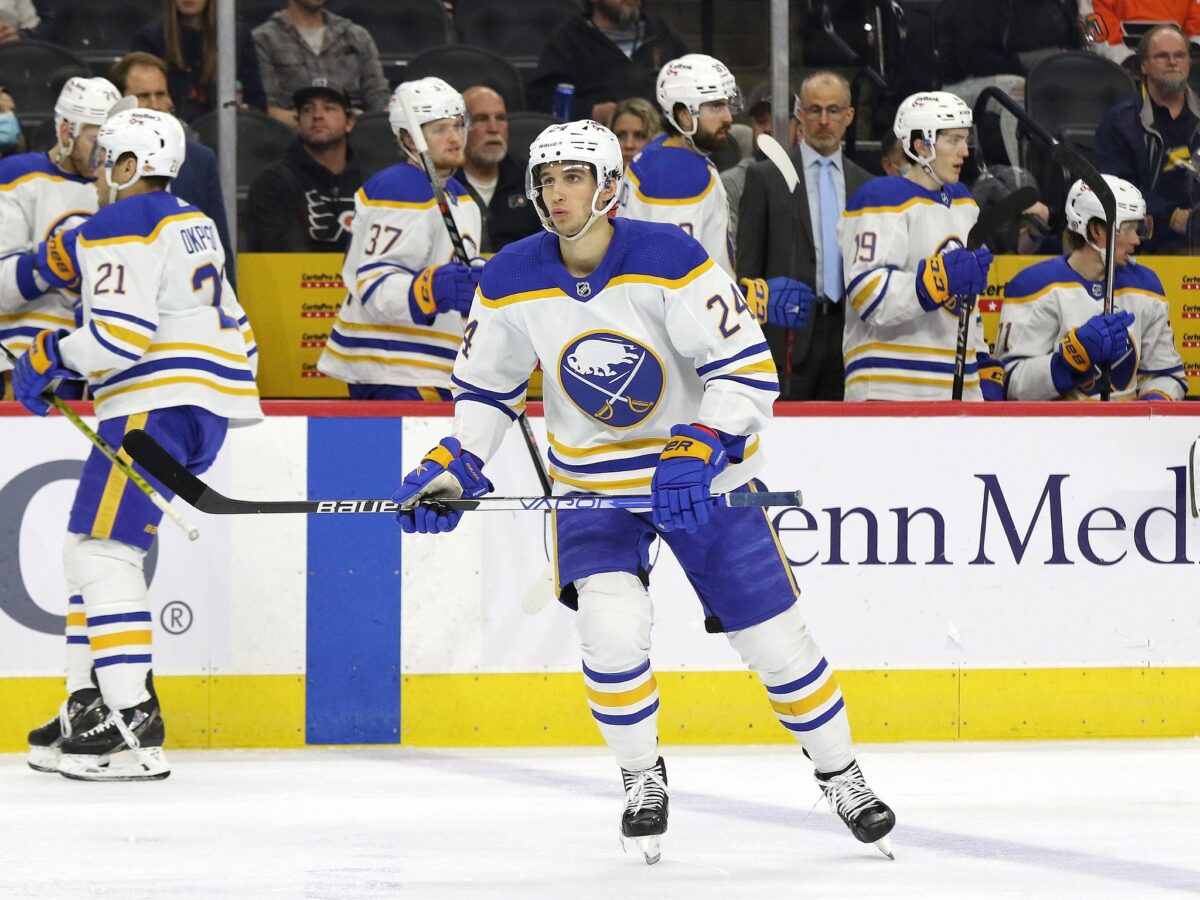 The sky is the limit for a player like Cozens, and if he increases his physical game, there is not telling how good he really could become. He was a massive reason why young rookies like JJ Peterka and Jack Quinn both had very good seasons, and as they continue to develop chemistry with one another, the team will only improve as a whole. The best part about Cozens is that he can play with any other player on any line and still be productive. He is the type of player that makes those around him better, and that will only further improve the Sabres' development process. Don't be surprised to see him spend some time with with the likes of Jiri Kulich and Matt Savoie if they make the team next year.
Cozens' Has a Longer Future Ahead Of Him In Buffalo
Cozens got one of three major extensions that Buffalo handed out this past year, which means he will be a massive part of their core for years to come. He has all the talent in the world, and even more work ethic to back it up. Beyond that, the kid is fearless and determined to improve his game. Cozens has been the player chosen a number of time to be the one to match-up against top talents like Connor McDavid, and he has risen to the task every time. Having a player like that be an influence to your young developing ones is beyond invaluable.
Related – Sabres 2022-23 Player Report Card: Jack Quinn
---
Latest News & Highlights
---
Will he be able to take over the top center spot from Thompson? There is a possibility, yes. Thompson is the more offensively charged forward since he is the better scorer, but Cozens' ability to be more versatile may give him the edge in the long run. Having two young, stud centers is a great problem to have, especially when they are under bargain contracts for seven more years. The Sabres have a number of budding young forwards, but Cozens is the prime example of what good, slow development is. He is exciting to watch, and he will be a dominant force for the Sabres' offense for many years. On top of that, he will be a prime candidate for the captaincy when Kyle Okposo decides to retire in a year or two. Until then, he will continue to lead and dominate in his own way.
---
---