The Chicago-Nashville game Saturday might have crowned Blackhawks Captain Jonathan Toews the star of the evening with his beauty of a goal with 1:34 left in overtime, but Corey Crawford's performance over three periods plus overtime was sadly overlooked.
While Crawford's goaltending is generally above average, posting a .926 and .917 over the last two seasons respectively. Bloggers have made noise about his chances at the Vezina over the past two seasons, but his freshman season in the NHL has so far been his best. Although we are only in the early days of the season, if Crawford maintains this level of performance over the season he may make a real run for the Vezina this year.
Friday night, Crawford faced down 18 shots and blocked 17, earning him a save percentage of .944. While that's excellent for Crawford, it's good for any goalie. Last year's Vezina winner, Tuukka Rask, posted a save percentage of .930 over 58 games.
Of those 18 shots, 11 came in the third period, where Crawford played his best hockey. He faced down shot after shot — a particularly nice four-minute sequence contained a gorgeous chance by Nashville's Shea Weber — and Crow's time in goal has been truly impressive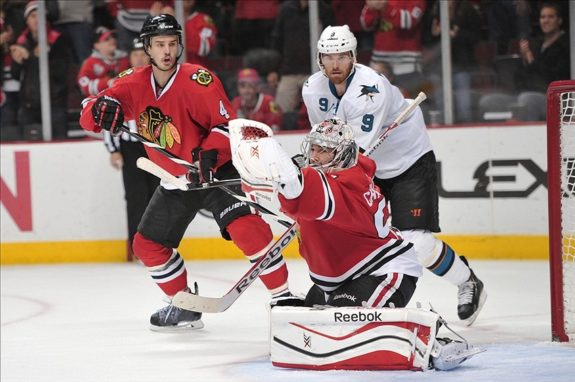 He finished his first game of the season with 32 saves against the Dallas Stars, earning a .941 save percentage. It was an incredibly close game and Crawford made the difference for the 'Hawks with the Stars turning the dial up to eleven and playing a fast and skilled (while still physical — Jamie Benn hasn't given up his love of hitting) game. Crawford was on fire, facing down eight shots in the first period alone. His next two games Crawford posted save percentages of .913 and a dismal .889, but he rebounded for Saturday's game against the Predators.
Crawford's good games this season are really, really good, likely due to his backing away from some of the gymnastics we saw last season. Even if they were sometimes effective, they were also sometimes the reason why the other team would catch the rebound neatly on their tape, giving them a great chance at a second shot while Crawford scrambled back into position. While he is a tremendous athlete, when Crawford settles in and focuses on clean, efficient movements, he blows the other goalies out of the water.
Corey Crawford is a good goalie, and has proven himself to be a good goalie who is sometimes really good. As a player who sits behind an often-excellent defense, Crawford is not always challenged to be great, and his flaws are frequently covered by the two men in front of him.
But these few games at the start of this season have shown us that Crawford has the potential to be great. He has kept his cool and settled himself, sometimes blocking four shots over the course of four minutes (one of them a Shea Weber slapshot), as we saw against Nashville on Saturday. I, for one, am excited to see what he will do with this powerful start.
Kate Cimini is an avid hockey fan and rabid defensewoman. Her favorite team is the Whalers, and her second-favorite team is the Whalers. She also supports the Whalers. Her hockey articles can be found on sites such as Bleedin' Blue, A Winning Habit, and she rambles on social media from time to time. Follow her on Twitter for a terrible time.