It has been an interesting season full of inconsistencies for the Chicago Blackhawks. Having just clinched a playoff spot, it's very hard to say that this season has been a disappointment for the team, but in some ways it probably has.
Jonathan Toews is set to post his lowest point per game mark since the 2008-2009 season. Due to his recent collarbone injury, Patrick Kane's output this season will likely only be about 65 points. The struggles of Patrick Sharp this season have been well documented, and he probably won't surpass the 45 point mark.  Marian Hossa has been good, but like Toews, his production has slipped. In fact, you'd have to go all the way back to the 1999-2000 season to find a campaign in which Hossa produced a lower points per game rate than the one he has this year, which is just a mind blowing indicator of the level of consistency he's achieved throughout his career.
Depth Matters
In any other year, the Blackhawks would be in deep trouble if all four of their top forwards struggled so mightily relative to their usual production over a full season. With last year's roster, it would have been up to an aging Michal Handzus, Andrew Shaw, a still-budding Brandon Saad, and a struggling Kris Versteeg to pick up the offensive slack.
With the Stanley Cup winning 2013 roster, if the Toews/Kane/Sharp/Hossa group was down, it would have been up to Bryan Bickell, Andrew Shaw, Dave Bolland, and Viktor Stalberg to pick up the slack.
What about the 2011-2012 team that bowed out to Phoenix in the first round? If the top four struggle that season, you're relying on Stalberg, Bolland, Andrew Brunette, and fourth line center Marcus Kruger as the next four highest scoring forwards on the team.
But this year has been a different story, and that is what has allowed the Blackhawks to remain a dominant team even if their four featured forwards have been ravaged all season by a combination of injuries and slumps.
Breaking Brad
What is most likely the biggest difference between this Chicago roster and the others of the Toews/Kane era is the presence of Brad Richards. Even at his age, he is still a relatively legitimate second line center. The lack of a capable second line center has been an Achilles' heel for the Blackhawks over the years. Last season it was Michal Handzus who was over-slotted, and his presence had a harmful impact on Patrick Kane's production.
In other years, we'd see Dave Bolland centering the number two line. Maybe Marcus Kruger would move up and get a look there. Even in the years the Blackhawks captured the Stanley Cup, they never had a truly satisfying answer at the 2C hole.
That would all change this summer, when the New York Rangers bought out much-maligned center Brad Richards. Why Richards drew the amount of heat that he did from Rangers fans and media alike is beyond me, as he was a perfectly capable top six center throughout his tenure in the Big Apple. Even last year, the season in which he was supposedly so disappointing that he had to be gotten rid of for no return, he still posted 51 points in 82 games. In this day and age of the National Hockey League, that is upper echelon second line production.
While he has had his struggles and hasn't quite been able to replicate those numbers in Chicago, he still represents a massive upgrade over what Handzus brought to the second line last season. He's just two points away from doubling the 19 points Handzus compiled last season, and there's no doubt in any reasonable hockey fan's mind that the Blackhawks have got to feel more comfortable with him centering the second line heading into the playoffs than any other guy they've had in that role in years prior.
Kneel Before Saad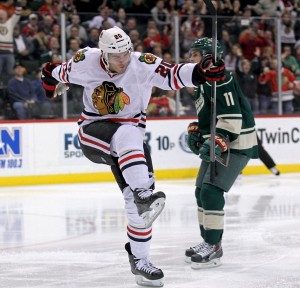 One would be really hard pressed to say enough good things about Brandon Saad. At the age of 22, it could be argued that he has already supplanted Patrick Sharp as the new number four in the Blackhawks' "big four" up front. His contributions are crucial to any success the Blackhawks will have in the postseason.  The Pittsburgh native is the closest thing Chicago has had to a legitimate first liner outside of the top four since Dustin Byfuglien and Andrew Ladd departed as cap casualties for Atlanta in the 2010 offseason.
Last season Saad put up 47 points in 78 games. At this point this season, his stat line sits at a very similar, albeit slightly better, 49 points in 77 games. Saad is as versatile a forward as they come, and his ability to play in any situation makes him very valuable. He's also very durable. He has yet to miss a game this season, and that reliability is huge in combatting the relative struggles of Toews and Co.
Kris Kross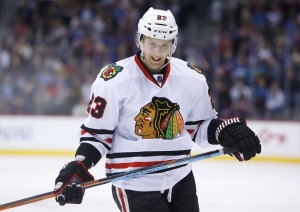 After a rough campaign in which he only mustered 29 points in 63 games as a Blackhawk last season, Kris Versteeg has regained the touch which made him a valuable depth forward for Chicago from 2008 to 2010. After that, he bounced around between Toronto and Philadelphia, but wasn't able to find a grove with either team. He then went to Florida where he played a huge role as a first liner picking up 54 points in 71 games on a Panthers team that would win its division in 2012. After a slow start for both him and the team as a whole last season, he was moved back to Chicago. It didn't really click much last year, but this year's edition of the Blackhawks has reaped the benefits of that move.
When Patrick Kane was healthy, he and Versteeg flanked Brad Richards on what was inarguably one of the three or so best second lines in the league, and realistically probably the very best of them all. The chemistry those three enjoyed was big for Kane, as whenever he has been separated from Toews, he has never had the easiest of times finding linemates with whom he had consistent chemistry. Versteeg has 33 points in 56 games this season, and while that may not seem like it's really that much of an improvement from last year's output, over a full season it basically comes out to the difference between what you would expect from an above average third liner and an average second liner.
Going Forward
So what does all of this mean for Chicago going forward? Strong depth or not, the Blackhawks are going to have their hands full in what will likely be a first round showdown with their arch rival St. Louis Blues. And this time, there likely won't be a Patrick Kane to single handedly carry them through a tough matchup, as he has done so often in the past.
The improved depth certainly gives them a better chance without Kane, but where it will really come into play is in the later rounds. No team in the league can match what the Blackhawks have with Toews, Kane, Hossa, and Sharp as their four best forwards. When the Blackhawks have been beaten in the playoffs, it has been primarily because other teams (Vancouver in 2011, Phoenix in 2012, Los Angeles in 2014) have just simply had better forwards in spots 5 through 12 of the lineup. That may not be the case this year. When Kane returns, the Blackhawks will have a formidable top 12 of Toews, Kane, Hossa, Saad, Sharp, Richards, Versteeg, Vermette, Bickell, Shaw, Teravainen, and Kruger. That is quite the stark contrast from previous years which would have seen the likes of John Scott, Brandon Bollig, Dan Carcillo, and Jamal Mayers worm their way into seeing considerable fourth line ice time in the playoffs.
Hopefully Quenneville will see the benefit in leaving a skilled youngster like Teravainen in the lineup when the postseason rolls around. As Los Angeles showed the hockey world last year, it is crucial for a team to have four lines which are all capable of scoring and dominating puck possession against their respective levels of competition. Every matchup matters, and for the first time since 2009-2010, the Blackhawks have a group of 12 forwards capable of winning every single matchup with which they are faced.