As this season has unfolded, the Blackhawks have seen a number of their supporting cast players take steps back from their usual expected level of performance. Chief among them has been goal scoring left winger Patrick Sharp. In the last four seasons in which Sharp has played at least 70 games, his point totals have been 66, 71, 69, and 78. Sharp has been the model of consistency over his tenure as a Blackhawk, and just turned in the best season of his career last year. Sharp was expected to at least come close to replicating those numbers, but with only 14 goals and 40 points in 62 games this season, he simply hasn't. There are a number of potential reasons for this, and I'll take a look at a few of them in this article.
A Sharp Regression
One potential explanation for the drop off in Sharp's production lies in his shooting percentage. Over his career, Sharp has accumulated a shooting percentage of 11.3%. Last season, his shots were converted to goals at a 10.9% clip, but this season has been a significantly different story for the Winnipeg, Manitoba native. Of his 216 shots on goal this season, only 14 have found the twine. That comes out to a paltry 6.5% shooting percentage, which is the lowest of his career to this point.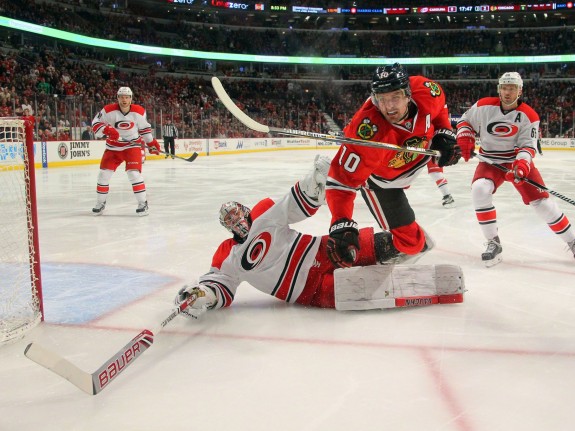 On the one hand, this is good news for the Blackhawks. Patrick Sharp isn't the first player to see some bad luck over a long time period hurt his goal output, and usually over the long run a player's shooting percentage will rise after a drop-off to even out to around his career average. Over his last ten games, he's tallied four goals, so he is definitely trending in the right direction. If this were to continue to happen for Sharp in the next couple weeks, he would give the Blackhawks a huge boost. His return to playing like a 30-goal caliber winger would give Chicago yet another weapon heading into the playoffs. In a way, it would almost be like making an upgrade through a trade, as the version of Sharp the Blackhawks have gotten this season is a guy playing at about an 18 goal pace over a full season.
Adversity Not Always So Easy
But it is not always so easy for a player to come through a period in which he has faced great adversity. While in an ideal world, Sharp's struggles would be explained through an unsustainably low shooting percentage that will fix itself, this may not necessarily be the only factor in his low production. Low shooting percentage or not, Sharp's quality of play has definitely dipped this season. He isn't going to come anywhere close to equaling his shot on goal output from last year. Last season, he put up 3.8 shots on goal per game, while this season has seen that number drop to 3.4. His possession numbers are also down from last season. In 2013-2014, his corsi for percentage was 57.32%. This year, it sits at 55.61. So while that's still good, and it isn't a terribly significant drop off, it is a drop off nonetheless.
So even if Sharp's shooting percentage comes around, his underlying numbers suggest that he still will not be quite as much of a luxury as the player the Blackhawks enjoyed last season. But why not? Why is he not playing as well just a year removed from the best season of his career? One explanation is age, and that is definitely a possibility. He's 33 years old now, which is definitely not an age at which we typically see players at their peaks. But with Sharp that doesn't seem as feasible. He just posted a career year at 32 years old, is that one year difference in age really responsible for a huge drop off in production and a moderate decline in underlying numbers? I would say that it is probably not.
Clubhouse Controversy 
One possible explanation for Sharp's struggles lies in some very unfortunate circumstances that he has had to deal with this year. Through February and March, Sharp was the victim of some high grade character assassination. Virulent rumors were spread about his conduct in relation to those close to some of his teammates. I'm not going to get into the accusations that were thrown around as most are probably familiar with them, but if you aren't they along with Sharp's response are well outlined in this Chicago Tribune article.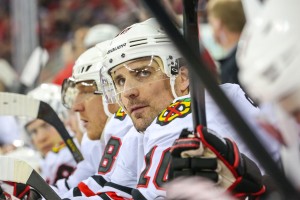 When a person's relationships with their family as well as those they work with are under strain, it is no wonder that said person's performance at their job could suffer as well. Sharp has come out and admitted that the rumors have taken a toll on him, which should come as no surprise. He also let on that he has considered taking legal action to combat the defamation he has faced.
It's a situation that I doubt any members of the Blackhawks locker room thought they would have to face this season. Unforeseen controversy taking its toll on a group's chemistry has happened before. Is it a coincidence that Sharp's output has been stifled as these distractions have played out? It may be. It may just be a case of an unsustainably low shooting percentage that will fix itself, and that is certainly what the Blackhawks coaching staff and front office would hope. But if there's something more at play here, it may be best for both parties to move on at season's end, a possibility which had been discussed and rumored long before these personal rumors came to the forefront. Even though said rumors appear to be entirely baseless and untrue, sometimes a fresh start and a clear mind are exactly what a person needs to find a level of performance that they had lost in their field of work. Maybe that's the case for Patrick Sharp.