After winning the 2009 Stanley Cup the Pittsburgh Penguins selected defenseman Simon Despres with the 30th pick in the 2009 NHL Draft. Despres was in the top-20 rankings leading up to the draft, slipped a bit on draft day and the defending champs looked to be reloading on their defense corps — the rich getting richer. The native of Laval, Quebec City joined the Pens organization after completing his final two years in the QMJHL with the Saint John Sea Dogs and the sky was the limit it seemed, joining an organization with names like Crosby, Malkin, Fleury and Staal already on board.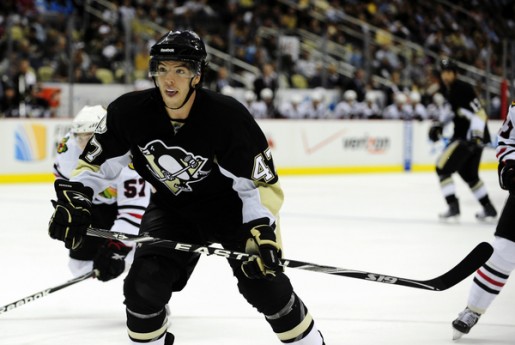 Despres had won a Memorial Cup in the QMJHL and then continued to evolve with both the Penguins and their AHL affiliate in Wilkes-Barre/Scranton. After three seasons of going back and forth between the two leagues the 23-year-old finally stuck with the big club this season and played in 59 games with Pittsburgh — before he was traded to the Anaheim Ducks on March 2 for Ben Lovejoy (a former Pens teammate). The move stunned Penguins fans, NHL observers and admittedly Despres himself, but now he is settling in with his new team.
"The good thing (for me) is he's huge," said a grinning James Wisniewski who was traded to the Ducks on the same day as the 6'4" Despres. "He's got a big body, he can skate like the wind and he plays physical. For me, he can do a lot of the dirty work," he added with a chuckle, "I'm only 5'11". But it's been great, he has good offensive ability, he's smart, plays with an edge; I think we are going to work very well going into the playoffs."
Recently The Hockey Writers chatted with Simon Despres post game in New Jersey about dealing with the trade, being a number one overall pick and how the AHL helped the development of his game.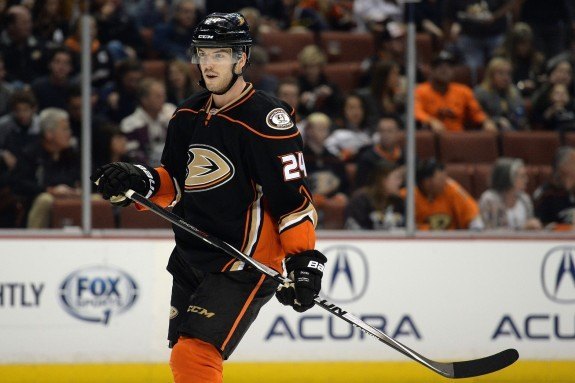 The Hockey Writers: Was this a good road trip, despite the tough start to it, with a few new faces (including you) continuing to get acclimated here with the Ducks?
Simon Despres: Yeah I think so; we ended the road trip very well. We didn't play our best game tonight in New Jersey but we managed to get a nice road win. We finish the road trip with three wins, and like you said it didn't start off well, but it was good to get some more points in the standings.
Simon Despres scored his first career GWG in New Jersey earlier this season:
https://www.youtube.com/watch?v=b6a9_ROYXaM
THW: You have new teammates, new coaches and your playing/living on the other side of the country also; how settled in do you feel almost a month after being traded?
SD: I'm settling in here better every day; I'm getting accustomed to the systems here and the players more every day. The city of Anaheim is great also.
THW: Your defense partner has been James Wisniewski for a little while now, how has that been working out?
SD: I've played quite a few games with Wiz, we've played well together I think. He's a good player, a veteran; he's played a lot of games in the NHL and I'm just trying to learn from him. He's a good guy too.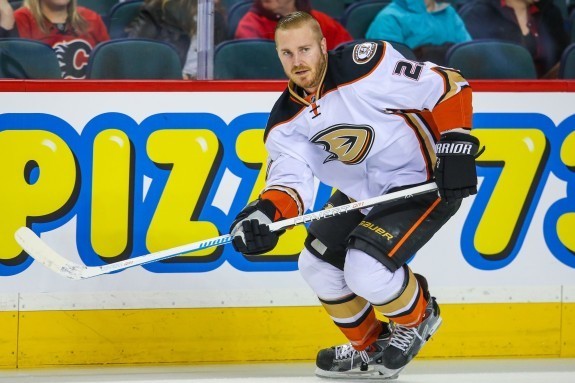 THW: How surprised or stunned were you when you were traded by the Penguins?
SD: I was very surprised; I definitely wasn't expecting it. It was a little…um, tough to take at the beginning — I didn't know what to do, what to expect. It was all new to me, first time I've ever been traded in my life; it was kind of a little shock (to my system). I'm good now.
THW: It has to ease that pain coming to such a great team, a Stanley Cup contender correct?
SD: Absolutely (smiles), I'm on the first place team in the NHL; a really good team. It worked out well for sure.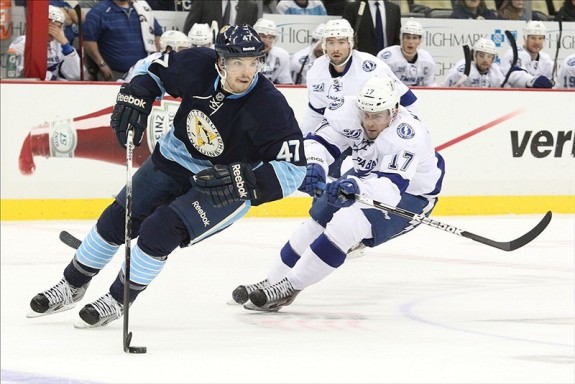 THW: In 2009 you were the last pick in the first round of the NHL Draft, what are your memories from that day? Did you think you would go higher?
SD: It was in Montreal and I had a lot of family and friends there in my hometown, it was definitely a special day for me. I was ranked high but I knew I was going to slip a little bit because I had a tough tournament with Team Canada; that was the last time the scouts really saw me. I was just happy to be drafted into the NHL honestly.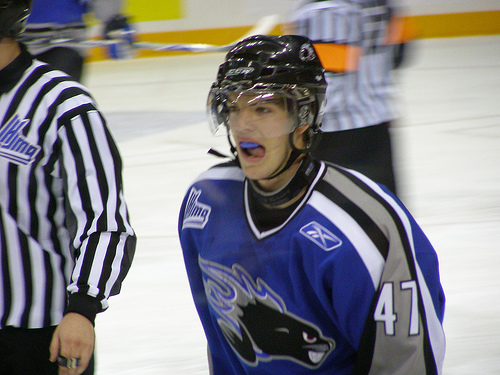 THW: You were the first overall pick though in the QMJHL Draft in 2007; that's a pretty cool personal accomplishment right?
SD: Yeah that was pretty cool. I was really young, I was just a little kid; (looking back) I wasn't really sure what was going on. That was a special day as well.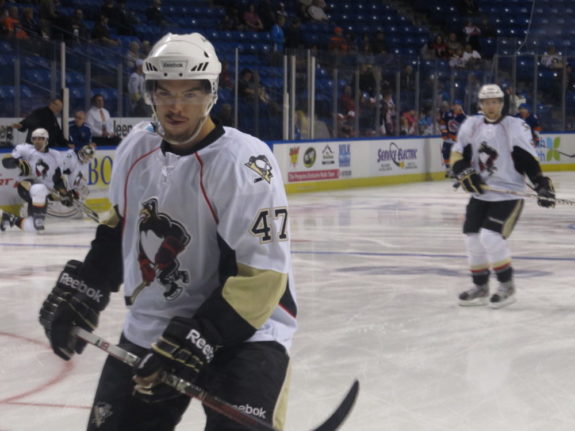 THW: You spent some time in the AHL, how did that help your development into the player you are today?
SD: That experience was huge for me to play in Wilkes-Barre/Scranton; the coaches did a great job of training me to be good defensively, play good in the D-zone, form good habits. It was definitely key for my development to play there and they did a fantastic job of preparing me.
Dan Rice can be reached via Twitter: @DRdiabloTHW or via Email: drdiablo321@yahoo.com