After months of speculation, the Chicago Blackhawks did it. General manager (GM) Kyle Davidson traded arguably the team's most popular player of all time in what will certainly be the biggest deal of the rebuild. While losing Brandon Hagel, Alex DeBrincat, and Kirby Dach have been significant, neither of them even come close to Patrick Kane.
As big as the Kane trade was, it hasn't been the only story surrounding the club over the past few days. Here are the latest news and rumors as the Blackhawks approach deadline day.
Kane Finally Traded
As soon as the Blackhawks started rebuilding, speculation began about both Jonathan Toews and Kane waiving their no-movement clauses (NMC) to play for contenders. While it's uncertain when the former will return due to health concerns, the Blackhawks dealt Kane to the New York Rangers on Tuesday, a long-rumored destination. He'll reunite with former teammate Artemi Panarin as they look for their first Stanley Cup since 1994.
This move felt inevitable for weeks. Months, even. But that didn't make it any less jarring. The Blackhawks are years removed from contender status, but Kane was always a constant; mentoring players such as DeBrincat and Dylan Strome during his final years in Chicago. Just a year ago, the idea of him wearing another sweater felt almost unfathomable, but it's an understandable move given the team's direction.
Kane leaves behind a tremendous legacy with the Blackhawks. Although the Rangers have already visited the United Center this season, there likely won't be many dry eyes if he returns with an opponent next season. With Kane gone, Toews is the only player left from the Blackhawks' "One Goal" era of the early-to-mid 2010s.
Related: Blackhawks' Patrick Kane Trade Brings Concern and Hope to Team
---
Latest News & Highlights
---
In return, the Blackhawks received a conditional 2023 second-round pick, a 2025 fourth-round pick, and defensemen Andy Welinski and Vili Saarijärvi. It's an underwhelming return, but Davidson didn't have much leverage, as Kane reportedly only wanted a trade to the Rangers. He'll make his Rangers debut tonight at Madison Square Garden, facing DeBrincat and the Ottawa Senators.
Kane Reportedly Wasn't the Happiest With Chicago's Rebuild
During his Chicago tenure, Kane always showed loyalty to the Blackhawks during their highs and lows. However, according to Mark Lazerus and Scott Powers of The Athletic, he might not have felt great about their recent direction. They wrote there was a sense both within the Blackhawks and from around the NHL that Kane was feeling frustrated about the team's rebuild, specifically losing DeBrincat and Strome as those were his two closest friends on the team. As a result, he didn't feel too motivated to help the Blackhawks raise his trade value (from "Inside the Patrick Kane trade: How it went down and why the Blackhawks got so little in return," The Athletic, 02/28/23).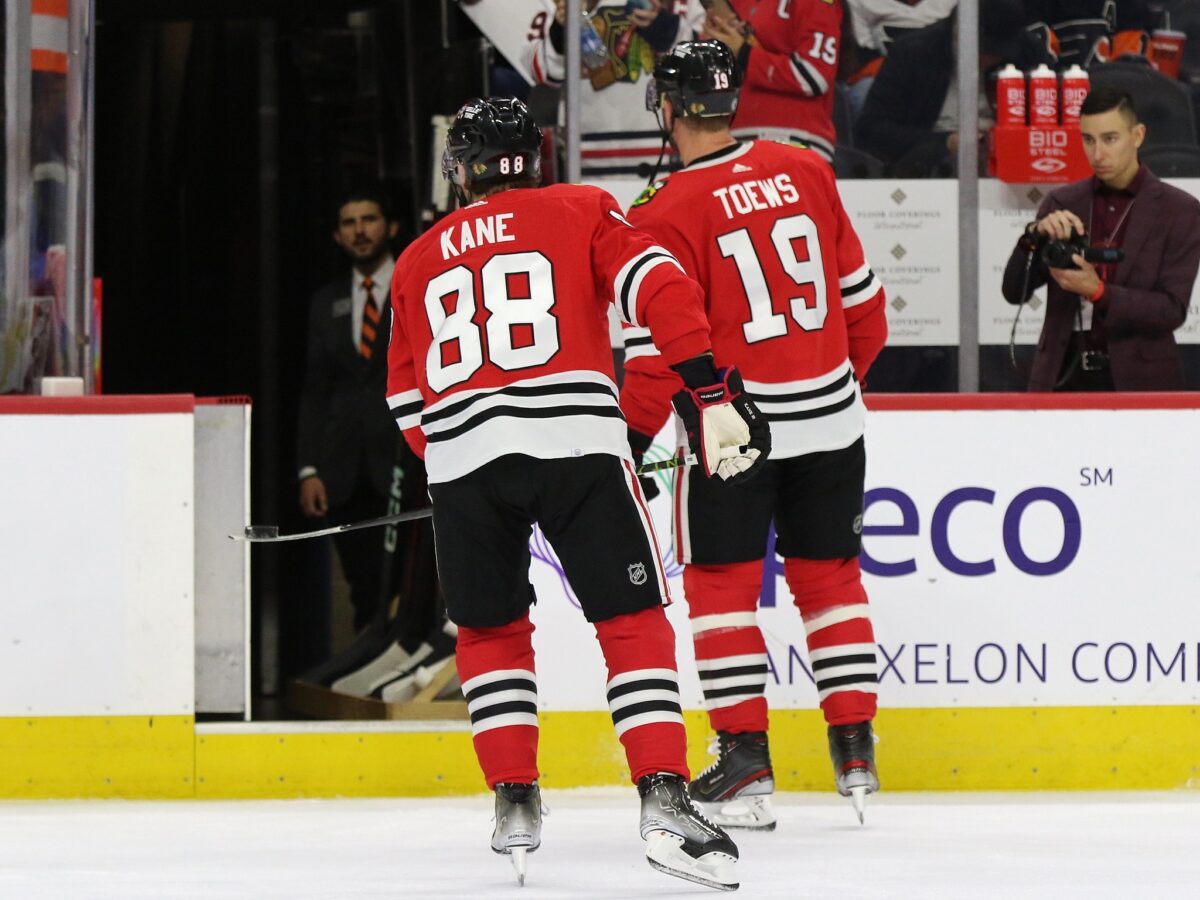 This is interesting but understandable. After last making the Stanley Cup Playoffs in 2017, not including the 2020 bubble, the Blackhawks repeatedly tried to field a competitive roster. However, it just never worked.
It wasn't until last year, specifically Davidson's hiring, they committed to rebuilding and not just retooling. This meant bottoming out to get a top draft pick, so you can't blame Kane for potentially wanting out. It looks as if he still left the team on great terms, however.
Gust Placed on Waivers
Scoring your first-ever NHL goal during your first-ever NHL shift is something few players have done. That said, David Gust did just that in his Blackhawks debut against the San Jose Sharks this past Saturday, Feb. 25, a 4-3 shootout win. On Feb. 23, the team signed the 29-year-old Chicago area native to a two-year contract after recording 50 points in 51 games with the American Hockey League's (AHL) Rockford IceHogs. While he was placed on waivers this past Wednesday, it likely just means the team is sending him back to the AHL.
Gust skated in three games with the Blackhawks during his first taste of NHL action. Though it would've been fun to see him get some more time with the Blackhawks, it makes sense why they want him back in the AHL. Gust is currently the IceHogs' leading scorer and should give them great mentorship leading up to the Calder Cup Playoffs.
Athanasiou Slightly Increasing Value
Kane's off the board. So are Sam Lafferty, Jake McCabe, and Jack Johnson. Yet, there's still some time before the clock hits 3 p.m. EST on Friday, so the question is, who might be next?
According to ESPN and NHL Network analyst Kevin Weekes, plenty of teams are interested in Max Domi, but it's also possible he stays in Chicago. Jason Dickinson could also be a trade chip and would provide bottom-six depth for many contenders. Having said that, Andreas Athanasiou might be increasing his value with two goals over his last two games. It's a small sample size, but he'd be a low-risk addition as he's set to become an unrestricted free agent this summer.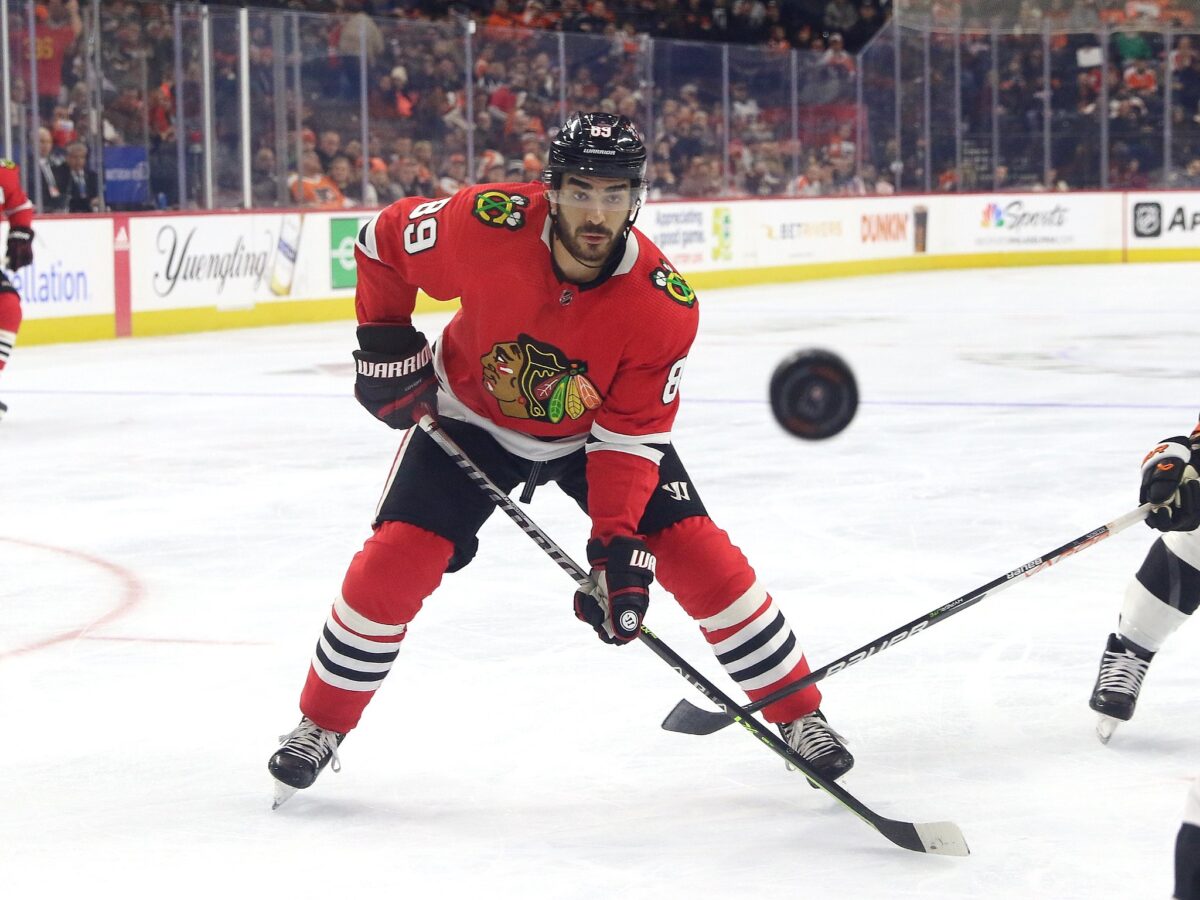 After tallying 17 points in 28 games with the Los Angeles Kings in 2021-22, Athanasiou hasn't been scoring at the same pace with the Blackhawks. He has just 22 points (14 goals, eight assists) in 59 games, but that's not entirely his fault. He hasn't found a consistent spot in the lineup all season and with a below-average forward group surrounding him, he'd likely generate more offense with a contending team.
When the Blackhawks signed Domi and Athanasiou last summer, many assumed the intention was to eventually trade both for draft capital and/or prospects. That might've not entirely been the case, as Davidson said this past Monday that he liked both as players. No matter what, it'll be intriguing to see what happens with them over the next day or so.
Davidson's First Year Complete
This time last year, the Blackhawks weren't in a great spot. The team lost fans and credibility due to its sexual-assault scandal, and owner Rocky Wirtz's damning remarks at a later town-hall meeting only escalated the situation. You could argue things aren't better a year later with an even worse on-ice product, but at least the team has a direction thanks to Davidson, after years of mediocrity.
Davidson took over as the 10th GM in franchise history on March 1, 2022, a year this past Wednesday. Since then, he has revamped the front office while taking the team into full rebuild mode. Whether it becomes a success remains to be seen, but the Blackhawks have drastically improved their prospect pipeline since he took over; Scott Wheeler of The Athletic ranked them fifth in his 2023 NHL prospect pool rankings (from "Chicago Blackhawks are No. 5 in 2023 NHL prospect pool rankings, The Athletic, 02/05/23). Chicago also has 20 picks over the next two drafts, which could increase depending on what happens with Domi, Athanasiou, and others.
Related: Grading Maple Leafs' Trade for McCabe & Lafferty
You can easily criticize Davidson. Despite a solid first draft, landing Kevin Korchinski and Frank Nazar, the jury is still out on their NHL careers. The Blackhawks don't yet have their next Kane or Toews, and it's not a certainty they'll get Connor Bedard or Adam Fantilli this June. Among all their trades, the Blackhawks also haven't acquired any high-end prospects from other organizations, which you could say was a missed opportunity when they dealt DeBrincat. Draft picks, of course, are just a gamble.
However, this was the most logical direction for the team. It's easy to think about how last season's group could've performed under Luke Richardson, but they likely would've been a fringe contender at best. The rebuild could easily be a failure, but even if they miss out on a top-three pick this summer, it could still be successful. After years of rebuilding, the Senators, Buffalo Sabres, and Detroit Red Wings are all on the verge of playoff contention, which could be realistic for the Blackhawks, say, four years from now.
To say it has been an emotional week for the Blackhawks and their fans would be an understatement. As if it wasn't already the case when Davidson took over, the Kane trade all but signals the team is entering a new era. It's a tough pill to swallow, but there is reason for hope, even if it doesn't seem like it right now. That said, there are also many things that need to go right as the organization enters the home stretch of the 2022-23 regular season and continues building from the ground up.