We're just over one week removed from the Mar. 3 NHL trade deadline, and the Chicago Blackhawks are doing their best to get acclimated with their new-look team. This past week has included many new players finding their bearings. Existing players are getting acclimated to the trade deadline losses of former teammates. Despite basically being set up to lose down the stretch, the Blackhawks are actually playing some pretty competitive hockey. With that in mind, here are some of the latest news, rumors and highlights surrounding the Blackhawks from this this past week.
Stalock's Shutout
The week started with a 5-0 win over the Ottawa Senators on Mar. 6. The Senators were previously on a five-game winning streak, so for them to lay this kind of dud was unexpected. But the Blackhawks earned a victory with contributions from a multitude of different players, scoring five unanswered goals to secure a big win.
Netminder Alex Stalock was named the first star of the game for stopping all 35 shots he faced. This was Stalock's second shutout of the season and the 11th of his career. Considering everything the 35-year-old has been through, this was certainly a special night for him.  
Alex Stalock was a brick wall, making 35 saves for his 11th career @pepsi shutout in a huge 5-0 win for the @NHLBlackhawks! 🧱 pic.twitter.com/pMffWdrvEE

— NHL (@NHL) March 7, 2023
After a bout with Covid back in 2020, Stalock was diagnosed with myocarditis, which is an inflammation of the heart muscle. Overcoming that alone, and returning to play, was monumental. This season, Stalock has dealt with a lingering concussion and then ocular dysfunction, both which have kept him out for a substantial amount of time. All in all, he's suited up for 17 games with the Blackhawks.
Related – Blackhawks Would Be Wise to Extend Alex Stalock
---
Latest News & Highlights
---
The St. Paul, Minnesota native has always been super outspoken on the ice, giving an energy and spark to the team in front of him. Blackhawk's head coach Luke Richardson indicated after the shutout win that Stalock was finally getting back to his old ways.
I think he's been back to himself around the dressing room, and the guys are feeling it. And then they see him playing like that on the ice, that he just drags everybody into that fight with him. And, you know, everybody plays scrappy because that's how he plays. And he's not really afraid of anything. He trusts how he plays. And I thing that players trust how he plays and are really used to how he plays the puck now.

(from 'Alex Stalock's shutout performance means much more that a number', The AthleticCHI – 3/7/23)
Stalock is a veteran that's enjoyed an 11-year career in the NHL. All the adversity he's faced has given him a unique perspective of the game.
You never know when your last game is going to be. You don't realize it when you're a young pro, and you think you have so much time. But you get older, and you've been with veterans before, and you've seen their careers wind down… you can't take any day for granted at this point.
Alas, Stalock endured a 4-3 loss to the Detroit Red Wings on Mar. 8, and then came down with a stomach bug. He was consequently unavailable for the two contests in Florida over the weekend. Hopefully will be back in the crease soon.
Raddysh Breaks Goal Drought
Taylor Raddysh is getting his groove back, contributing two goals (one on the power play) in the 4-3 loss to the Detroit Red Wings on Mar. 8. Believe it or not, the 25-year-old winger hadn't scored previously since Jan. 28 against the Edmonton Oilers, a span of 15 games.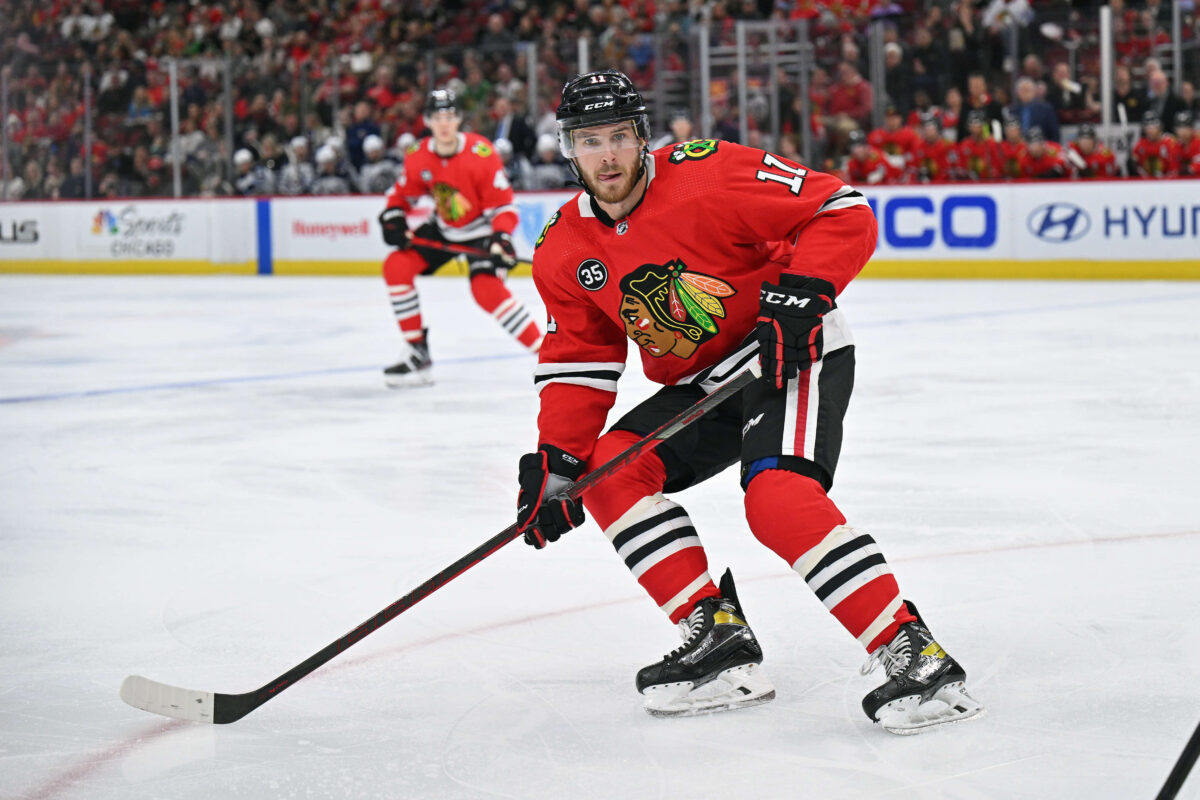 This goal drought was rather surprising because Raddysh has been playing well. He was due for a breakthrough. Sure enough, he added a primary assist against the Florida Panthers, and another goal versus the Tampa Bay Lightning on Mar. 10 and Mar. 11, respectively.
Raddysh has been a staple on the Blackhawk's second line for most of the season, playing on the right wing. He's currently deployed alongside Cole Guttman at center and Tyler Johnson on the left wing. The trio is always a threat to score and have acclimated well together.
Related – Blackhawks: Getting to Know the Post-Trade Deadline Roster
With Max Domi and Patrick Kane now on other teams, and Jonathan Toews currently not playing due to health issues, Raddysh presently leads the Blackhawks with 17 goals.
Guttman Getting It Done
Since we're on the subject of the second line, Guttman should be recognized for his immediate contributions to the team. The 23-year-old was called up from the Rockford IceHogs and played his first NHL game on Feb. 15. He was thrown right into the fire centering Raddysh and Johnson. That's a pretty difficult assignment, but Guttman showed he was up for the task.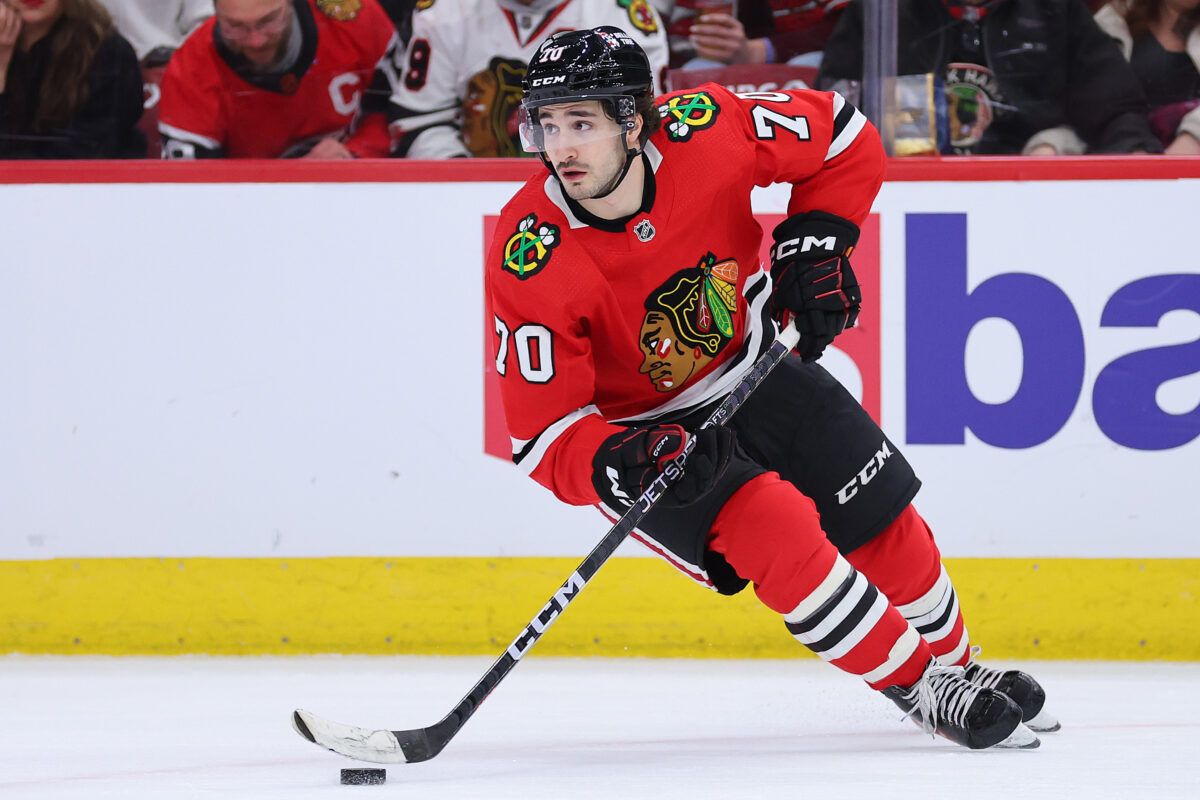 In 14 games played, the Northridge, CA native has contributed four goals, including this clutch game-tying goal, and two primary assists. He also boasts a 52.1% success rate in the faceoff circle, and is being utilized on the second power play unit. Guttman is the only former IceHog that was NOT sent back down to Rockford as of Mar. 3, making him ineligible for the AHL playoffs. The organization apparently decided they want to keep Guttman up with the big club for the rest of the season. I could definitely see this young man being a part of the Blackhawk's future.
*Update: It was announced on Mar. 13 that Guttman is done for the season due to a shoulder issue and impending surgery. He should be ready for training camp in the fall.
Caleb Jones Reaches 200 Games, Earning Opportunity
Defenseman Caleb Jones met a milestone this past week; he suited up for his 200th NHL game on Mar. 10 against the Panthers. The icing on the cake was that he secured his third goal of the season, and also skated a season-high 24:23 minutes of ice time.
Caleb Jones scores his 3rd goal of the season in his 200th career NHL game. #Blackhawks pic.twitter.com/ev3i90dTqv

— Charlie Roumeliotis (@CRoumeliotis) March 11, 2023
Jones has been playing alongside his brother Seth on the Blackhawks' top defensive pairing basically since Jake McCabe was traded on Feb. 27, and he's making the most of his opportunity. His average ice time over the last four games is just over 23 minutes, whereas at the beginning of the season he was averaging right around 16:40 minutes playing on the third defensive pairing. Caleb recently spoke about the chemistry he and Seth have.
That's an easy one. If I'm mad about something, I'll let him know or if he wants to say something to me, he'll let me (know). That's an easy thing. That's how we've always been. It's never personal.

(from 'Powers Points: Need a positive from the Blackhawks' season? It might just be Seth Jones', The AthleticCHI – 3/12/23)
Is the younger Jones brother a top-four defenseman? Probably not, but on this depleted team it's working for now. Caleb is taking advantage of his opportunity. He hopes to be signed with the Blackhawks again next season. But either way, he's raising his market value right now by taking on the added responsibility.
Related – NHL Rebuild Rankings: Which Teams Are Closest to Contending?
The Blackhawks have managed just one win since the trade deadline, and that's exactly the point. The idea is to lose as many games as possible in the race for a high draft pick. But the players and the coaches are showing they still want to be competitive, and they're going to keep pushing forward. If nothing else, this will make all this losing entertaining. That's all we can ask for right now.