Alex Stalock has been one of the Chicago Blackhawks' biggest surprises this season. Despite a below-average group in front of him, the 35-year-old has posted a .920 save percentage (SV%) with a 7-8-1 record through 17 games, which is rather impressive after playing just one NHL game last season.
Related: Blackhawks' Patrick Kane Trade Brings Concern and Hope to Team
Stalock has benefited from a fresh start in Chicago. With his contract expiring at the end of the season, management could easily move on and hand the backup duties to Arvid Söderblom or Jaxson Stauber. However, while both have shown promise, the Blackhawks should consider extending Stalock for another season. Although he won't be a factor when they contend again, his presence could continue helping the team in the short term.
Stalock Keeps the Atmosphere Light
The Blackhawks are likely going to be a younger club next season, especially if Lukas Reichel, Cole Guttman, and other prospects make the leap to the NHL full-time. Per CapFriendly, the organization will have just over $41 million of projected cap space, meaning they'll need to sign a few unrestricted free agent (UFA) veterans to help reach the cap floor.
---
---
With more prospects comes the need for mentorship, which Stalock has provided during his Blackhawks tenure. Earlier this season, head coach Luke Richardson credited him for being a positive influence on his teammates while having a warm and outgoing personality (from "Alex Stalock's fearless goaltending, big personality winning over Blackhawks," Chicago Sun-Times, 10/24/22). As the rebuild continues, the Blackhawks will certainly endure more growing pains, so they should want players who can keep things calm and collected.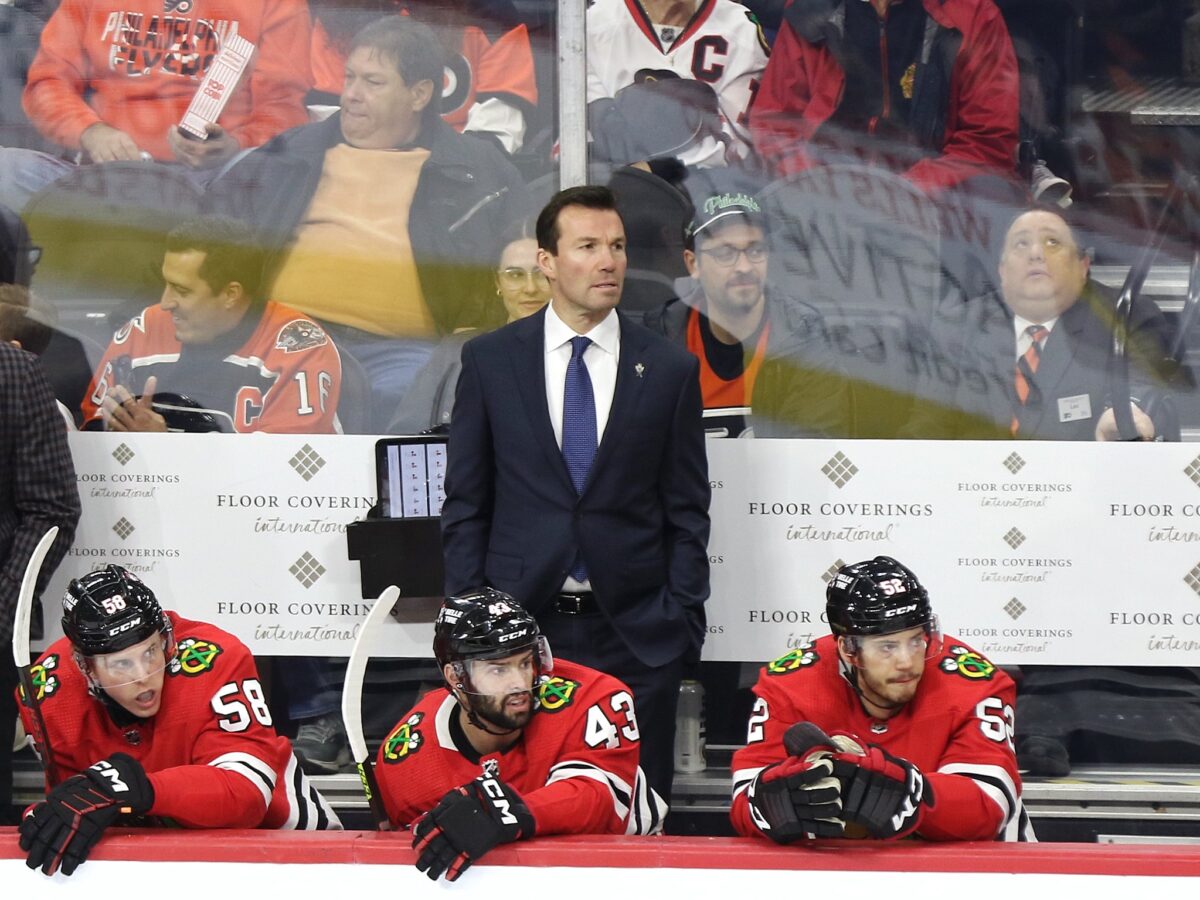 Stalock isn't new to adversity. He sat out all of 2020-21 due to myocarditis from COVID-19 complications and played just one game with the San Jose Sharks last season, spending most of his time in the American Hockey League (AHL). This season alone, Stalock has suffered two concussions. However, he has been stellar when healthy, most recently recording a 35-save shutout in a 5-0 win against the Ottawa Senators on Monday, March 6. It was the most saves he had ever recorded in a shutout, and he said postgame that the win was a great confidence-booster (from "Blackhawks goalie Alex Stalock's shutout performance means much more than a number," The Athletic, 03/07/23).
---
Latest News & Highlights
---
Stalock has embraced his role in Chicago. Rebuilds can be painful, but knowing his experience, many of the team's younger players can look up to him when things don't go so well. Positivity is key right now, a trait Stalock has consistently brought to the club.
Stalock Could Be a Possible Trade Piece
Had Stalock not suffered his second concussion in mid-January, he might have been a trade chip for the Blackhawks, as he was already posting good numbers before the injury. Since returning on Feb. 28, he's been just as solid; in addition to Monday's shutout, he was one of the team's few bright spots in Wednesday's 4-3 loss to the Detroit Red Wings, stopping 37 of 41 shots.
Overall, he's having one of the best seasons of his NHL career. It's a far cry from his career campaign with the Sharks in 2013-14 when he recorded a 1.87 goals-against average (GAA) and a .932 SV%, but he's nonetheless exceeded expectations. If the Blackhawks extended Stalock for next season, the worst that could happen is he regresses. As bad as the Blackhawks have been this season, they'll likely be just as bad next season, so it's not like a poor performance would hurt them and their long-term goals.
That said, he could easily become a trade chip before next season's deadline. Much like Max Domi this season, the Blackhawks could sign Stalock to a one-year deal, knowing they could flip him when his value is high. It would be understandable if he does regress; it's hard to see the Blackhawks improving much this offseason unless they land Connor Bedard or Adam Fantilli in the draft and build around one of them. Yet, Stalock would be a serviceable backup for many contenders, and you can only wonder what his numbers would look like with a better group around him.
If the Blackhawks brought back Stalock, not only would it benefit the club in the locker room, but it could also help them gain more future assets, including draft picks and/or prospects. At the same time, keeping him around could set Söderblom and/or Stauber up for success, even if that means more AHL seasoning.
Blackhawks Can't Rush Söderblom & Stauber
Something we've learned about Blackhawks general manager Kyle Davidson since he took over is he hasn't hesitated to oversaturate his prospects, even those who are NHL-ready. The Blackhawks could have easily had Reichel start the season at the NHL level. However, he began the year with the AHL's Rockford IceHogs and didn't make his 2022-23 Blackhawks debut until Dec. 6 against the New Jersey Devils.
Related: Blackhawks Have a Great Option for Next Captain in Seth Jones
Söderblom and Stauber have impressed this season during their NHL stints, but they're still young. Both goaltenders are just 23 years old, and while it's hard to say whether either will play a role when the Blackhawks become competitive, keeping them with the IceHogs will allow them to get meaningful minutes while the rebuild continues. That's not to say neither could contribute at the NHL level, but additional development should make them more NHL-ready when they take the full-time jump.
With Petr Mrázek likely staying around, the Blackhawks should consider rolling with the Mrázek/Stalock tandem again in 2023-24 while signing the former for a potential trade. Then, if Stalock goes, Söderblom and Stauber will have gained enough development that either could be a solid backup to Mrázek for the rest of the season. Again, as much as both goalies have impressed during their short time in the NHL, the Blackhawks are likely to endure lots of losing next season. That wouldn't be great for either one's confidence.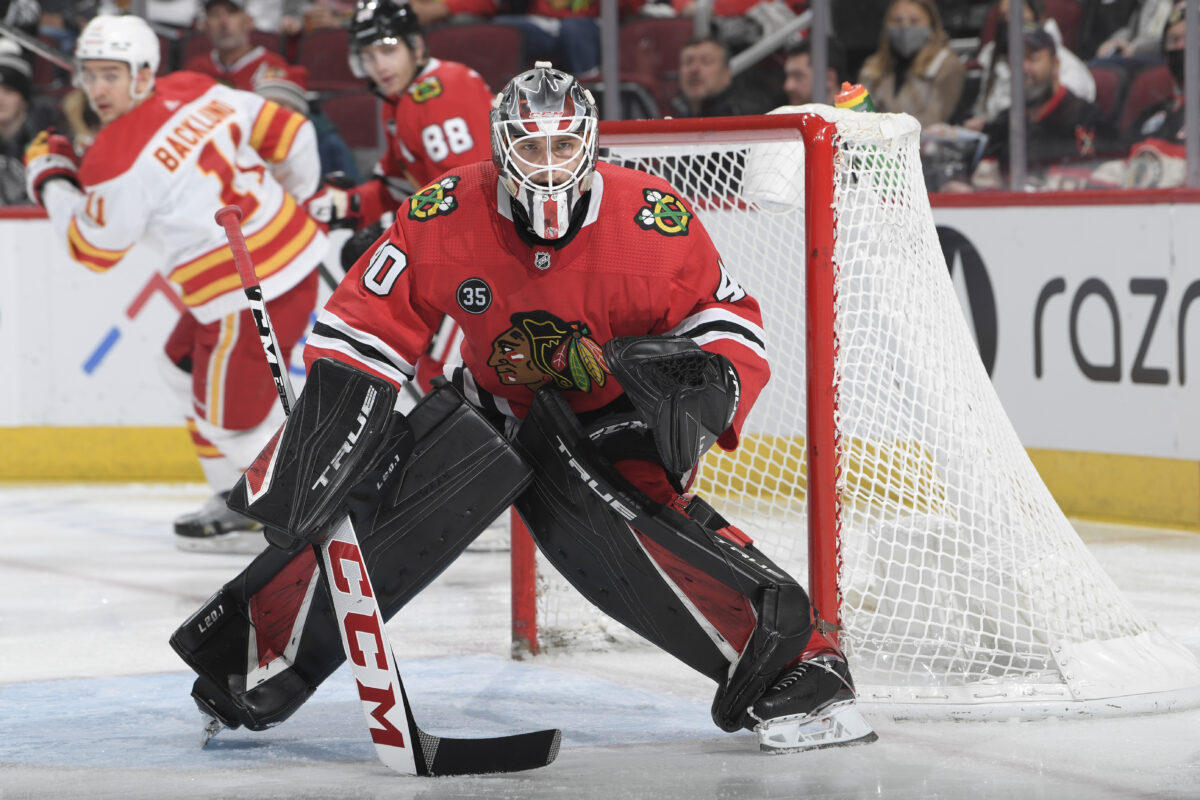 If the Blackhawks let Stalock go, it wouldn't necessarily be a bad thing. Both Söderblom and Stauber have enough NHL experience that either one could fill the backup role. Like Mrázek, the club could also take on another bad contract or sign another UFA. However, Stalock's clearly enjoyed his time in Chicago, which you don't always see from players on a rebuilding team.
Stalock is far from perfect, but he's emerged as a major positive. Extending him could be a win-win for both parties; he could continue setting the right tone in the locker room while potentially raising his trade value. With the Blackhawks still in the early stages of the rebuild, they have nothing to lose by bringing him back.