Stan Bowman and the Chicago Blackhawks continued their busy and efficient offseason last week by re-signing two of their impending restricted free agents, forwards Vinnie Hinostroza and John Hayden. Both Hinostroza and Hayden have signed two-year contract extensions. Hinostroza's deal carries a $1.5 million cap hit, making it $3 million total over the two years. Hayden's deal is worth $750,000 per season, making it $1.5 million total over the two years. Both players split time between the AHL affiliate in Rockford and the big club last season.
Hinostroza scored seven goals and 18 assists in 50 games with the Blackhawks last year. He was recalled from Rockford on Dec. 8, 2017, and stayed with the Hawks for the rest of the season. Prior to being called up, he had nine goals and 13 assists for Rockford in 23 games.
Hayden scored four goals and nine assists for 13 points in 47 games for the Blackhawks, finishing the season as a key part of their fourth line, before being assigned back to Rockford to help them in their playoff run to the AHL Western Conference Final. Hayden scored three goals in 13 playoff games for the IceHogs.
Hype Around Hinostroza
Chicago native Hinostroza is seen as one of the more exciting players who came up last season from Rockford. He proved his versatility to coach Joel Quenneville, who often shifted Hinostroza from the fourth line to, at times, even the first line. Hinostroza, who is naturally a center, also played on the wings if called to do so by Quenneville. Also, when he was on the ice during even strength play, the Blackhawks controlled an impressive 54.57 percent of the shot attempts, showing Hinostroza does not hurt the possession or offensive game of his club.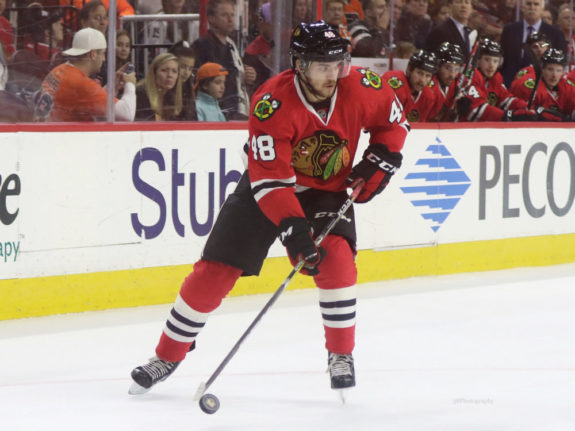 In fact, the Blackhawks' brass seem so high on Hinostroza that general manager Stan Bowman emphasized it was a top priority for the club to keep Hinostroza and his fellow young teammates as part of the organization for years to come. Bowman said, "I want to make it clear our No. 1 priority as we move forward is to make sure we can keep these young players — DeBrincat and Schmaltz and Hinostroza and some other young players that are going to maybe join our team over the next year or two." Bowman also noted he expects these young players to take on bigger roles, which is particularly important as youth is a key part of the direction the Blackhawks are headed in.
Hope For Hayden
As mentioned above, Hayden became a key fixture for the Hawks' fourth line toward the end of last season. While perhaps not possessing as much offensive upside as Hinostroza, Hayden carved out an important role on the fourth line as a grinder who is not afraid to go in corners and fight for the puck. He also provides a good front of the net presence, potentially even for the second unit power play, as he stands at 6-foot-3 and 223 pounds.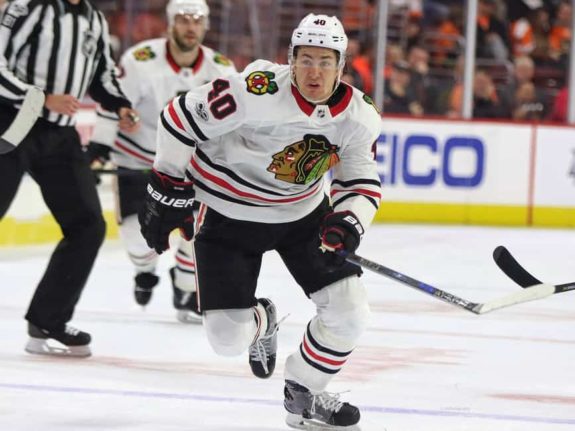 Hinostroza is 24 years old, while Hayden is a year younger at 23. Both players have time on their side and, given that both their deals are for two years, it is low risk and potentially high reward for a Blackhawks organization eager to continue building up their youth ranks, particularly because the veteran core which has won three Stanley Cups – names like Jonathan Toews, Patrick Kane and Brent Seabrook – are all at or about to hit 30 years old and above.
It seems like the time is now, or next season, for players like Hinostroza, Hayden, Nick Schmaltz and others to take their chance with the big club and produce and hopefully prevail in their quests to become full-time NHLers.