The Stanley Cup Final is about to start and free agency is still more than a month away, with the NHL's annual offseason reshaping of rosters not quite ready to commence in full. Despite that, the numerous predictions about what's in store for the Chicago Blackhawks in 2018-19 have evoked a sense of certainty.
The vibe of these prognostications is that a big bounce-back is coming for the Blackhawks. That this extremely talented team, having endured three seasons of disappointment since winning its third Stanley Cup in six seasons, is rested and ready to return to its perch atop the league.
Those championships have bought the 'Hawks plenty of goodwill, which they're still enjoying even after an ugly 2017-18 in which they missed the playoffs for the first time since 2007-08. At some point, though, the elephant-in-the-room question that's been avoided the past three seasons will be front and center: Has this core won its last Cup? Will Jonathan Toews, Patrick Kane and Duncan Keith add to their collection of titles, or will they be a good-to-very-good team that's no longer the undisputed class of the league from here on out?
There are plenty of reasons for optimism. Kane chugged along with a team-leading 76 points in 2017-18, playing all 82 games for the third straight season. Rookie winger Alex DeBrincat led the team with 28 goals and added 24 assists, and he and second-year center Nick Schmaltz (21 goals, 31 assists) might be on their way to becoming an excellent offensive depth duo behind Kane and Toews – or more. Top goaltender Corey Crawford should be healthy after playing only 28 games due to injury last season, with replacement Anton Forsberg struggling to a 2.97 goals-against average.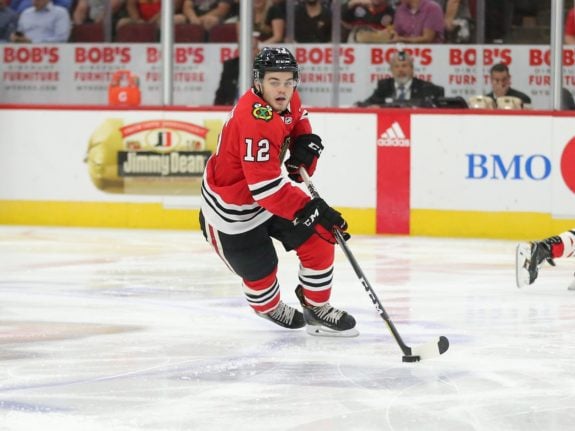 The Blackhawks should also finally be well-rested, at least some of the thinking goes, following a season out of the playoffs that came after back-to-back first-round playoff exits. Deep postseason run after deep postseason run through 2015 left the team exhausted, unable to draw on the energy needed to overcome the St. Louis Blues in 2016 and the Nashville Predators in 2017. Those three summers off should recharge them, right?
Maybe. Or maybe, just maybe, there are fundamental underlying issues that have finally caught up to the team that's been matched only by the Pittsburgh Penguins when measured by championships in the salary cap era.
Age, Bad Trade Could Doom Blackhawks
Though it could prove unfounded, Kane and Toews have to be the first concern, because Chicago isn't going anywhere without them at their usual superstar levels. While Kane was still productive this season, his goal and assist totals have declined in each of the last three, with his 76 points in 2017-18 representing his lowest number in a full season since 2013-14. Though hardly a perfect indicator of one's level of play, Kane was a minus-20 after posting a combined plus-56 mark over the previous five seasons.
That ugly number was of course at least a partial result of the 'Hawks being a lousy defensive team. Their 3.10 GAA tied them for eighth-worst in the league. The other possibility, though, is that a great player is simply not as good as he once was.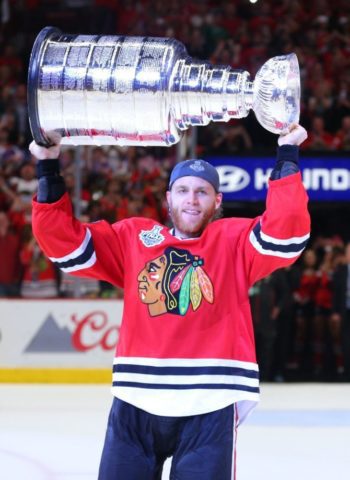 Kane turns 30 in November and should, in theory, be in his prime but he's already played 11 full seasons. Add in his 65 playoff games from 2013-15 and it's fair to say he's no longer in his athletic youth, which began early for the dynamic offensive force who helped lead the Blackhawks to the Stanley Cup in his third season at age 21.
What could also make it tougher for Kane to return to his previous high level is one of management's few disastrous personnel decisions: trading his linemate Artemi Panarin before last season, with general manager Stan Bowman sending him to the Columbus Blue Jackets to bring back Brandon Saad in a panic move that, at least for one season, didn't pay dividends.
Panarin recorded 61 goals and 90 assists in his first two seasons with the Blackhawks. In 2016-17, the high-flying forward teamed with Kane and center Artem Anisimov to form perhaps the most dominant line in the NHL. Panarin scored 31 goals, Kane 34 and Anisimov 22.
Yet management, alarmed at what they saw as a drop-off in Toews' game after his erstwhile linemate Saad was dealt in a salary dump before the 2015-16 season, was determined to reunite the pair. They did so on June 23, with Panarin heading to the Blue Jackets as part of a trade that brought back Saad and the remaining four years of his contract with an annual $6 million cap hit.
It's only been one season, but that decision could reverberate through the Blackhawks' future. Saad endured an 18-point drop from the previous season and finished with 35. Toews, meanwhile, wasn't any better with Saad back in the fold, posting 52 points for his lowest full-season total since 2011-12.
Panarin? He had 27 goals and a career-high 55 assists as Columbus made the playoffs. The expectation that his game would suffer without Kane proved dead wrong, and instead, it was Kane's production that suffered in this attempt to borrow from Peter to pay Paul. It was reasonable to believe that Kane might continue to thrive with ever-changing linemates, as he always had, but that no longer appeared to be the case after his forward unit was broken up after last season.
Panarin will be due for a big raise from his $6 million cap hit after next season, which admittedly might have been a struggle for the 'Hawks to pay, despite the team's more favorable cap situation going forward. The trade still doesn't look good, given that it pried one of the game's elite offensive wingers away from a team that's trying to win now. The better choice might have been to leverage Panarin's skill in another chase for a title next season and worry about his contract status later.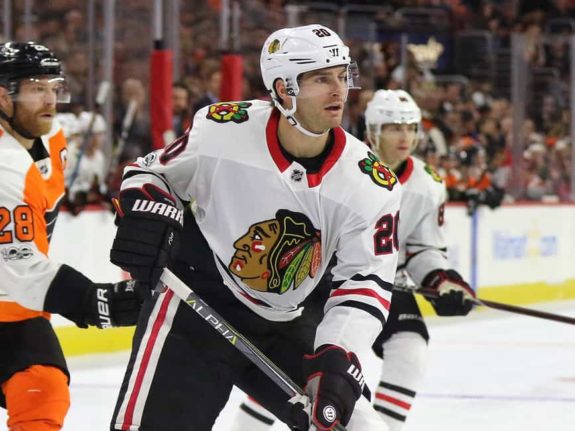 Saad is only 25 and the power winger could bounce back with the rest of the team next season. Panarin, though, represents where the league is going with his elite hands, lightning-quick speed and pure goal-scoring touch. He's the state of the art in a skill-heavy, speed-oriented league, and the 26-year-old's high level of offensive production could have taken the pressure off Kane, in particular, and Toews to be as good as they have been; the new franchise scorer steadily assuming more of the burden from the aging ones.
Is Keith's Game Finally in Decline?
The calendar might be catching up to the other future Hall of Famer on the club, as well. Duncan Keith played all 82 games at age 34 this season. The warhorse top-pair defenseman managed just 32 points for his lowest total in a full season since 2011-12, though, and was a stunning minus-29. He had never finished with worse than a plus-12 over the previous six seasons.
With 13 seasons under his belt and 126 playoff games played, are his elite days fully behind him? They'd better not be, with Keith in possession of a legacy contract signed during the previous collective bargaining agreement. With five seasons remaining on the 12-year deal that carries a $5.5 million cap hit, the Blackhawks would be devastated by the cap recapture clause that would severely penalize them financially should Keith retire before the end of the pact.
There were extenuating circumstances affecting Keith's play as well in 2017-18. The Blackhawks must get more from Keith's right-side partner Brent Seabrook, who was a minus-3 and had 26 points. Chicago couldn't afford to let Seabrook leave as a free agent and gave him an eight-year extension in September 2015, but his $6.875 million cap hit through 2023-24 is a major problem if he doesn't regain his form as a top-pair blueliner.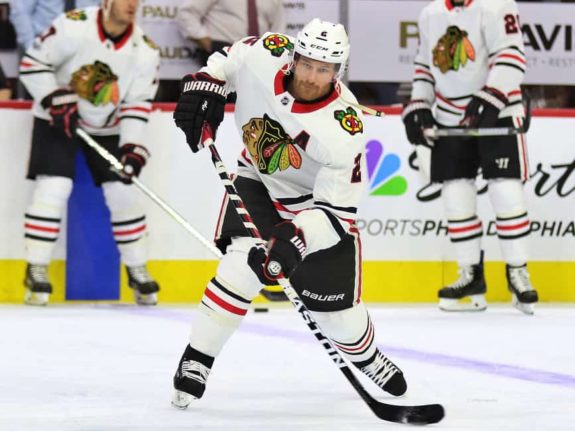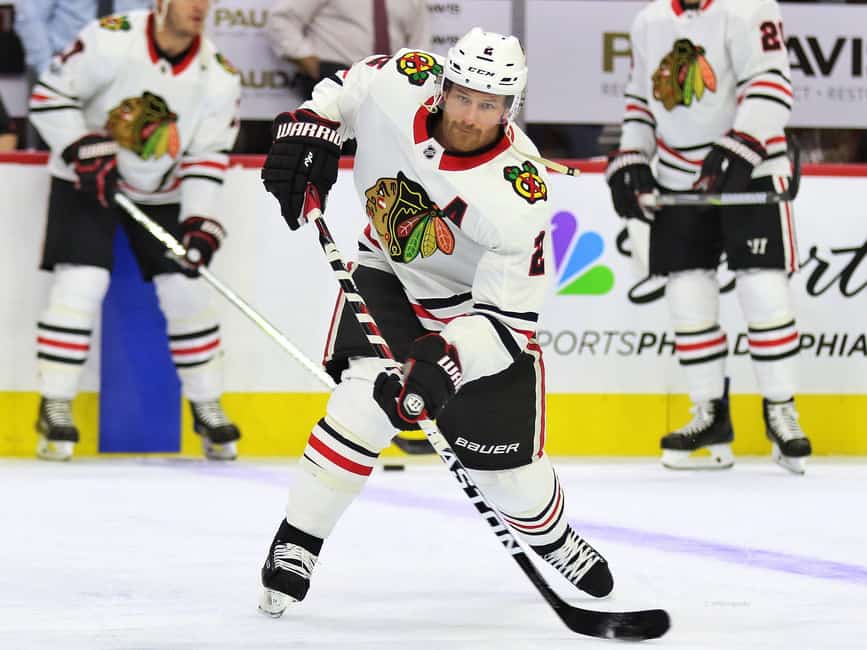 The 'Hawks, of course, had little choice but to hand out significant contracts to Seabrook, Kane, Toews, Keith and the others who grew into stars and led the club in its run of sustained Stanley Cup glory. The salary cap bill, though, is starting to come due.
Chicago missed incomparable two-way forward Marian Hossa badly in 2017-18 after his career was all but brought to an end due to a debilitating skin disorder. The hard truth, though, is that his presence on long-term injured reserve is doing the organization something of a favor. Fitting Hossa's $5.275 million cap hit back onto a roster that sits at an estimated $68 million for next season would eat up space that's needed for immediate improvements and some present and near-future re-signings.
Hossa is expected to remain on LTIR until his deal concludes after 2020-21.
Even with the 'Hawks free of Hossa's salary and some room to maneuver under a cap that's expected to rise into the $78-82 million range, the club will have to be judicious as it looks for reinforcements. Still, the 'Hawks need to do it: the memory of the 2010-11 season, which followed the first Stanley Cup of this run, remains clear.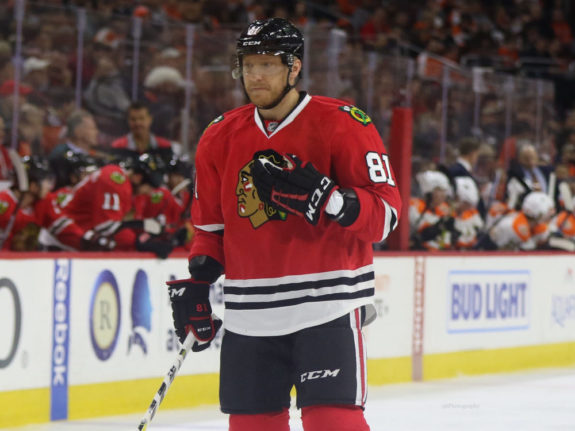 Facing a cap crunch, the Blackhawks were forced before that season to move out key second-tier contributors, including defenseman Dustin Byfuglien, who's since developed into a top defenseman with the Winnipeg Jets (first the Atlanta Thrashers). The absence of critical depth hindered the team for two seasons before they were able to strengthen the roster for another championship run in 2012-13, and Bowman and co. understand the need for depth to win championships.
Despite all of those issues, it's worth remembering that great players make the difference. The Blackhawks still have at least two of those in Kane and Toews, and perhaps Keith. They have the promising DeBrincat and Schmaltz, and proven management that knows the ins and outs of assembling a championship roster in the face of adversity.
Still, the core is starting to age. The salary cap, if not a mess, will remain a challenge. The elite scorer that got away is playing in Ohio. Western Conference opponents have caught up, with the Predators appearing built for long-term Stanley Cup contention and upstarts like the Jets, Colorado Avalanche and Minnesota Wild rising. Chicago no longer strikes fear into opponents come playoff time.
No Shame in Three Stanley Cups
If the ceiling for this outstanding group was three Cups, the fans will take it. The team that provided the Windy City's first perennial championship contender since the Bulls of the 1990s has taken the city on an amazing ride. If this is the end of an era, it remains remarkable that management was able to win so many titles in the hard cap era, a feat matched only by the Pittsburgh Penguins since the economic system was put in place for the 2005-06 season.
Yet, with Kane, Toews and Keith under contract for five more seasons, the Blackhawks need to find a way to try to extend the run. It won't be easy. If this core is finished winning Cups, however, fans might always wonder what could have been done differently to keep such a group in position for more parades.
Wayne Gretzky won his fourth and final Stanley Cup in 1988 in a career that spanned 12 more seasons. Avoiding such a fate while there's still time is doable, but it might represent an even bigger challenge for the Blackhawks than putting this championship core together in the first place.