The Washington Capitals were lacing up their skates and preparing for their first practice since advancing to their first Stanley Cup Final in 20 years Wednesday when they felt the locker room begin to sway to the rhythm of "Let's go Caps" cheers and pure screams and roaring applause.
"We can all hear it from in here," T.J. Oshie said. "They were making the walls shake."
A see of red flooded Kettler Capitals Iceplex, with hundreds, perhaps thousands of Caps fans filling not only the bleachers of both Capitals' practice rinks but also nearly every corner of the practice facility.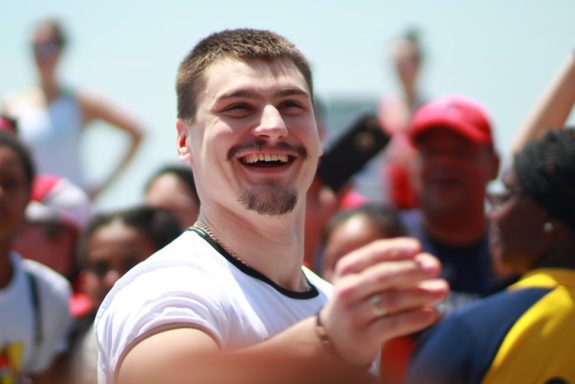 The fans not only watched Washington skate one more time before heading to Vegas to face off against the Golden Knights in Game 1 Monday, but they lined up next to barricades on the top floor of the parking garage to send off their team en route to the franchise's second-ever Cup Final appearance.
"It's always fun, you know, and every time you see the fans, you really feel it," Evgeny Kuznetsov said of the crowd Saturday. "You see their support and it's huge. Everything we can do for them, just let them have it."
Related: Capitals' Run Through Adversity
Capitals Off to the Races
The last 48 hours have been a whirlwind for the Capitals. Many players cited trying to get as much rest as possible following a memorable celebration following Wednesday's Game 7 victory. Alex Ovechkin says that his interactions with fans have been filled with gratitude, as well as pride and praise for the team's success this postseason.
"Everybody excited," Ovechkin said. "Everybody come to me and say, 'good job. We really proud, we really happy, thank you so much,' but it's not done yet."
Ultimately, though, the focus now shifts to taking on the Golden Knights, finding out how to overcome and defeat them, especially considering the city's fanbase, hockey scene, flashing lights and rich nightlife.
"We're going there to play hockey, not pool party and play casino," Ovechkin said. "We go in there to play hockey, do our thing and we have all summer to do what we want."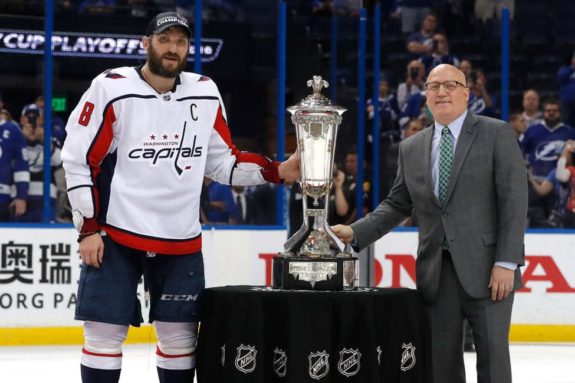 Tom Wilson agreed, saying that the team has kept the same poise and mentality that these games are no different from the games they've played back in the regular season.
"It's a crazy town, but when the puck drops, it's the same game, it's the same sport," Wilson said. "It's going to be loud, it's going to be crazy, but once the puck drops, once the game starts, we got our system. It's going to be two hockey teams playing hockey and all the flashing lights are going to take a back seat. It's exciting. We're going to take it all in, but we got to stay focused and stay together."
While Washington's win seems long in the past heading into the Final in the coming days, it didn't truly kick in for Oshie that the Capitals were playing in the final round for the Cup until the team took the ice again Saturday.
"It's been a battle to get here. I was just hanging out with family the last two days. Now getting here, it feels real. it feels like this is happening," Oshie said. "We're proud of ourselves for where we got to… it's great that we have a chance and now the hardest work is ahead of us."
Capitals Going All-In
While the Capitals are proud of the point they're at so far, they know their work is by no means over yet, despite the praise and clinching the Eastern Conference title. The team, which has come a long way since early season woes in November and December given a number of rookies joining the team and growing pains, is now competing for the Stanley Cup, a feat that the franchise has been unable to reach over two decades.
"Special thing is just we winning, that's the whole thing. It's all I can say, we win and we move forward," Ovechkin said. "We've never been in this position before. All my career I play for this team, we never get success like that and the town is going nuts… it's pretty cool, it's something we're to going to remember for whole life and we have to keep playing like that and we have to get success like that."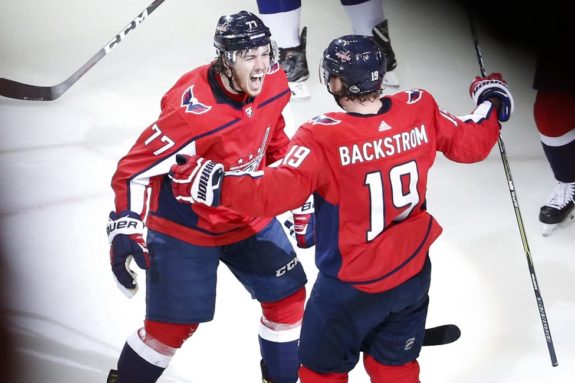 It's a feat that he, as well as Nicklas Backstrom and Jay Beagle, have been trying to accomplish over their entire careers in Washington, all of which span over 10 years. However, every season before this one has ended in heartbreak, but ultimately, it's those struggles that have helped the team triumph, as well as more hungry to win with the tables turned.
"To tell you the truth, it's something. Obviously when you lose in the past, that's not the goal, it's not what you wanted, it hurts, but I think it's something that makes a team stronger and individuals stronger and that's kind of when you grow, is when you're going through those moments where it's not easy and it sucks," Beagle said. "It's been a lot of fun. The guys that have come in here this year as well have been awesome. Just the guys we've brought in really thrive in playoffs, love to play int he playoffs and it's a fun group to be a part of. It always has been.
Heading into Game 1 Monday, Ovechkin said the group is "excited and ready to go," and that everyone is on the same page as they look to get the upper hand and accomplish what they've been fighting for their entire lives.
Related: Capitals vs Golden Knights: A Winner for Everybody
"Every time the season starts, you have a goal, right? To reach playoffs," Ovechkin said. "You reach the playoffs and your next step is to win the Cup."
While the Capitals are ready for their next battle and want to bask in what will be many of the Capitals' first Cup Final appearance (with the exception of Brooks Orpik), they know it will take four more wins to take the victory and that the job doesn't stop there.
"It's an opportunity, but you don't want to let opportunities slip," Beagle said. "That's the thing we as a team and individually we're focusing on, making sure we're the best here for this series."
Sammi Silber covers the Capitals beat for The Hockey Writers and is an NHL contributor with Sporting News. She has also contributed to USA TODAY College, Huffington Post, FanSided and the Nation Network. Silber has written four books and recently worked on graphics for the film, The California Golden Seals Movie.