Despite the fact that the Washington Capitals went to war in a historic Game 7 against the Lightning in Tampa Bay, Capital One Arena was still filled to the brim. Thousands of fans attended a live viewing party of the playoff match, hands clasped together and biting fingernails. But, an applause came with each goal and when the final buzzer sounded, D.C. erupted in celebration beyond the arena, through the streets, memorials and Metro rail stations.
Washington did it.
The Capitals, for the first time in 20 years, are headed to the Cup Final following a 4-0 Game 7 win over the Lightning. They'll make their second Cup Final appearance in franchise history and face the Vegas Golden Knights.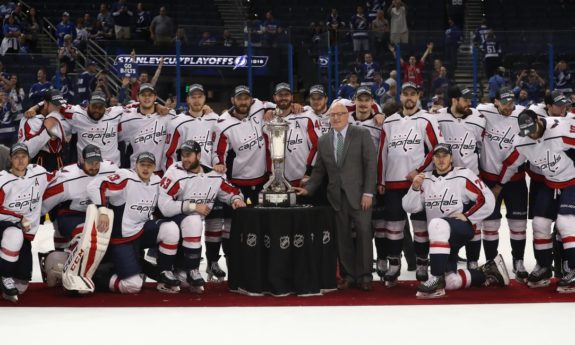 After the game, Alex Ovechkin was at a loss for words, in awe of the team's victory and feat.
"Finally we get what we want, to be in Stanley Cup Final but like I said, still lots of hockey left, still lots of energy, still lots of battles over there…" Ovechkin trailed off, then laughed. "I'm kind of emotional. It's hard to explain how I feel."
Holtby in that moment smiled, and turned to him saying "You're doing great, babe."
Capitals Defeat Their Doubters
This postseason run for Washington hasn't been an easy one. They've had to overcome a lot of adversity, including climbing back from a 2-0 series deficit against Columbus in the first round. Then came the ultimate challenge: facing the Pittsburgh Penguins in the second round, their rival that had taken them out in the second round three times over the last nine years.
"One day it have to happen," Ovechkin said about the team having to finally overcome Pittsburgh.
And he was right. The Capitals finally overcame their demons and defeated the Penguins with a Game 6 overtime victory, helping them advance to the Eastern Conference Final to face a Cup-favorite team in the Tampa Bay Lightning.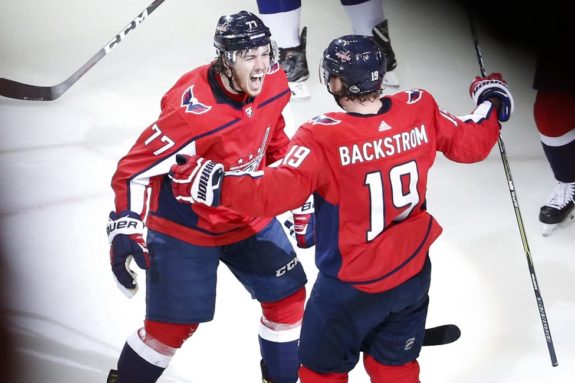 While they were pushed to the brink and had to win Game 6 to keep their postseason alive, they got two consecutive shutouts from Braden Holtby, as well as standout performances from top players like Alex Ovechkin, Nicklas Backstrom and T.J. Oshie, as well as younger forwards like Andre Burakovsky and Jakub Vrana, to clinch a trip to Stanley Cup Final.
Burakovsky was the one that became the hero for Washington in Game 7; despite an upper-body injury and woes that challenged him this postseason, his two-goal performance Monday gave the Capitals a commanding 3-0 lead heading into the third period.
"It meant a lot for the team," Burakovsky said of his performance. "Obviously, I've been out for a while, a little bit here with injury and came back, and like I said before, it hasn't been easy for me… It definitely feels really, really good to help the team and get a win and be a part of this team."
Capitals Look to the Final
To start the year, there were some doubts and question marks when it came to Washington's potential this season. It's no secret that this team is built differently from years' past. Instead of relying on big-name players, the Capitals took on a younger look, relying on prospects and a number of rookies, as well as unproven players, to lead them to new heights.
And ultimately, the Capitals held and still have trust in this group that has carried them to new heights, and is willing to do whatever it takes to conquer adversity and keep moving toward their goal.
"I think our group here really understands what it means to be a team and how to win," Holtby said. "Maybe in the past, we've had more skill or better on paper, whatever, but this team, everybody knows their role and everyone wants to pitch in and everyone's comfortable with each other."
But right now, just for a bit, the Capitals are celebrating the fact that they've made it this far. The happiness and celebration was contagious, especially considering the excitement from Ovechkin. With absolute courage and eagerness, the Capitals captain, who has waited for his entire career to get to this point, skated to center ice to accept the Prince of Wales trophy, and touched it, just as Sidney Crosby has in all three years that he went on to win the Cup. Marc-Andre Fleury did the same with the Campbell Bowl, unafraid of superstition.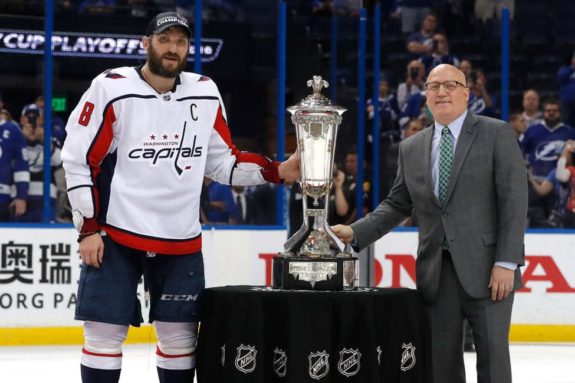 While the Capitals will take the time to bask in this moment, they will only take off a day or two, and then it's back to work as they ready for the biggest challenge yet: an all-or-nothing series against Vegas, a team that has been absolutely dominant so far this postseason.
"We've been waiting a long time for this," Backstrom said. "Now we're going to Final and we're going to do everything we can to do something special there for us, the team and the city of Washington.
In one game, the Capitals were able to silence their critics, to show the league they are a serious contender. And now, they will go on to compete for their first Cup championship against the Golden Knights, who are seeking their first title in their first year in the league.
Sammi Silber covers the Capitals beat for The Hockey Writers and is an NHL contributor with Sporting News. She has also contributed to USA TODAY College, Huffington Post, FanSided and the Nation Network. Silber has written four books and recently worked on graphics for the film, The California Golden Seals Movie.