His wooden spatula has been replaced by a hockey stick. His thick, bushy eyebrows and mustache have been cleanly shaven. And his chef's apron has been swapped out for a crisply laundered button-down shirt and suit.
Move over Muppets, there's a new Swedish Chef. His name is Jason Botterill.
Instead of making a turkey casserole in the kitchen, the Buffalo Sabres general manager's task is much harder; to make a playoff team from the meager ingredients in the cupboard. The hungry fans in Western New York haven't had such a treat in seven years.
Related: Sabres Roster Won't Be Easy to Overhaul
Changes Coming to the Sabres
While mixing in an occasional English word to clue viewers in, the original Swedish Chef spoke in a trademark semi-comprehensible Swedish-like gibberish.
On the other hand, Botterill's message at his end-of-season press conference couldn't have been any clearer. He said the season "sucked." Furthermore, while the Muppet Chef typically ended each skit by throwing his utensils over his shoulder, sending them crashing into the crockery behind him, Botterill slammed the doors to his press box. He was steaming mad.
Swedish Invasion Happening with Sabres
Botterill assumed former GM Tim Murray's half-baked rebuild when he took over but he is now cooking up a new-look roster that hopes to change the Sabres results.
The influx of Swedes is apparent. Currently inked to contracts are goaltenders Robin Lehner, Linus Ullmark and Jonas Johansson, forwards Rasmus Asplund, Johan Larsson and Victor Olofsson, and defensemen Lawrence Pilut. Then there's the odds-on favorite to be the first-overall pick at the 2018 Draft: defenseman Rasmus Dahlin. It's enough to make Botterill exclaim, "Bork! Bork! Bork!"
Lehner is coming off a one-year, $4 million contract. He'll be a restricted free agent come July 1. Larsson has one year left on his current contract. Both might be on the chopping block as Botterill refines his roster.
The Newest Swede: Rasmus Asplund
Wednesday the Sabres announced they'd signed 2016 second-round draft pick Rasmus Asplund to a three-year, entry-level contract. The 20-year-old center was drafted 33rd overall by the Sabres in 2016. He's spent the last four seasons playing with Farjestad BK of the Swedish Hockey League. He tallied 28 points in 50 games this past season.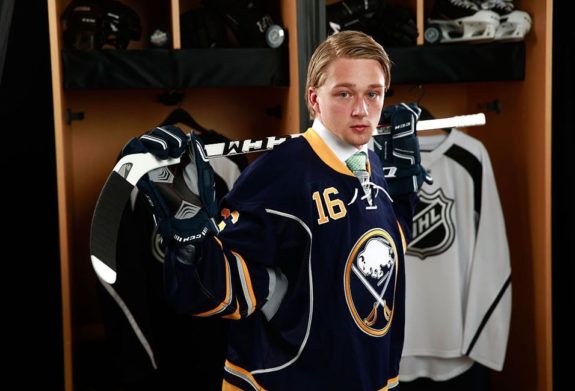 Previously, Asplund played alongside fellow Sabres prospect Alex Nylander at the 2016 IIHF World Junior Championships. Both Asplund and Nylander played alongside projected 2018 first-overall pick Rasmus Dahlin at the 2017 IIHF World Junior Championships.
Asplund is an intelligent two-way centerman with good speed that can both create and finish. He's responsible in all three areas of the ice and logs significant minutes as a junior-aged player. The 20-year-old has a quick release to his shot and is an excellent passer, but likely won't rack up giant point totals. That said, he's a student of the game and is highly coachable, giving him the potential to be an important piece of the Sabres' puzzle.
Adding a Swedish Coach?
According to a Swedish website, the Sabres are interested in bringing Rikard Grönborg, the head coach of Sweden's Men's National Team, to Buffalo. The Carolina Hurricanes also have expressed interest in his services. Grönborg has one more year on his contract with the Swedish Ice Hockey Association.
"My thoughts and plans are to continue my work with the federation," said Grönborg (as translated). When told multiple NHL teams are interested in him, he replied: "But they have good coaches. That's just what's interesting to me. I have not talked to them. But at the same time, I have turned off during the World Cup. We have not decided the future and we'll see what's happening. I hope and want to coach Three Kronor next season. That's my goal."
After working with Sabres Associate Coaches, Davis Payne, Chris Hajt and Tom Ward, adding Grönborg could make Botterill and head coach Phil Housley feel like they're really cooking with gas. The experienced Swede could be a key ingredient if he doesn't stay in his native land.
Related: Sabres Fans Are Giddy With Lottery Win
A Swede Future
Fans in Western New York are warming to Botterill as he makes move after calculated move to help this team. Among other players, his recipe for success calls for three parts Rasmus: Ristolainen, Dahlen and Asplund. The veteran, the soon-to-be number one overall draft pick and the recently signed forward will all play a part in the team's future.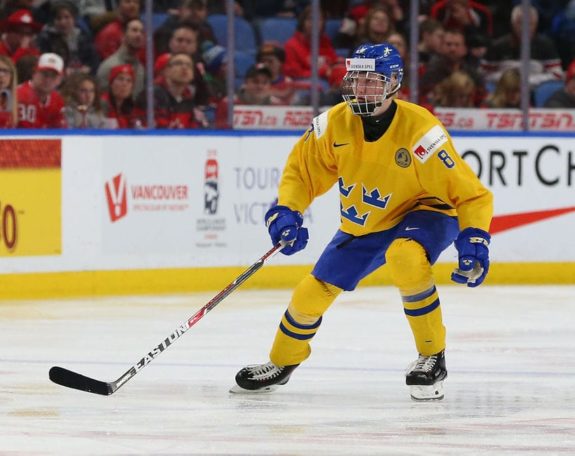 Dahlin, Asplund, Pilut and Olofsson add an element of speed to a sluggish team. As for offense, it's possible Asplund and Olofsson help fill a top-four spot on the wing in the near future. If nothing else, they're further proof that there's more to Sweden than IKEA, ABBA and meatballs.
It all boils down to winning.