It's easy to forget Ian Mitchell was one of the Chicago Blackhawks' best prospects just a couple of years ago. He had finished a successful junior campaign with the University of Denver before the 2020-21 NHL season, bringing legitimate top-four upside.
---
---
More than two years later, it's fair to question what role, if any, Mitchell might have with the team moving forward. While he has shown potential at the NHL level, he hasn't performed close to what many expected when he made his Blackhawks debut. With many solid defensive prospects on the rise, he might not be a long-term fit.
Mitchell could still be a serviceable defenseman, but if the Blackhawks can move him before the deadline, they should consider it. At this point, it'd be best for him to get a fresh start.
Blackhawks Haven't Maximized Mitchell's Opportunities
The Blackhawks held Mitchell in high regard entering his rookie season, not just because of his performance but also his character. At the time, assistant general manager (GM) of player development Mark Eaton praised his work ethic and coachability. However, after recording 32 points in 36 games with Denver his junior season, he didn't bring the same level of offense to Chicago in his rookie campaign. He recorded just seven points (three goals, four assists) in 39 games.
Related: Blackhawks Have a Great Option for Next Captain in Seth Jones
---
Latest News & Highlights
---
Ultimately, the Blackhawks decided to keep Mitchell with the American Hockey League's (AHL) Rockford IceHogs for most of 2021-22. This wasn't a bad decision, given he played a key role in their success. But you could argue not allowing him to continue growing with the Blackhawks hurt his development to an extent. Last season, he played just eight games with Chicago, while often being a healthy scratch while with the NHL club.
With the team in rebuild mode entering 2022-23, this was essentially a make-or-break campaign for Mitchell, who was entering the final year of his entry-level contract (ELC). Unfortunately, he began the season on injured reserve. He was eventually sent to Rockford before making his Blackhawks season debut on Nov. 19 against the Boston Bruins but was then reassigned to the IceHogs just five days later.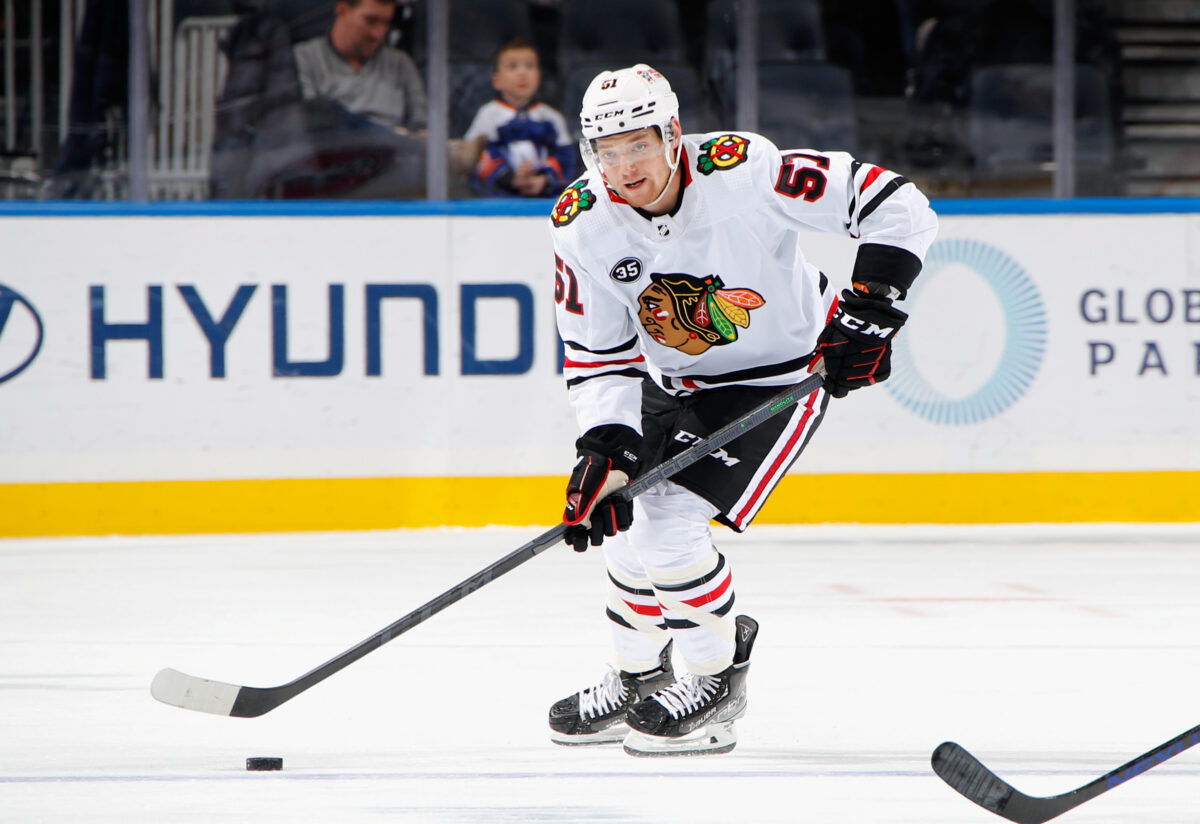 Mitchell was recalled again on Dec. 1 and has been with the Blackhawks since, but he's skated in just 14 of 26 games. There's a lot he needs to prove to become an NHL regular, and even entering this season, much of the upside he brought to his rookie campaign was gone. Yet, it's still questionable that the Blackhawks have scratched him so much, knowing he's an unfinished product and needs regular ice time for his development. Even though the team isn't trying to win now, playing him more often likely wouldn't have made much difference.
To be fair, the Blackhawks have used Mitchell more recently. He skated in five of the team's last six games entering the All-Star Break. However, limiting his opportunities hasn't been great for his growth. Even if the club doesn't consider Mitchell as a future piece, he's at least deserving of consistent minutes so he can improve, whether that's with the IceHogs or another NHL club.
Blackhawks Face Logjam with Defensive Prospects
The Blackhawks have many defensive prospects. Some, such as Isaak Phillips and Alex Vlasic, have already spent considerable time with the team and could be NHL regulars as early as next season.
Not all these prospects will pan out, but most will probably get chances with the Blackhawks these next few years. Furthermore, it's unlikely Seth Jones goes anywhere due to his contract. As the team gets younger, too, they'll probably sign a few veterans to provide depth and help them get to the cap floor, like Jack Johnson this past offseason. All of this could make Mitchell expendable.
Related: Blackhawks' Young Players Making an Impact Early in 2023
It's also worth noting Mitchell was a product of the former regime, not current GM Kyle Davidson. That the Blackhawks have sat him so often could indicate they don't view him as highly as they once did, but again, Mitchell could be a solid piece somewhere else. He isn't the biggest defenseman, at 5-foot-11, but he still has good skating and mobility.
No matter how Chicago sees Mitchell, it might be tough for him to find a place, knowing the team's current direction and with more prospects bound to come up. If he stays, he'd potentially have to compete with Phillips, Vlasic, Kevin Korchinski, and others for a roster spot, all of whom are larger defensemen and arguably have higher ceilings right now.
Moving Mitchell Won't Hurt Rebuild
It would be somewhat of a tough pill to swallow should the Blackhawks move Mitchell. Even though the 24-year-old's stock has fallen since his debut in Jan. 2021, he could always end up flourishing with another club. The organization has a history of letting young defensemen go who succeed with other teams, such as Michal Kempny and Gustav Forsling, so it wouldn't be surprising if Mitchell revives his career somewhere else.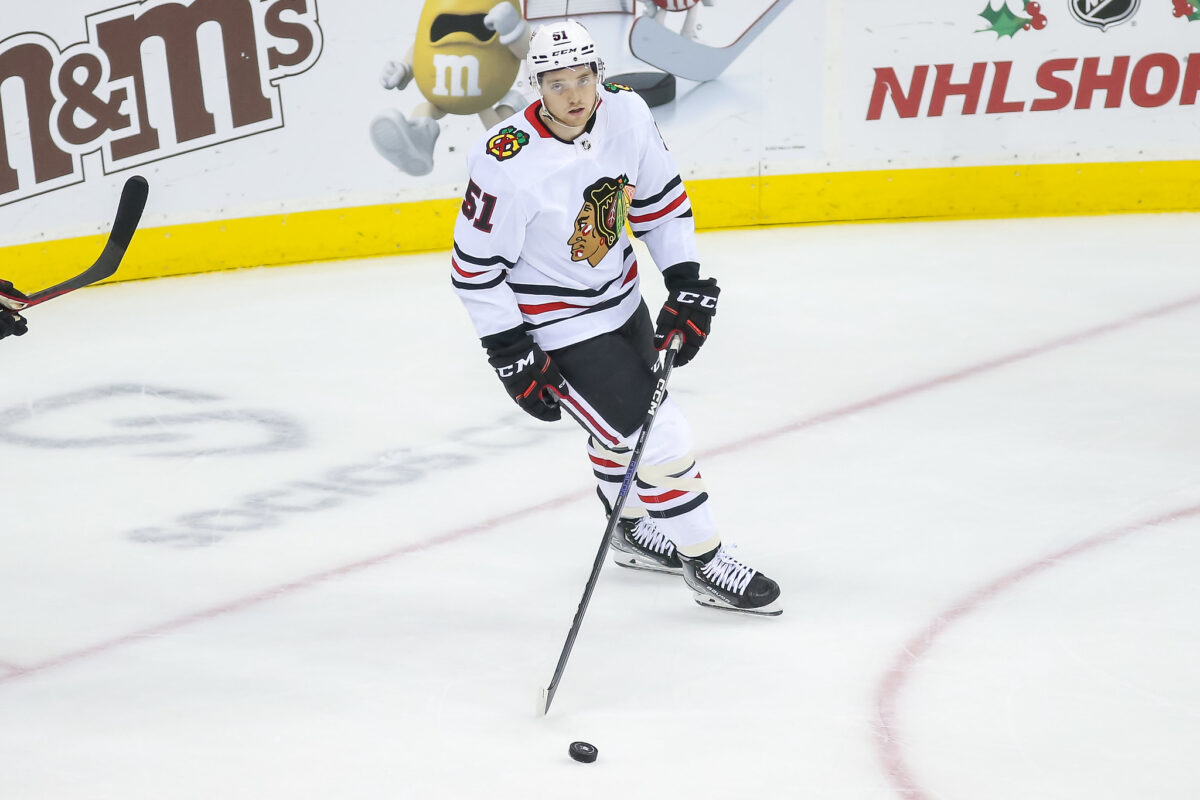 Yet, even if Mitchell were to develop somewhere else, it would have little effect on Chicago's rebuild. Though he might be a nice complementary piece, it's difficult to envision him drastically improving with the Blackhawks, knowing their current roster and the lack of talent around him.
Considering how far Chicago is from contending, Mitchell would have to prove a lot these next few seasons to warrant keeping him long-term. A change of scenery wouldn't necessarily lead to improved play, either. On most contenders, he'd probably be a third-pairing or depth piece, which is how the Blackhawks are using him.
The Blackhawks shouldn't move Mitchell just to move him. However, if they won't give him consistent minutes in the NHL or the AHL, it's time to move on. As tough as it might be, knowing he was arguably the Blackhawks' top prospect just a few years ago, the club is heading in a new direction, and it's hard to see him fitting their future mold.