In today's NHL rumors rundown, Kent Hughes says that Josh Anderson is not being moved by the Montreal Canadiens unless a team is willing to overpay. Meanwhile, Vladimir Tarasenko has spoken about the possibility of being traded by the St. Louis Blues. The Washington Capitals have signed Dylan Strome and are open to finding a defenseman, plus the Calgary Flames and Toronto Maple Leafs are looking for a forward. Has either set their sights on James van Riemsdyk of the Philadelphia Flyers?
Canadiens Have No Intention of Trading Josh Anderson
Darren Dreger said on TSN Insider Trading that Canadiens' forward Josh Anderson is NOT in play unless a team makes an offer that G Kent Hughes simply cannot refuse. There has been talk that Anderson has been on the block but that appears to be incorrect or the situation has changed.
---
---
In the past, Brad Treliving and the Calgary Flames have expressed an interest but the Habs prefer to keep him, he's got a good, long-term contract.
Tarasenko Has No Clue What His Future in St. Louis Is
With trade talk picking up about the forward and news that some teams are expressing interest, Vladimir Tarasenko was asked about his future in St. Louis. When questioned about if he's thinking about his future with the team and if he thought about this year being the last he might be an All-Star repping the Blues, he responded, "Yes, obviously yes, because even Vladi don't know the future of Vladi." He added, "There is only one guy who knows more than me, and his name is Doug Armstrong. I think that's the guy who you should talk about my future (with) the Blues."
---
Latest News & Highlights
---
Andy Strickland writes on Twitter, "Vladimir Tarasenko is a proven playoff player and scorer…41 goals and 60 pts in 90 career postseason games is pretty strong. Teams shouldn't be solely focused on his goal total from this season."
Capitals Looking for Defense
The Washington Capitals have signed forward Dylan Strome to a five-year extension worth $5 million per season. The organization says they believe he's been a great addition to the team and is in the prime years of his career.
Per The Athletic's Eric Duhatschek, Washington is willing to listen to offers on Lars Eller. He writes:
The 33-year-old Eller is big — 6-foot-2, 215 pounds — strong and has playoff experience, so he checks a lot of important boxes. He's on an expiring contract at $3.5 million. Washington, I'm told, would entertain offers for him if they could get help on defense, where the injury to John Carlson has really thinned the ranks. One possible fit: Los Angeles, which is deep on the right side and at some point could move on from either Sean Walker or Matt Roy. 

source – 'NHL trade board 2022-23: Bo Horvat is off the market, injuries pile up and more updates on top deadline targets' – Eric Duhatschek – The Athletic – 01/30/2023
GM Brian MacLellan said recently that the team's plans will depend a lot on where things stand from a health perspective at the March 3 deadline.
Flames Like James van Riemsdyk, Maple Leafs Fit But Aren't Yet Linked
During an appearance on The Jeff Marek Show, NHL insider Elliotte Friedman noted that the Calgary Flames have acknowledged their search for a scoring forward and he linked them to the Philadelphia Flyers forward James van Riemsdyk. He also mentioned the Maple Leafs might have an interest.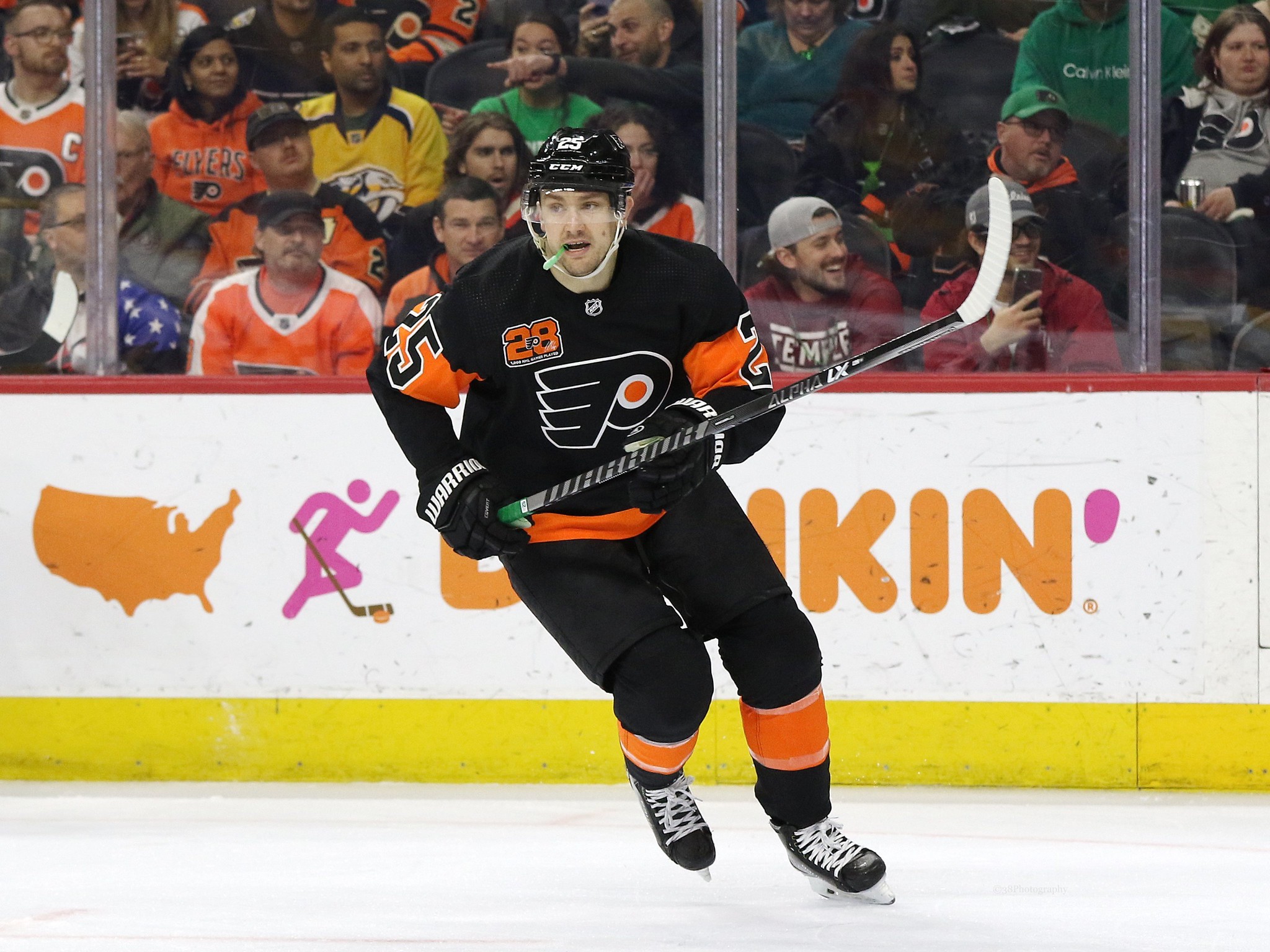 Friedman noted, "James van Riemsdyk, well, he's definitely out there. I think there are some teams looking at him. It wouldn't surprise me if Calgary was looking at him, for example." He added that the Maple Leafs might have a quiet interest in the player too. Friedman explained:
"I think the Maple Leafs are looking for somebody who can complement their current core very well, and if you look at it and you say, 'You know, van Riemsdyk is a fit for that,' then I could see him being on their radar. But I haven't heard his name with Toronto. It doesn't mean anything, they're pretty good at being secretive, too, but I think, if they were in it, they'd have to get moving because I think Philly is getting to the short strokes with van Riemsdyk. I do think Calgary is potentially one of the teams."