The calendar has now flipped to June, meaning the Chicago Blackhawks are fewer than four weeks out from the 2023 NHL Draft, taking place June 28-29. It's all but certain they'll select generational prospect Connor Bedard first overall, but then comes the hard part of pairing him with the right linemates, ideally including a veteran mentor. Look no further than Tyler Johnson.
Related: Blackhawks Will Need to Wisely Build Around Connor Bedard
Johnson is approaching his third season as a Blackhawk after coming from the Tampa Bay Lightning in July 2021. Injuries have limited his Chicago tenure, having skated in just 82 games combined over the last two regular seasons, but he has been effective when healthy. He'd be a great fit to play with the soon-to-be 18-year-old come Opening Night.
Johnson's Experience & Character Should Benefit Bedard
As the Blackhawks' roster stands, Johnson is the team's oldest forward at 32, with his 33rd birthday coming in July. He's set to hit free agency in 2024, but it seems unlikely the Blackhawks move him this offseason unless they retain some salary, as he's set to make $5 million next season.
Johnson played just 56 games with the Blackhawks last season, recording 32 points (12 goals, 20 assists). Considering the lack of talent he often had around him, that's rather impressive, as he's years removed from his career season when he recorded 67 points in 82 games for the Lightning in 2014-15. Had he played a full 82 games, he would've been on pace for a respectable 44 points. He's the closest thing the Blackhawks have to a well-oiled machine, given his ability to skate up and down the lineup with little issue.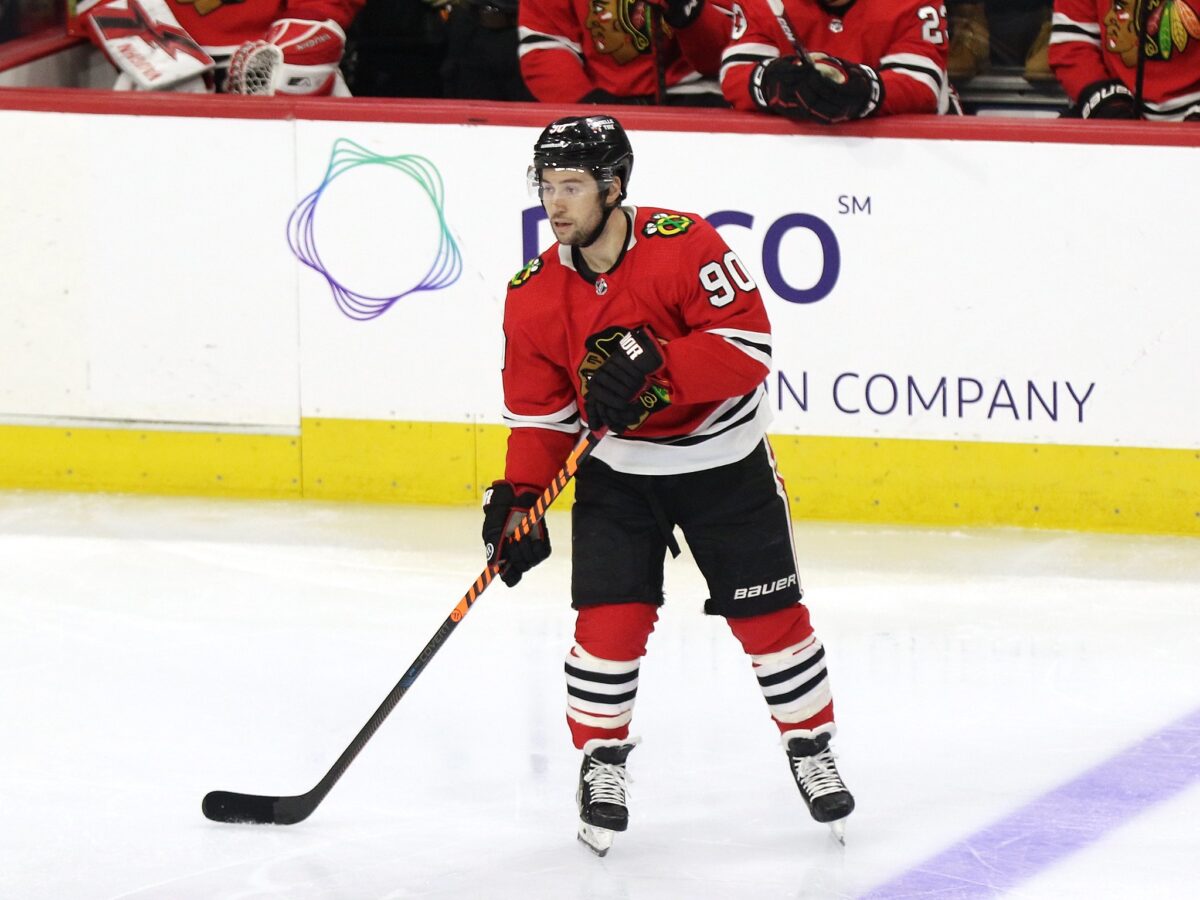 Johnson's intangibles speak for themselves. He's a two-time Stanley Cup champion with the Lightning and remained key to their success during the late 2010s, even though he had a less prominent role after his career year. Now that Patrick Kane and Jonathan Toews are gone, Johnson and Jason Dickinson are the only Blackhawks with Stanley Cup Final experience, with Johnson being the lone player to have won a Cup.
By no means is Johnson a flashy player, but he's a leader and hasn't shied away from taking the initiative, going as far to work with head coach Luke Richardson to help the team's offensive strategies last December (from "Tyler Johnson speaking up to try to help Blackhawks: 'At least we're trying to work together,'" Chicago Sun-Times, 12/30/22). Despite being injury-prone, he has a great hockey IQ and generally keeps an upbeat attitude. That, plus his track record with the Lightning, makes him an ideal linemate for Bedard as he begins his NHL career.
Blackhawks Must Give Bedard a Solid Veteran Linemate
As phenomenal as Bedard should be, his transition to the league may still be an adjustment period. He could have a Sidney Crosby-like rookie season, but there's always a chance he has one similar to Jack Hughes, who took a few years before finally becoming one of the league's biggest stars. Even with Bedard in the mix, there's still a major talent gap between the Blackhawks' forward group and the rest of the league. Plus, aside from Lukas Reichel, it's tough to pinpoint who among their current forwards will be around when they're competitive.
Related: Blackhawks' Korchinski Showing Why He's Chicago's Top Prospect
---
Latest News & Highlights
---
Of course, the Blackhawks' roster could look much different come Opening Night than its current iteration. The team enters the offseason with approximately $41 million of cap space, so they'll likely take on a bad contract or two, perhaps overpay a few veterans, or maybe bring back Andreas Athanasiou to reach the cap floor.
That said, if the Blackhawks keep much of last season's roster as is, Johnson is the most logical veteran to pair with Bedard among their current forwards. Colin Blackwell could be in for a bounce-back campaign after skating in just 53 games last season, but he's no more than a bottom-six option. The same goes for Dickinson, despite his versatility. Assuming Bedard plays center, they could always pair him with Reichel on one wing and Taylor Raddysh or Philipp Kurashev on the other. It'd be smart to give him a little more mentorship, though.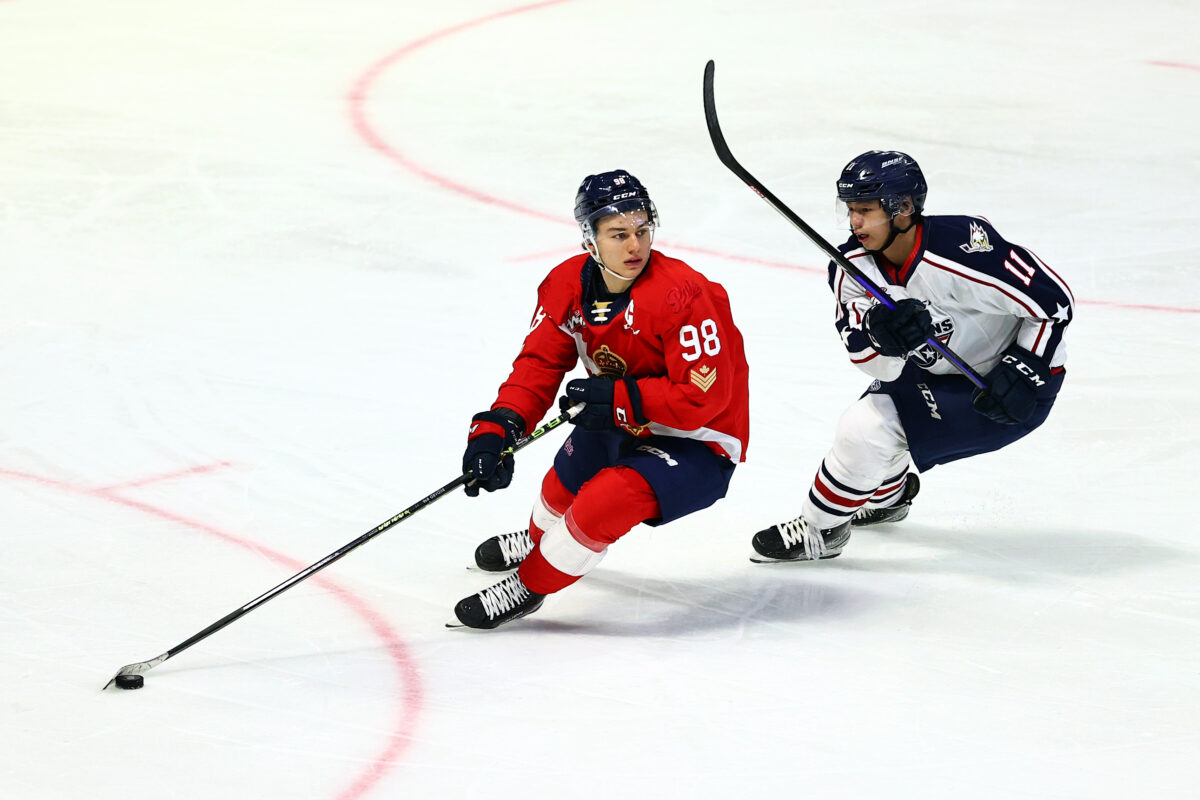 The one concern about playing Johnson with Bedard is the size of both players. Johnson is 5-foot-8 and 185 pounds, while Bedard is 5-foot-10 and the same weight. If the team went this route, they'd likely need to split Bedard and Reichel up and instead use Raddysh or a free agent/trade acquisition to protect both players.
However, because the Blackhawks aren't in a position to compete next season, the rewards of playing Johnson with Bedard should outweigh the risks. Johnson is a proven veteran and one of the team's de facto leaders, especially among their forwards.
Bedard's presence should make the Blackhawks more watchable than they were last season. The team needs to give him a quality mentor, but Johnson fits that bill. While both players' size is a valid concern, Johnson is the most well-rounded of the team's veteran forwards and is a good short-term solution for Bedard as he adapts to the NHL.
---
---