There will be speed bumps along the way, and the Chicago Blackhawks certainly encountered one in their 5-3 loss to the Carolina Hurricanes Friday night. They were outplayed most of the game by an elite team that's very sound defensively. The Blackhawks have been playing well and winning games because of it, but you can't win 'em all. This is one of those matchups to chalk up to experience, and at least try to learn a little from it. Here's a few things we learned.
Celebrating the Goals: Kane, Mitchell, Soderberg
Let's start by accentuating the positive. The Blackhawks were down 2-0 towards the end of the second period. They were struggling to get anything going offensively against the Hurricanes' tightly structured defense. But Patrick Kane gave the team a spark with one of his famous spin-o-ramas. One never gets tired of watching him work his magic.
Then, with less than a minute to go in the period, defenseman Ian Mitchell notched his second NHL goal off a timely pass from David Kampf. I don't know how many times the other team has stolen the momentum from the Blackhawks with a goal in the waning seconds of a period. To see the shoe on the other foot for once was fun change of pace. Instead of being down by two, the game was tied headed into the third.
Related – Blackhawks Are Enjoying Their Unexpected Winning Ways
Unfortunately, the Hurricanes answered back with three goals of their own in the final frame. But the Blackhawks were awarded a power play, and Carl Soderberg deftly tipped in a shot from Kane. One could argue the final score wasn't exactly indicative of how the Canes pretty much dominated the Hawks. But goals are goals. The Blackhawks fought hard for them and they should always be appreciated.  
Power Play Decisions
The Blackhawks power play has struggled recently after being hot earlier in the season. The losses of Adam Boqvist (COVID protocol) and Andrew Shaw (concussion) from the top power play unit certainly haven't helped matters.
In Boqvist's absence, head coach Jeremy Colliton tried both Mitchell and Nicolas Beaudin in the quarterback role. Both had varied amounts of success. But Boqvist was back in his former spot this last game against the Hurricanes. Last week against the Red Wings the Blackhawks actually experimented with both Boqvist and Beaudin on the top unit with Kane, Alex DeBrincat and Dylan Strome. Boqvist was in Shaw's rover spot.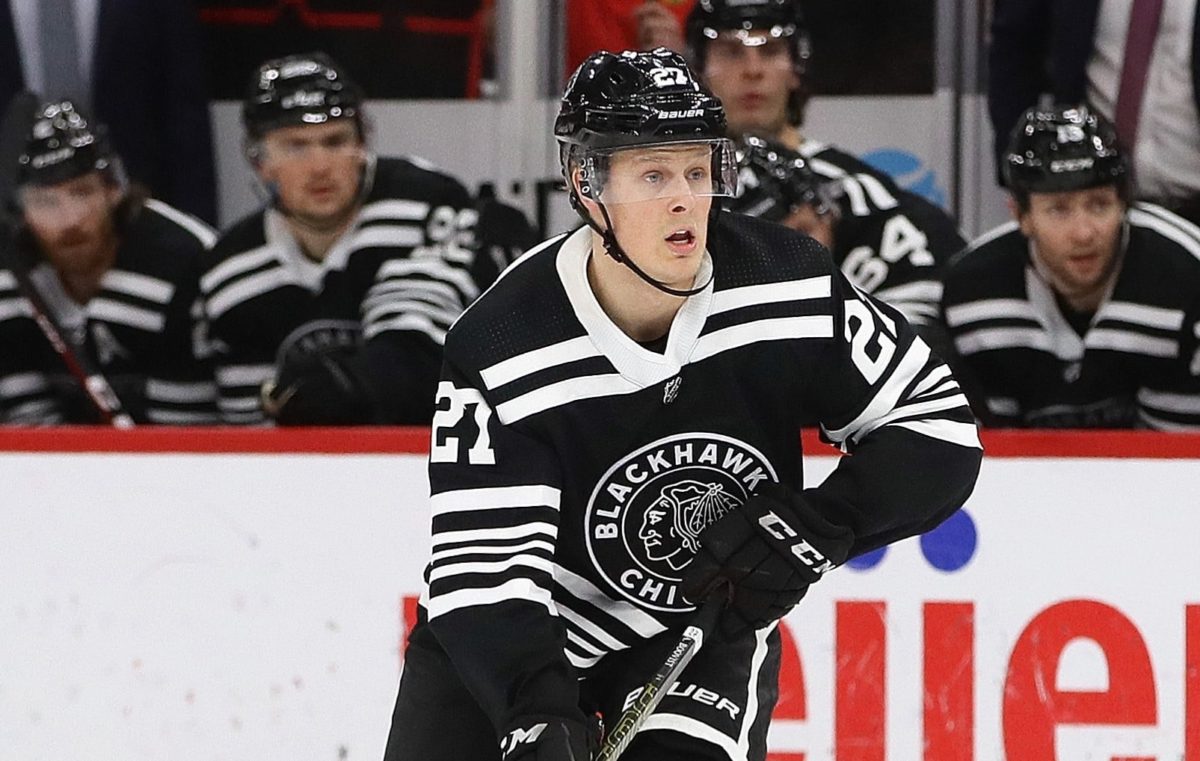 Colliton has also tried both Soderberg and Ryan Carpenter in this role, but no one has been able to fill Shaw's shoes. Shaw was a staple on the first power play unit, doing the dirty work of retrieving pucks and being the net front presence.
Based on Soderberg's goal on the PP at the end of this game, I would look to see him there again. But the right fit on the power play is certainly a dilemma for the Blackhawks right now.
Carlsson Making a Case to Stay on Defense?
Top defenseman Connor Murphy (right hip) practiced with the team on Friday and is nearing a return to the lineup. In his absence, the Blackhawks have often utilized seven defenseman instead of the traditional six to better help cover Murphy's minutes and contributions. When he does return, one or more of the younger defensemen will find themselves the odd man out.
Related – Blackhawks Fly High Against Rival Red Wings
Much hoopla has been made of Beaudin of late. After all, he was utilized on the top power play unit as mentioned above, and he's contributed two goals and two assists in the last five games. But don't count Lucas Carlsson out. Carlsson isn't a flashy player, but he's been solid and consistent playing alongside Calvin de Haan on the second defensive pairing. He's doing his best to stay in the lineup; in 13:04 minutes of ice time he recorded three shots on goal. Beaudin, on the other hand, only played 9:14 minutes and was pretty much stapled to the bench for the second and third periods.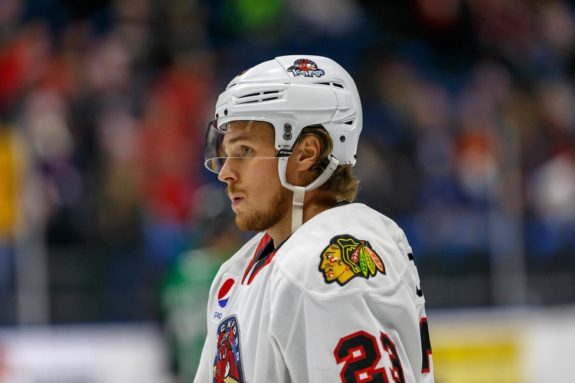 Beaudin has a higher ceiling, and this season is all about committing to the prospects. So this could all be a moot point. Shucks, they could both find themselves sitting. Something to keep an eye on moving forward.  
Kampf is a Keeper
His name is David Kampf, and he doesn't get mentioned very often. But I'd like to give the Blackhawks' fourth line center a shout out, because he had an excellent game against the Hurricanes. He won 12-of-20 faceoffs for a 60% success rate, and this was against a team who is at the top of the league in winning faceoffs. But this is nothing new for Kampf; he consistently wins a high percentage of faceoffs every game. In 15:53 minutes of ice time, he also recorded four shots on goal along with his primary assist on Mitchell's goal.
Kampf doesn't get involved in scoring goals that much. It's mostly his job to prevent them. He's a mainstay on the penalty kill and a grinder on that fourth line. He plays his role perfectly, and the Blackhawks are lucky to have his contributions.    
Learn and Move Forward
As always, the Blackhawks will do their best to learn from this outing. Said defenseman Mitchell,
(The Hurricanes') systems are very similar to how we want to defend. It's a high-pressure system. We (both) don't want to give the other team any time. We can take a lot from how they played us tonight, learn from that and try to replicate it against other teams.
(from 'Blackhawks lose to Hurricanes but hope to learn from their system', Chicago Sun-Times – 2/29/21)
Colliton reiterated the same thought process. "Tonight, a lot of talk about how they're hard to play against, but we can do that, too. So, that'll be the focus over the next few days and we'll come out real strong against Columbus."
---
The Blackhawks second game against the Hurricanes on Saturday night was postponed. Instead, the Dallas Stars and Hurricanes will make up one of their previously cancelled games due to power outages in Texas. So the Blackhawks will have until Tuesday when they play the Columbus Blue Jackets to mull this one over. Can they get back to their winning ways? We shall see.
---
---
Looking for more Blackhawks content? Tune in to The Hockey Writers YouTube Channel or our Facebook Page, where we feature our weekly Blackhawks Banter podcast. Episode 15 is below.
Gail Kauchak has covered the Chicago Blackhawks as a content writer since 2014. She previously wrote for Fansided's Blackhawk Up, and has been part of The Hockey Writer's team since 2017. It's not always easy to balance life's responsibility's with one's passion, but Gail's doing her best to make it happen. Quote to live by, "Follow your dreams, and good things will happen." Wait, maybe it's "Good things happen when you shoot the puck!" You get the idea.
Follow Gail for her unique commentary about this storied franchise. And be sure to catch her and the rest of the Blackhawks' crew on their weekly Blackhawks Banter show, as well as follow her on Twitter.