The Columbus Blue Jackets have been endured a lot of inconsistency this season. This has led to head coach John Tortorella shuffling his lines looking for trios that can make an impact.
The bottom-six has especially felt the impact of the constantly changing lines. Players come in and out of the lineup. No one has really established themselves in a big enough way to keep the lines unchanged.
But there is one player who doesn't get the attention he deserves but has been a model of consistency and an important player both on and off the ice. From an experience standpoint, he sits today as the Blue Jackets' most established center. He also finds himself in a mentoring role with so many young centers on the roster.
Riley Nash has established himself as an important component to what the Blue Jackets are trying to do.
A Model of Consistency
Playing the role of bottom-six center doesn't come with the glitz that some other positions do. But it is one of the most important on the team given what is expected of them. Nash has established himself as a dependable two-way forward that can play in a variety of situations.
It hasn't mattered who's played with Nash. That's the impressive part about what he's doing to help this team.
Going into Saturday night's game against the Nashville Predators, Nash has played at least 10 minutes at 5-on-5 with NINE different Blue Jackets. That's a pretty staggering number so early in the season. Per Nat Stat Trick, here is the full list of players who have played with Nash at least 10 minutes at 5-on-5.
Boone Jenner: 15:42
Emil Bemstrom: 20:43
Eric Robinson: 139:37 (here's another player who isn't getting the credit he deserves.)
Liam Foudy: 49:52
Max Domi: 11:01 (this will go up as Domi is expected to play with Nash on Saturday night.)
Mikhail Grigorenko: 30:13
Mikko Koivu: 31:18
Nick Foligno: 38:54
Oliver Bjorkstrand: 16:58
If we went with seven minutes at 5-on-5, Nash has played at least that with Alex Texier, Cam Atkinson and Stefan Matteau. Talk about someone who knows a little something about everybody on the team.
The Respect of His Teammates
It's for this reason that Nash has the respect of everybody in the Blue Jackets' locker room. Foligno had nothing but praise for the job Nash has done since he got to Columbus.
"I think Nasher doesn't get the credit he deserves," Foligno said. "The way he plays and what he provides our team, just first of all his hockey IQ. He's not one of the flashiest guys but he always seems to always be in the right spot. When you put him with anyone a lot of times, guys really enjoy playing with him because you rely on just where's he's going to be and how he plays."
"He's been a really valuable player not only on the ice but in the room. He's a veteran guy, a guy I talk to a lot about our team. He's a guy that really makes a difference maybe not in a big way but in the little things. You need those players."
Domi was just put on Nash's line last game and scored a huge goal. But it didn't take Domi long to realize how important Nash is to this team.
"He's unbelievable and he's such a good guy too," Domi said. "He's a great locker room guy. I think it was the only two guys that I hadn't played with coming into the game (Nash and Robinson.) That was a lot of fun."
Nash understands that the team is trying to find combinations that work. It hasn't been easy for him but he knows how important being consistent is.
"There's a lot of guys that can play in this lineup and it's going to be changing whether we're winning or losing," Nash said. "For me it's just trying to be as constant (and as) steady as possible. Every time someone is put on my line, they know what to expect from me and the coaching staff knows what they're going to get out of me. It definitely hasn't been easy at times. But over the course of your career you slowly start to figure it out. That's the one thing I try to take pride in is being accountable and ready to play every night."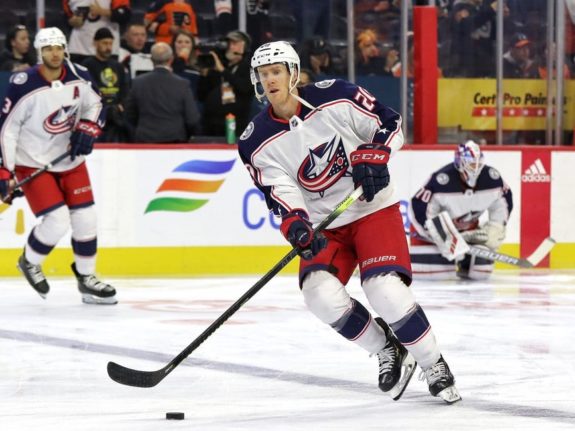 Nash was also new to the Blue Jackets at one time. He had to come in and learn a new system. It took some time for him to get used to his new surroundings. Now that he is firmly in place, he hopes he can do the same thing for several new faces on this team.
"For me, it was playing different systems, different philosophies and nothing is natural at the beginning. You need to get some games in. You need to get some reps under your belt where your mind stops thinking as much and it just becomes second nature. I think the guys so far have done a pretty good job of that. It just takes a little bit of time and reps, unfortunately we only have 56 games this season so hopefully it happens faster than it did for me. But it seems like they've been transitioning fairly well."
Although there's always room for improvement, Nash has quietly put together some nice numbers while playing the center role with many different teammates. Again via Nat Stat Trick, of all Blue Jackets' forwards with a minimum of 150 minutes of 5-on-5 time, Nash is second on the team with a 50.84% CF% (his linemate Robinson is first at 53.50%.) This is especially impressive with the turnover in linemates he's endured.
Related: Blue Jackets Still Looking for Defensive Consistency
And of course, Nash just became a father for the first time. Foligno definitely thinks he's seeing some dad vibes out of Nash these days.
"I think he's got the dad vibe now," Foligno said smiling. "He's offering more advice, just a little more chill. It's good to see. It's been really fun to get to know him."
But after a bit of a rough start and an adjustment period early in his Blue Jackets' tenure, Nash has settled into a very important role and is doing a great job with it. Not only is he dependable, he's helping the young centers find their way.
Jack Roslovic. Kevin Stenlund. Alex Texier. Those are the Blue Jackets' top three centers who will play the Predators on Saturday night. Nash is using his experiences to help these three along as they learn what it takes to be a center in the NHL.
You won't see him a lot on the scoresheet. But when you think of Nash, think of the tremendous impact he is having on everyone who crosses his path. He's a huge part of this team, even if the numbers don't bear that out.
Gameday Notes
David Savard will miss Saturday night's game with a non-Covid related illness. Gabriel Carlsson makes his season debut in Savard's place.
Here is what the defense pairs should look like: Gavrikov-Jones, Del Zotto-Peeke, Harrington-Carlsson.
Saturday will be Carlsson's first NHL game since Jan 4, 2020.
Alex Texier will play Saturday night despite missing practice on Friday. So expect the same lines you saw on Thursday at least to start.
Elvis Merzlikins will make a second consecutive start after posting his first shutout of the season Thursday. Tortorella said he will make his goalie decisions by ear moving forward.
The Blue Jackets announced on Saturday that the state of Ohio has approved their variance request to have fans at Nationwide Arena. The limit is 10% capacity or 1953 fans. There will be protocols that must be followed. For a full recap of this, click here.
---
---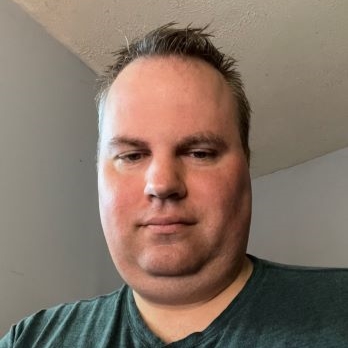 I am a fully credentialed writer who covers the Columbus Blue Jackets, Cleveland Monsters and Erie Otters as well as the Ontario Hockey League and NHL Draft. The 2021-22 season will mark eight seasons with the Hockey Writers. I am also the site's Credentials Manager.