The Chicago Blackhawks roster is comprised of a lot of talent up front and on the back end — there's just no arguing the raw skill we see from the players on game day. Some would even consider the roster to make up one of the best teams in the NHL this season. Just look to the fact that three members of the 2016-17 roster, Jonathan Toews, Patrick Kane and Duncan Keith, were honored by having their names enshrined on the NHL 100 list.
The team is stacked with All-Star players that contribute to the game of hockey on the ice in obvious fashion. One simple fact that is often overlooked when talking about this star-studded team is the guys that aren't named Toews, Kane or Keith. There are two other names that come to mind when observing just how deep their offensive talent is.
Since 2015, the Blackhawks added Artemi Panarin (undrafted free agent, signing a two-year entry-level contract in 2015) and Artem Anisimov (trade acquisition, signing a five-year, $22.75 million contract extension in 2015). They have basically bolstered their roster by adding a game changing left-winger and a quality center respectively.
Artemi Panarin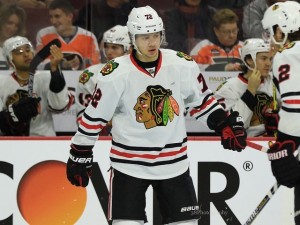 Artemi Panarin came into the NHL with five Kontinental Hockey League (KHL) seasons under his belt where he played a dominant offensive game racking up 183 points in 263 games played.
Any avid hockey fan could tell that Panarin was not new to playing professional hockey when he burst onto the scene at the beginning of the 2015-16 NHL season solely based on his KHL statistics and experience.
In his rookie season in the NHL, he put up 77 points in 80 games played giving people a good understanding of what kind of caliber this kid was bringing to the league. He won the Calder Memorial Trophy, somewhat controversially because of his age and experience, but it was evident that he was the league's top rookie last season – deserving of the award.
Teammate and linemate Patrick Kane won the Calder Trophy upon completion of his rookie season in 2007-08. Kane spoke to the Chicago Sun-Times on Panarin winning the Calder Trophy:
"To play an 82-game season, especially as a first-year player, is probably something that a lot of people don't realize how tough it is. It would have been interesting to see what happened, if [McDavid] had a full season under his belt. But obviously with Panarin performing the way he did for 80 games – 77 points. You can even look at it and say that he had a huge impact on my game, too, you know? I see it first-hand how good of a player he really is."
Panarin should be recognized as adding a lot to Kane's game last year when he finished the regular season off with his first 100-point campaign, capturing the Art Ross Trophy, Ted Lindsay Award, and the Hart Memorial Trophy. Panarin and Kane played on a line together for most of the season where they accounted for much of the team's offensive pressure on any given night.
More than half way through the 2016-17 season, Panarin has kept his point production up from last year producing 51 points in 57 games played.
Artem Anisimov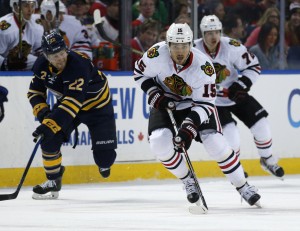 Anisimov had seen part of seven NHL seasons playing for the New York Rangers (who drafted him 54th overall in the 2006 NHL Draft) and the Columbus Blue Jackets. He piled up 192 points in 412 games played before his tenure with the Blackhawks began. Anisimov was considered to be an established NHL player before the Hawks traded for him in a package deal that saw Brandon Saad head to Columbus. They thought that he was more than capable of achieving 40-plus points in a season. It was a low-risk move with tremendous upside.
Last season, Anisimov almost matched his career best in points finishing the season off with 42 points in 77 games played. This year should be the year he cracks his career best in points (career high is 44 points in the 2010-11 season) as he already has 40 points in 53 games played. His faceoff win percentage this season shows room for improvement as it's sitting at 45.6, good for 86th overall in the league.
Anisimov is still developing and has time to turn into a better overall center for the club, not diminishing the fact that he sees time on the team's second line.
Trending Upwards
Some teams are at a point where they have a win-now mentality for a few seasons before they realize that they need to make big moves on the trade block, ink free agents to big contracts, or hack into the waiver wire to improve their rosters and try to maintain their status among the league's best. The Blackhawks are no exception and should probably be considered as the league's standard for maintaining proficiency over the course of multiple seasons as the team's roster changes.
The five guys listed above aren't the entire team, but they represent the elite offensive threat that the Hawks thrust on their opponents on game nights and that's why they deserve to shine brightly in the spotlight. They are right on track to continue their regular and postseason success for many years to come. Look for them to go deep in this year's playoffs and take a crack at winning the Stanley Cup.