It could be days before Patrick Kane finally decides on his future. The three-time Stanley Cup champion and former MVP could very well be playing his final games in a Chicago Blackhawks sweater, should he waive his no-movement clause (NMC) in advance of the March 3 trade deadline.
Related: Blackhawks Mismanagement Will Cost Them With Kane & Toews
Amid the noise and speculation, The Athletic's Mark Lazerus and Scott Powers recently wrote that the Carolina Hurricanes, Dallas Stars, Minnesota Wild, and Vegas Golden Knights have interest in Kane (from "What we're hearing about the Blackhawks' Patrick Kane, Jonathan Toews, Jake McCabe and more," The Athletic, 2/11/23). While all four teams would be good fits, the Hurricanes make a lot of sense. With Max Pacioretty out for the season due to an Achilles tear, the team could use a veteran top-six forward as they approach the playoffs, despite their regular-season success.
Of course, this depends on whether Kane would want to play in Carolina. Although they sit first in the Metropolitan Division with a 36-10-8 record, the Hurricanes aren't quite a big-market team like the Blackhawks. Yet, they have the pieces in place for a deep playoff run, and Kane would be a quality addition. If the Blackhawks and Hurricanes were to make this deal, here are three players Chicago should consider in a return.
Jack Drury
After being drafted 42nd overall in 2018, Jack Drury played two seasons at Harvard from 2018-20 before spending 2020-21 with the Växjö Lakers in Sweden. The 23-year-old then made his North American professional debut last season with the American Hockey League's (AHL) Chicago Wolves, recording 52 points in 68 games. This season, Drury has bounced between the Wolves and the Hurricanes. While he has a solid 15 points in 26 games at the AHL level, he has just two assists in 21 games for Carolina and hasn't played with the NHL club since Dec. 22.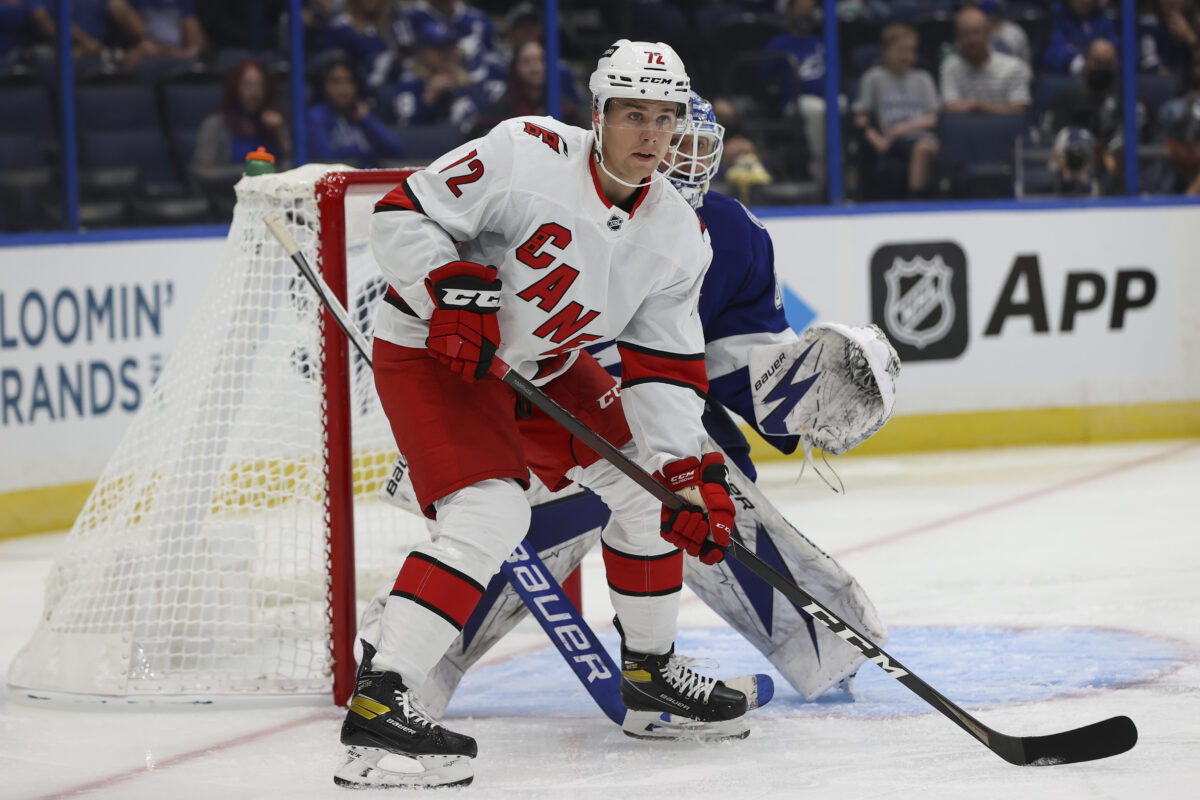 Despite a rather underwhelming start to his NHL career, Drury could still emerge into a middle-six center. The nephew of former NHL player and New York Rangers general manager (GM) Chris Drury, he played a key role in the Wolves' Calder Cup playoff run last season. This experience could be valuable, knowing the Blackhawks want their AHL affiliate, the Rockford IceHogs, to be as competitive as possible, especially if they don't want to rush him to the NHL level. Alternatively, Drury could slot right into the Blackhawks' top-nine forward group knowing he's an NHL-ready product, much like when they acquired Taylor Raddysh last March.
Knowing he still has top-six potential, it'd make sense if the Hurricanes hesitated to move on from the New York native, especially for a possible rental piece such as Kane. However, he'd likely get more minutes with the Blackhawks if he were to come up, as opposed to a deep Carolina lineup. While he's nearly five years removed from his draft, Drury remains young enough that he could become part of the Blackhawks' future.
Ville Koivunen
If the Hurricanes don't want to part ways with Drury, Ville Koivunen could be a good alternative for the Blackhawks. Carolina drafted the Finland native 51st overall in 2021, and he's having a decent second season for Kärpät of the SM-Liiga with 23 points in 41 games. He has yet to make his North American professional debut but has good international experience, having skated in the last two World Junior Championships.
Related: Blackhawks Should Consider Moving on From Ian Mitchell
---
Latest News & Highlights
---
Koivunen would immediately boost the Blackhawks' organizational depth at forward. The Athletic's Scott Wheeler described him as a creative puck-handler with good offensive instincts despite needing to improve defensively. Wheeler added he has top-nine upside with the right development (from "Carolina Hurricanes are No. 12 in 2023 NHL prospect pool rankings," The Athletic, 01/29/23).
Considering he's at least a few years away from becoming an NHL regular, Koivunen could effectively fit the Blackhawks' rebuilding timeline. While he doesn't quite have superstar potential, he could be a great middle-six option depending on how he pans out at the AHL and NHL levels, should the Blackhawks acquire him.
Noel Gunler
Gunler could also be a nice fallback option for the Blackhawks if they aren't able to land Drury or another top prospect, such as defenseman Scott Morrow. In his second season with the Wolves, he has 18 points in 31 games after skating in 11 games at the AHL level last season. While he has limited North American experience, Gunler played four seasons in the Swedish Hockey League from 2018-22, with the Hurricanes drafting him 41st overall in 2020.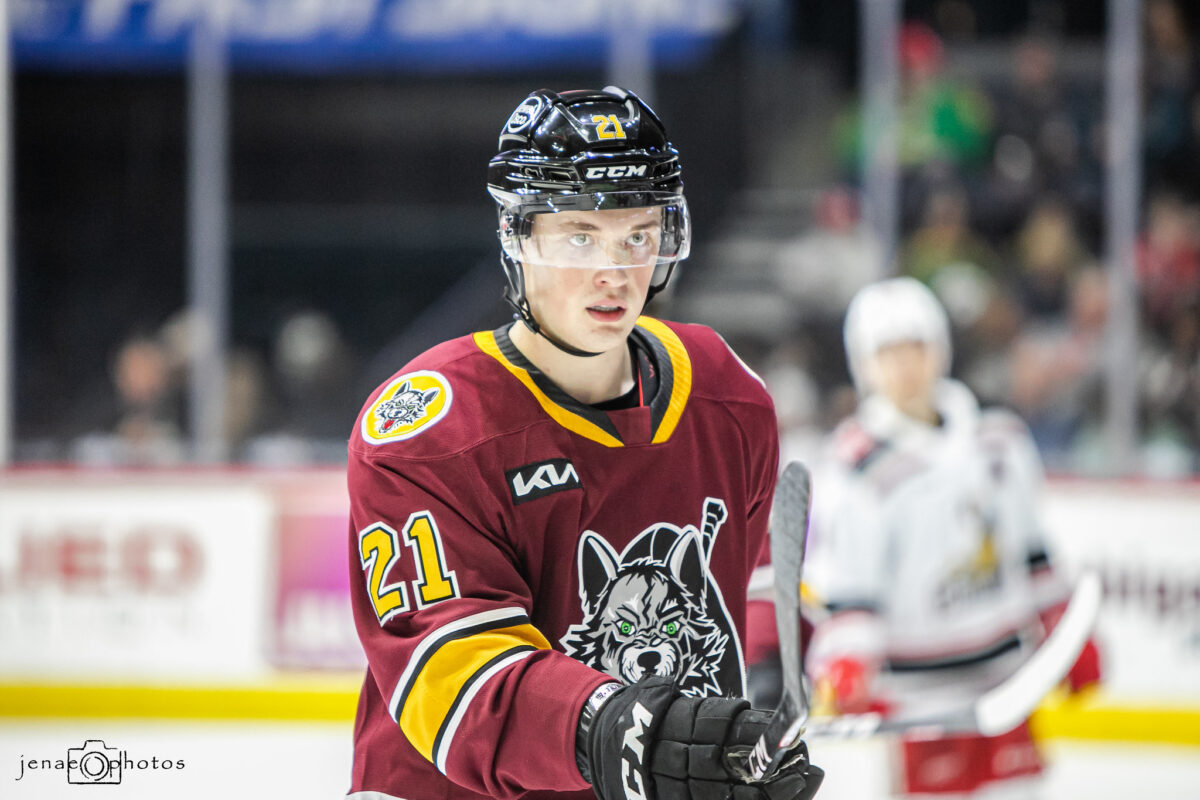 Much like top Blackhawks prospect Lukas Reichel, also a 2020 selection (17th overall), Gunler could emerge into a reliable middle-six forward. He's mostly still an unfinished product but has a good frame at 6-foot-2 and 176 pounds. Like Koivunen, he's at least a few seasons away from the NHL, but he'd nonetheless provide great depth for the IceHogs.
Hurricanes Are a Perfect Fit for Kane
Though his stock has decreased since preseason, the Blackhawks should still aim high when it comes to a Kane deal. If Kane waives his NMC for Carolina, acquiring a top draft pick and a top prospect or two, such as Morrow or Alexander Nikishin, should be a priority for Chicago. A young, NHL-caliber player such as Jesperi Kotkaniemi could also be a possibility; the 2018 third-overall pick has just 22 points in 54 games and might benefit from another change of scenery.
If the teams can't make that happen, however, Koivunen and Gunler remain good options. Both are just 19 and 21, respectively, so they have enough time to grow and adapt to the North American game before possibly getting a role with the Blackhawks when they ultimately begin contending.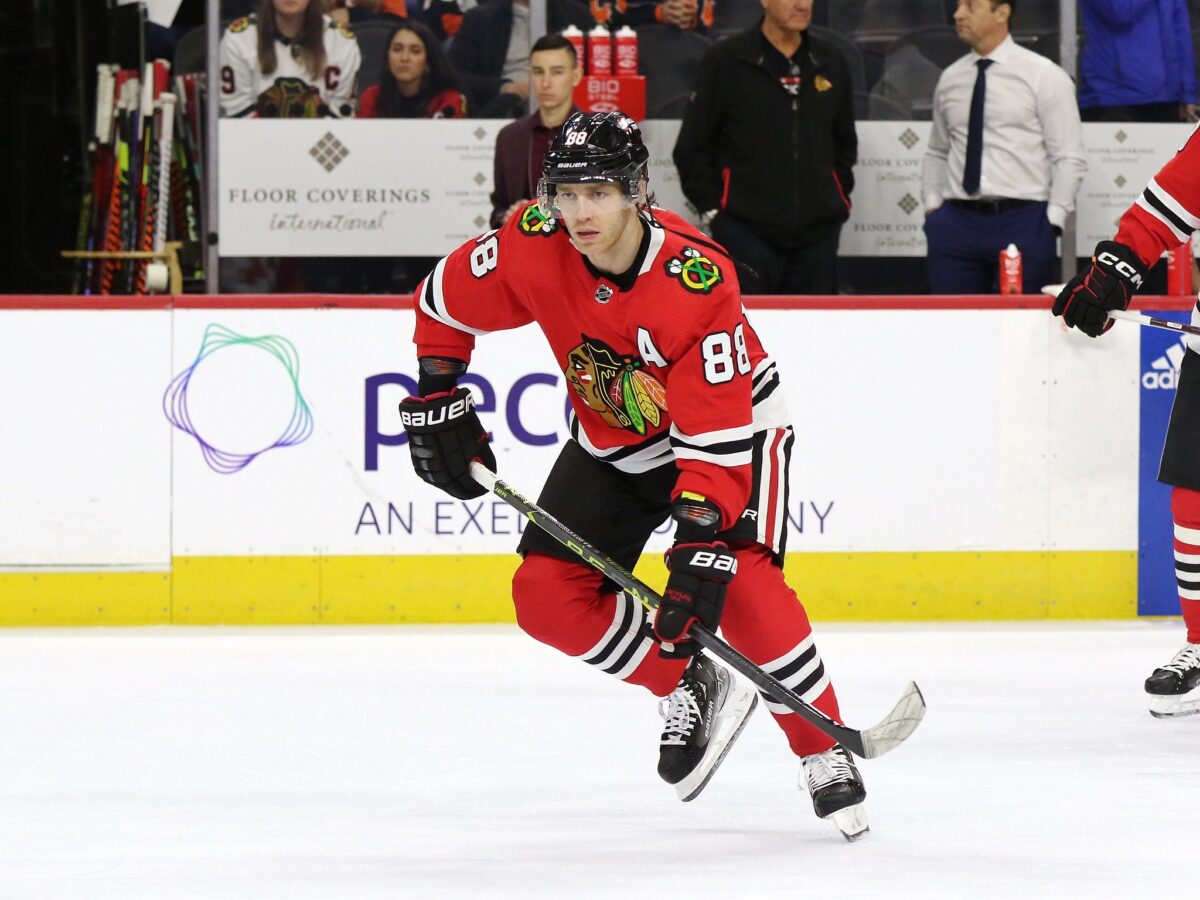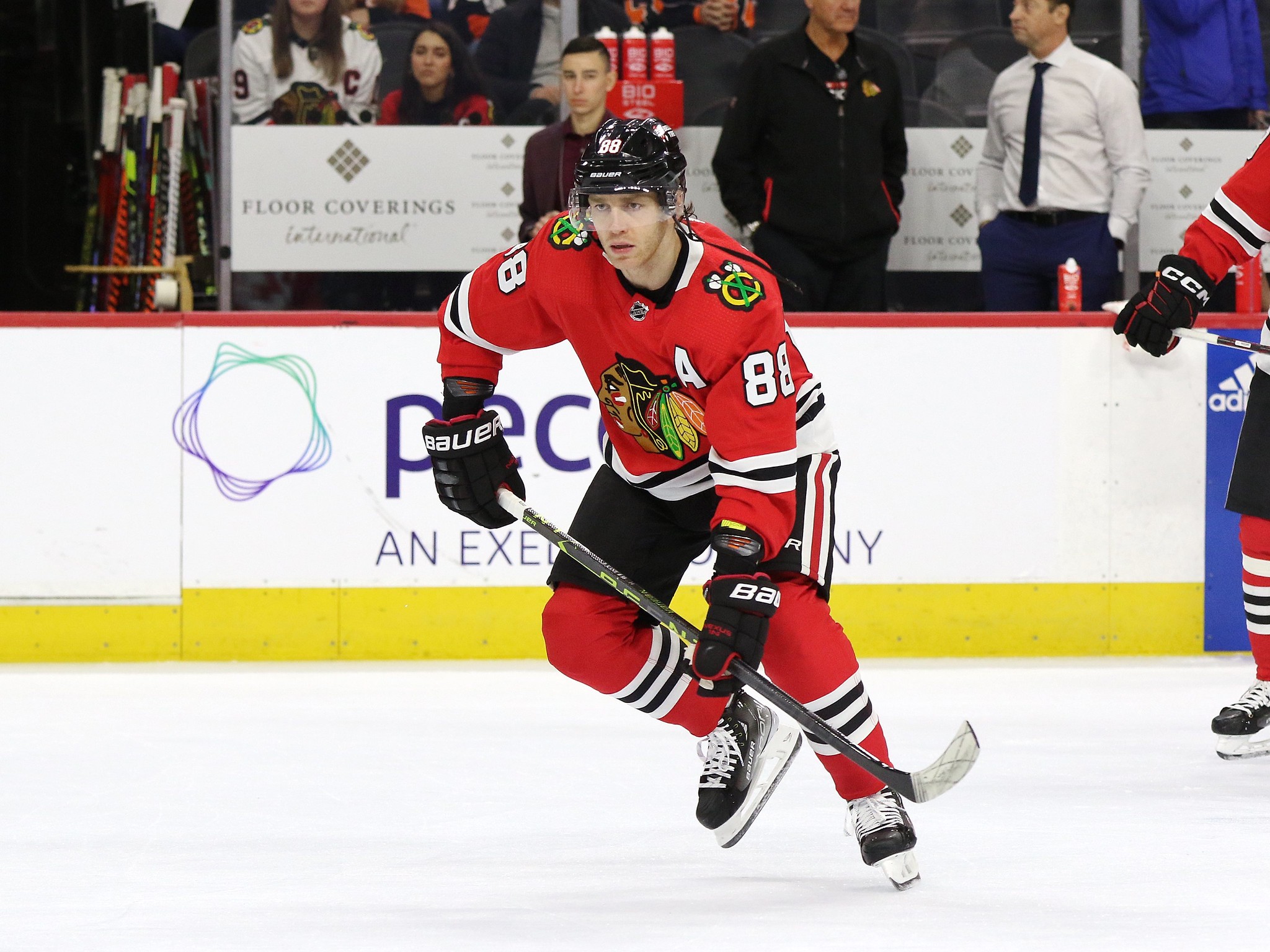 Again, whether this happens all depends on if Kane wants to play in Carolina. However, it's a logical fit. The Hurricanes are on the cusp of their fifth consecutive playoff appearance, but they've made it to the Eastern Conference Final just once in the last four seasons. That was back in 2019, when they fell 4-1 to the Boston Bruins, so the team could use a veteran with championship experience.
Kane would perfectly complement a young but above-average forward core of Sebastian Aho, Andrei Svechnikov, and Martin Necas while filling the void of Pacioretty. It'd be good for him, too, as he'd have more talent to play with and possibly increase his production compared to Chicago. Even though he isn't having his best season, Kane would improve the Hurricanes' forward group, giving the team a better chance to succeed as they eye their second Stanley Cup in franchise history.
---
---